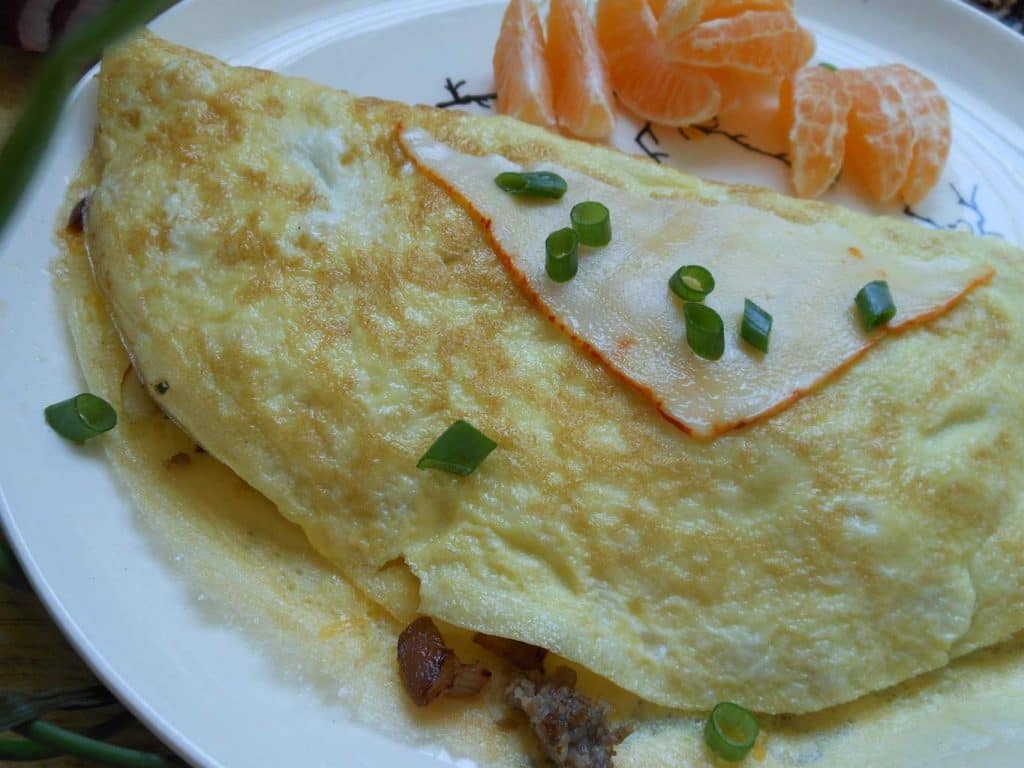 "Gimantico" is a word my little brother made up when he was… 4 maybe? It was sometime in the middle of his Jurassic Park phase and his reptilian adjectives extended to everything around him.
Gimantico (adj): giant, huge, extra large, kin to Tyrannosaurus Rex.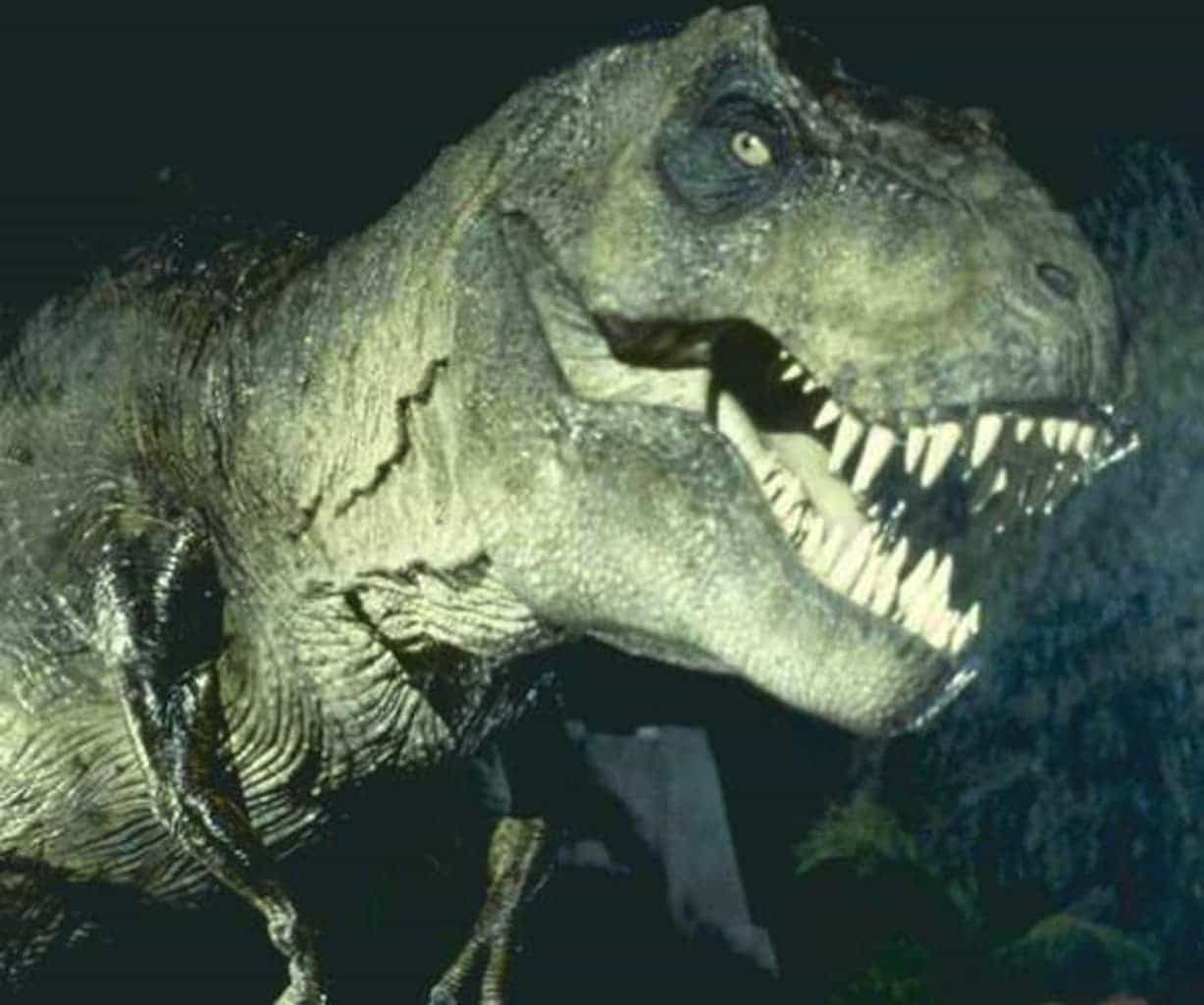 Somewhy I really love made up words. I also love Tyrannosaurus Rex.
Monday through Friday, my boyfriend, Chad, marches out the door armed with a thermos full of coffee and two bacon egg and cheese sandwiches on whole wheat toast. And sometimes, if I've been baking, a baggie full of cookies. Or muffins. Or cake. When there are no cookies he raids the vending machine at work for Snickers bars(ssssss). This is all before he comes home for lunch. I have yet to figure out where this gimantico amount of calories goes? I'll let you know when I figure it out.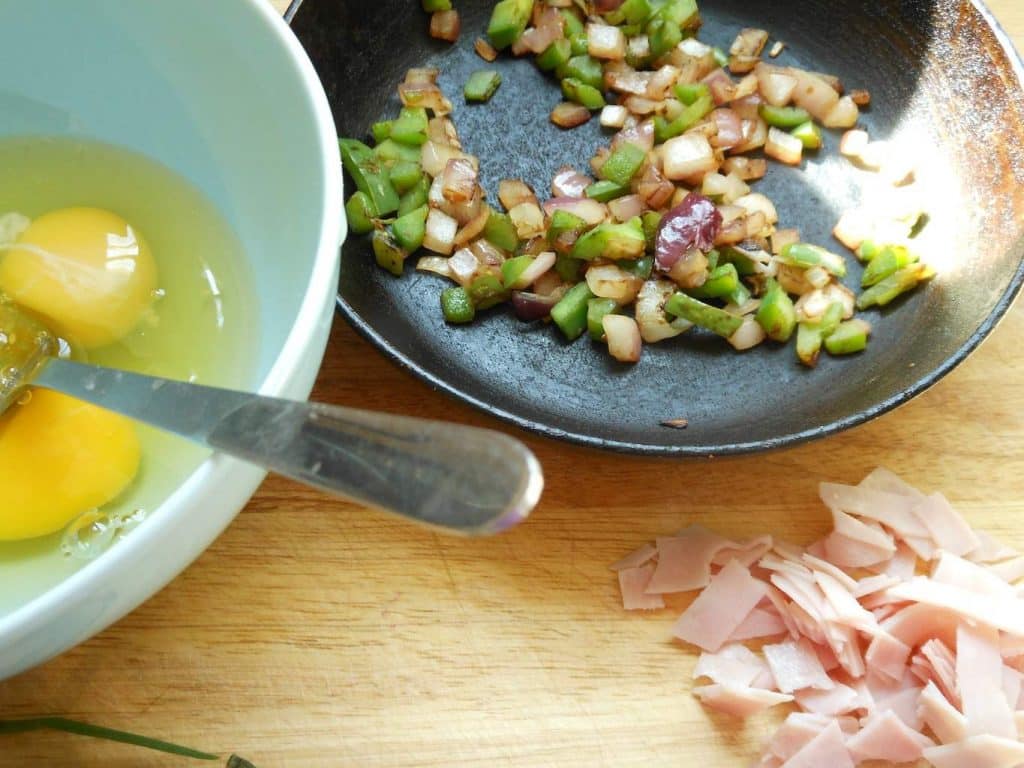 On the weekends, when mornings here move a little more slowly, we take time to put our food on plates instead of slapping it between two slices of bread. Sometimes that means pancakes. Sometimes it's a big creamy bowl of oatmeal. Lots of times it's omelettes.
I am a picky omelette eater. I DO NOT LIKE the eggs to be runny on the inside (when you're not sure if that texture is runny eggs or melted cheese… yuuuck). I don't like the eggs to be all weird and fluffy and Waffle-House-like. And I don't like greasy eggs. The vegetables have to be cooked before they find their way into the middle of the cheesy egg envelope– raw peppers stuffed in the middle of cooked eggs is all kinds of wrong. I'm not really sure any of these things matter to Chad- he tends to not be picky about much. But he always seems pretty satisfied with my high maintenance omelet results.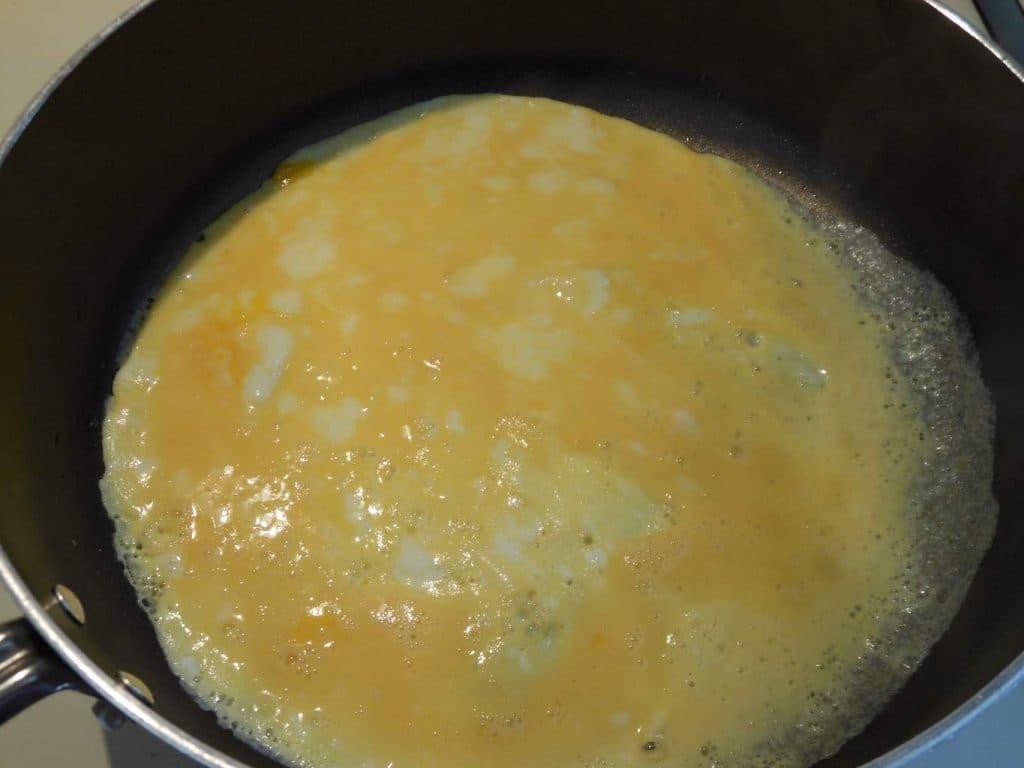 In a little skillet I cook diced bell peppers and red onions. I also toss the diced ham in there to heat it up a little. I cook and crumble the sausage and set it aside to drain any excess grease. Then I beat the eggs. Chad's Gimantico Omelet has 3 eggs.
I use my biggest nonstick skillet to make the gimantico omelet. That way the eggs spread out really thin and cook quickly. I hit the pan with a little cooking spray or oil to make sure my eggs flip with ease, and when the skillet is hot I pour in the eggs.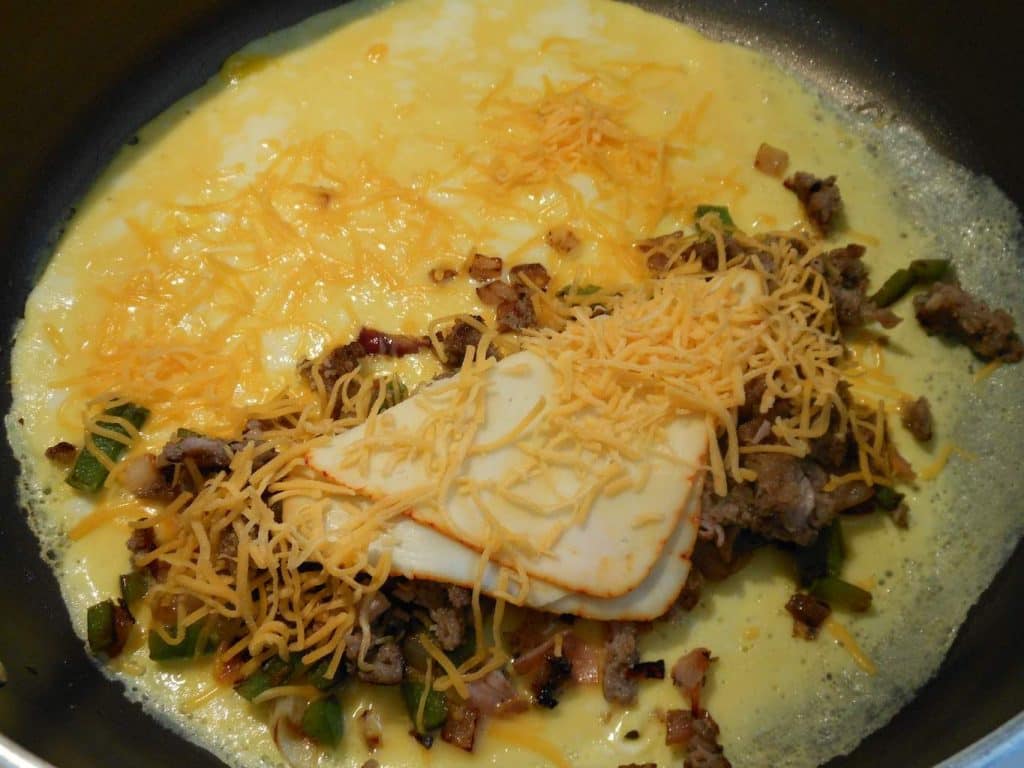 Quickly I spread the cooked and crumbled sausage, diced ham, red onions, bell peppers, shredded cheddar, and sliced muenster cheese across half of the egg. When I can see that the egg is cooked through on the side facing up, I use my spatula to fold over the un-filled half and lift the omelet onto a plate.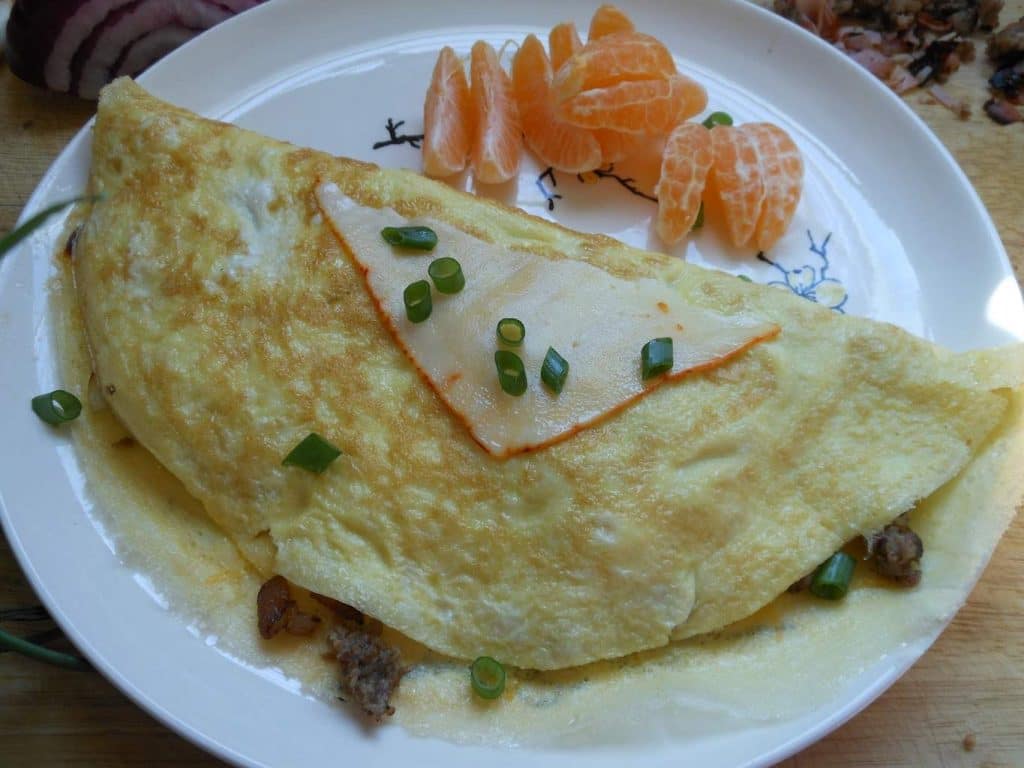 Add a slice of muenster cheese on top and sprinkle with a little green onion and you have a gimantico omelet for two… er one.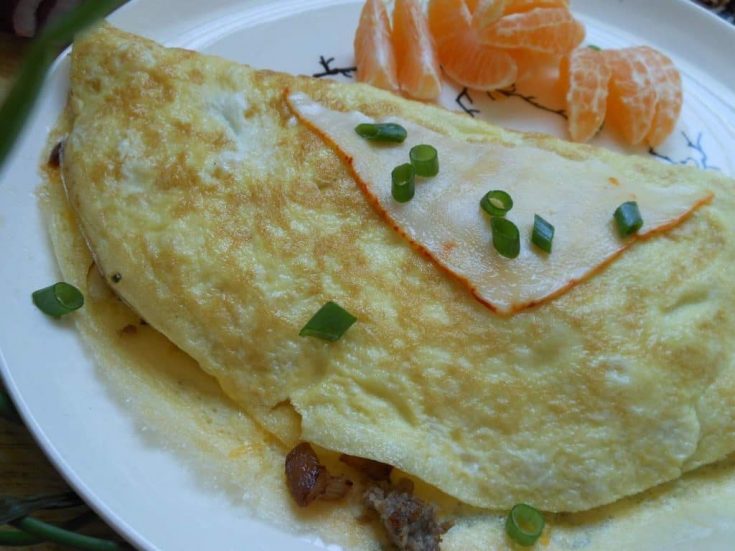 Yield:

2
Chad's Gimantico Weekend Omelet
Ingredients
1/2 cup cooked, crumbled breakfast sausage, any excess grease drained
1/4 cup diced ham (I throw mine in the skillet with my onions and peppers for a minute to heat it)
1/4 cup diced bell peppers
1/4 cup diced onions (I used red)
1/4 cup shredded cheddar cheese
3 slices muenster cheese
3 eggs
cooking spray or a dash of oil
diced green onions for garnish
Instructions
In a small non-stick skillet, heat a little bit of oil and saute the onions and peppers for 3-4 minutes, until soft.
Add the diced ham in the last minute or so of cooking to heat it and set the skillet aside.
Heat a large nonstick skillet over medium high heat and spray with a little cooking spray or a tiny bit of oil.
Beat the eggs with a fork and pour into the hot skillet. Quickly spread half of the egg with the cooked sausage, onion, bell pepper and ham mixture, and shredded cheddar.
Lay two slices of the muenster cheese over the top of the meat and vegetables and when you can see that the uncovered half of the egg is cooked through, use a spatula to gently fold it over the meat, cheese, and vegetables.
Remove the omelet to a plate and place the third slice of muenster cheese across the top.
Garnish with a sprinkle of green onions and serve with a side of fruit.
Recommended Products
As an Amazon Associate and member of other affiliate programs, I earn from qualifying purchases.
Nutrition Information:
Yield:
2
Serving Size:
1
Amount Per Serving:
Calories:

550
Total Fat:

41g
Saturated Fat:

18g
Trans Fat:

0g
Unsaturated Fat:

20g
Cholesterol:

393mg
Sodium:

1090mg
Carbohydrates:

7g
Fiber:

1g
Sugar:

4g
Protein:

37g