Lake Lure Wedding! In September. It was amazing and we wanted to share. This post is loaded with vendor information, DIY ideas, and inspiration from our Lake Lure wedding.


All photos are courtesy of Carolyn Marie Photography.
It's been three years! Which is bananas. Three whole years have gone by since Chad and I tied the knot. I drafted this post forever ago but life happened, and I usually share food, and I seriously don't know where the time went.
It flies when you're having fun, right?
We put our wedding together on a budget, paid for nearly everything ourselves (shout out to my mom for those wedding dress alterations! And desserts. Which are un-ironically in the same sentence.), and really could not be happier with how it all turned out.
You can bop on over to see our DuPont State Forest engagement photos here.

The Location
Wedding Location was the 1927 Lake Lure Inn and Spa in The Gardens. When we were looking for just the right space we knew this was it as soon as we were in it. There weren't a ton of photos available online so I hope these do it justice. It was quaint and cute, private, and loaded with charm.
I loved that I didn't have to spend a ton of money to make the space itself look the way I wanted. The venue provided the hanging plants, the chairs, and the pagoda that we were married beneath. There's so much greenery here, even in September.
Bonus: wedding packages include a night's stay for the bride & groom. We upgraded to a cabin that had a great deck and scenic view. It was also a nice private space for me to get ready in that was big enough to accommodate my mom, sisters, friend, and lots of champagne.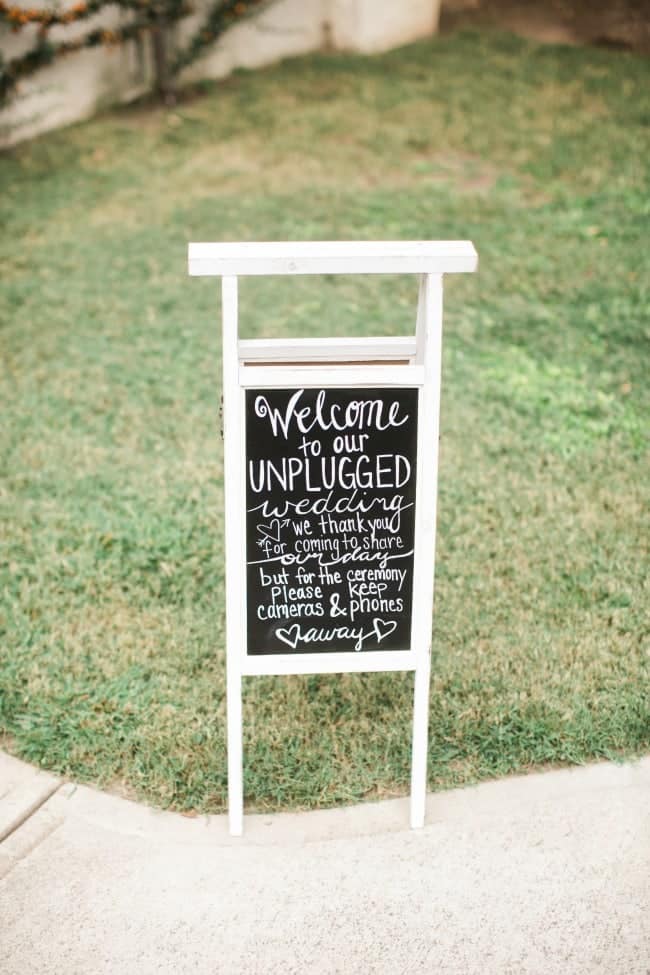 I was ADAMANT about this sign. I did all the lettering myself. But really it was just super important to me that people be present and not just trying to capture the moment.
We paid for a professional photographer and I didn't want all of her photos to be of people holding up their phones to take photos. I also really didn't want them to be in her way. This was actually a recommendation I think I found on our photographer's website and I was so glad she gave me the tools to enforce the rules in a fun and un-jerky way.

The Flowers
Flowers were by An English Flower Cottage . Mandy also took care of our day-of coordinating. She was amazing and I cannot say enough good things about her.
A tip I got from my sister while we were wedding planning was to SPEND ON A BOUQUET. Get what you want. They are in every photo and you will carry them around with you all day.
She was right! I was really glad that I splurged on my bouquet. We purchased baby's breath and ribbon to decorate everything else with (chairs, bud vases on tables, etc). It's cheap and easy and looks wedding-ey.
Another pro budget tip if you can't splurge on having a bouquet made for you: TRADER JOE'S. They will even let you order ahead.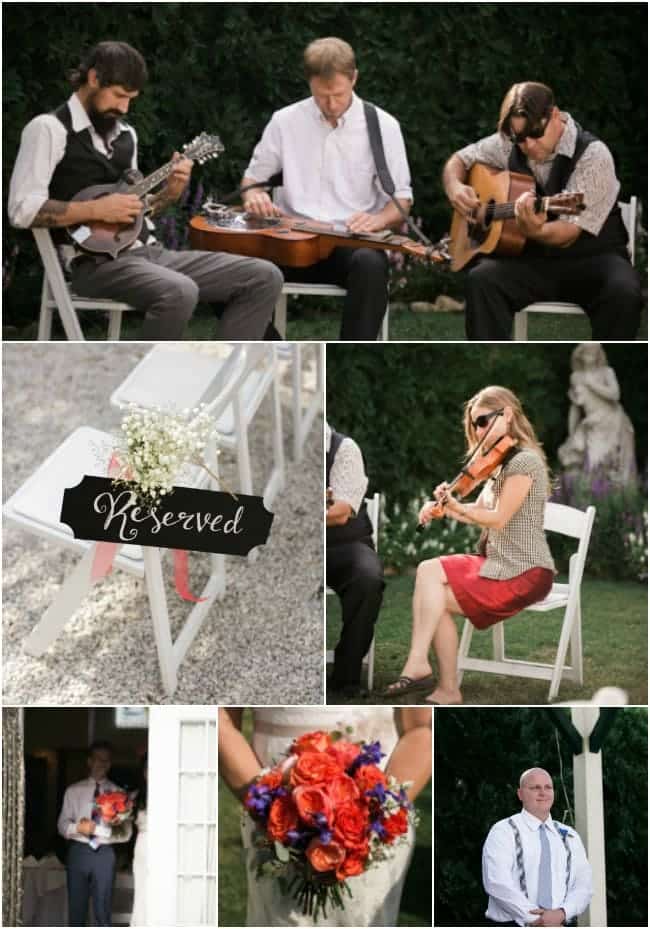 The Ceremony
Music by Tellico Band! They are SO PERFECT for the mountain setting. Also talented and professional and really just a joy to have as a part of our day. Anya made the musical planning seamless and even took care of playing our playlist [from my phone] over the sound system during breaks. They played some really beautiful music before the ceremony while guests were getting situated and seated.
We chose a Presbyterian Guitar processional that was really pretty. Recessional was their musical version of 'Two of Us' by The Beatles.
Officiations by the Rev. Fred C. Werhan. He was recommended by Mandy during our planning meeting. You can find him and other local officiants at Wedding Officiant Asheville. We had a hard time finding an officiant that would perform a non-religious ceremony. Reverend Werhan was WONDERFUL. He also does traditional ceremonies, spiritual ceremonies, inter-faith, same sex, and interdenominational ceremonies. You can also find him on Wedding Wire.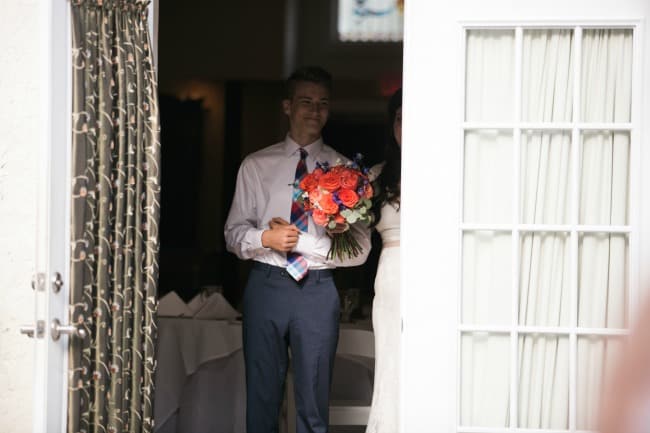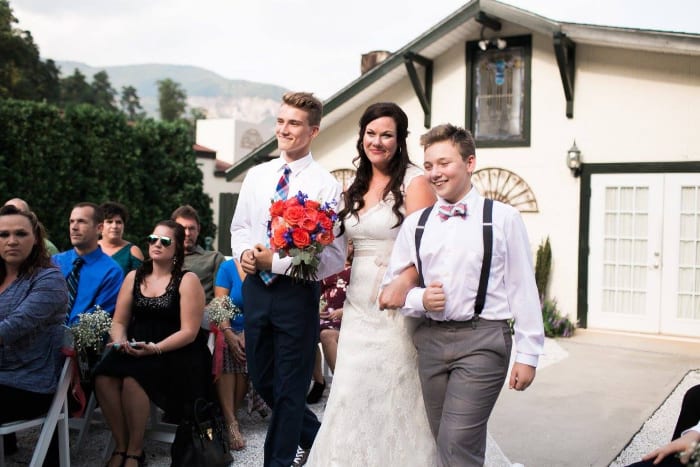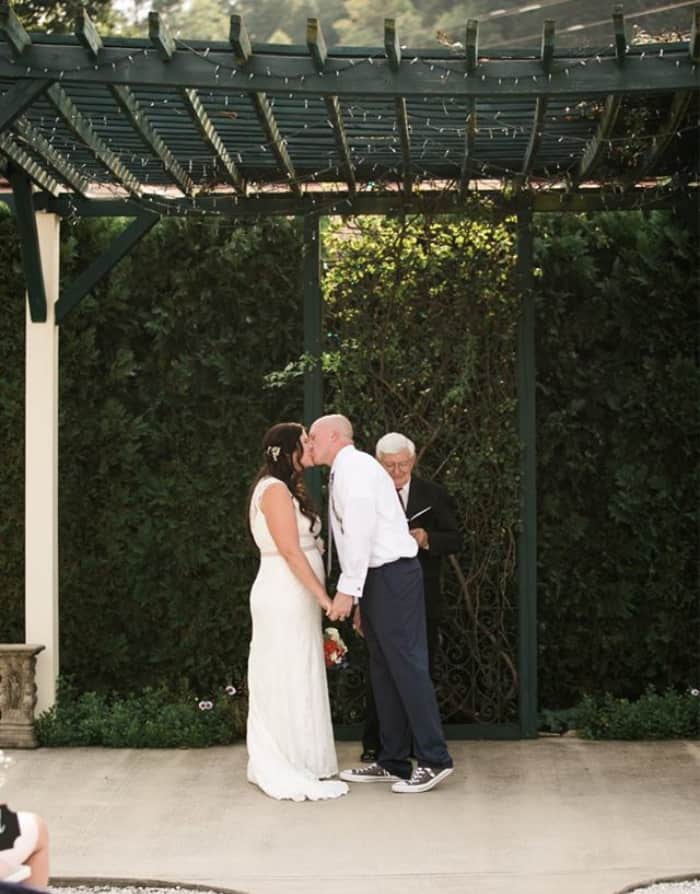 Our actual ceremony was short and sweet. We crafted our vows with the help of some literature from our officiant.
I loved that my boys walked me down the aisle and they were so emotional after the ceremony! Chad has been a part of their lives since they were 8 & 11, and they were really just so touched to have him as an officially official part of our family.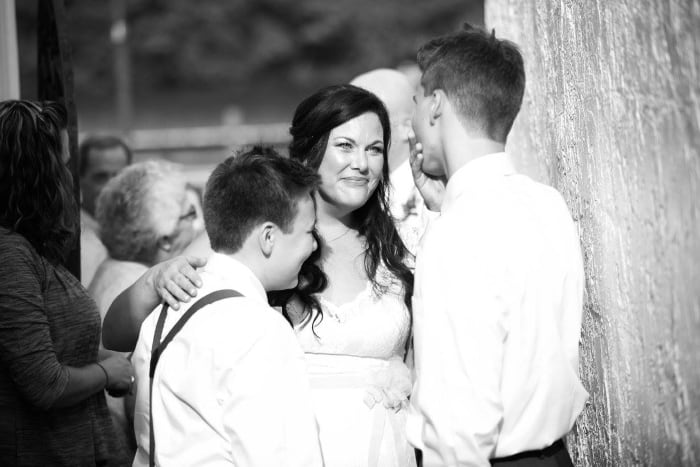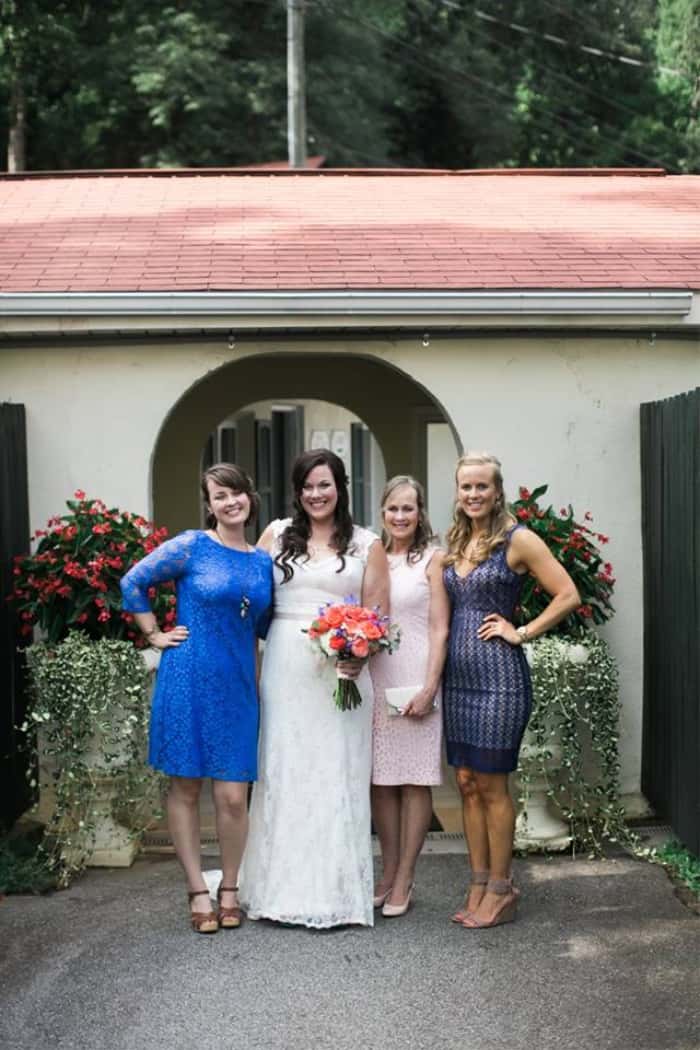 I'd be lost without my mom and sisters. They are my literal rocks in this world and I don't know what I'd be without them.
Post Ceremony
Chad and I did a "First Look" which really helped to take the edge off. It also let us knock out some great photos ahead of the ceremony so that our guests weren't waiting for 1,000 years to eat and have drinks. I am SOOOOO glad we went that route. It gave us gems like this: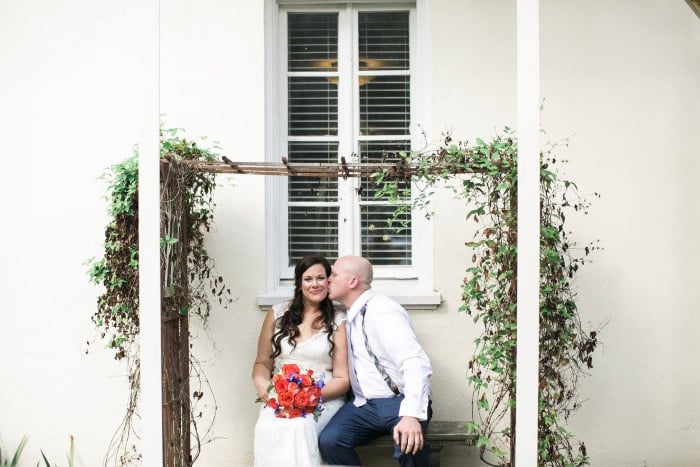 After the wedding ceremony we took some time to hustle across the street and catch the late afternoon light for photos before the reception. We also took a ride on a boat!
The boat was totally a whim – we were taking photos on the boardwalk and the owner of a boat tour saw us and offered to take us out on the water for free to get some photos. The boat tour was called Privateer Guides and the only contact info I could scrape up was this phone number. I hope it's still valid. We'd love to go back.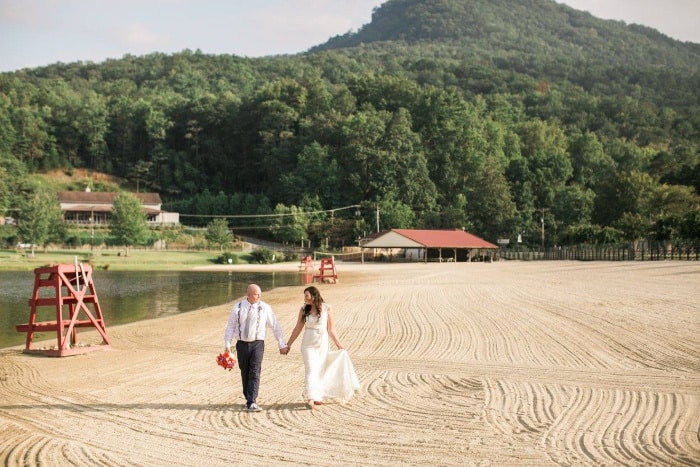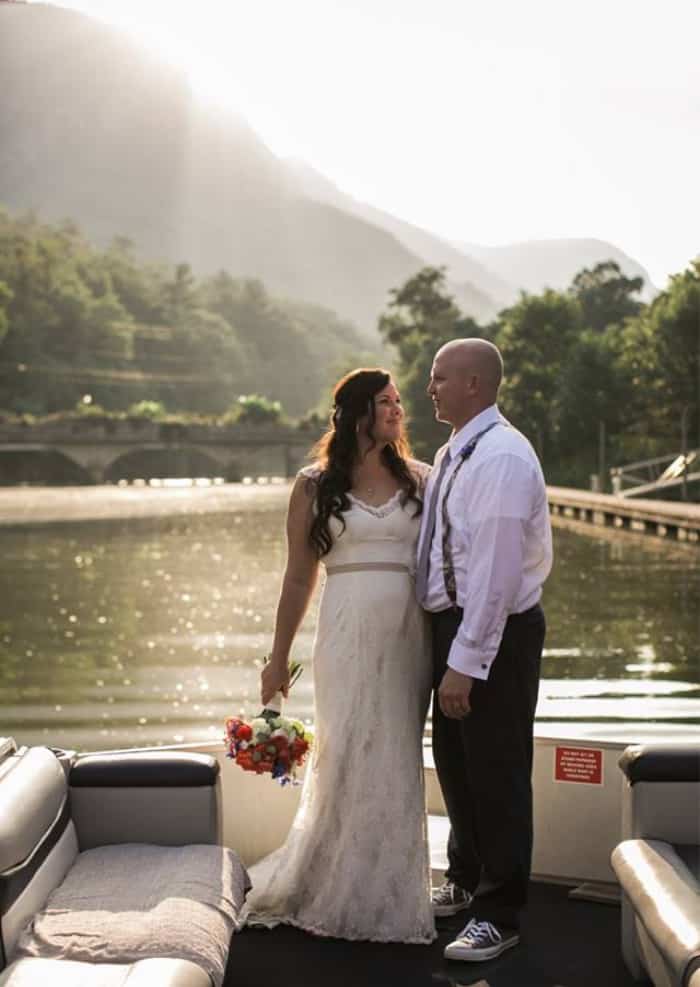 The return.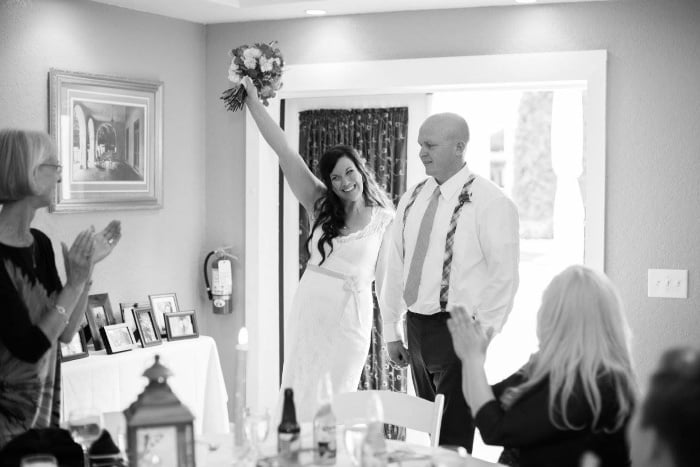 The Reception
I could honestly write a whole post about the reception. I might do that another day. For now we'll just hit the highlights.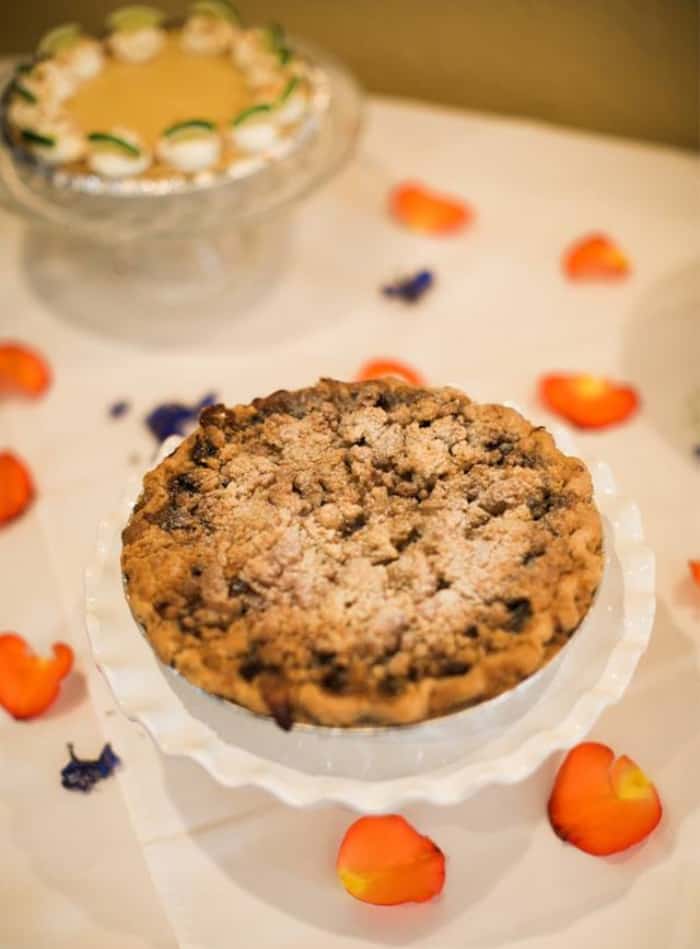 Desserts were by Mara at The Baker's Box. Her Key Lime Pie is out of this world. We were also big fans of her cheesecake! If you go for a tasting, GO HUNGRY. The Baker's Box is also a sandwich shop and the food does not disappoint.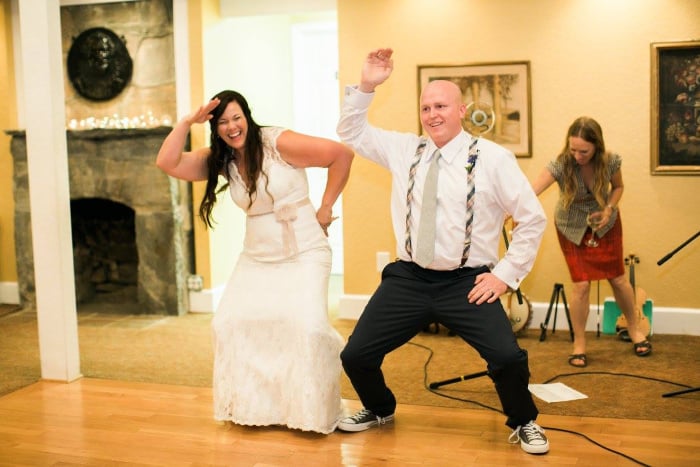 Because we are ridiculous, Chad and I faked out our guests with our first dance. We had the band play something slow and sweet, and we started to slow dance, and then they faaaaaaded out and switched to my playlist.
We learned Napoleon Dynamite's moves and danced our first dance to Jamiroquai's Canned Heat. It was absurd and I would not change a thing.
All of us ate and drank, and drank and ate – the wedding coordinator was so wonderful – she thought of everything, including making us both plates of dinner and dessert and wrapping them up in our cabin with a bottle of chilled champagne, because she knew we'd be so busy all night that we might not get a chance to enjoy everything we'd planned.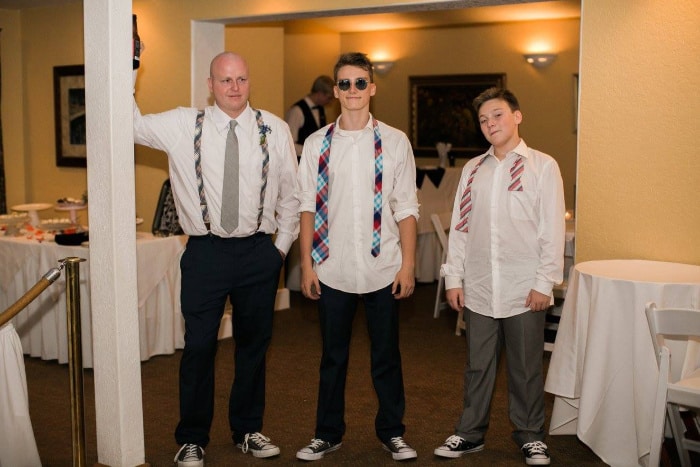 Cheers to the past 3 years! And here's to many many more!