An easy and super quick recipe that works great for weeknight meals or for game day pick-ups. BBQ Chicken Crescent Roll Ups are stuffed with shredded BBQ chicken and two kinds of cheese for delicious little bready bites your whole family will love.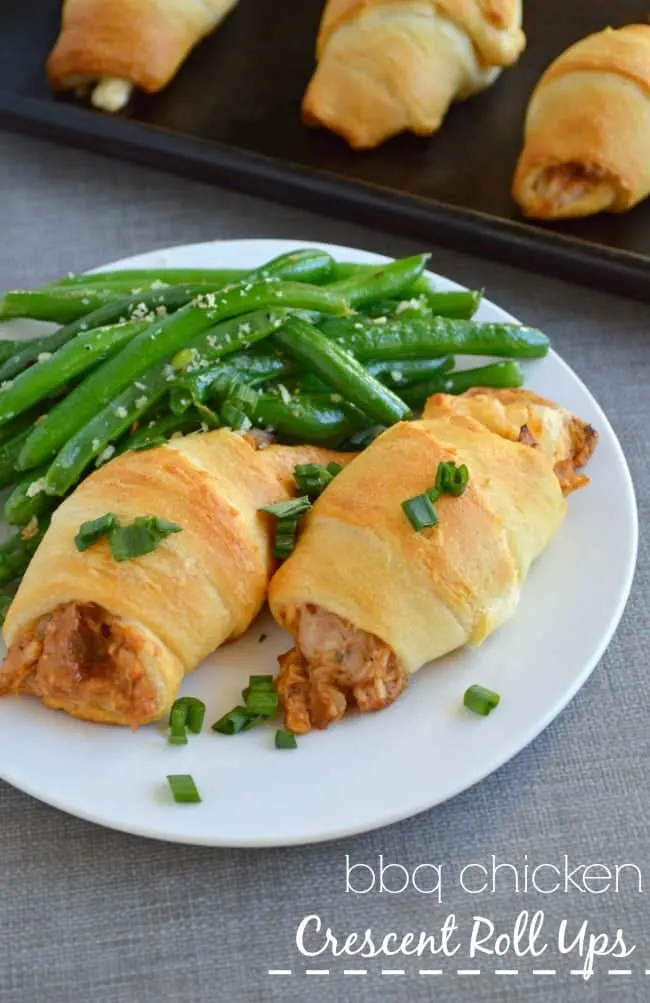 This is a sponsored conversation written by me on behalf of Food Lion® via Burst Media. The opinions and text are mine.
As a parent it's hard to know just exactly how to help in the classroom. There are PTO meetings and Parent Teacher Associations, all with fees and dues and meetings and schedules. There are the endless fundraisers for things like $15 wrapping paper and frozen cookie dough. There are volunteer opportunities and chaperone forms for field trips and sign up forms for classroom celebrations. The list of options goes on and on, but when it comes down to it, am I the only parent that feels like I have no idea where to begin?
Am I the only parent that feels like while I stand in the office, waiting to sign in and get my little paper name tag that I'm basically just jamming up the works?
I know I'm not the only one that hates $15 wrapping paper. Annnd you guys know I seriously don't need any more cookie dough.
I'm completely happy to tackle the supply lists, but wonder what in the world happens when I send 10 boxes of #2 pencils along in my 11-year-old's backpack. I mean, this kid forgets his lunch at least twice a week. I'm pretty sure those pencils never get where they're going.
I want to help! But it's really hard to know where to start.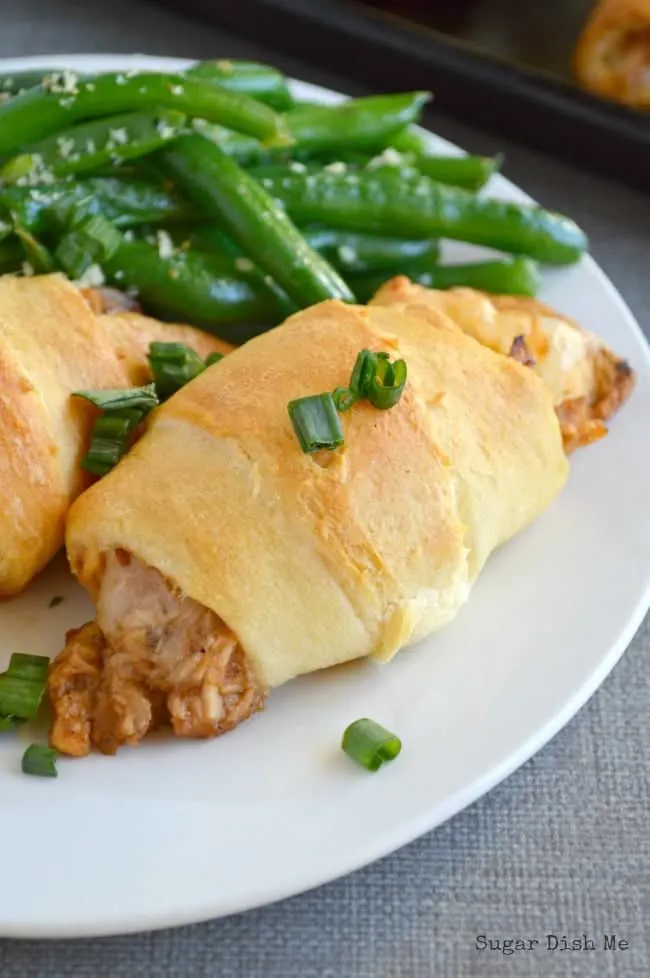 So.
One of the places I like to begin is with Box Tops for Education. They have seriously been doing this since I was in school. I can remember my mom painstakingly clipping the tops off all the cereal boxes.
When there were contests at school we would hack up all the boxes and cans we could find in the cabinet with that familiar little logo, stuff them in an envelope, and wave them at the teacher with the hopes of a pizza party or something.
—->>> Pizza parties motivate kids to do allllllllllllllllllllllllllllllllllllllll kinds of things #lifelesson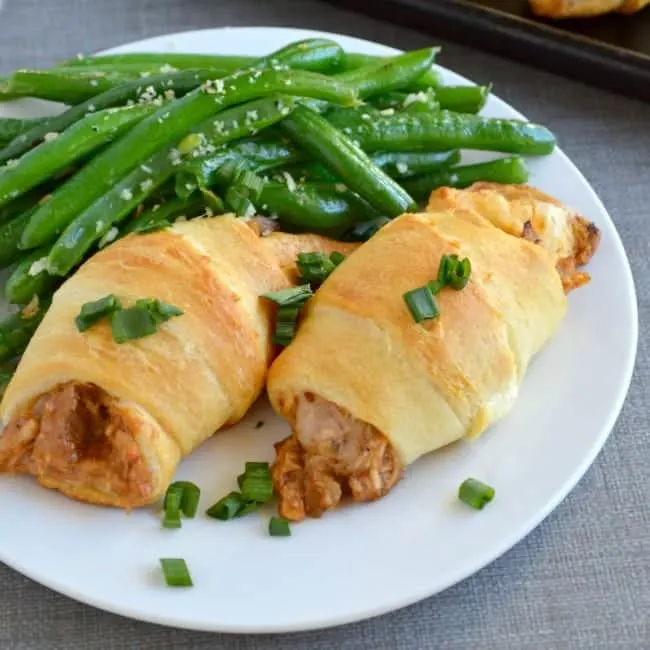 This is the MOST SIMPLE way for me to send $$$$$$ to the school — and it's not even really coming out of my pocket because the box tops are plastered all over products I already buy.
It's gotten easier since I was a kid with Box Top labels being all over everything from produce to toilet paper.
Every box top generates 10 cents for your school.
I might be an extra special case, but if you guys even knew how much time (and $$) I spent at the grocery store… and now I feel like all my trips to Food Lion are doing someone besides Chad some extra good!
This January, help Food Lion promote their exclusive Box Tops for Education offer to help get even more cash for your school!
OFFER: Get 20 Bonus Box Tops ($2.00 value to BTFE eligible school) when you buy ANY 5 participating General Mills products in a single shopping visit using your personal MVP card between 1/7-1/13 AND be automatically entered for a chance to win 100,000 Bonus Box Tops ($10,000 value to BTFE eligible school)
So what I did for you here is create a recipe that includes 5 box top products. If you make these BBQ Chicken Crescent Roll Ups with a side of Green Giant veggies (fresh produce has box tops!!!), you will have a chance to win those bonus box tops for your school.
This recipe is PERFECT for a weeknight meal – my family loved it – but they also make awesome game day appetizers. Find yourself some ranch dip for these babies? Yes yes yes.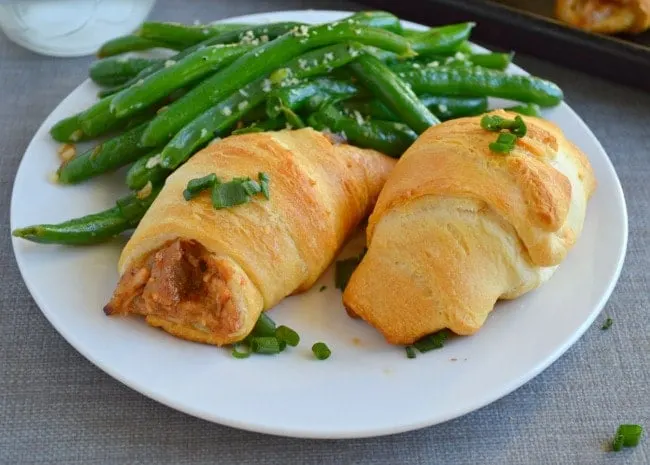 If you want to know more about How It Works you can find that information HERE.
If you'd like to become a Box Tops Coordinator you can check that out HERE. (it's fun to help, isn't it?!)
For a list of products you can check HERE (you'll be so surprised at how much of this you buy on the regular!)
AND to get you started this recipe knocks out the 5 you need to to enter to win that $10,000 for your school!
BBQ Chicken Crescent Roll Ups
Fluffy little crescent roll bites stuffed with swiss cheese, a cream cheese blend, and shredded BBQ chicken. BBQ Chicken Crescent Roll Ups are a perfect quick weeknight meal or game day appetizer!
Instructions
Preheat the oven to 375°F.
Mix together the cream cheese, onion powder, and garlic powder. Set aside.
Mix together the BBQ sauce and shredded chicken.
Unroll the crescent rolls and pull them apart at the perforations. Place a triangle of cheese on each roll at the bottom (see crescent roll package instructions for where the "bottom" is located; it will be the portion of the roll that you roll away from you).
Top the cheese with a spoonful of the BBQ chicken and then a teaspoon of the cream cheese mixture.
Roll the stuffed crescent up and place on an ungreased baking sheet. Bake for 12 minutes.
While the crescents bake, place the green beans in a deep pan with about 2 inches of water. Cover and let the water come to a boil. After 3 minutes drain the green beans. Add the oil and garlic to the pot. Add the green beans back in and toss everything together over medium high heat. Sprinkle with the panko bread crumbs and kosher salt to taste.
Serve everything hot.
Notes
All products linked and recommended in this recipe include a box Top for Education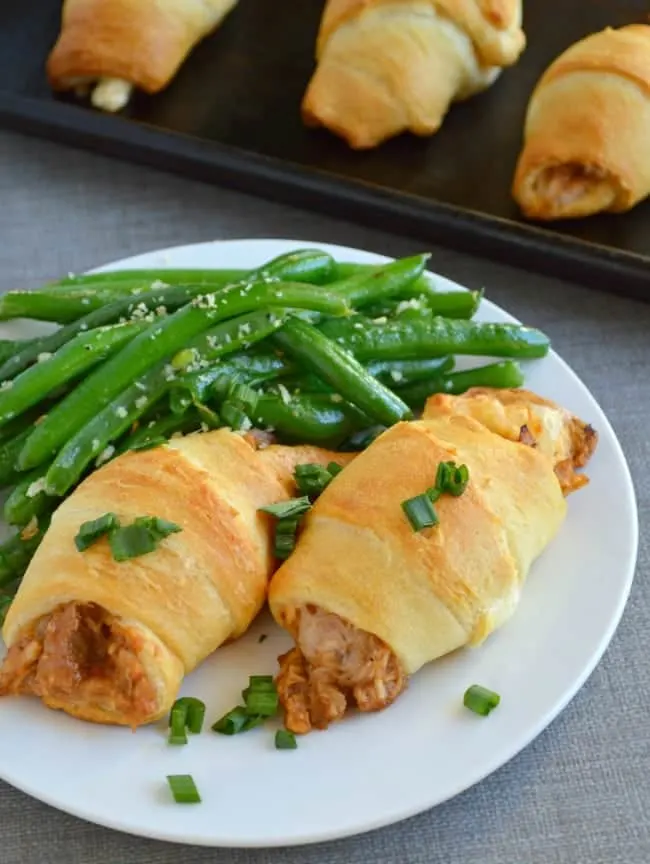 How would you like to win a $50 Food Lion® gift card to help you purchase your favorite participating General Mills® products and earn more Box Tops for Education® for your child's school? See the Rafflecopter widget below to get entered.
a Rafflecopter giveaway

This is a sponsored conversation written by me on behalf of Food Lion® via Burst Media. The opinions and text are mine.