I was having a good bit of trouble deciding what to share with you today. I was drawing a complete blank. We have had a little bit of a trying week here in our household. Since Monday night I've been going round and round with a school bus driver and an administrator trying to take up for my little fella that needs a voice to speak up on his behalf. Does low-fat potato salad scream frustration?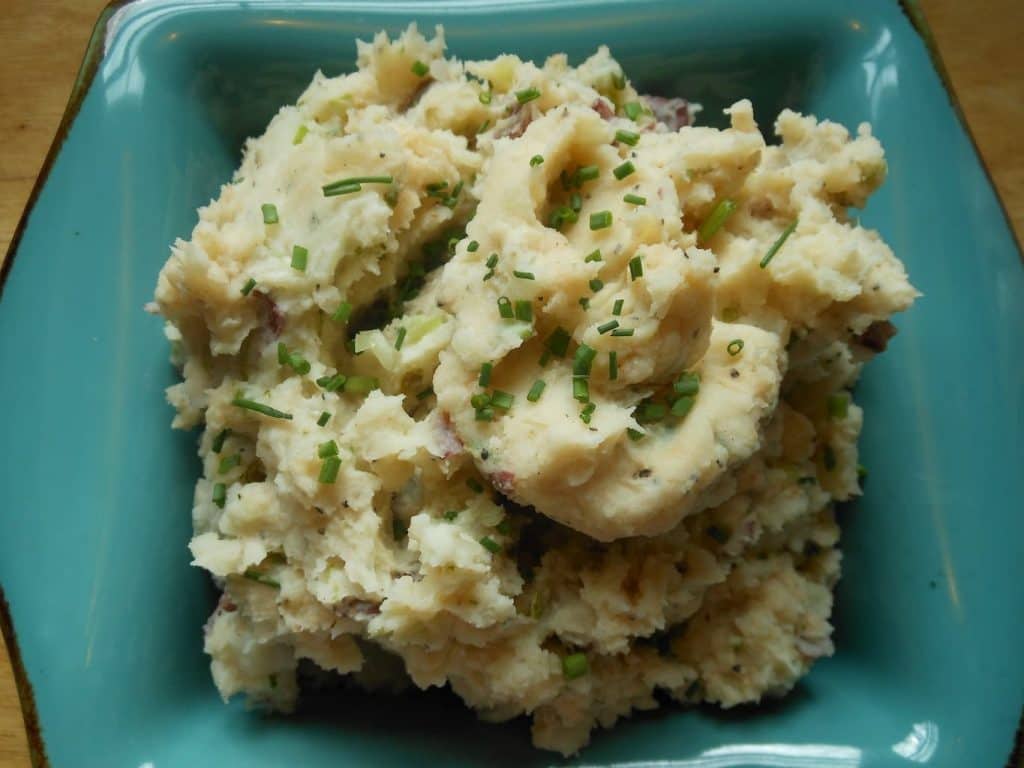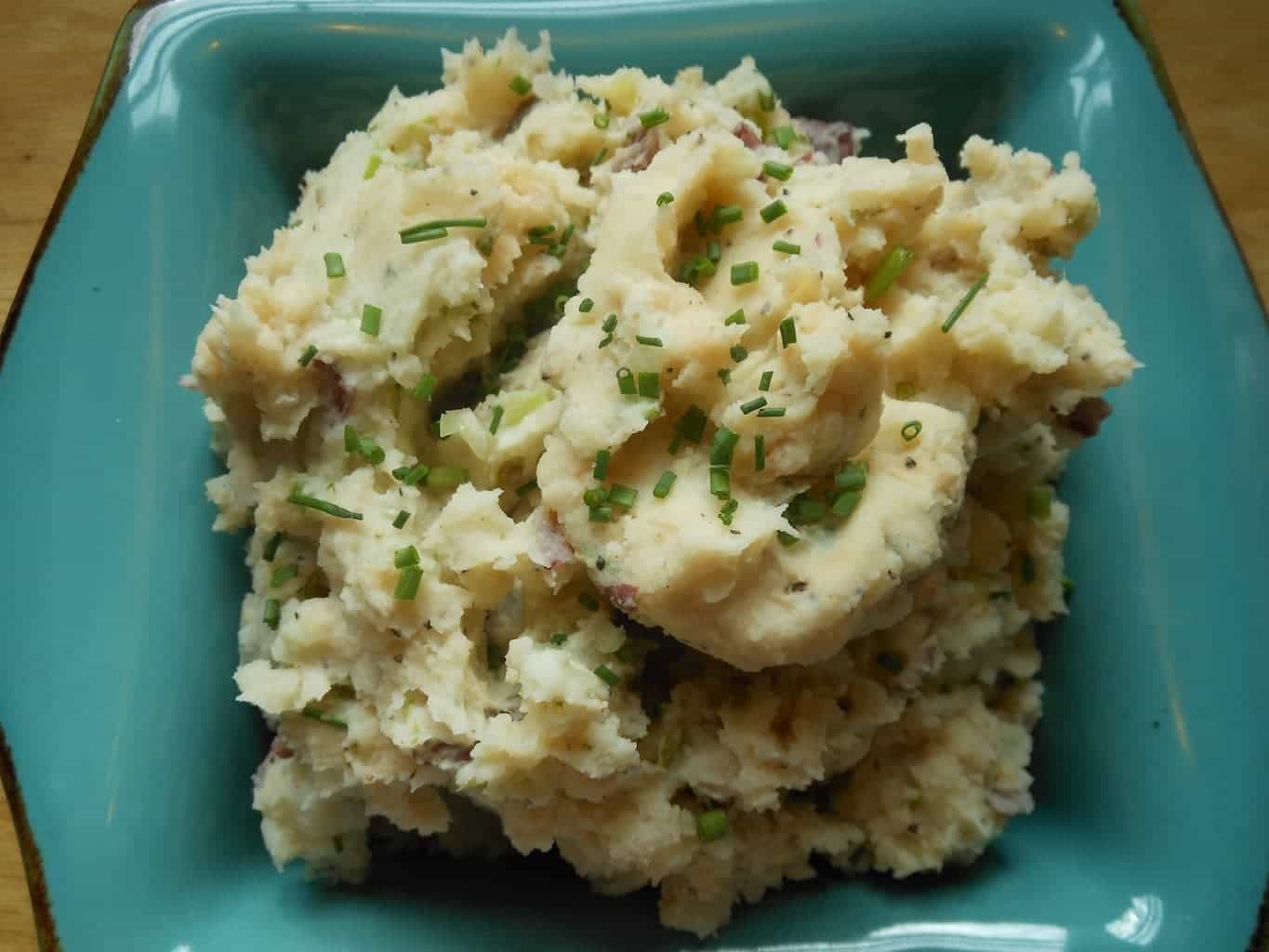 Nah.
What about spicy buffalo chicken simmering in a slow cooker all day? Does that properly communicate my level of irritation?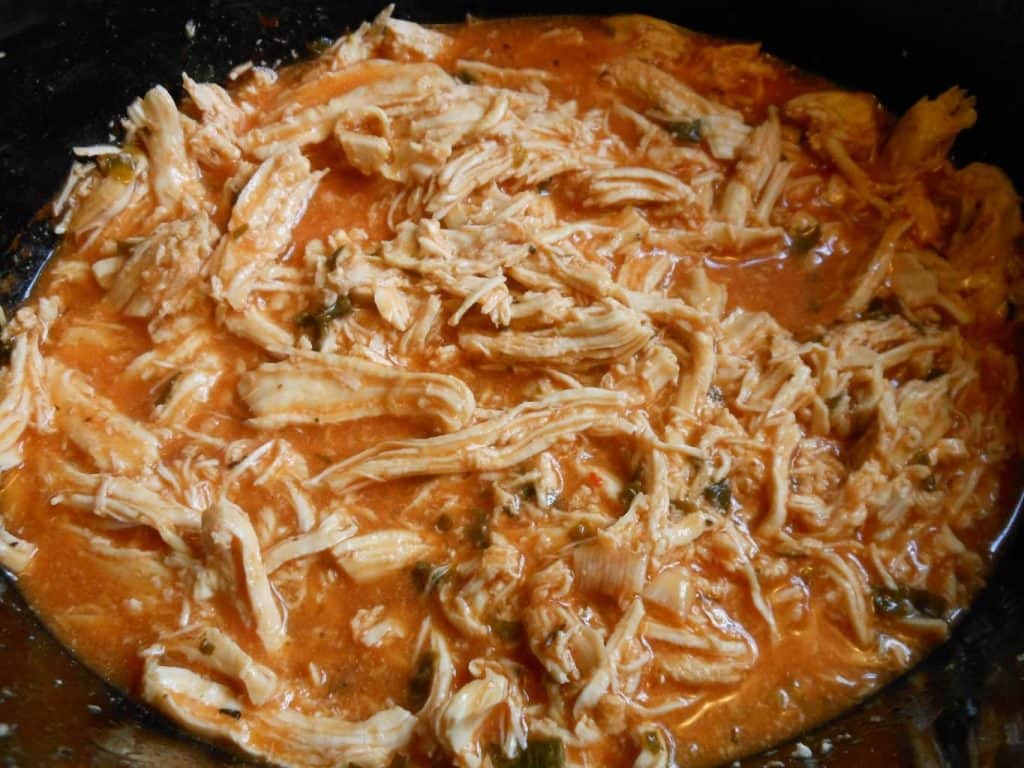 Maybe.
Should I just slather my feelings in creamy peanut butter frosting and try to find some good in a crummy situation?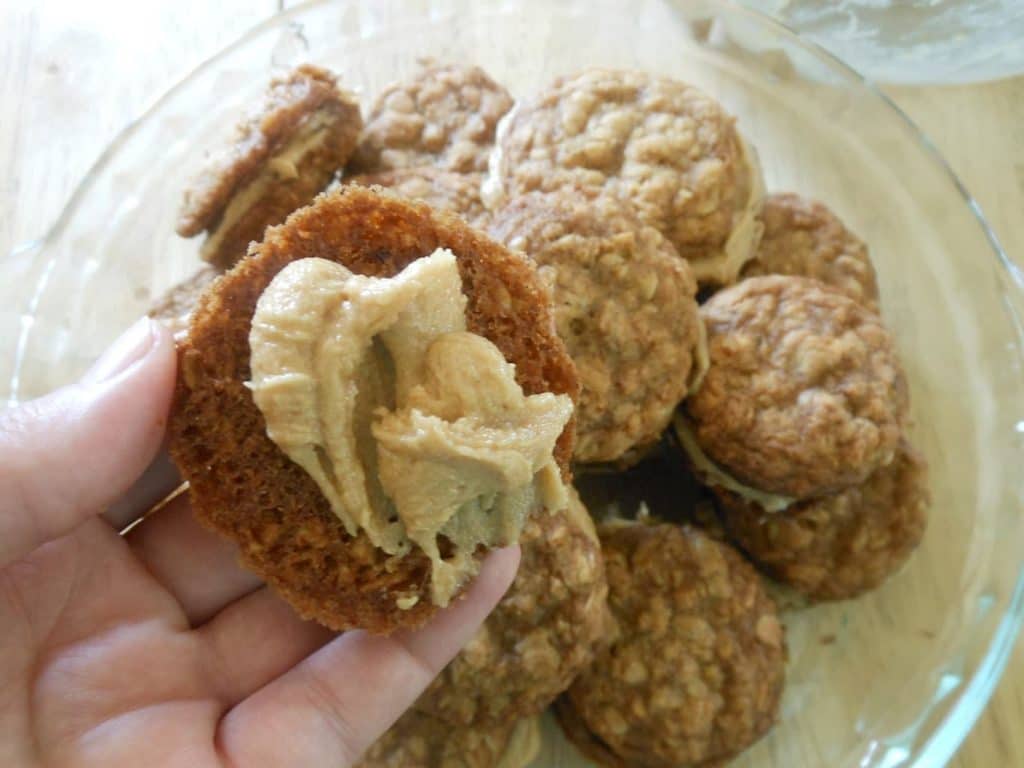 Probably.
But before we make our way to the peanut butter frosting sandwiched in between walnutty (super made-up word-of-the-day) soft oatmeal cookies, I feel like I should explain.
My kids can be pretty annoying en route to anywhere. The back seat of the car is like giggle-fest 2012. Do you remember how Ernie from Sesame Street laughs? That's Evan. Everything is funny. Everything. It can be a little bit exhausting. So when Evan came home with a bus referral earlier this year saying that he was laughing and talking loudly, not following directions, and wiggling around in his seat I was not surprised. I did my job and scolded him, took away privileges, and life went on.
Monday, Evan produced that familiar white envelope from his back pack scrawled with that school official cursive writing "To the Parents of…". Wamp. Wamp.
I raised my eyebrow and glared (a look I acquired from my dad… it requires no words) as I unsealed the envelope. While I read I asked Evan to please tell me what this was about and he said, "I really don't know. I had to sit with this kid on Friday and he tattles on me for everything, like for things I didn't even do." Evan was not concerned. He's silly, but he's never been a troublemaker.
Reading on though, I found that the referral said this: "Evan was moved during route for his behavior after he was moved he bit the child sitting with him on the leg"
That was it, verbatim. Let's skip over the poor grammar and lack of punctuation here for a minute (when Evan was in 2nd grade I received a note from a teacher's assistant telling me that "they was bees" on the playground) and get right to the root of the problem: this woman states in writing that my child is biting his seatmate on the school bus.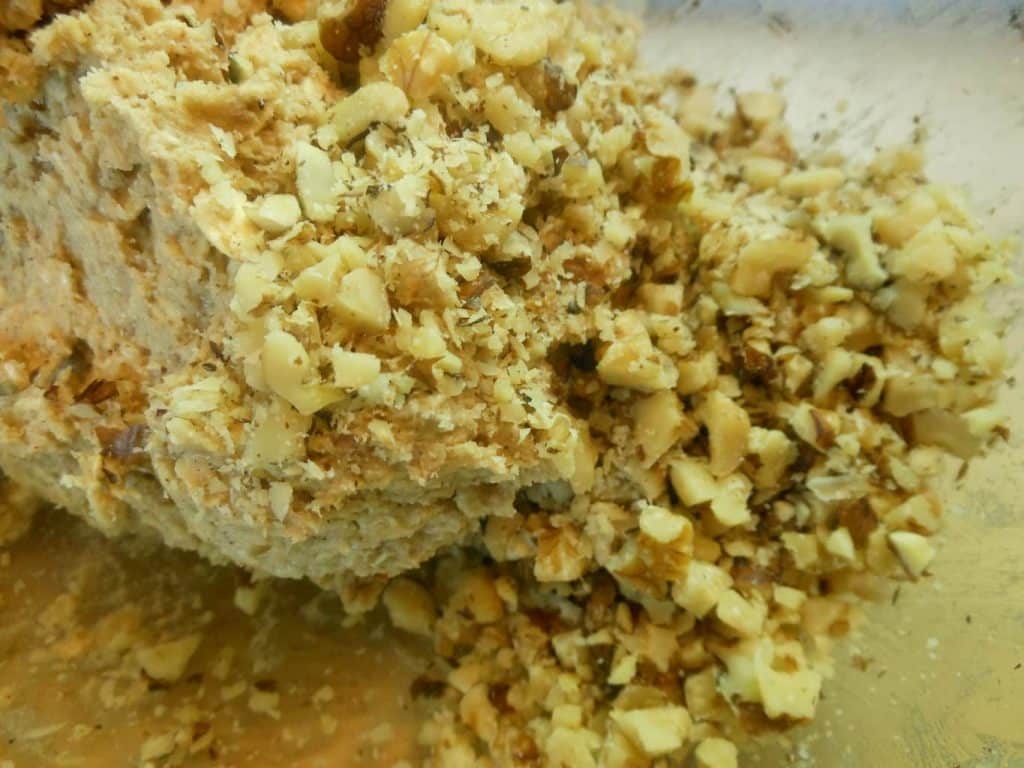 I know my kid. My kid doesn't bite ( not since he was a toddler, anyway). I asked Evan to break it down for me, and after he survived a few rounds of my clever mommy interrogation skills, I determined that Evan is telling the truth. Why would he bite someone on the bus? That's bananas. So I wrote an email in his defense.
I know, I know. I sound like one of those parents that thinks her precious child can do no wrong. Please don't worry; I can assure you that is not the case. I will be the first person to call my boys out when they are wrong. I have high expectations of my kids and they both work hard to meet those standards. Evan in particular is a straight-A student. He is conscientious, easy to get along with, always happy, and well-behaved (but sometimes a little chatty). He is very sensitive and gets his feelings hurt easily, is never aggressive, and has never been willfully disobedient. The email to his school's principal stated all of this.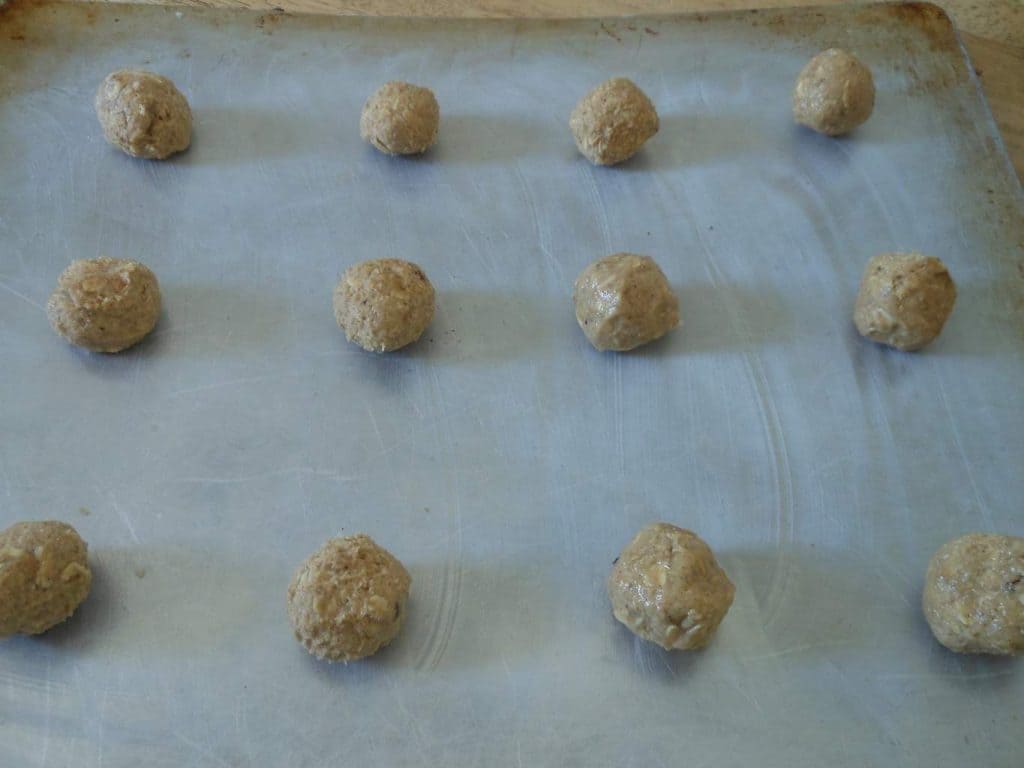 The week before End-of-Grade testing do we really want Evan confined to in-school-suspension, especially for something I am positive he didn't do? That seems like the sort of logic that produces grown-ups unable to write notes home to parents in proper English.
So Principal and Bus Driver called me. I informed bus driver that she could not have possibly witnessed my little boy behind a bus seat taller than he is biting another child. Especially not while driving the bus. I told her that I'm sure her job is very trying and I don't envy her at all. I also told her that if there were bite marks on the other little boy, that surely I would have received a phone call. Bus Driver is very attitudey. She said, "We called the other parents," in her most indignant voice.
I asked her if, since it is her policy to call the parents of a child allegedly victimized, why have I never received phone calls all the times Evan got off the same school bus upset that someone hit him? Surprise! She didn't have an answer. When I pressed further she retracted her inadequately communicated statement about moving Evan's seat during the route.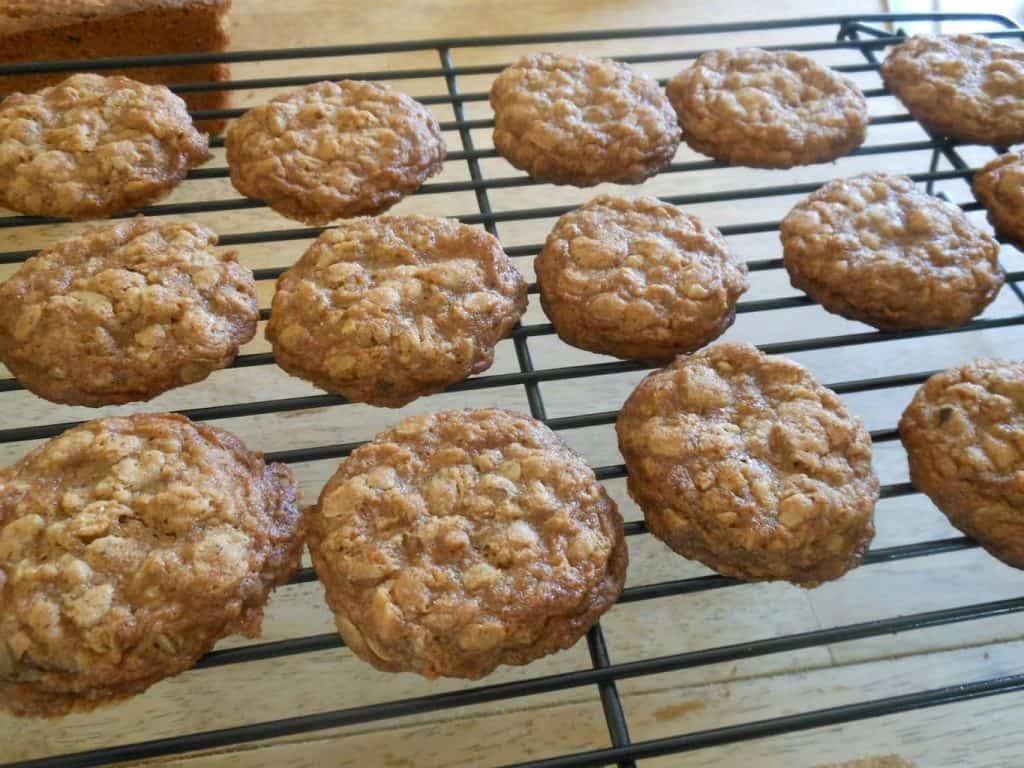 What it boils down to is this: Evan is silly on the school bus. He sits near the driver. He gets on her nerves. Little Boy sharing the seat says Evan bit him while Evan was leaned down trying to fish his backpack out of the floor. Bus Driver uses this opportunity to get Evan in a little trouble because he is on her nerves. Evan's Mom is more than Bus Driver bargained for. Bus Driver is rude and nasty on the phone and screeches,"There are cameras!" before dropping the phone (I might mention that the cameras record over themselves and since this conversation happened Tuesday morning, Friday afternoon is long gone. Also cameras do not have x-ray vision that spies between seats). Principal does not relent after witnessing this entire exchange. Bus Driver takes this opportunity to write another referral because Evan is wiggly giggly and Principal announces that now he is suspended off the school bus for 3 days.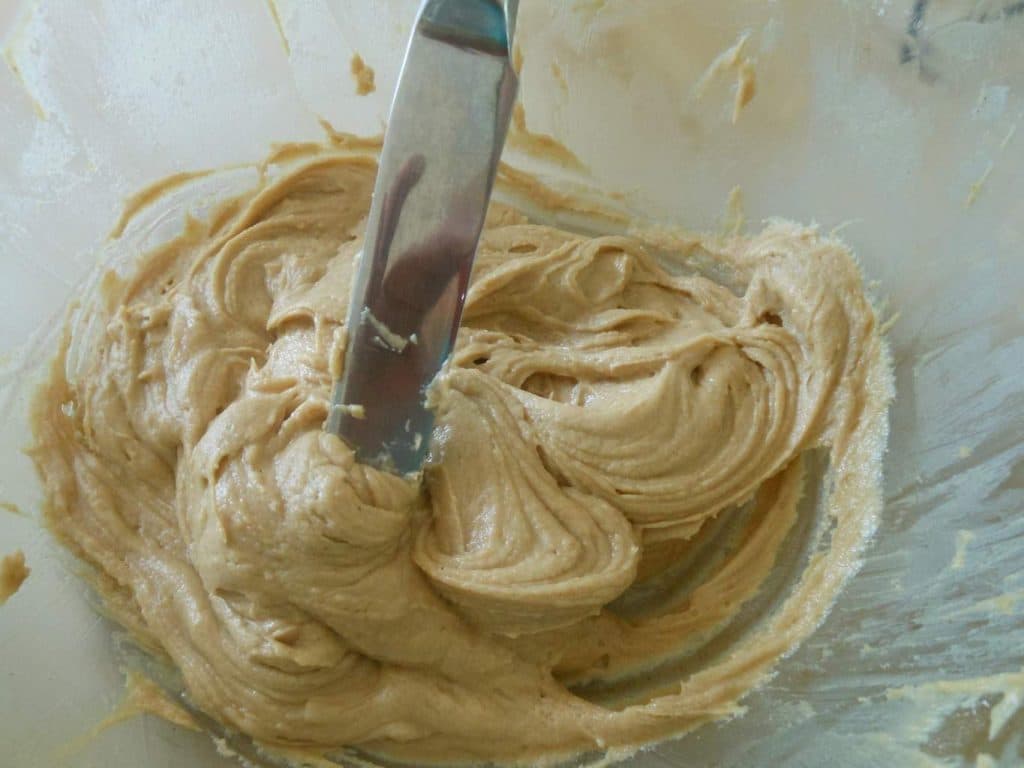 I might take this more seriously if Andrew and another little boy hadn't served out a 5 day bus suspension a couple of years ago for READING. When Evan was in kindergarten they threatened bus suspension because he FELL ASLEEP. I promise I could not make this crap up if I tried.
In short (but actually this rant has gotten quite long… apologies) our mornings have been turned upside down trying to work out transportation. Don't get me started on afternoon carpool. When I see Evan's school bus drive by and not stop, I'd really like to use one of my fingers to tell Bus Driver what I think. But since she'd probably just take it out on my little cutie next week, I'm going to occupy myself with these cookies.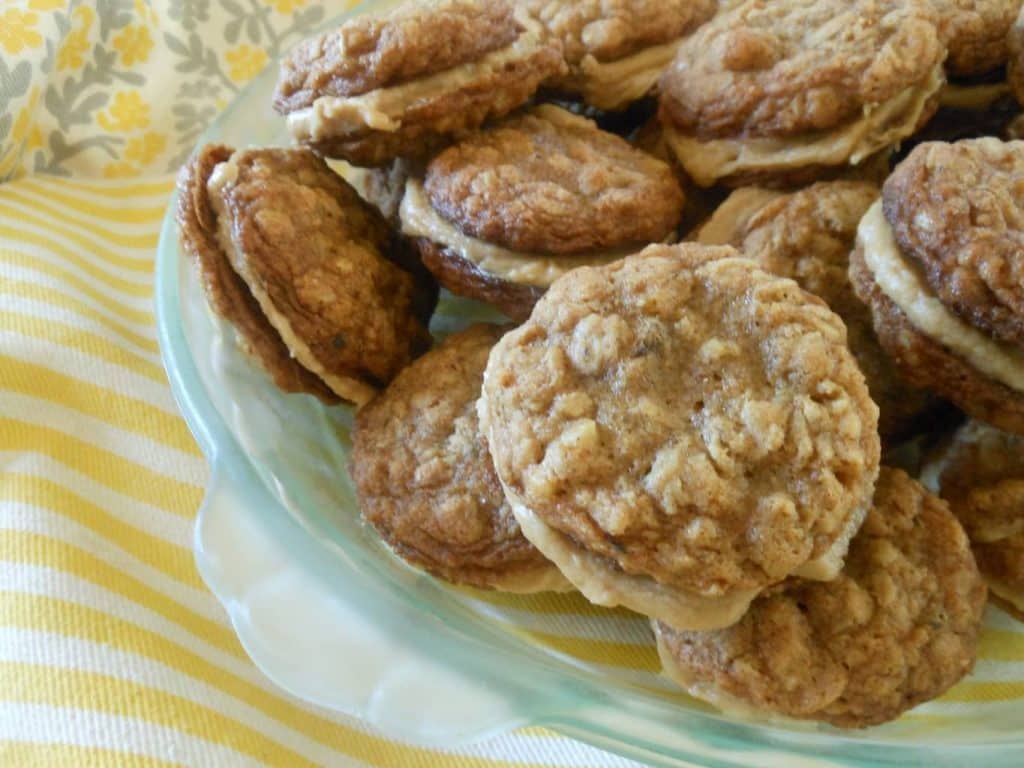 Oatmeal Sandwich Cookies with Peanut Butter Frosting are surely the best things to emerge from this crummy situation … probably they are the best things to emerge from anywhere in awhile. Which is why you should try them!! This is the only recipe I have ever tried from Joy the Baker (though there are gazillions that have caught my eye) and I was so so glad I did. Her site is one of the most deliciously happy places on the web and is probably the reason why my email didn't say:
Dear Bus Driver,
%$#@*&%!@#$* (Fill in the Blank)
Sincerely,
Evan's Mom
Click HERE for Joy's super awesome recipe.