An amazing chicken burger recipe! These Chicken Parm Burgers are made with fresh basil and oregano, coated in seasoned breadcrumbs, and topped with marinara sauce and melted mozzarella cheese. Fresh herbs really make these chicken burgers stand out from the rest!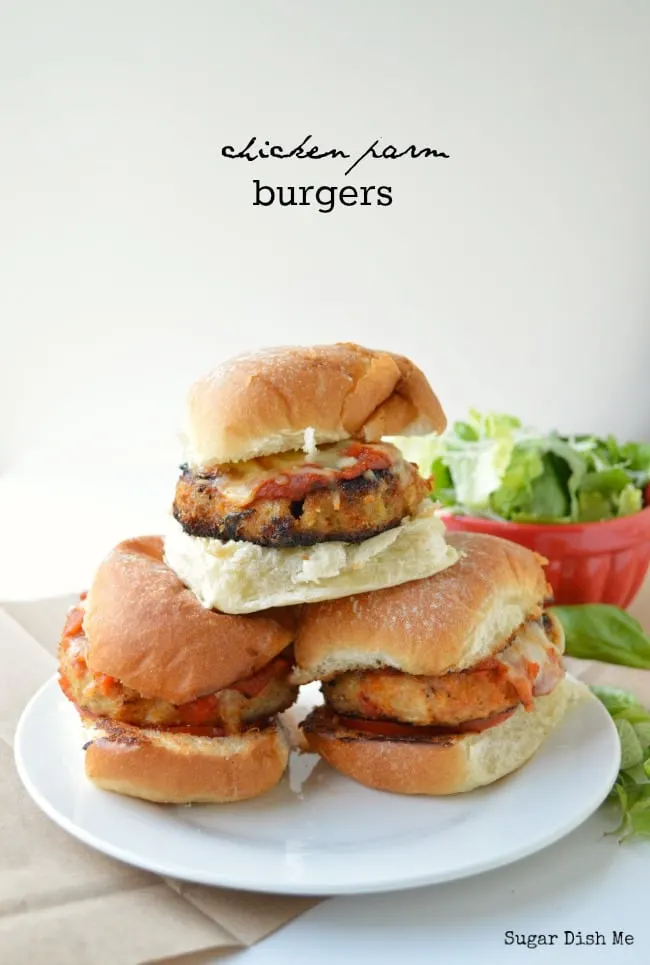 It has been raining here for something awful like 9 or 10 days straight. Not one stitch of sunshine anywhere to be found. I'm living in these over-sized cut-off sweats that roll down at the waist so that they are the most comfortable pants on the face of the earth, and my oldest son I think has been in pajama pants most of the week. The rain has zapped all our motivation to do anything but burn through all the series on Netflix.
All of them.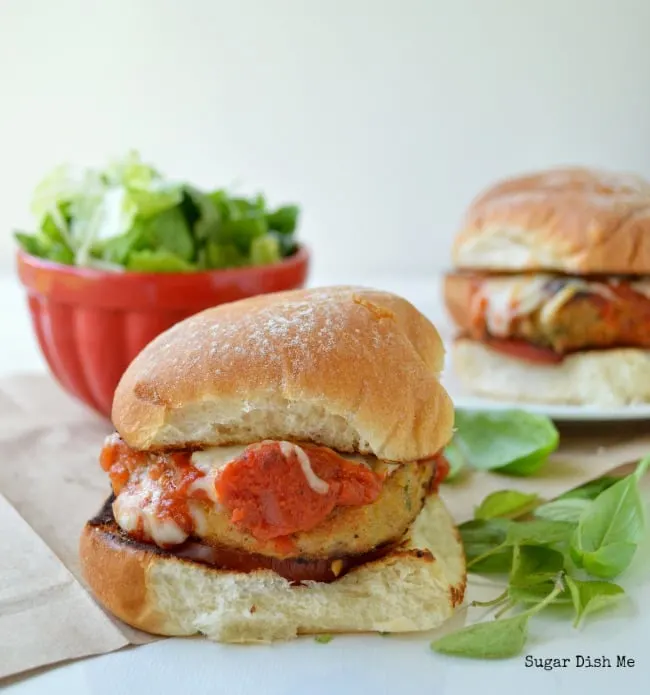 Something about rainy days makes the couch scream our names. Even the dogs have stopped playing and are in a perpetual state of nap scattered across the living room floor.
On the plus side I have managed to watch some of my favorite movies – I mean my most favorite cinematic treasures – with my oldest boy.
Stranger Than Fiction (which for me is second only to True Romance. YES.)
The Breakfast Club — we have had a pretty good run over here.
You can make fun of my cinematic treasures now. I'm cool with it.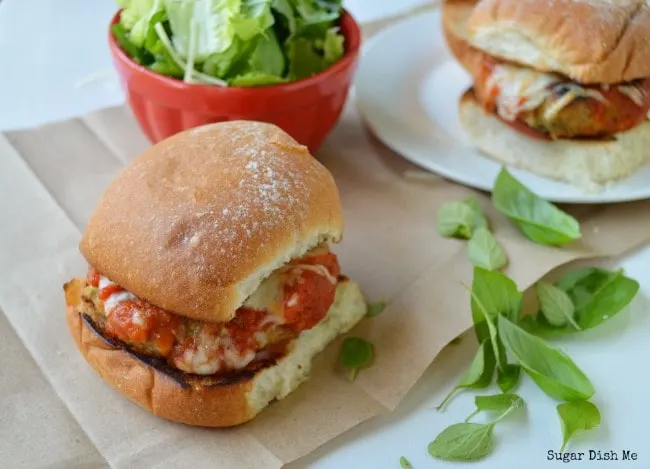 These Chicken Parm Burgers were a nice little ray of sunshine in all our rainy let's-eat-cereal-at-2-pm days. My herbs are looking mighty healthy from all the water. Which turned out to be awesome because the fresh herbs are really what make these Chicken Parm Burgers stand out.
If you don't have basil and oregano plants hanging around, please please take yourself to your nearest greenhouse or home improvement center and buy them! It's as cheap to buy the plant as it is to purchase cut fresh herbs at the store, and they will last you all season! They are totally low maintenance – our dogs have dug up my potted basil at least twice and it's still producing. So that's my fresh herb PSA for the day.
Anyway.
The burgers are stuffed full of fresh herbs, rolled in seasoned bread crumbs, and sauteed in olive oil. It makes for totally juicy-on-the-inside, crisp-on-the-outside burgers, just like traditional chicken parm! I topped them with my favorite Fast Fresh Stove Top Tomato Sauce, but you can use prepared marinara to save time. You will love them.
Bonus: they are also great movie fare. Just saying.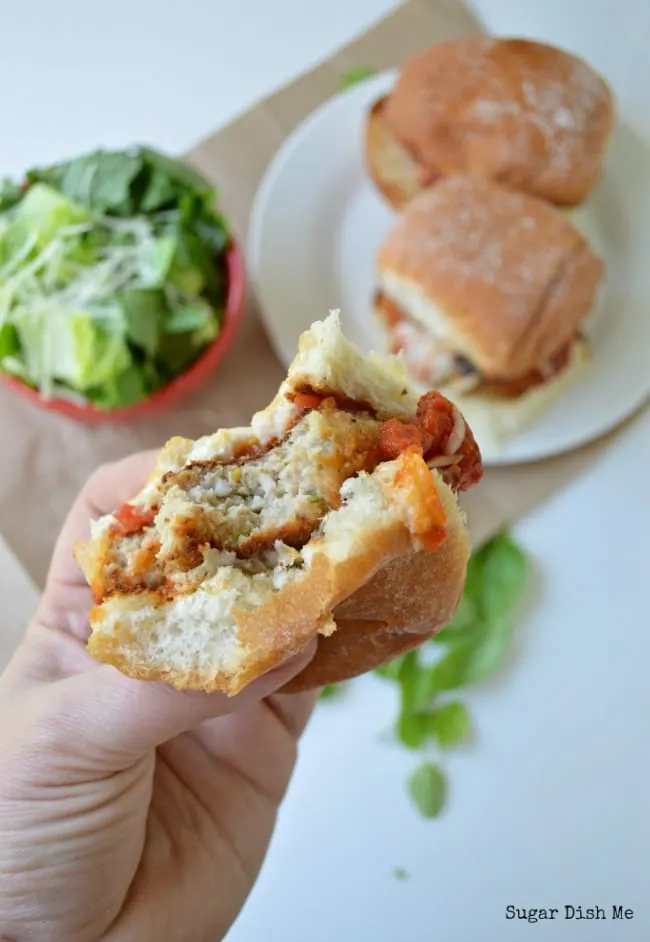 Chicken Parm Burgers
Ground chicken stuffed full of fresh herbs, coated in seasoned bread crumbs and pan seared. These Chicken Parm Burgers are covered in a delicious marinara sauce, melted mozzarella, and served on squishy soft buns. A great burger tribute to a classic Italian dish!
Ingredients
1 pound ground chicken
2 cloves garlic, finely minced
2 tablespoons chopped fresh oregano
2 tablespoons chopped fresh basil
½ teaspoon salt
½ teaspoon coarse ground black pepper
½ teaspoon crushed red pepper flakes
1½ cups Italian seasoned bread crumbs (I like the breadcrumbs with cheese!)
2 tablespoons olive oil (more as needed)
2 cups marinara sauce (I recommend this Fresh Stove Top Tomato Sauce)
1 cup shredded mozzarella cheese
1 ripe tomato, thinly sliced
4 soft buns (I used snowflake rolls)
Instructions
In a large bowl combine the chicken, garlic, oregano, basil, salt, black pepper, and ed pepper flakes. Don't overwork it; just mix until combined. Shape into 4 equal patties.
Pour the breadcrumbs into a shallow dish. One at a time, coat all sides of each patty with the bread crumbs.
Preheat the oven to 400°F and cover a baking sheet in foil.
Heat the oil over medium high heat in a large skillet. Add the patties and cook for about 4 minutes on the first side, checking to make sure they aren't getting too dark. Turn the burgers and cook for another 4 minutes on the second side. I like to make a small cut in one burger to check for doneness.
Working on your prepared baking sheet, assemble all but the top bun of your burgers. On the bottom bun add a slice of tomato and top it with a chicken patty. Spoon marinara over the chicken and cover it with mozzarella cheese. Repeat with the other 3 burgers. Place the top buns cut-side down on the baking sheet and put all of it in the oven for 2-4 minutes, just until the cheese melts.
Add the top bun to the burgers and serve.