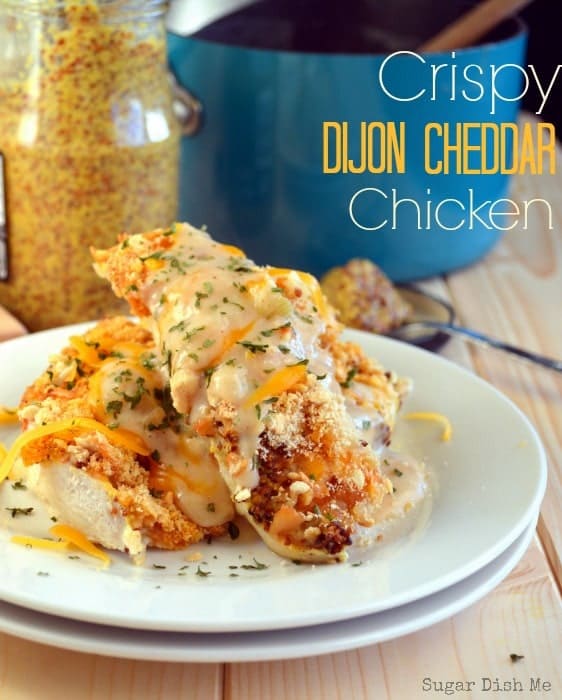 This Crispy Dijon Cheddar Chicken took some hoop-jumping, let me tell you.
For something that seemed sososo simple, I screwed it up royally a good handful of times before I got it just right. It started with a reader sending me a link to a Facebook post with a delicious-looking photo and a recipe printed in full.
The delicious-looking photo turned out to be from this recipe for Crispy Cheddar Chicken from Jamie Cooks It Up, except her words had been cleverly lobbed off with some editing software and there was no credit given.
Remember when you were writing papers in high school and you had to cite your sources properly ala Encyclopedia Brittanica and you could not copy sentences verbatim or it was plagiarism? That rule still applies to grown up life and *gasp* Facebook. So that's our lesson for the day.
Anyhoo, Google knows pretty much everything, which is lesson #2, so I found the original recipe and worked backwards from there.
Because the kicker is that the reader wondered if I could take that ooey gooey cheesy chicken and lighten it up/make it a little more hip-friendly.
I failed miserably on the first try. The chicken was great but I made this Parmesan Greek yogurt sauce that was a clumpy mess and let's not ever speak of that again.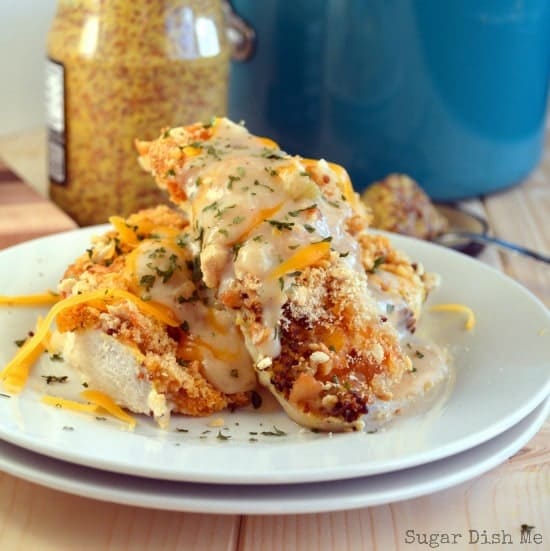 After some re-working, I came up with this awesome creamy sauce that you can make from scratch using very basic pantry items. AND it's lightened up!!!
I flavored this with super seedy Dijon mustard. I put the same mustard on Chad's sandwich earlier this week and he actually stopped to text me that the mustard was crazy amazing. It's whole grain mustard that I bought it at Aldi for like $1.89, in case you want to replicate this exactly, but I think your favorite grainy mustard or even honey mustard (oooohhhh yum!) would be delicious. Definitely crucial to the lightening up of this recipe though, is finding a low fat cheese that melts, which can be tricky. I swear by Cabot's Light Cheddars. They are 50% less fat and only 70 calories per serving, but what matters is that THEY MELT!!! Once upon a cheese fry I used the same cheddar.
Know that this recipe was oooed and ahhed over by my whole family. Stamp of lightened up approval. There you go.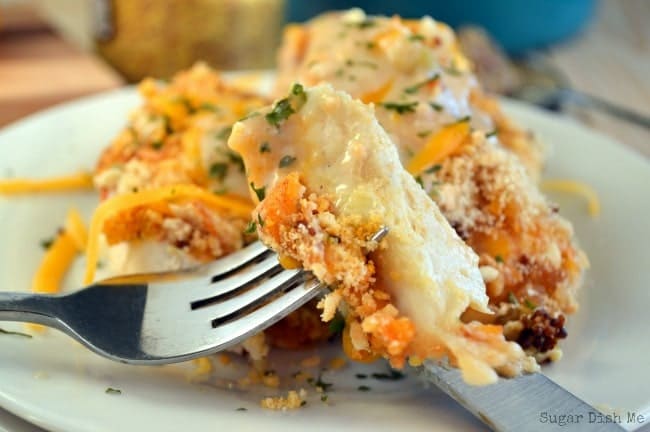 Crispy Dijon Cheddar Chicken
Chicken breasts brushed with seedy whole grain mustard, covered in light cheddar cheese, Ritz crackers and then baked. The sauce is from-scratch and super simple -- this is a lightened up dinner recipe that will please your whole family!
Ingredients
For the Chicken:
1.5 pounds boneless skinless chicken breasts, cut into tender-size strips
2 tablespoons whole grain Dijon mustard
4 ounces light cheddar cheese, shredded
25 (about a sleeve) reduced fat butter crackers (such as Ritz), crushed
½ teaspoon paprika
For the Creamy Sauce:
1 tablespoon olive oil
1 tablespoon unsalted butter
¼ cup onion, finely minced
1 cup low sodium chicken broth
½ cup 2% or skim milk
⅓ cup all purpose flour
dry or fresh parsley to garnish
Instructions
Preheat the oven to 400 and spray a 9 X 13 baking dish with non-stick cooking spray.
Arrange the chicken pieces in a single layer in the prepared baking dish. Spoon the mustard over the chicken pieces and spread it evenly. Then sprinkle the cheese over the mustard. Top with the crushed reduced fat butter crackers and then sprinkle with the paprika.
Bake for about 35 minutes, or until the chicken is cooked through.
While the chicken bakes, make the sauce by heating the olive oil and butter in a medium saucepan.
Add the onions and cook over medium high heat until they are a slight caramel color - about 3 - 4 minutes.
Pour in the low-sodium chicken broth and bring the liquid to a simmer.
Stir together the cold milk and flour (I like to measure the milk in a liquid measuring cup and then stir the flour right in) and then pour it into the simmering liquid. Bring it all to a simmer (watch it-- the milk has a tendency to make things bubble over), and then reduce the heat, stirring occasionally.
The sauce will thicken as it cooks. You can set the heat to low and continue to stir from time to time so the sauce is hot when the chicken is ready.
Plate up the baked chicken, spoon the sauce over it, and garnish with the parsley. Serve warm!