Inspired by Carrabba's Italian Grill's Chicken Bryan, this roasted chicken is stuffed with goat cheese, sun dried tomatoes, and basil butter.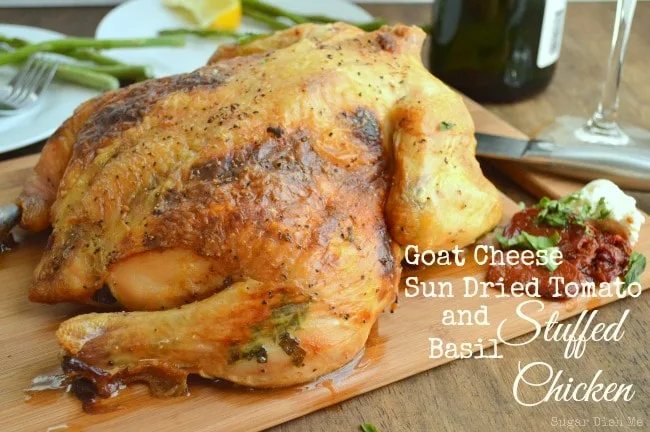 Another sun dried tomato recipe so soon?!
I know, I know. But hear me out.
See, I made this chicken waywayway before I made this pizza.
But I have a major problem with photographing whole chickens. Because no matter what I do, I still think a whole chicken looks like a carcass. And… I guess it is but… well I'm one of those people that is totally down with things like bacon that look nothing like poor old Wilbur, know what I mean? So I made this chicken 3 times. I looked at inspired photos by my peers, whole chickens all propped and back lit and gussied up, and I found this:
They all still look like carcasses.
Also that is kind of a mouthful of word.
Anyway, after adding all of these factors up with the fact that this dish is like completely outstanding delicious, I decided that a whole chicken is always going to look like exactly that (unless I put sunglasses on it) and I just needed to go on and share it.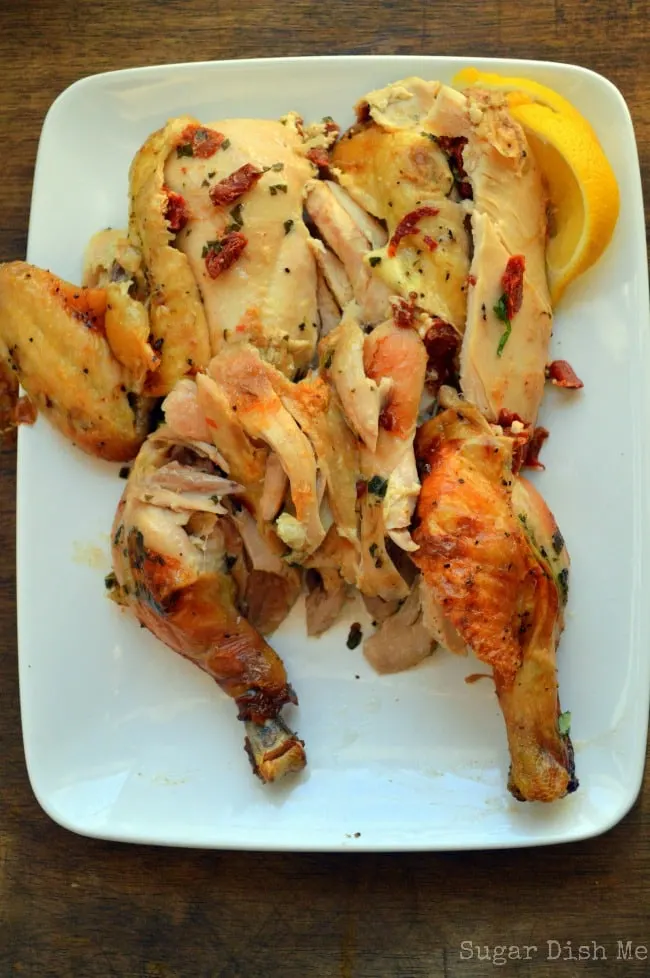 Remember 100 months ago or something when I made a Copycat Carrabba's Pollo Rosa Maria and professed my love for the Italian Grill?
Well. Some years back my little sister and I landed in a cozy bar booth at Carrabba's, hovered over warm bread, herbs, and olive oil, her dressed in black and white band concert garb that we spent entirely too long shopping for, and me wearing something impossibly casual and totally inappropriate for whatever else we had to do (my fashion sense stops at jeans, t-shirts, and flip flops which basically means I don't have any). I ordered the Pollo Rosa Maria. She ordered the Chicken Bryan. They are both covered in the same lemon basil butter sauce and we still can't decide which one is more delicious. Ahhhh… memories.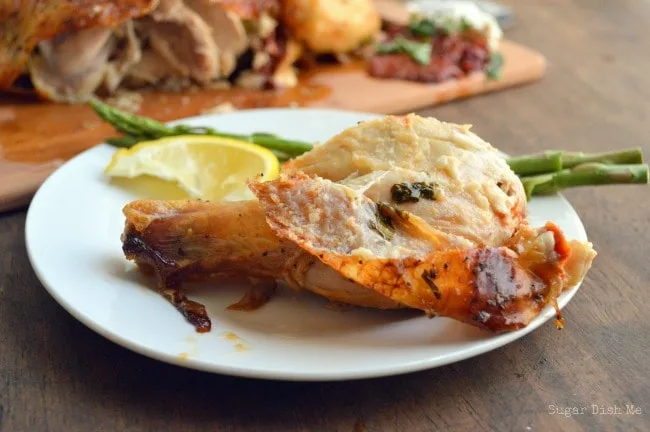 So what I did here is take my weekly roasted chicken and load it with all the flavors from those happy food memories. I used fresh basil to make a delicious compound butter, and then chopped up sun dried tomatoes with goat cheese and stuffed it all under the skin. That delicious crispy skin comes from rubbing the outside with the remaining butter that's going to be all over your hands. My kids totally love that crispy skin.
I always roast my chicken breast-side down. For me it guarantees really moist tender breast meat, which is my favorite part. I also stuck a bunch of lemon slices inside this chicken before stuffing it in the oven. If you want the lemon basil butter sauce to drizzle over the top you can find it HERE, and it's amazing, but honestly this chicken really doesn't need it. We picked this bird clean. See? Carcass [couldn't help it].

Goat Cheese, Sun Dried Tomato, and Basil Stuffed Chicken
Roasted chicken inspired by the flavors of Chicken Bryan. Stuffed with basil butter, goat cheese, sun dried tomatoes, and lemons, this whole roaster is perfectly moist and totally delicious.
Ingredients
1 (5-6 pound) whole chicken
¼ cup unsalted butter, softened
¼ cup fresh basil, finely chopped
4 ounces plain goat cheese, softened
¼ cup sun dried tomatoes packed in oil, coarsely chopped
coarse salt and pepper to taste
1 lemon, cut into quarters
Instructions
Preheat the oven to 425,
Remove anything that might be lurking inside the chicken. This will vary based on where/what brand you buy. Just make sure there are no packages or organs (sorry) stuffed in there! Rinse the bird and pat dry with paper towels. Place the chicken in a roasting pan or baking dish. Gently lift the skin away from the mean all the way around -- on the breasts, legs, and thighs. Be careful not to tear the skin. You just want to be able to run your hand underneath.
Prepare the "stuffing". In a small bowl use the back of a fork to smash the butter and basil together until it is evenly combined. In another small bowl do the same with the goat cheese and sun dried tomatoes.
Scoop up a little of the basil butter blend at a time and stuff it under the skin on all sides of the chicken. Place a hand on the outside skin where you stuffed the butter and massage it gently to spread it around. Use all the butter, saving just a bit to rub all over the outside skin as well.
Repeat the process with the goat cheese blend (but don't rub the outside skin with the cheese; it will burn).
Sprinkle the outside of the chicken all over with salt and pepper.
Place it in the pan breast-side down.
Stuff the lemon slices inside the chicken.
Cook time will vary just slightly, depending on the size of your bird. **See note.**
Once the chicken is cooked through, let it rest for a few minutes before slicing and serving.
Notes
Average cook time for a roasted chicken is going to be about 20 minutes per pound, with an extra 20 minutes tacked onto the end. I cooked my 5½ pound bird for 2 hours and 30 minutes. Be sure to check the temperature at the thickest part of the breast. For chicken you are looking for 160-165°F.