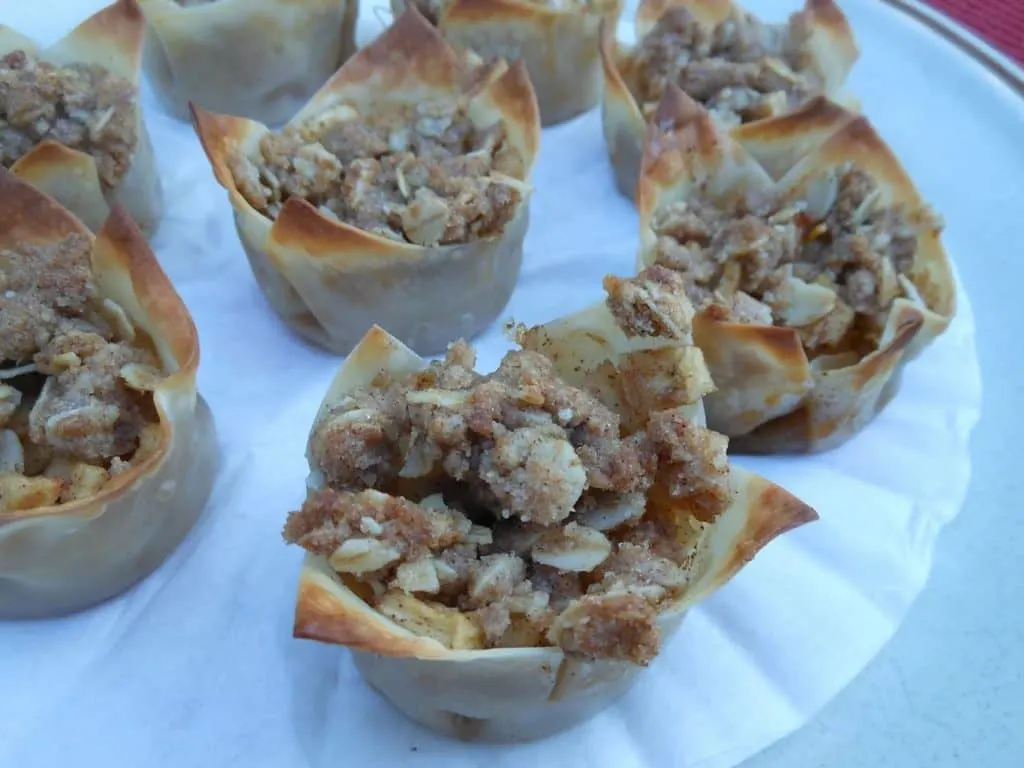 When my boys were little bitty there were a bazillion things we did together, no shortage of games we played. They were content to color with me for hours and make a mess with the finger paints. I can remember Andrew crawling through the house with all his might and laughing hysterically at me clambering around in his wake on all fours.
Chutes and Ladders were what it was all about. We would sing ridiculous songs from trippy shows like Bear in the Big Blue House or Caillou and dance in front of the TV with Elmo. "C" is for cookie was our mantra. Tickles and snuggles happened all the time and I cherished that baby giggle that comes from way down deep; that is the sound of the truest sort of happy.
Sometimes the little boys would climb into bed with me in the middle of the night, creeping around so softly I never knew they were there until I woke up with one curled behind my knees and the other tucked under my arm spooning the way only a tiny person can. Those were the best mornings.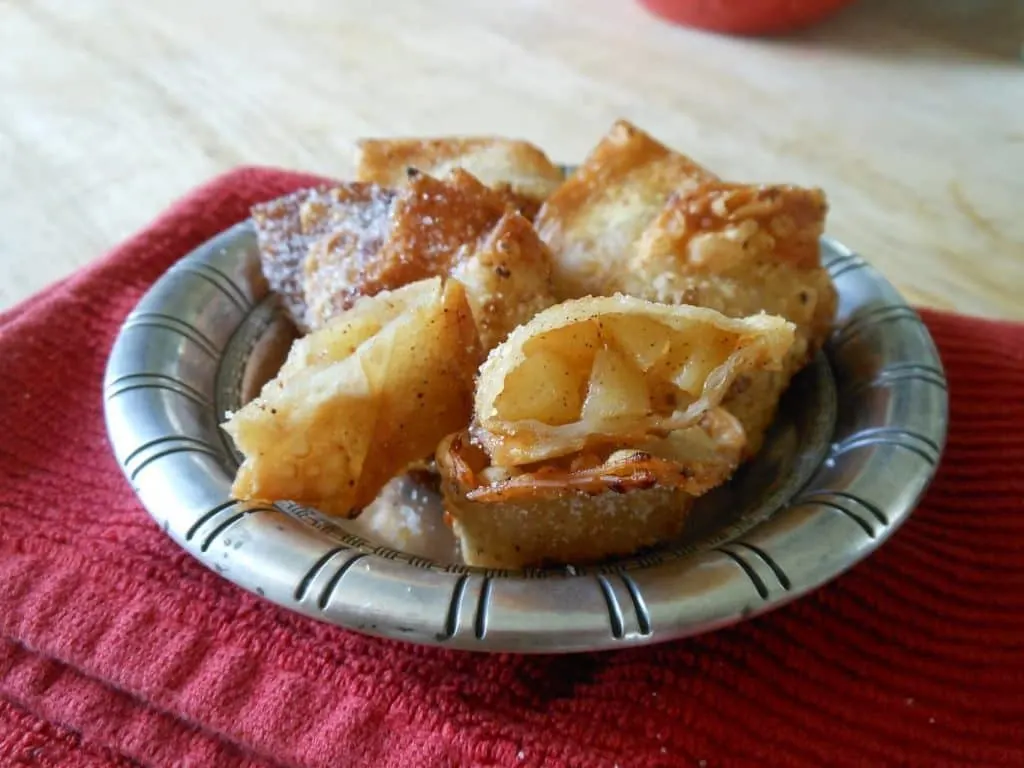 My little boys are bigger now, and they can do all sorts of things they couldn't do back then. Andrew can cut the grass. Evan likes to help Chad work on cars. They can put away their own clothes and put their own dishes in the sink. Neither one of them throw Cheerios at me anymore.
Bigger boys don't want to watch Sesame Street with Mommy, though. They will occasionally sit down for a game of Skip-Bo or Phase 10 Twist, but mostly they like to talk at me about things like Star Wars and Minecraft that just go right over my head. I learned a long time ago that I am just not coordinated enough to play video games.
Today I tried my hand at Mario Kart again.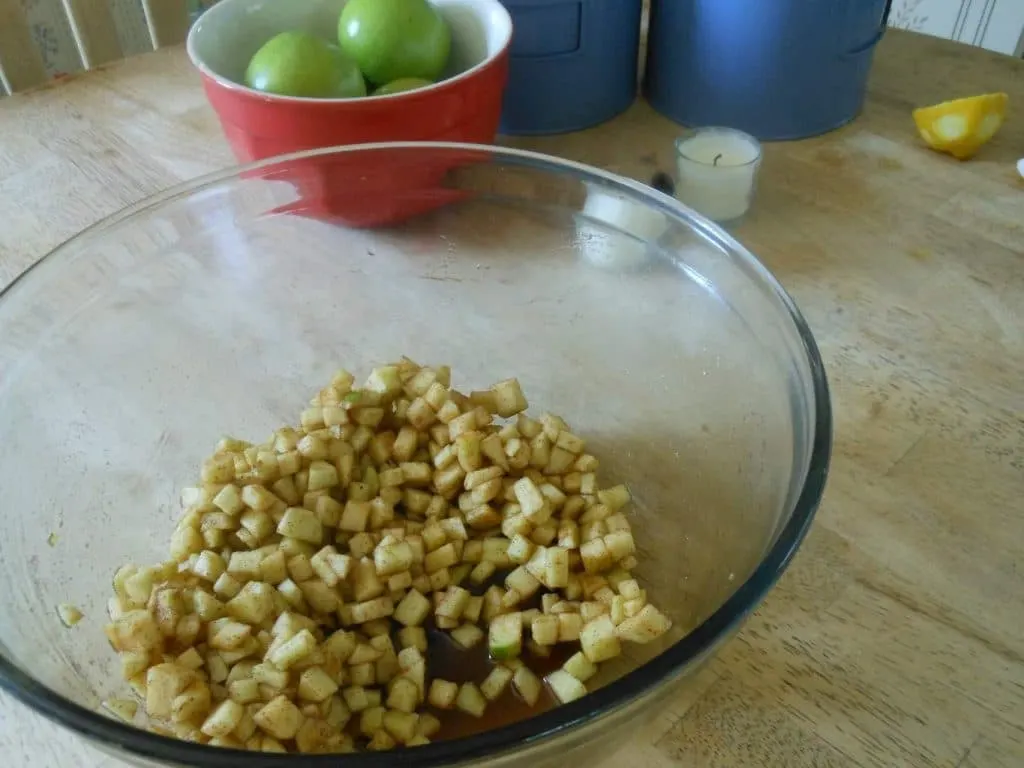 I still suck at it.
At my best I can get to about 3rd place on the easiest level. That's bad news for whichever one of my children decides to be on my team. Evan kept saying, "That's good, Mommy!" Andrew's tactic was to not be on my team at all and strike me with lots of lightning. As if I needed any help driving my go-kart off an imaginary cliff.
After about 4 races the game turned into "How-to-Make-Fun-of-Mommy-Playing-Mario-Kart". It goes like this: The boys take turns picking the hardest levels they can think of (Rainbow Road anyone?!! Anyone?) while snickering to each other because they think they are tricking me. They laugh hysterically when I can't keep my go-kart on the moving road made of rainbows that is mysteriously located in outer space. Then they shoot turtles at me and laugh some more when I protest and say it's not very nice. Evan had an attack of conscience after about my 3rd try and willed himself into 12th place so I could feel victorious in 11th.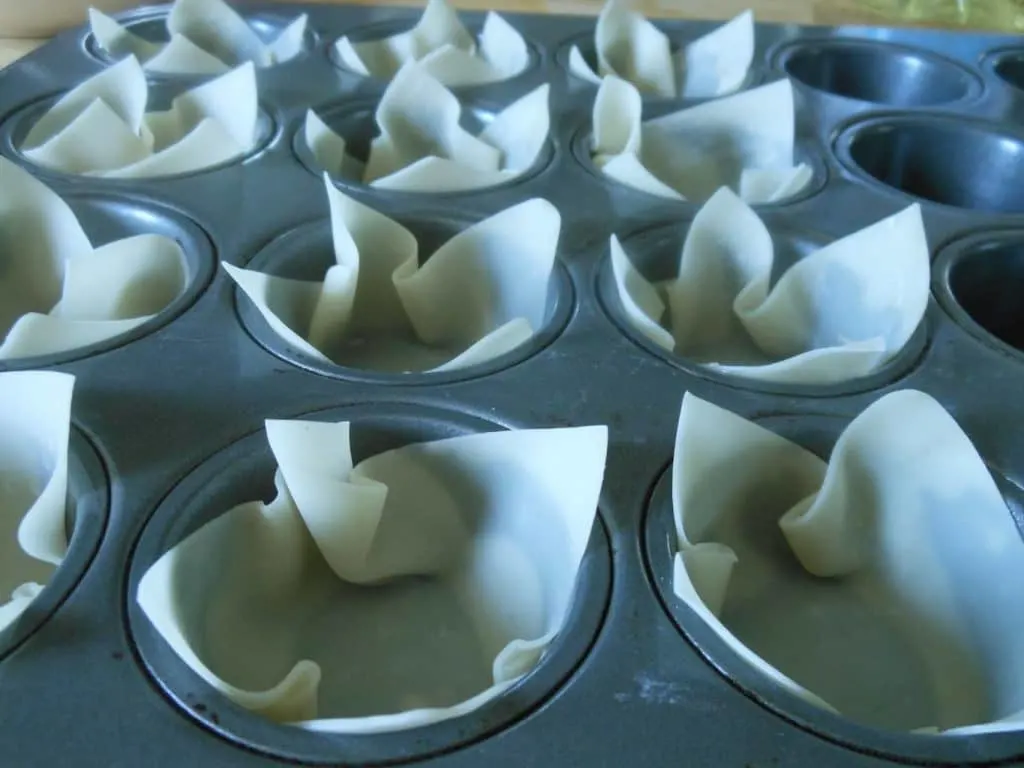 Compassion.
Maybe I am doing something right.
I decided after the Mario Kart massacre that we would try our hands at something I can actually do. Because even though the little boys are bigger I still really want them to play with me.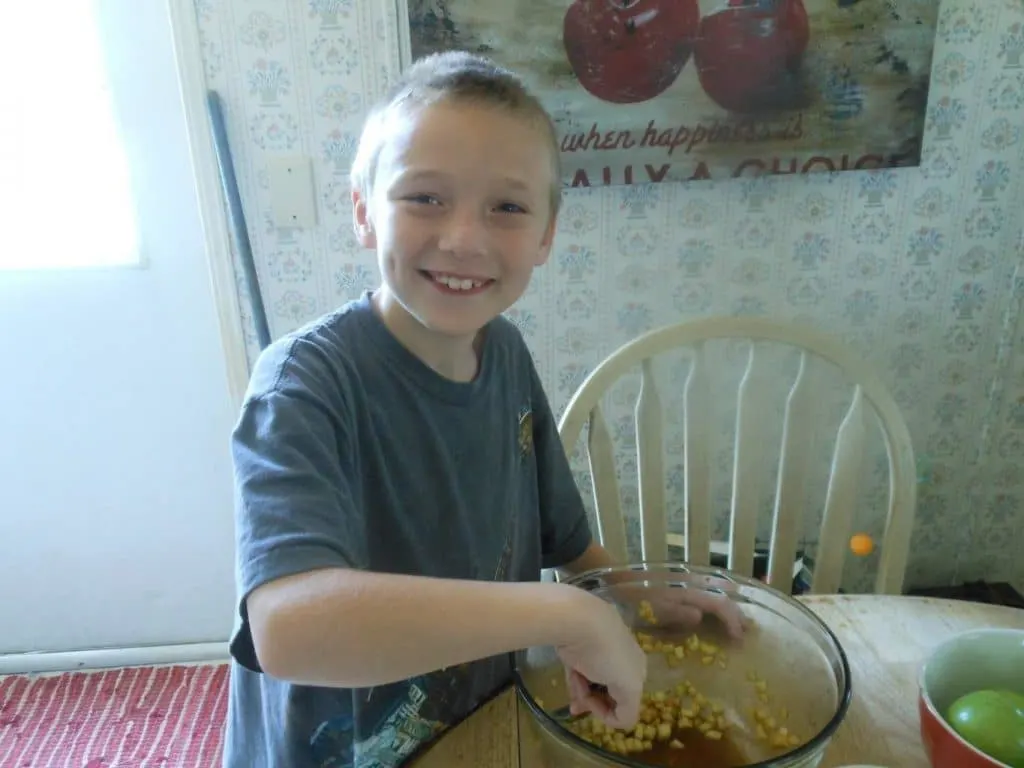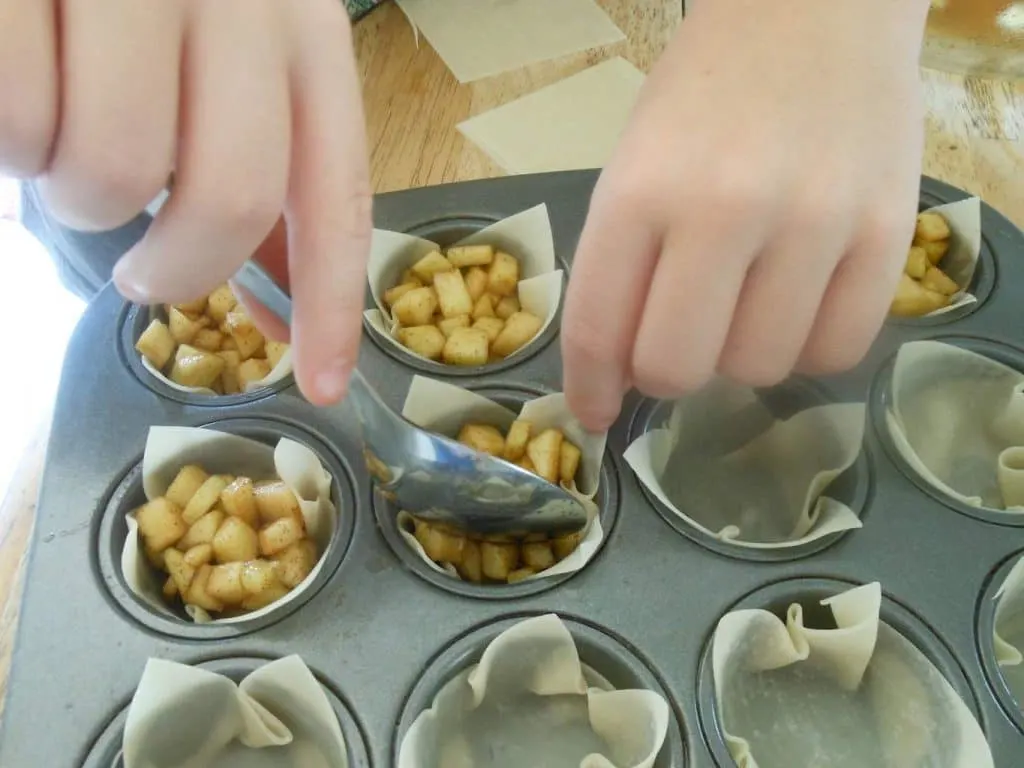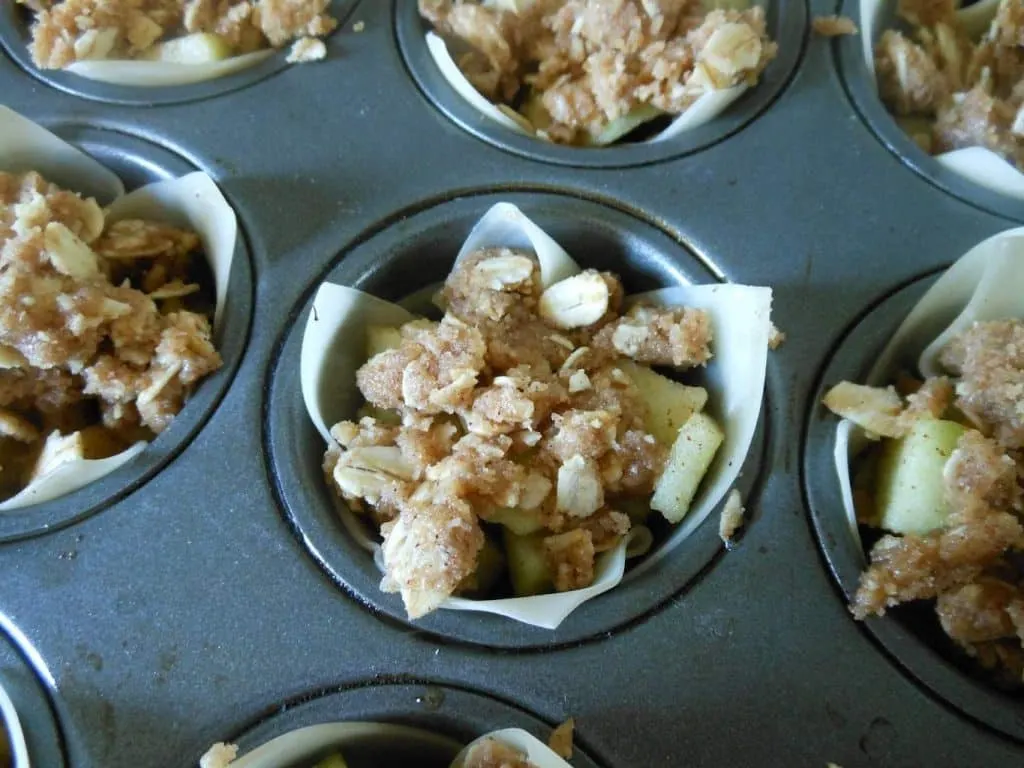 These mini-apple pies used wonton wrappers for a light crispy crust. They were so so simple! We mixed up a little bit of the topping we used for the fruit crumble and sprinkled it on top of each one. Baked at 350 for about 10 minutes until the filling bubbled and the wonton crust was a pretty golden brown.
Evan did a super good job lining the mini-muffin pan and spooning the filling into the apple pies. While we waited for these to bake we made a few itty bitty fried pies with the little bits we had left.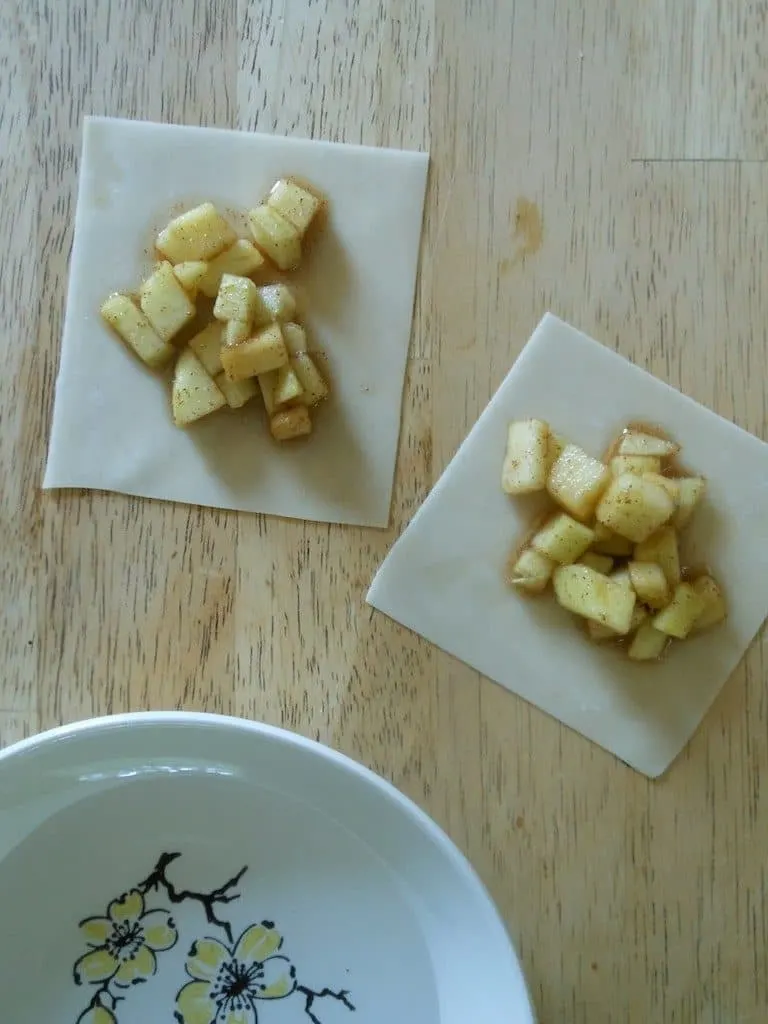 We filled these wraps just like we do with ravioli; for step by step photos and instructions click HERE. The only difference is that we pinched together the two bottom corners to make little apple pie envelopes. These babies got dropped in some hot oil until they were crispy and golden and then they were dusted with cinnamon and sugar.
Andrew discreetly made about 15 unnecessary trips through the kitchen to steal one of these teensy fried pies each time he passed.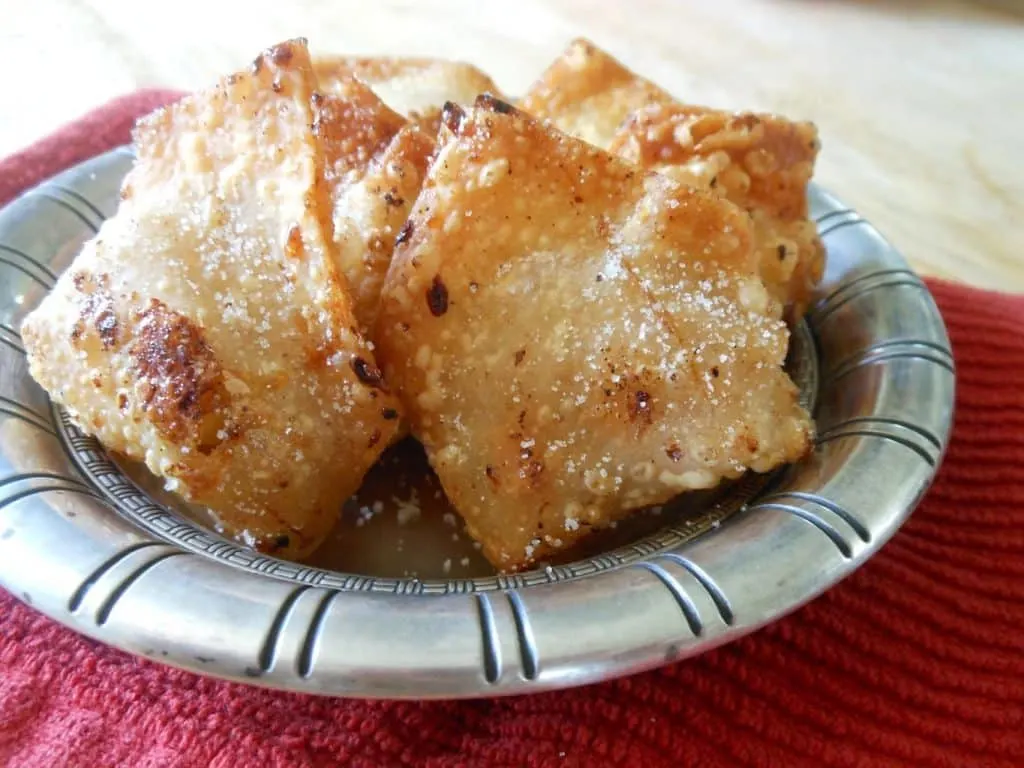 Evan was way proud of these sweet treasures.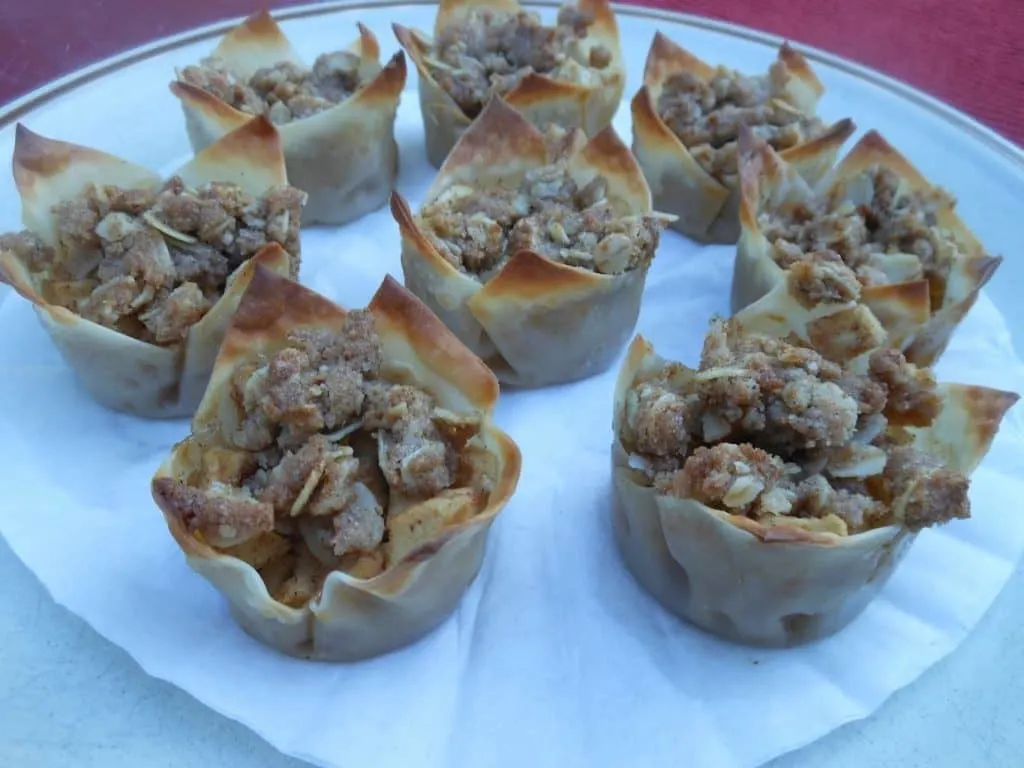 So fun, and no game controllers involved, and they didn't make fun of me anymore.

Mini Apple Pies with Wonton Wrappers
Serves:
24 mini pies and some little fried apple pies
Ingredients
wonton wrappers (I used 24 for the mini-pies and then extras for the crispy apple wontons)
4 medium Granny Smith apples, peeled and diced
juice and zest of half a lemon
½ teaspoon cinnamon
a dash of nutmeg
⅓ cup packed brown sugar
Topping (for the mini apple pies):
¼ cup wheat flour
¼ cup old fashioned oats
2 tablespoons packed brown sugar
¼ teaspoon cinnamon
2 tablespoons melted butter
non-stick cooking spray (for the muffin pan)
vegetable oil (for frying the crispy apple wontons)
a bit more granulated sugar and cinnamon (for dusting the fried apple wontons)
Instructions
Pre-heat the oven to 350. Spray the mini-muffin with the non-stick cooking spray. Tuck one wonton wrapper into each muffin cup and then set aside.
In a large bowl stir together the diced apples, lemon juice, lemon zest, cinnamon, nutmeg, and brown sugar.
Fill each muffin cup just to the edge of the pan.
In a smaller bowl stir together the wheat flour, oats, brown sugar, cinnamon and melted butter until coarse crumbs form. Sprinkle a little of this crumbly topping over each of the mini pies in the muffin pan.
Bake for about 10 minutes, or until the wonton wrappers are crispy brown and the filling is bubbly. Cool slightly before serving.
Heat the vegetable oil in a skillet or heavy-bottomed pan. Spoon about a teaspoon of the remaining apple pie filling into the center of each wonton. Use water to press the wrappers into a triangle and seal. Fold the bottom corners together and pinch with a little dab of water to make apple pie "envelopes".
Drop each filled wonton wrapper into the hot oil and fry for about 1-2 minutes on each side, or until golden brown.
Remove from the oil with a slotted spoon and let drain and cool on a paper towel. Immediately dust with the granulated sugar and cinnamon.