Roasted chicken rubbed with orange basil butter and then roasted to achieve tender, moist meat with a crispy skin, and then topped with a simple blueberry sauce. Orange Basil Butter Chicken with Blueberry sauce is a simple supper that looks elegant and tastes amazing!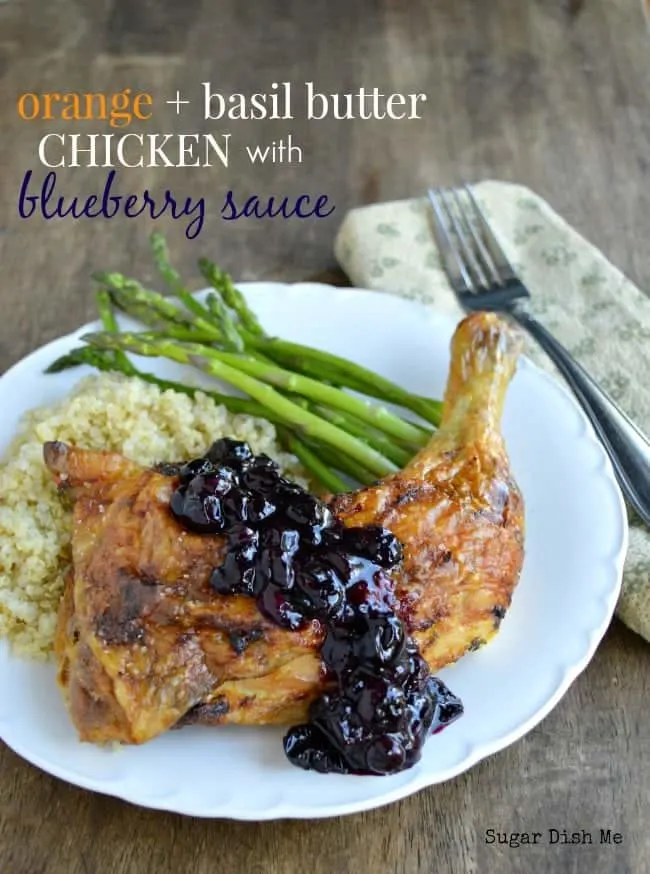 Oh hi.
It's Monday, right?
I'm still having a hard time wrapping my mind around my disappeared weekend.
So I decided to give you all some weekendy food. Roasted chicken feels like the weekend, right?
Somewhy (<<— awesome word invented by my guys when they were small) I associate roasting a chicken with Sundays. Even though we totally don't make a big production about Sunday suppers over here and yesterday we definitely ate tacos, I seem to have this Norman Rockwell-esque view on serving roasted chicken. In my brain it is Sunday food. Though I feel certain I served this on a Thursday.
You should probably ignore that last paragraph. I think I need more coffee.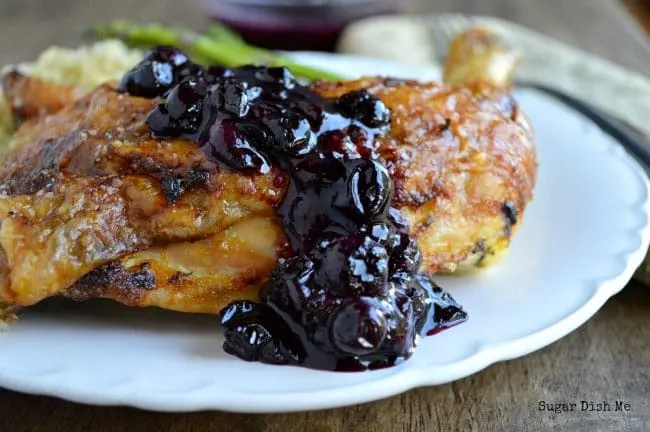 Orange Basil Butter Chicken evolved out of my love for flavored compound butters and my inability to ever just roast a plain chicken, as evidenced by this chicken, or this one, and probably 100 more that I never managed to photograph and write down for you because I was hungry.
The Blueberry Sauce is a byproduct of a dinner out at this cute little restaurant with my sisters. I ordered a chicken dish and got this totally phenomenal plate of delicious with blueberry sauce on the side. And then I had to recreate it. Turns out, blueberry sauce is really simple.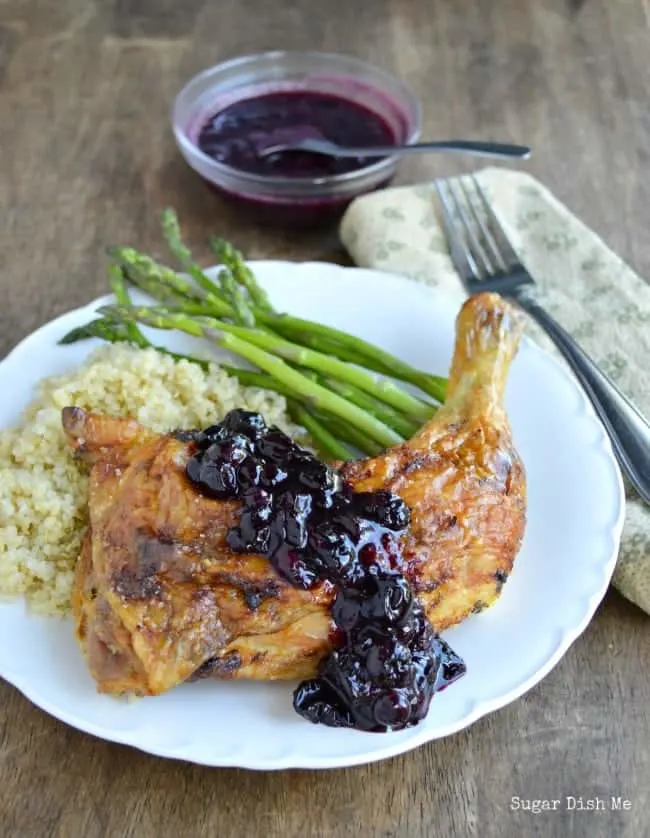 For the chicken you're just going to add orange zest and chopped fresh basil to some softened butter. That gets rubbed under the skin with just a little on the outside for good crispy measure. The flavor permeates the meat as it cooks and your whole house will start to smell citrus herb amazing. You'll feel kinda fancy.
Orange Basil Butter Chicken with Blueberry Sauce
Tender roasted chicken rubbed with orange basil butter and then toppd with a delicious fresh blueberry sauce.
Ingredients
1 chicken (3-4 pounds; you can use a whole chicken or quarters)
4 tablespoons unsalted butter, softened
2 teaspoons orange zest
1½ tablespoons fresh basil, finely chopped
2 teaspoons kosher salt
For the Blueberry Sauce:
1 cup blueberries
pinch of salt
1 tablespoon white wine vinegar
2 teaspoons honey
½ cup water as needed
Instructions
Preheat the oven to 425°F.
Mix together the butter, orange zest and basil. Gently lift the skin away from the meat of the chicken, taking care to not tear the skin. Push the butter mixture under the skin to cover as much of the meat as you can. Rub any remaining butter and what's on your hands onto the outside of the skin. Sprinkle the chicken all over with the kosher salt and situate the pieces in a roasting pan or cast iron skillet.
Bake for 20 minutes per pound, checking that the internal temperature at the thickest part is 165°F before removing from the oven.
While the chicken rests, add the blueberries, pinch of salt, white wine vinegar, and honey to a small sauce pan. Over medium high heat, let the mixture simmer for a couple of minutes, stirring to keep it from sticking. Add the water just a little at a time, starting with only about ¼ cup. Let it simmer and cook down. You want the blueberries to be soft and the sauce to be thick but not gloppy. The whole process will take 5-7 minutes.
Serve the chicken with the blueberry sauce spooned over it.
Notes
I used leg/thigh quarters for my test recipes and it worked beautifully, but breast quarters or a whole chicken will work fine, too!