Today I made cookies for the dog.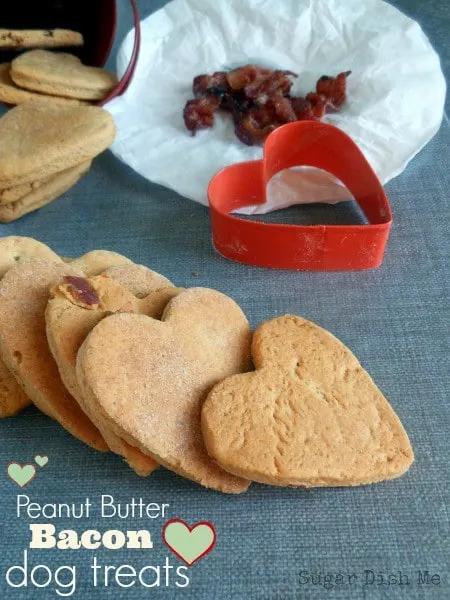 Because I love my dog and she needed some cookies.
In all the baking melee I have noticed that Lucy noticed that none of the treats were for her.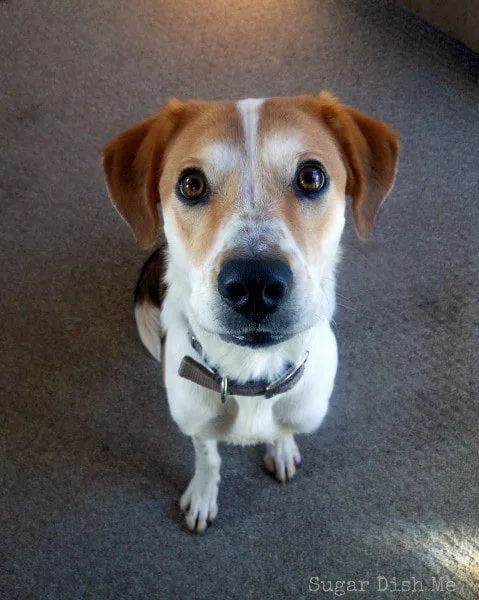 This is her, "I love you, give me cookies," face.
To be fair, Lucy isn't a beggar. Unless I am eating almonds. My pretty girl loooooves almonds. She can be dead-to-the-world coma napping on the couch and if I open the cabinet over the stove where all the baking goodies and snacks are stashed, her ears perk up just the tiniest bit. If I grab the green resealable bag of almonds she is standing in front of me, just like this, before I can blink.
So I thought almond flour would be a perfect addition to some Lucy Girl treats.
Some dogs can't handle grain. If that is the case, almond flour is the way to go. Lucy isn't bothered by much and she is very fit and trim, so she was fine when we tried these treats out with whole wheat flour too.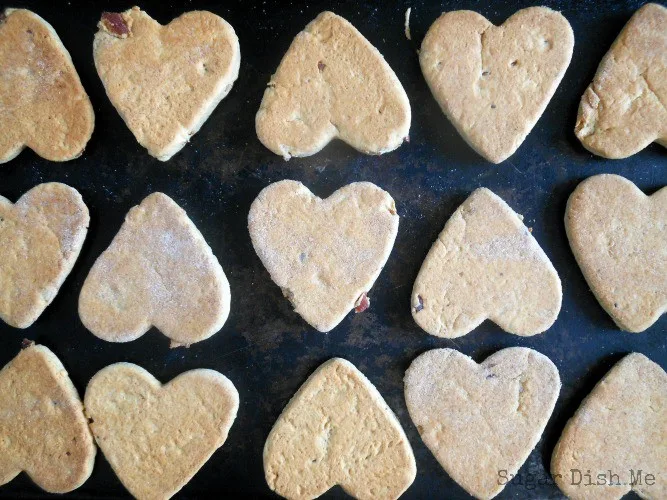 Dog cookies are so easy!!
I tried to get photos of Lucy eating her treats but she was looking kind of snaggle-tooth crazy and I thought she might be embarrassed. She pretty much did everything I said after she realized I made treats just for her though. We nailed lay down, roll over, happy feet, and crawl all in the span of about 10 seconds and all I did was point at the floor.
Magic cookies.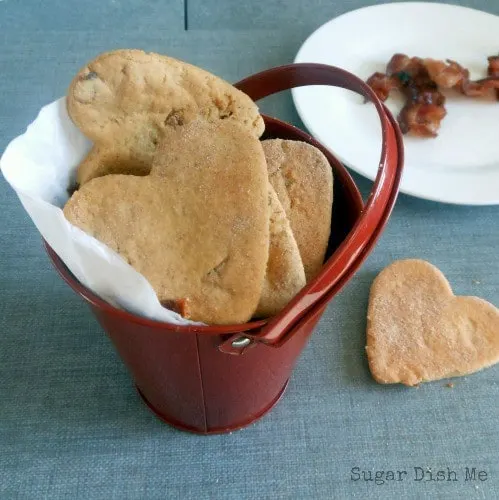 —->>>> Footnote: Norma Jean and Gidget were pretty into these too. I think it's the bacon. <<<<—-

Peanut Butter Bacon Dog Treats
Easy homemade treats your dog will love! Just a few natural ingredients and some cookie cutters and you are well on your way to a happy puppy!!
Serves:
about 36 medium-sized treats
Ingredients
¾ cup low sodium chicken broth
1 cup creamy peanut butter
1 egg
2¼ cups almond flour or whole wheat flour (see note)
1 tablespoon baking powder
4 slices bacon, cooked, drained, and crumbled
Instructions
Preheat the oven to 350.
Beat the chicken broth and peanut butter until creamy and smooth. Add the egg and beat. The mixture will look smooth and sort of fluffy.
Add the flour and baking powder. Mix until the dough comes together.
Stir in the crumbled bacon. Knead the dough a little to get the bacon pieces evenly distributed throughout.
Press or roll the dough out to about ¼" thick.
Cut the dough out using cookie or biscuit cutters and place on an ungreased baking sheet about an inch apart.
Bake for 20 minutes, flip the treats, and bake for 15 more minutes.
Let them cool completely and store in an airtight container.
Notes
Almond flour is not quite a 1:1 substitution ratio for whole wheat flour and not all dogs can tolerate grain in their diet. If your dough seems too wet, just add flour a tablespoon or so at a time until you have a workable consistency. The dough should be smooth and very pliable -- it's easier to work with than most cookie dough!
Adapted from Paula Deen's
Bodeen's Peanut Butter Dog Biscuits