Well. It happened.
We went straight from using the heat to needing the air conditioner with like one day of transition in between which kind of sucks because all I really wanna do is leave the windows open and stop paying the power company. This must be why people live in California.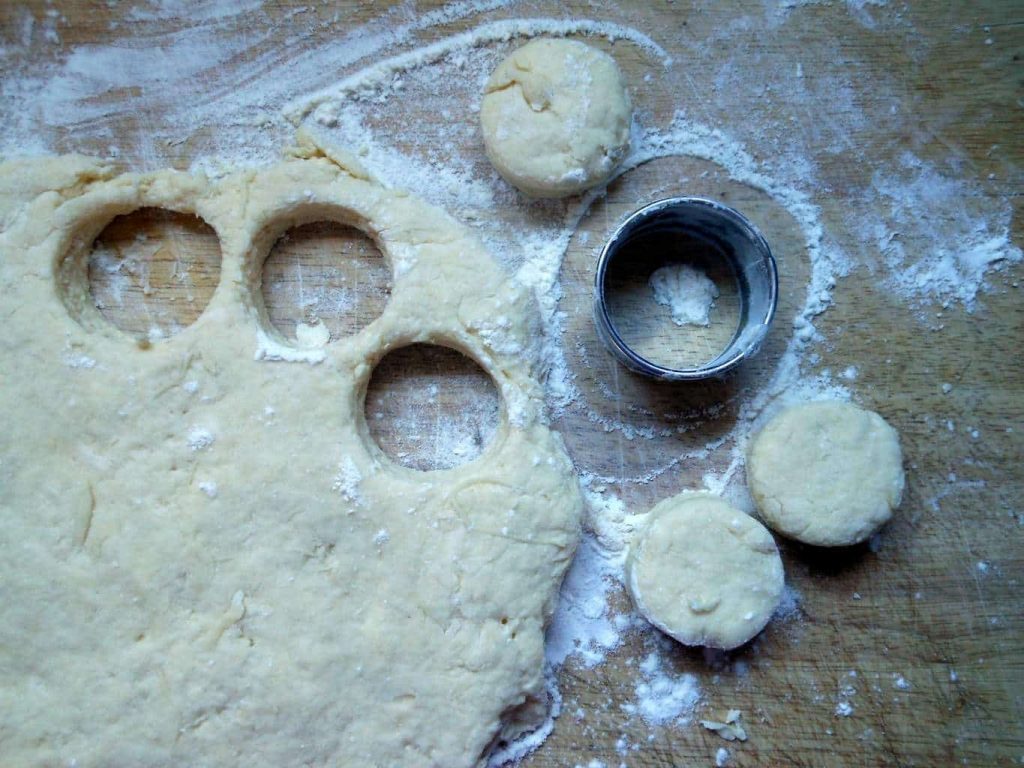 It's absolutely perfect outside– I actually couldn't ask for better Carolina blue skies, a slight breeze, and loads of sunshine. But!
We live INSIDE the house and after 2 or 3 in the afternoon it's like an oven in here. Maybe I'll practice Bikram yoga in my living room.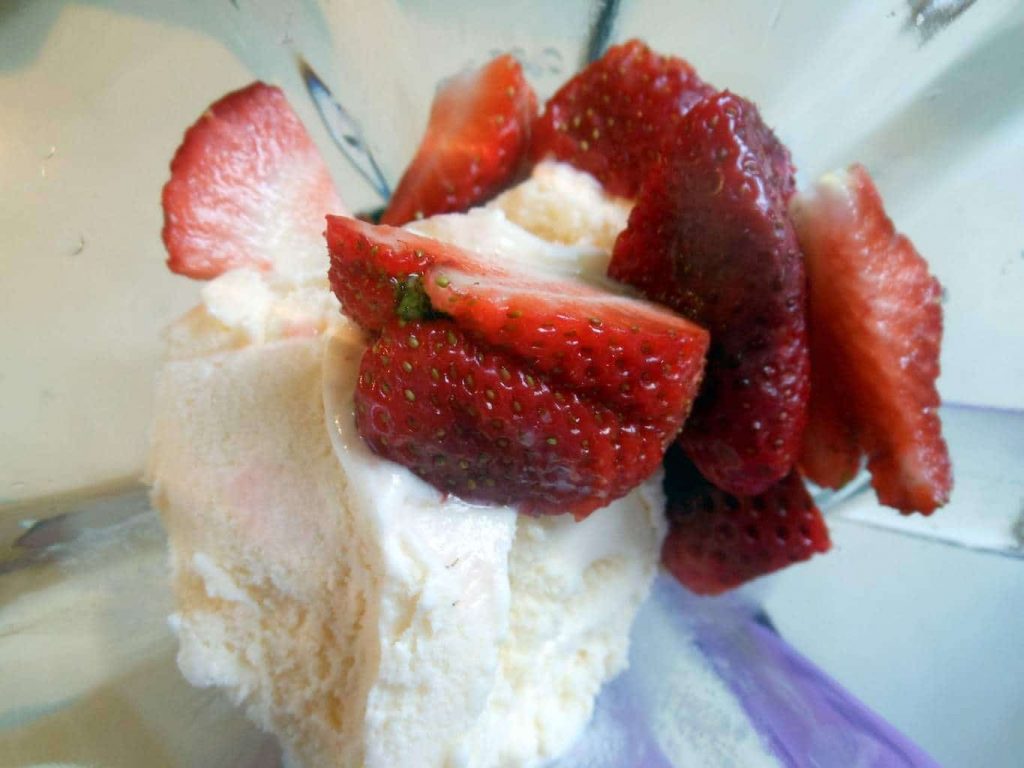 Or maybe I'll just spend the next 4 months finding new ways to eat fruit and ice cream.
That sounds more my speed.
Every time I see the little display in the grocery store full of strawberry cartons, those little spongy shortcake cups, and that weird red saucy stuff that seems like it should need to be refrigerated but it's definitely not (does anyone actually buy that stuff? What is it?! I feel like this is important.) I start craving strawberry shortcake. And whenever I make strawberry shortcake I have this moral dessert dilemma where I feel like I want to have ice cream with it but I think I'm supposed to have whipped cream. Which one is it? I vote both.
Smashed up.
In this milkshake.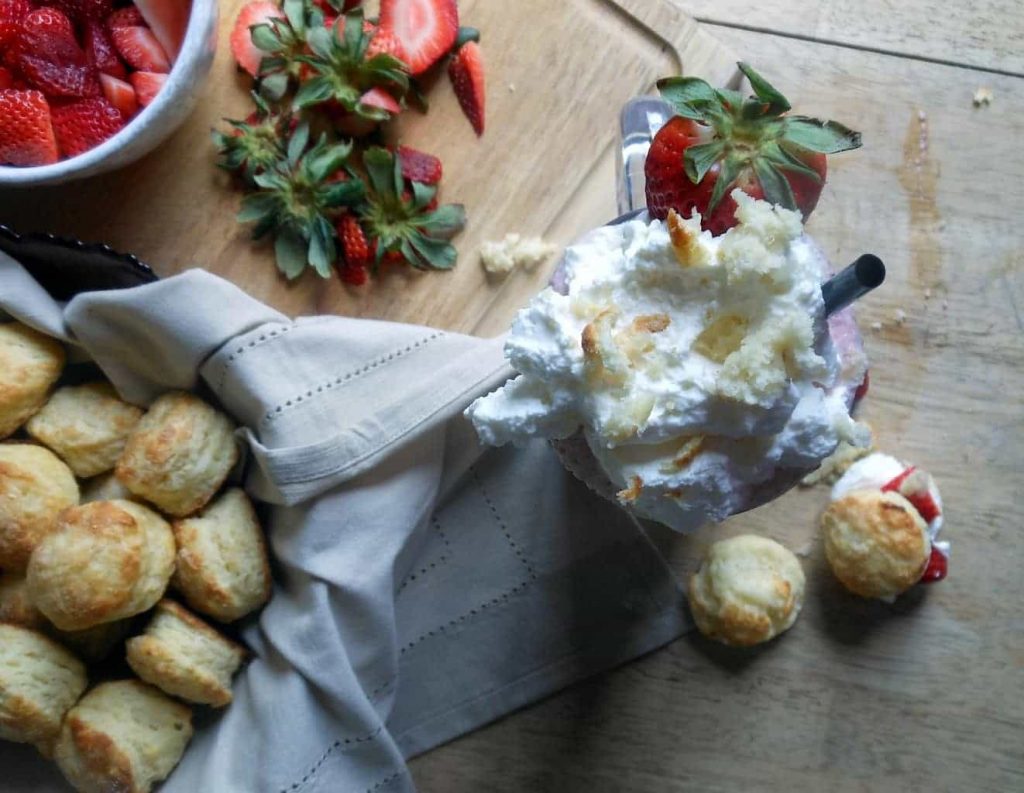 Strawberry Shortcake Milkshakes
Ingredients
2 cups flour
3 tablespoons sugar, plus more for sprinkling
1 tablespoon baking powder
½ teaspoon salt
½ cup cold butter
1 egg, plus one lightly beaten egg white (for brushing the shortcakes)
½ cup + 2 tablespoons fat free buttermilk
2 heaping cups of vanilla frozen yogurt
4 ounces fresh strawberries, hulled and halved
1 - 1/12 cups milk
whipped cream
Instructions
Pre-heat the oven to 425.
In a large bowl whisk together the flour, 3 tablespoons of sugar, baking powder, and salt.
Using a grater, grate the cold butter into the bowl and then mix with your fingers until coarse crumbles form.
In a small dish (I like to use my liquid measuring cup), lightly beat together the egg and the buttermilk. Add it to the bowl and stir/fold with a sturdy spatula until just combined (Careful not to overwork the dough! That will make your shortcakes tough instead of tender.).
Turn the dough out onto a floured surface and gently knead it into a ball. Pat the ball out to about ¾" thick. Cut the dough using a small biscuit cutter (OR whatever you have handy). The size is really your preference but larger will change the bake time. I cut mine into about 1½" circles. Place your shortcake cut-outs onto an ungreased baking sheet about an inch apart (just crowd 'em on there- they don't spread out much).
Brush the tops of the shortcakes with the beaten egg white and then sprinkle with sugar.
Bake for 7 minutes (more for larger shortcakes), remove from the baking sheet, and let them cool completely (I ended up with about 28 little shortcakes).
To make the milkshakes, add 2 cups of the frozen yogurt to the blender. Toss in the strawberries and 1 cup of the milk. Blend until combined. Add 3 of the shortcakes (3 if you went small) and a little more of the milk if needed.
Blend.
Top with the whipped cream and additional shortcake crumbles if desired.