Slow Cooker Chinese Hacked Pork is like a pulled pork recipe with a Chinese five-spice twist! Learn how to make this tender, flavorful Chinese BBQ Pork Recipe that is amazing over rice, or noodles, or folded into lettuce wraps! One of our favorite slow cooker meals.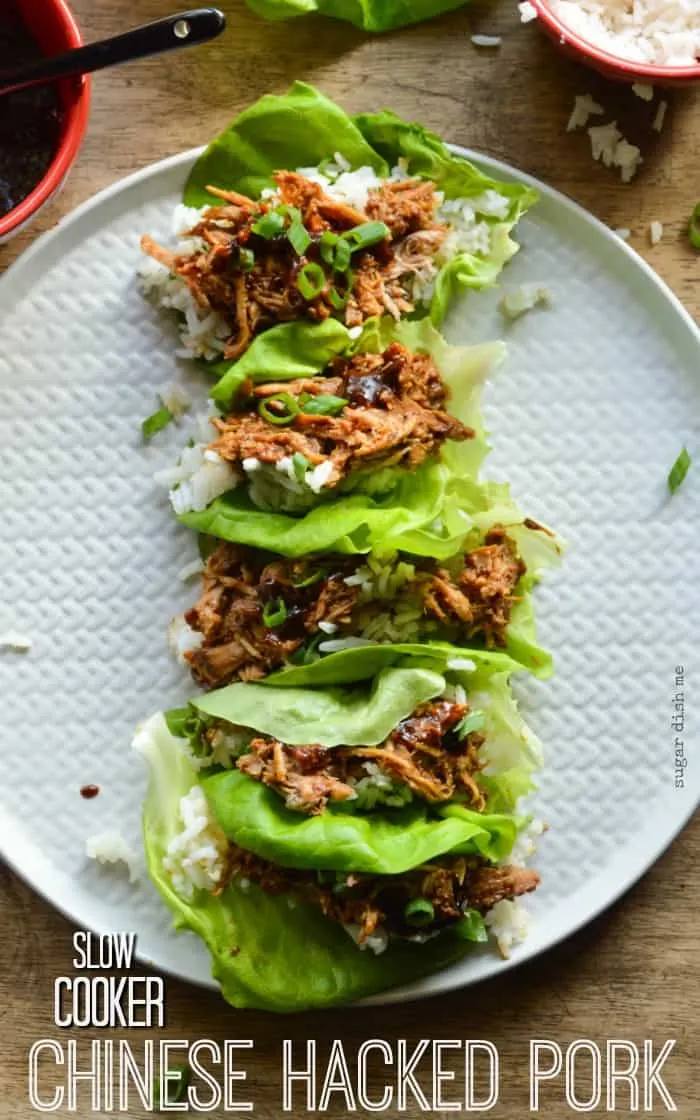 Update February 2018: I have decided to dig WAYYYYY back in the archives this year and breathe some new life into some of my oldest, earliest recipes. This Slow Cooker Chinese Hacked Pork was originally published in May 2012. The original post didn't even have photos! But the recipe is SOLID.
My small boys inhaled this meal when it was part of our regular rotation six years back. Six years! Holy hell I have been publishing recipes on the internet for a long little while.
Anyway, my now teen-aged and mostly grown guys also inhaled this recipe. It's a good one.
Stick around for a few tips and tricks + pantry hacks just in case you can't find a few of the ingredients.
Wanna Pin this Recipe for later? Click Here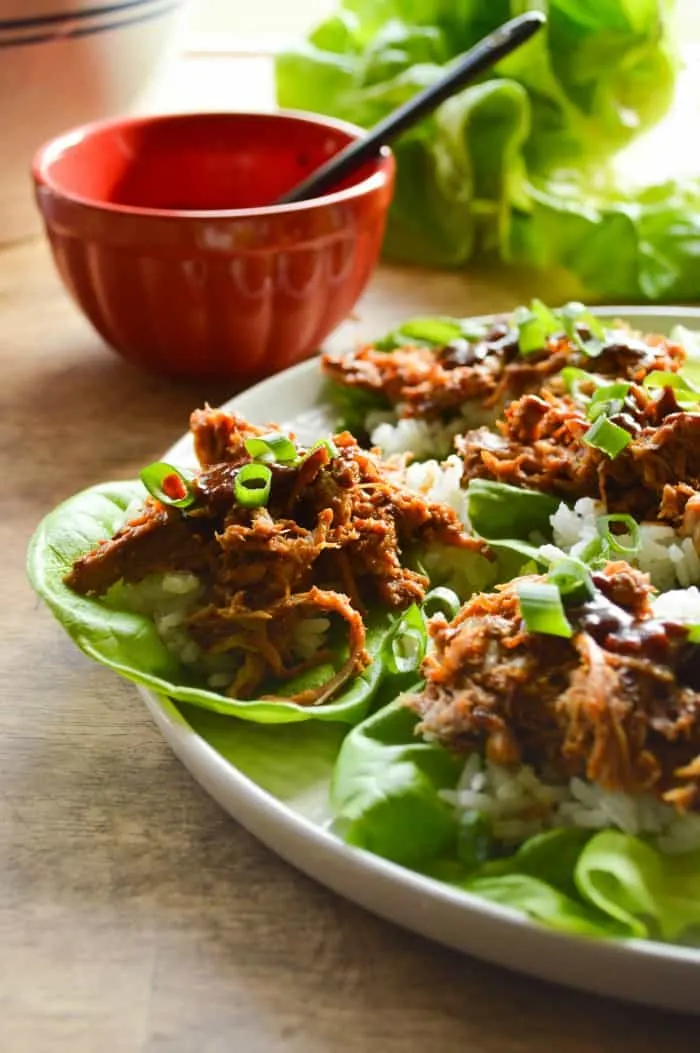 Original post text/ what was I thinking follows…
It is no secret that I love to read. I have an insatiable appetite for words on a page- newspapers, magazines, short stories, memoirs, blogs, and everything in between. Novels are are like the frosting on my daily read cake. When I feel like the dishes and laundry can spare my attention for a little while, when there's no third grade homework begging my not-so-patient direction, when our evening meal is done being stirred or sauteed, I reach for whatever novel has captured my imagination and tune everything out. I deserve a time out, right?
Right.
Something happens to my family when it appears as though I'm trying to read. Suddenly everyone needs to talk to me. Everything is very urgent. Like the imaginary house Andrew built while playing Minecraft. Or Evan's musings about why he can't hear me talking to him when the TV is on. Chad needs my opinion on new tail lights for the rail buggy and has 17 funny clips for me to watch on You Tube.
In retaliation I have decided to cook dinner at 10 o'clock in the morning so I can steal a few precious moments of quiet with a book. Oh yeah.
The crock pot.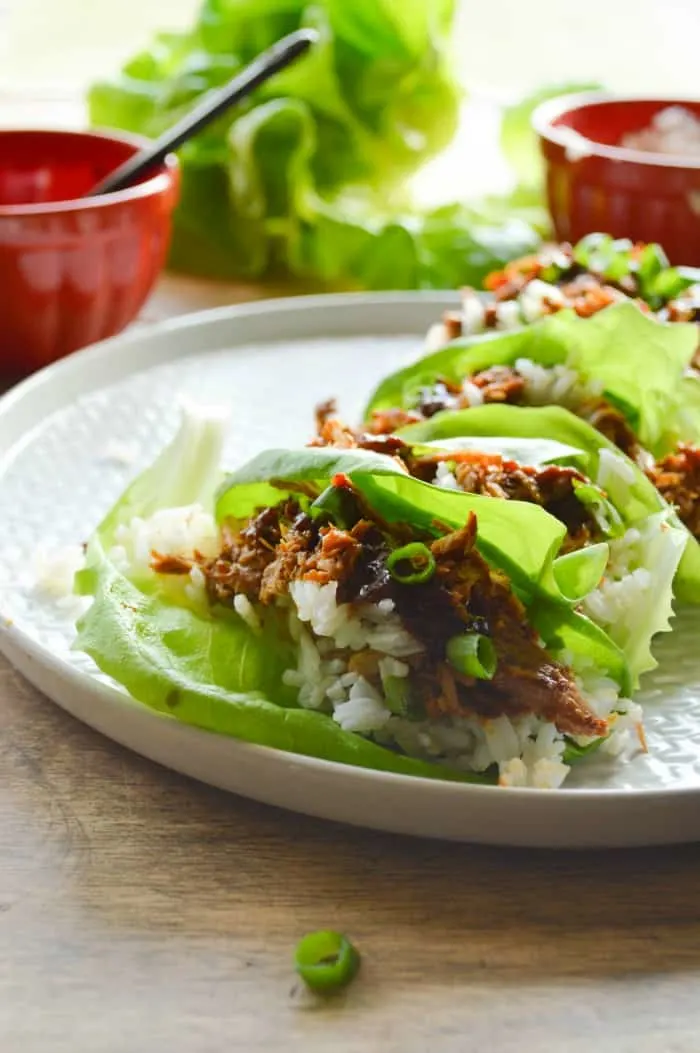 Okay. Chinese Hacked Pork calls for a couple of ingredients that you should be able to find in the international section of your grocery store, but I know that the stores where I live can be hit or miss, so let's talk.
The two things that make this pork recipe special are:
Chinese Five Spice Powder
Hoisin Sauce
Chinese Five Spice powder includes star anise, fennel, cinnamon, cloves, and black pepper. I cannot ever find it with the actual spices in my local grocery store. It's always in the international aisle hiding with the soy sauce and water chestnuts.
[socialpug_tweet tweet="Pro Tip! @BadiaSpices has great AFFORDABLE spices in the int'l aisle. Find your Chinese Five Spice Powder there" display_tweet="Pro Tip! @BadiaSpices has great AFFORDABLE spices in the int'l aisle. Find your Chinese Five Spice Powder there" style="1″]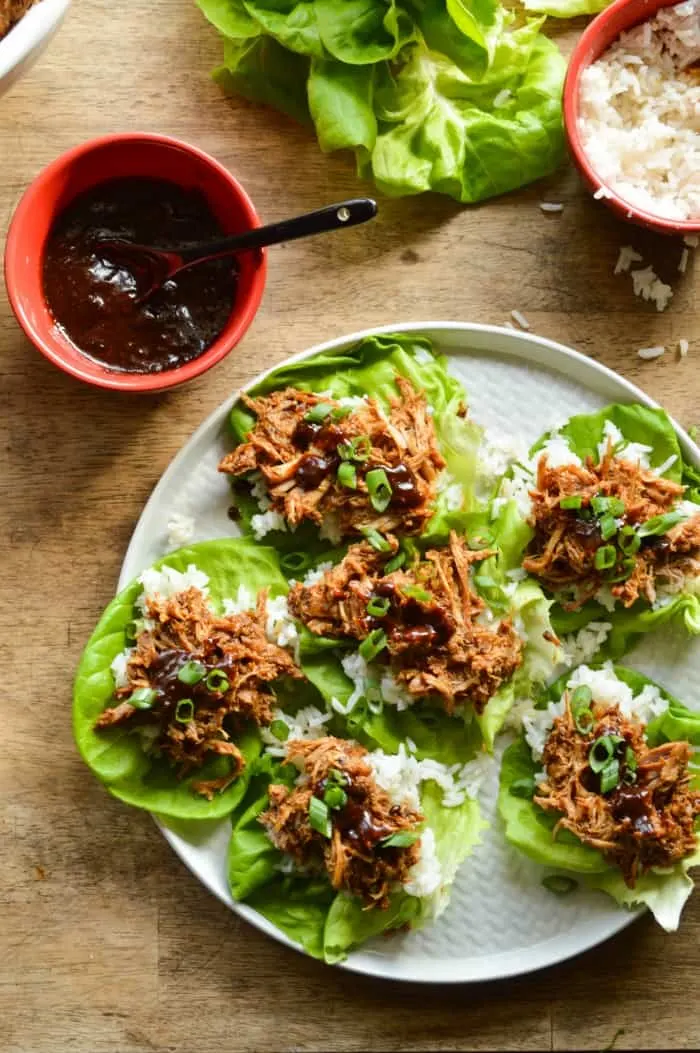 Hoisin Sauce proved tricky to find the last time I made this recipe. Fortunately! It's easy to make your own with a few pantry staples in a pinch.
4 tablespoons soy sauce
2 tablespoons creamy peanut butter
1 tablespoon honey
2 teaspoons white wine vinegar
1/8 teaspoon garlic powder
2 teaspoons sesame oil
hot sauce to taste
1/8 teaspoon black pepper
The hoisin sauce is crucial to the flavor of this particular so if you can't find it in the store, definitely take a minute to make your own.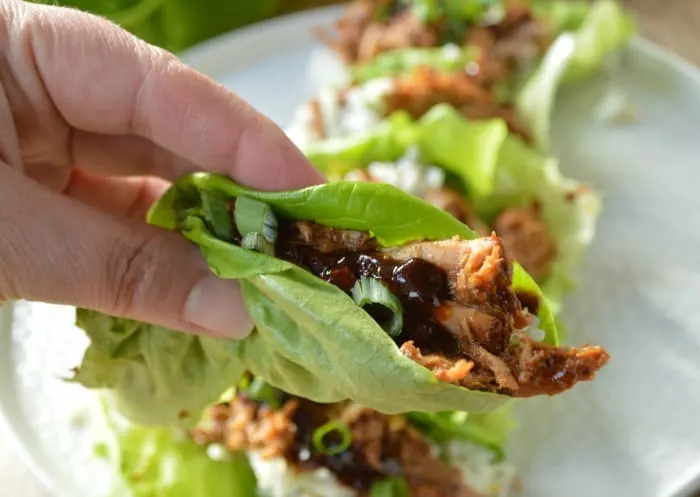 Important! After you cook the pork, you are going to scrape the liquid from the slow cooker into a saucepan. You'll whisk together a little chicken broth and cornstarch, and when you cook it all together you get this deliciously thick sauce to serve with the pork. IT IS SO GOOD. Don't skip it.
With an arsenal of slow cooker recipes up my sleeve I plan to get my read on.
But I'd be willing to bet that without my nose stuck in a book in the company of my family, the novelty of talking to me will disappear. Unless I'm on the phone.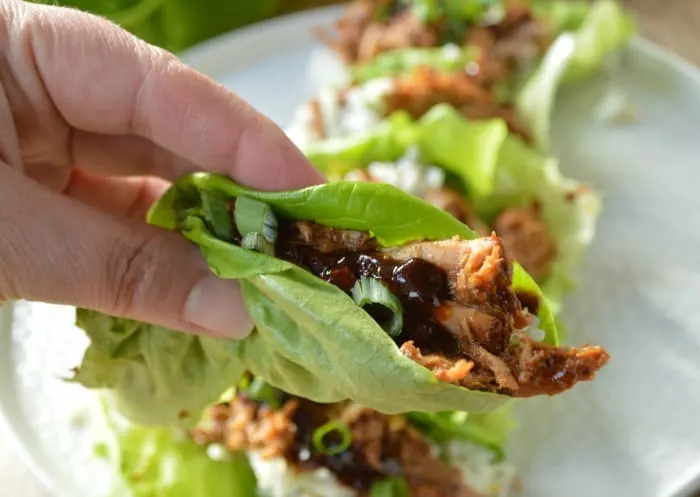 Yield:

12
Slow Cooker Chinese Hacked Pork Recipe
Total Time:
6 hours
5 minutes
Slow Cooker Chinese Hacked Pork is loaded with flavor from Chinese Five Spice Powder and hoisin sauce! This pork is delicious over rice, noodles, or wrapped in buttery leaves of lettuce!
Ingredients
1/4 cup low sodium soy sauce
1/4 cup honey
2 tablespoons hoisin sauce
4 cloves of garlic, finely chopped
2 tablespoons ginger, finely chopped
1 teaspoon Chinese five-spice powder
2 pounds boneless pork roast
3/4 cup low sodium chicken broth
1 tablespoon cornstarch
Instructions
Whisk together the soy sauce, honey, hoisin sauce, garlic, ginger, and five-spice powder.
Place the pork in the slow cooker and pour the sauce over it.
Cover and cook on low for 6 hours or high for 4 hours.
When the pork is done, remove it from the slow cooker and set it aside to rest before shredding.
Pour the sauce into a saucepan and bring it to a boil. Whisk together the chicken broth and the cornstarch and then pour into the boiling liquid. Continue cooking and stirring for another minute.
Shred the pork and spoon the sauce over it.
Notes
***The original recipe calls for marinating the pork overnight before cooking. I skipped that and it was still full of flavor. But it couldn't hurt.***
Recommended Products
As an Amazon Associate and member of other affiliate programs, I earn from qualifying purchases.
Nutrition Information:
Yield:
12
Serving Size:
1
Amount Per Serving:
Calories:

260
Total Fat:

16g
Saturated Fat:

6g
Trans Fat:

0g
Unsaturated Fat:

9g
Cholesterol:

68mg
Sodium:

293mg
Carbohydrates:

9g
Fiber:

0g
Sugar:

7g
Protein:

19g
(
from Family Circle, April 2012
)
Looking for more Slow Cooker Meals? Look no further…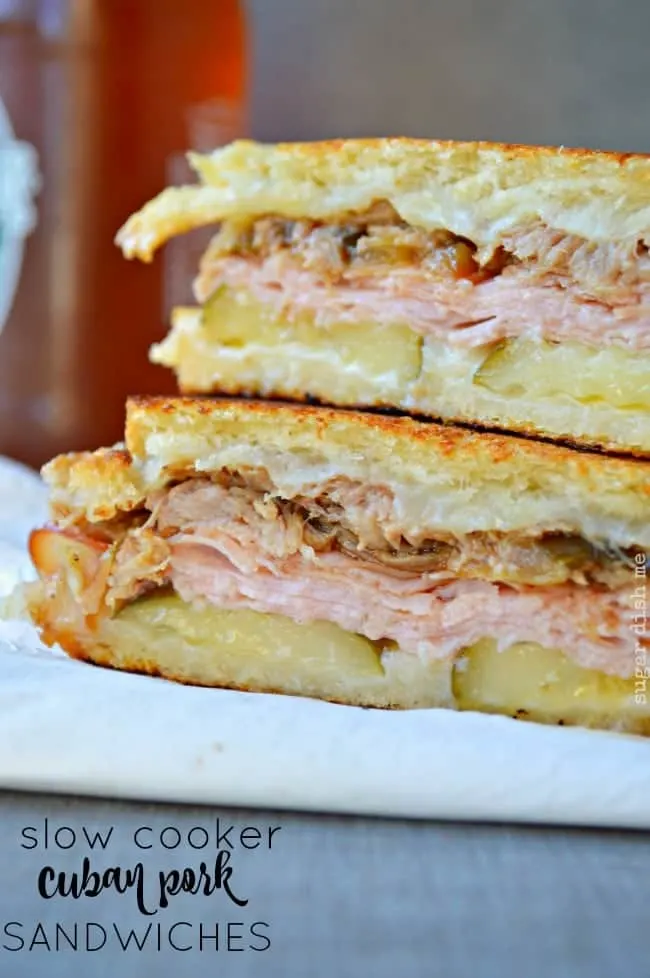 Crock Pot Cuban Pork Sandwiches are my simple weekday way to feed my Cuban sandwich cravings. Let the pork cook low and slow all day and then the sandwiches come together super quick when you are ready to eat.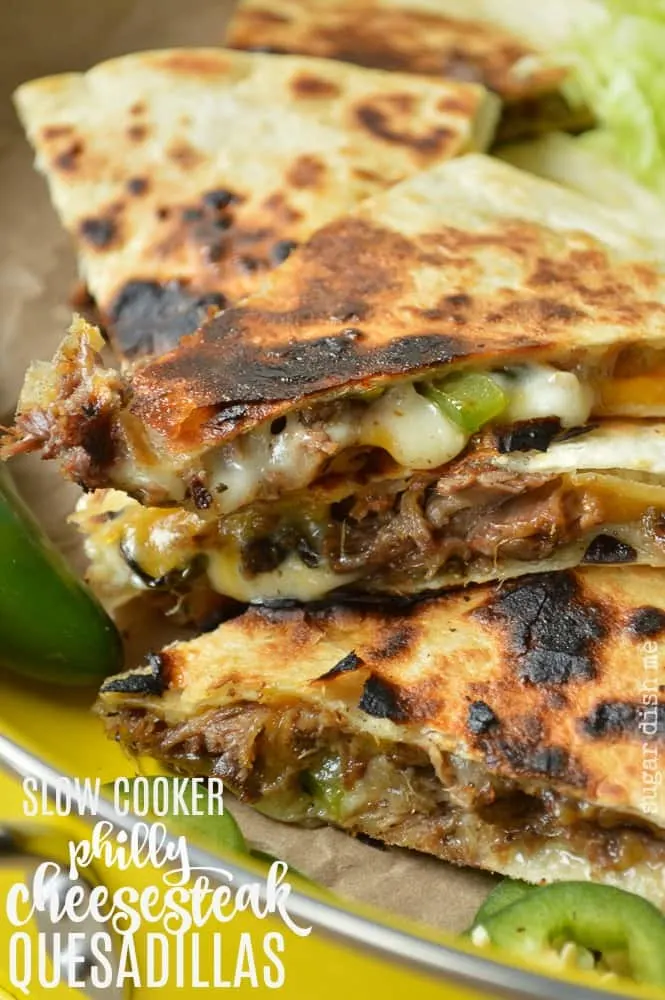 Tender beef cooked with onions and then layered between tortillas with loads of cheese! Slow Cooker Philly Cheesesteak Quesadillas are a fun twist on a sandwich favorite!