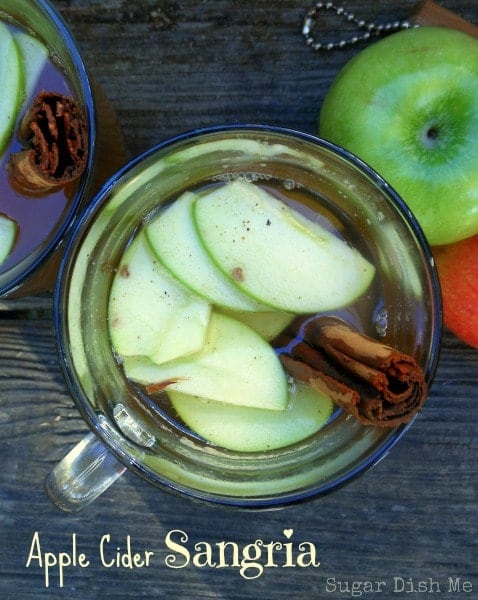 This week has been super crazy bananas busy. I am all over the place! It's good — all the busy-ness brings good things, and I'm excited for more of it. But the bottom line is, TODAY IS FRIDAY AND I WOULD LIKE A DRINK.
Because I need to relax a little. And prop up my feet. And catch up on TV (wishful thinking maybe because I'm sure that actually Evan will make me watch The Fox and the Hound 2 with him again and just for the record, we -me & Andrew – have decided that Toy Story and Monsters Inc. are the only 2 Disney movies with sequels worth watching. Aladdin Returns? NO. Stop it.).
Anyway, the moral of the story is that I've been so busy that I schedule things, mean to fix them later, and then forget.
Like this post.
If you are an email subscriber it probably landed in your inbox this morning and then if you clicked through it was like, "Hey! Just Kidding! You can't have any sangria!!!"
But I am here to tell you that YES. Yes you can. You can have sangria. Warm Apple Cider Sangria. So how about that?!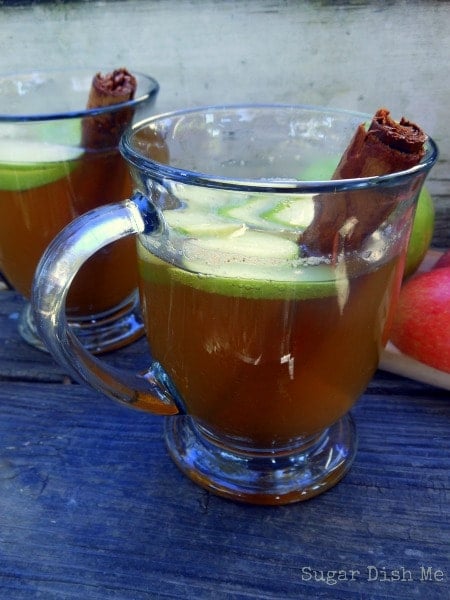 This cozy fall beverage is kind of perfect. It's warm, spiced, and slightly sweet. AND if you leave out the wine it's kid-friendly!
Cheers to the weekend and here's to hoping that you never ever in your life have to watch Air Buddies.

Apple Cider Sangria
Warm apple cider spiced with cinnamon, cloves, nutmeg, and fresh apples added to crisp bubbly white wine. Simple and perfect for fall parties or Thanksgiving!
Ingredients
4 cups apple juice (or cider)
4 cinnamon sticks
¼ teaspoon ground cloves
¼ teaspoon ground nutmeg
1½ teaspoons vanilla
2 tablespoons honey
1 apple, halved and thinly sliced
2 cups sparkling wine (I used Barefoot Refresh Crisp White California)
more sliced apples to garnish
Instructions
Pour the apple juice into a medium saucepan. Add the cinnamon sticks, cloves, nutmeg, vanilla, and honey. Bring it to a boil, and then reduce the heat to a simmer.
Let it simmer lightly and steep for about 10 minutes. Remove from the heat.
Pour in the wine once its cooled to drinking temperature (you don't want to cook the wine!).
Add the additional sliced apples to each glass(I use the fresh apples in the glasses for the crisp color and texture) -- enough slices to make it look pretty (I used 4-5). Place a cinnamon stick out of the pan in each glass.
Divide the liquid evenly between the glasses. Serve warm.