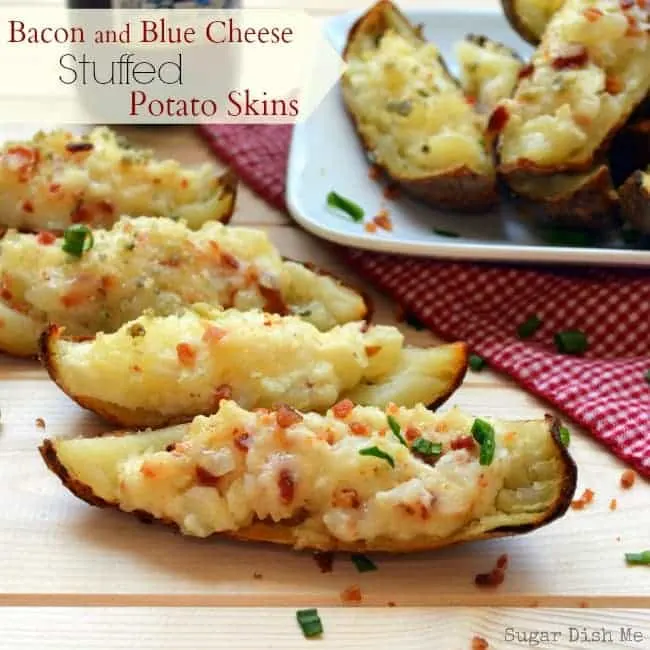 Boys are weird. I can say that because I live with two growing and one grown up members of the male species and every single day they do weird things.
Like this morning when Evan came stumbling out of the bedroom, supposedly showered and ready for school but with suspiciously sticking up hair.
I spied the bedhead from across the room and said, "Did you wash your hair?"
Evan: "Yeah. Of course I washed my hair."
But as he brushed past me to grab some cereal I noticed that his hair was suspiciously dry.
Me: "Hmmm. You sure you washed your hair?"
Evan: "YES. I washed it!"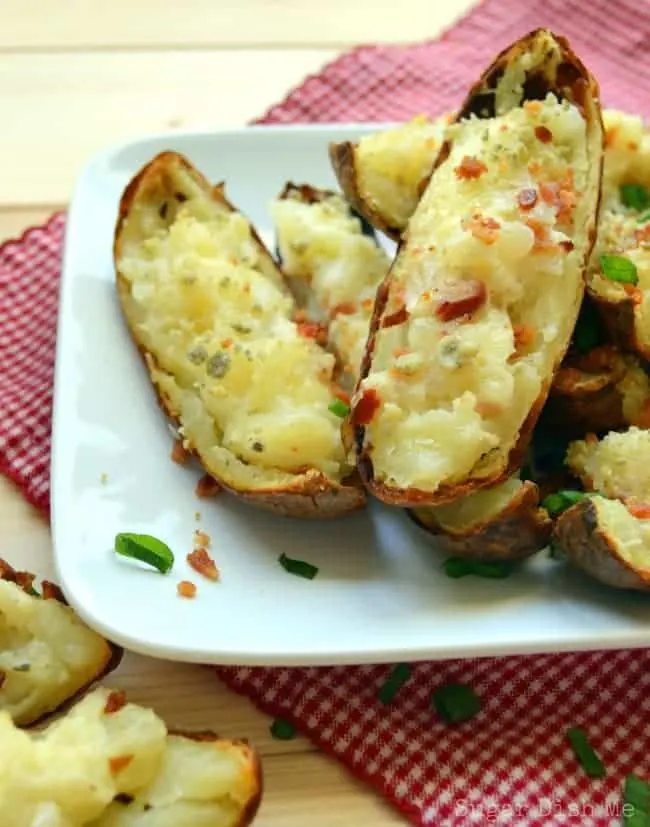 Me: "Yeah so here's the thing. When you wash your hair you have to use shampoo and water. You did not wash your hair. Go fix it right now."
Evan: "Gah. Can I eat first?"
Priorities, you guys.
I will never understand a) why I would ever have to tell a 10-year-old that he needs water to wash his hair or b) why he would think that story was gonna fly. 'A' for effort though. I will also never understand why I seem to be the only person in the house that notices when every single light is on but we are all in one room. Or why there are crumbs in the couch even though they aren't supposed to eat on it. Or why after 3 sandwiches Chad is still hungry and also never seems to gain any extra sandwich pounds.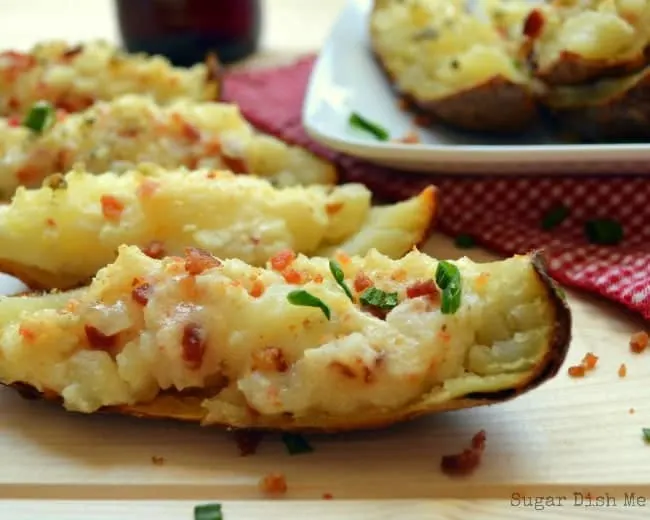 I have learned a few things from living with a house full of weird boys though. Namely, how to feed them.
Hint: meat and potatoes. You can never go wrong with meat and potatoes.
Appetizers are a safe bet, too. So the huge pan of potato skins I made stuffed with bacon and cheddar and blue cheese? They vanished. Typical potato skins have all the potato goodness scraped out and then they are baked again (or fried if you are in a restaurant) all filled with the cheese and bacon. I went a different route with these because I had these Bacon and Blue Cheese Pierogies in mind and I love them sooooo much. This food makes all the people happy.

Bacon and Blue Cheese Stuffed Potato Skins
Potato skins stuffed with a creamy mashed potato mixture loaded with bacon, sharp cheddar, and blue cheese. Perfect appetizer for tailgating and game days!!!
Ingredients
4 medium Russet potatoes, scrubbed
2 tablespoons olive oil, divided
½ cup plain Greek yogurt
3 ounces light sharp white cheddar, grated (I used Cabot!)
salt and pepper to taste
4 slices bacon, cooked, drained, and crumbled
1-2 ounces crumbly blue cheese
chopped green onions to garnish
ranch dressing to serve with
Instructions
Preheat the oven to 425. Rub the potatoes all over with 1 tablespoon of the olive oil and prick each potato 4-6 times with the tines of a fork. Place them directly on the rack of the preheated oven (this yields a crisper skin) and bake for about 45 minutes. The outside will be crisp but a slight squeeze will show a tender inside.
Carefully remove the potatoes from the oven and let them cool for just a few minutes. Mashing the flesh is much easier with hot potatoes, but don't get a steam burn! I like to hold the potatoes with a kitchen towel while slicing. Slice each potato in half lengthwise. Then cut each half in half lengthwise again.
Using a spoon, scrape the flesh from each strip into a medium bowl, leaving a tiny bit on each skin (see recipe photos for an example). Set the skins aside.
Mash the potato with the Greek yogurt and cheddar. Add salt and pepper to taste. Keep mashing until the potatoes are smooth. You can mix with a hand mixer if you want it really lump-free.
Stir in 3 slices of the cooked and crumbled bacon (save the rest for topping).
Brush the flesh side of each potato skin with the remaining olive oil. Sprinkle with a tiny bit of salt if desired. Spoon the mashed potato mixture into each skin and place them in a 9 X 13 baking dish.
Scatter the remaining bacon and the crumbly blue cheese over the stuffed skins and bake again for about 20 minutes.
Garnish the skins with the green onions and serve with ranch
Notes
The bake time listed is mostly for baking the potatoes. This is a really simple appetizer with not much active time and it is so filling and delicious!
Also note that I used Greek yogurt and light cheddar with this recipe to lighten things up..