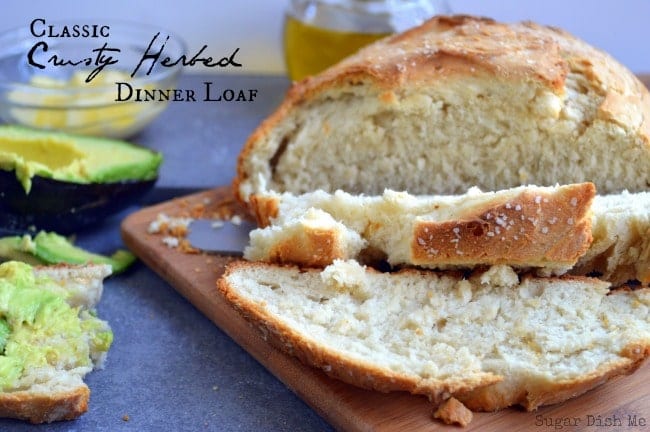 Bread.
The thing that hits the table when you go out to dinner and all hands are instantly in the basket.
It's community food in a way that nothing else is and it goes well with everything. Like I actually can't think of anything right now that doesn't go well with bread (I was gonna say ice cream, but there's such a thing as ice cream bread that is really delicious).
So this bread is really simple – especially if yeast-bread baking is normally not in your comfort zone. Not much kneading, not much waiting, and really not many ingredients, but tons of flavor!
The inside is soft and fluffy – a perfect vehicle for butter, olive oil, or avocado. The crust is thick with a little sprinkle of salt, perfect for dipping, and this bread makes a most fantastic grilled cheese. You'll impress, no doubt.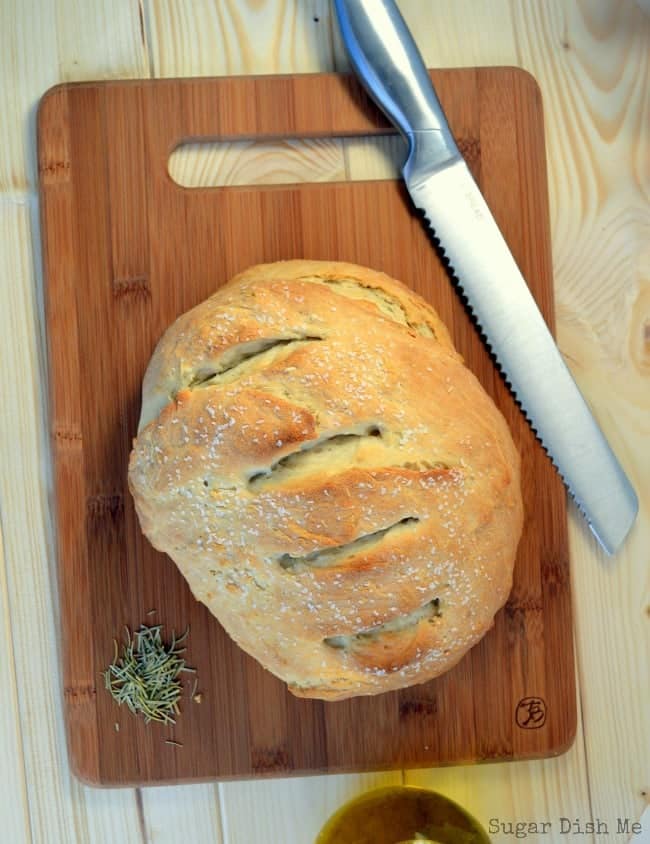 I found the recipe for Chef Madeleine Dee's 90-Minute Olive Oil Loaf awhile back and have made it over and over – tweaking it a little bit each time. It seriously never fails me and is crazy addictive. Once you cut into it, it disappears. This is Chef Madeleine Dee's recipe, simplified and adjusted a little according to my own experience baking it. (And if you are in the Louisville area she is a personal chef!)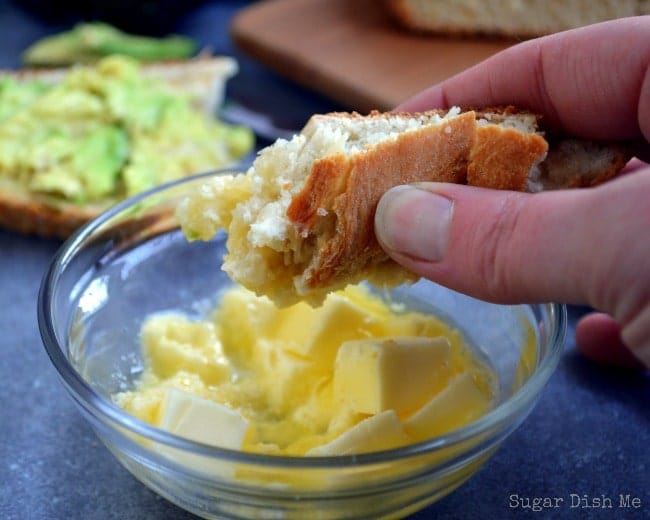 If you love bread, make this.
I think my kids think I'm cooler just for putting this on the dinner table.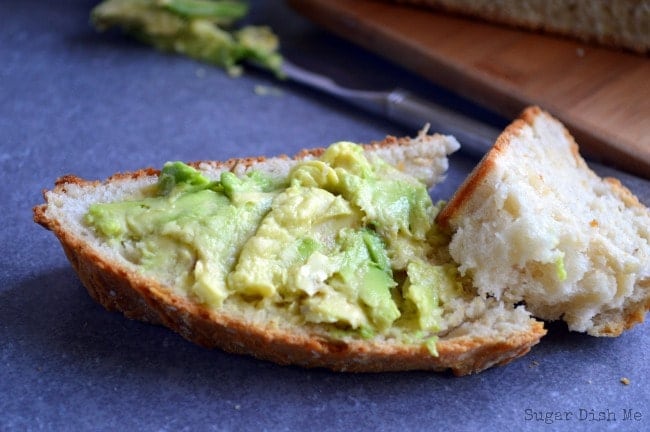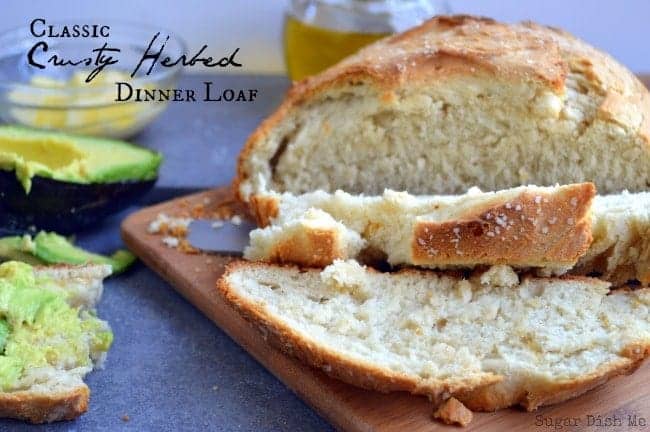 Yield:

1 loaf
One Hour Bread
Total Time:
1 hour
10 minutes
This easy One Hour Bread Recipe is a delicious crusty dinner bread loaded with olive oil and herbs. Perfect with every meal and makes a great grilled cheese! If you are not an experienced yeasted bread baker this recipe is a perfect place to start!
Ingredients
1 tablespoon active dry yeast (a fast rising yeast is best!)
1 tablespoon packed light brown sugar
1 1/4 cups warm water (read the yeast package for the best temperature recommendation, but typically you want it just slightly warmer than body temperature.)
3 cups all purpose flour, plus more for kneading
2 tablespoons olive oil, plus more to brush over the loaf
3/4 teaspoons kosher salt, plus a little more for sprinkling on top
2 teaspoons fresh herbs OR 1/2 teaspoon dried (I opted for rosemary - it is the most versatile, but if you have an herb garden or a favorite blend switch it up!)
nonstick cooking spray or parchment paper
Instructions
Preheat the oven to 400°F.
In a large bowl stir together the active dry yeast, light brown sugar, and warm water. Let it sit for about 5 minutes -- the yeast will bloom in the bowl.
Add the flour, olive oil, salt, and herbs. Stir until the flour is mostly incorporated and starts to pull away from the sides of the bowl. It will be mostly smooth -- you can use your fingers to press in any remaining flour bits, but DO NOT KNEAD yet.
Lift the dough out of the bowl and make a rough ball (this keeps it from sticking to the bowl too much while proofing). Place it back in the bowl, cover with a kitchen towel, and place the covered bowl on top of the stove above the preheating oven. See note. Let it proof for 20-30 minutes.
Scatter flour on a clean work surface. Turn the proofed dough out onto the flour and knead only 3 or 4 times. Shape the dough into an oval.
Spray a baking sheet with nonstick cooking spray or line with parchment. Place the loaf on the prepared pan.
Brush the top with olive oil and sprinkle with salt.
Use kitchen shears or a sharp knife to cut 3 or 4 slashes across the top of the loaf.
Bake for 30-35 minutes. The outside will be a pretty golden color.
Let the bread rest for a few minutes before slicing.
Best served warm but will keep, tightly wrapped, for 1-2 days (if it lasts that long)
Notes
Placing the bowl on top of the warm stove will help the bread to proof quickly. If your stovetop does not warm with the oven (if you have wall oven units, for instance) you can also place the bowl in the microwave with a cup of HOT HOT water and close the door (make sure the microwave is OFF!). This will proof the bread in about 15 minutes.
Recommended Products
As an Amazon Associate and member of other affiliate programs, I earn from qualifying purchases.
Nutrition Information:
Yield:
12
Serving Size:
1
Amount Per Serving:
Calories:

141
Total Fat:

3g
Saturated Fat:

0g
Trans Fat:

0g
Unsaturated Fat:

2g
Cholesterol:

0mg
Sodium:

135mg
Carbohydrates:

25g
Fiber:

1g
Sugar:

1g
Protein:

4g