Fresh bananas are sauteed with butter, brown sugar, and rum and then blended with vanilla ice cream in these Bananas Foster Milkshakes. A rich, creamy treat perfect for banana lovers!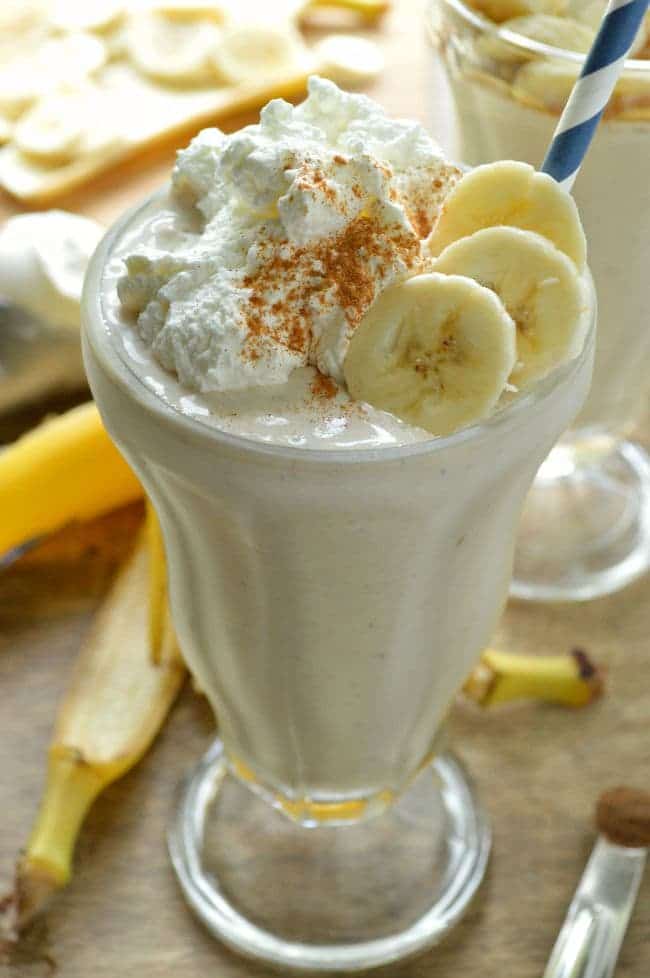 Psst! There is a REALLY awesome giveaway at the bottom of this post – stick around and scroll down to enter!
So uhhh… booze + ice cream is good for a Monday, yes?
It dawned on me this morning that this is my last week of lazy. And so booze + ice cream should be in abundance.
My guys go back to school next week which means that I actually have to put on a bra in the morning because we have to leave the house. And we have to leave the house because … CARPOOL.
Carpool is like a dirty word. But honestly, it's really not the driving of the kids that bugs me. It's the parents that block a whole entire lane while their kid stands around chatting, effectively holding the rest of us hostage. It's the lady that won't make a left hand turn until there are no cars within 100 miles. It's getting stuck behind a school bus. I am stressing just thinking about it.
And so… booze + ice cream on a Monday.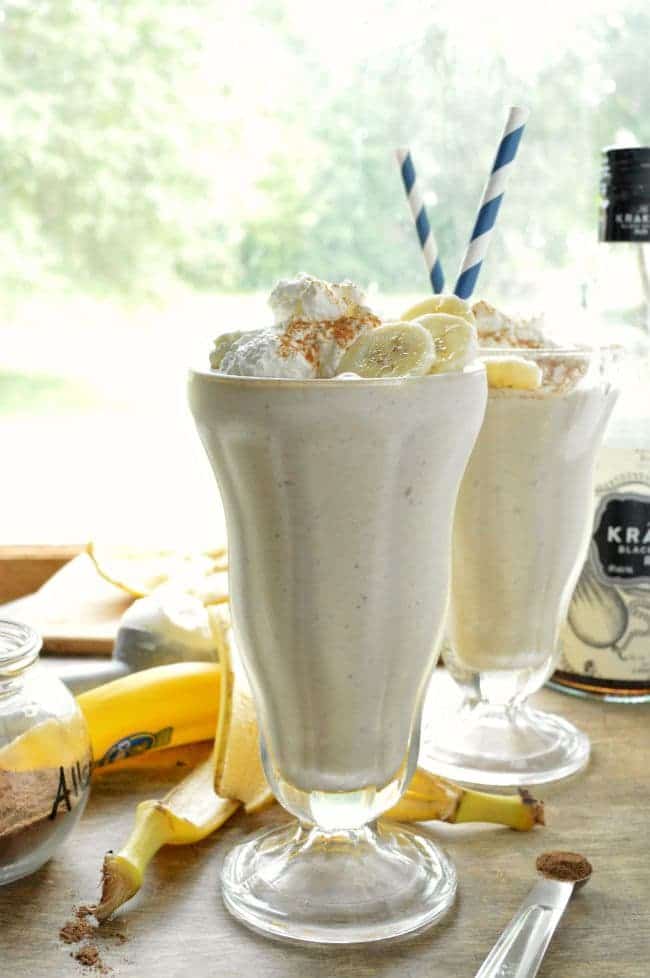 I have had this milkshake idea in the back of my brain for forever. I loooooove Bananas Foster, but it has been a pretty long while since I've had it. Because it is really hard to find people to flambe things table side over here in Shelby, NC. So I took all those rich, buttery, spiced flavors, and shoved them into the blender.
If you have never had Bananas Foster, it is basically just bananas cooked with butter and brown sugar. The spice comes from allspice and nutmeg, making it incredibly fragrant and rich. THEN!!! You add rum. Dark rum. I used The Kracken Spiced Rum because it's my favorite, plus the bottle has the prettiest label. We all know that's how you make the best decisions about books and booze.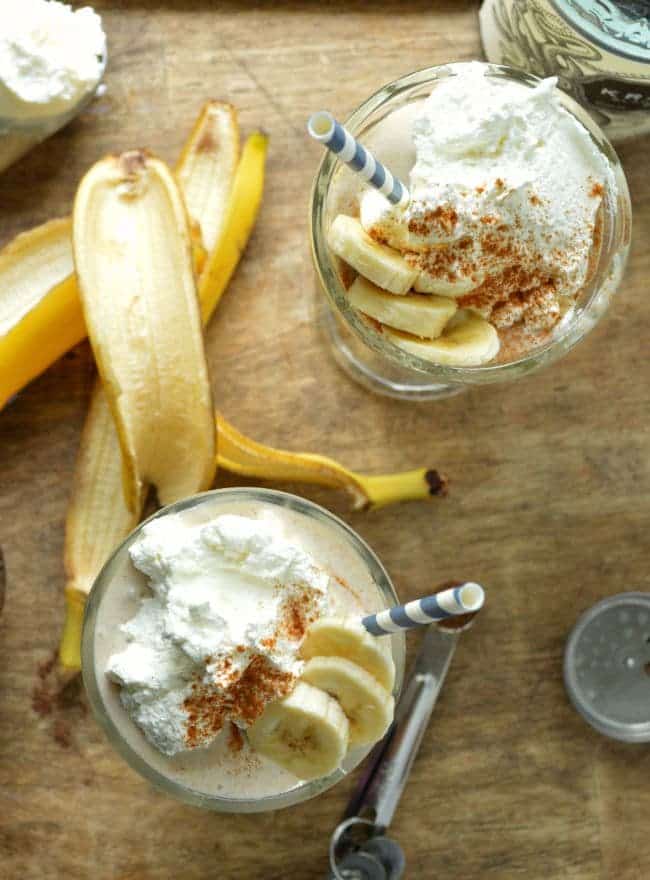 The bananas + brown sugar rum sauce take like 5 minutes to cook, and then you blend them all up with vanilla ice cream and just enough milk to get the texture right.
It is worth noting that in a traditional Bananas Foster recipe, you light the rum on fire to cook off the alcohol. But I think that technique takes practice so I did not include those instructions. Please be careful!!! when adding your rum to the hot skillet.
These milkshakes are the ultimate.
Giveaway Time!! I teamed up with 18 other bloggers to share innovative ice cream recipes with you and to give you a totally amazing prize.
One lucky winner will get this BIG ice cream making prize pack that's worth more than $265! See the Rafflecopter below to enter to win this amazing set. The prize pack includes:
Giveaway rules:
Enter the giveaway through the Rafflecopter widget below. Everyone gets a free entry! You can enter multiple times, up to 20 additional entries by following the ice cream week contributors on social media. (If you've followed in the past, that counts! Just enter the info as prompted.) All entries will be verified. No purchase is necessary to win.
The giveaway is open until Monday, Sept. 7, 2015 at 10 a.m. EST. One winner will be chosen at random and emailed within 48 hours. Winners must claim prize within 48 hours of initial contact. The retail value of the prize is $265. Prizes shown in the graphic are the only ones available.
Open to U.S. residents with a valid shipping address only. Must be 18 years of age as of Aug. 17, 2015.
Bananas Foster Milkshakes
Ingredients
2 tablespoons butter
¼ cup brown sugar
¼ teaspoon allspice
¼ teaspoon nutmeg
2 under ripe bananas, peeled, sliced in half lengthwise and then cut in half again
¼ cup spiced rum
3 cups vanilla ice cream
1 cup milk (as needed)
whipped cream and cinnamon sprinkles to garnish
Instructions
In a medium skillet melt the butter and then stir in the brown sugar, allspice, and nutmeg. With the heat set to medium, add the bananas and let them cook for 1-2 minutes, spooning the sauce over them and gently turning them in the pan to coat and cook all sides.
Gently remove the bananas from the pan and add them to the jar of your blender.
Turn the heat up slightly on the pan and then pour in the rum. Let the sauce cook for about a minutes, stirring in a little with a spatula. It will be thick and bubbly in the pan. Scrape the rum sauce into the jar of the blender with the bananas.
Give the liquid just a minute to cool before adding the ice cream.
Add the ice cream and blend until smooth. Add just enough milk to get the texture right. I like thick milkshakes si I only add about ¼ cup.
Follow the hashtag #weekofsundaes and check out all these other ice cream loving blogs for the best recipes and ice cream treats!
Ashley at Spoonful of Flavor // Ashley at Cookie Monster Cooking // Madison at Wetherills Say I Do // Erin at The Speckled Palate // Julia at Tag & Tibby // LeAndra at Love & Flour // Molly at Hey There Sunshine // Nick at Macheesmo // Meredith at Meredith Noelle // Heather at Sugar Dish Me // Linda at Brunch with Joy // Katie at Twin Stripe // Erica at Crumby Cupcake // Beth at bethcakes // Meghan at Cake 'n Knife // Dan at The Food in my Beard // Bethany at Bethany Grow // Cate at Chez CateyLou // Susannah at Feast + West