These BBQ Bacon Burgers are a grilling season staple! Juicy beef burgers are topped with cheddar, crisp bacon, BBQ sauce and bacon onion jam!
339 posts, nearly all of which are recipes, and not one single beef burger.
That had to be remedied.
Especially because, well, I don't know about your guys, but my guy likes BEEF.
If I could let Chad choose what we are eating everyday… well we would probably never eat anything because he hates making decisions and would much rather just sit down to the table and eat obscene portions of whatever I decide to make. He's pretty easy like that. But. If I were really trying to make him a meal to swoon over…
Wait.
Guys don't swoon.
If I were really trying to make him a meal to get excited about– the kind he will mention a few days later, dropping hints for me to make it again, the kind that he will brag on when he thinks I'm out of earshot which I think is the most flattering thing in the universe– it would be THESE BURGERS.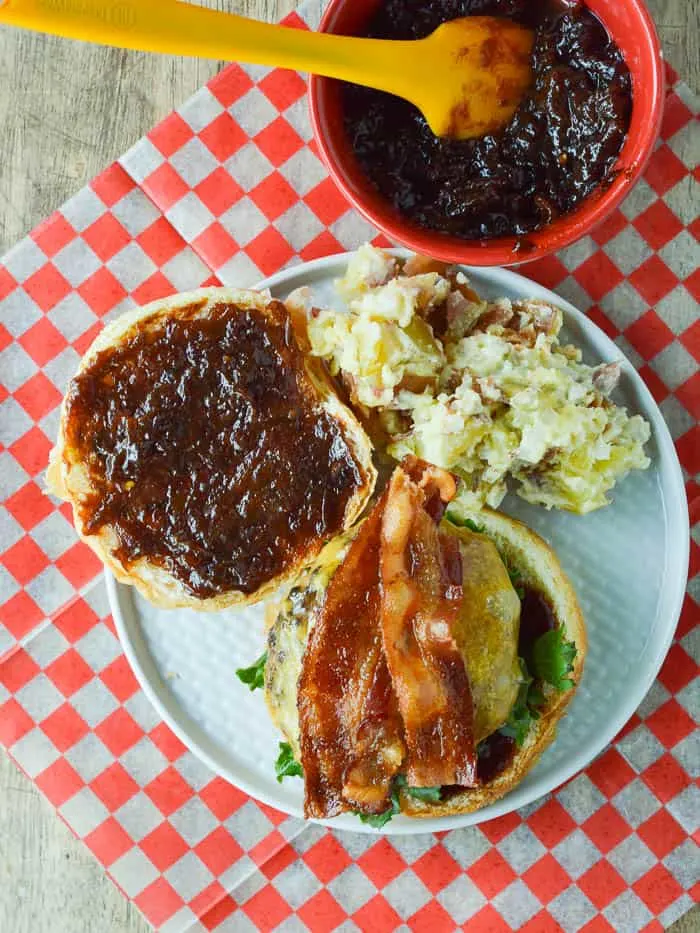 And they start with this Bacon Onion Jam that is out-of-this-world-AHMAYZING.
I'm serious.
I made it ahead of time to test it out because… —breaking news—sometimes I get it wrong.
Okay that's not really news. Especially considering how many times a day I spill.
Anyway, I spread some of the warm Bacon Onion Jam (which I cooked with beer that I am convinced amplified the flavor X 1,000) on toast to investigate my concoction and I seriously almost died it was so flipping good. If I knew how to can things I would set up a Bacon Onion Jam Sweepstakes and mail the winner a jar.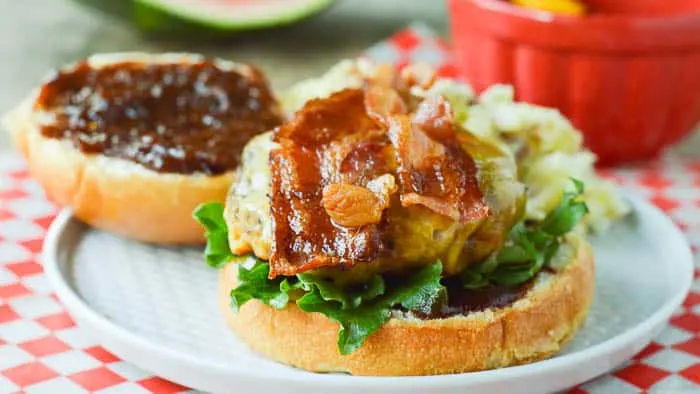 But I don't.
So I'm giving you the recipe and trusting that you will make your own. Please make it.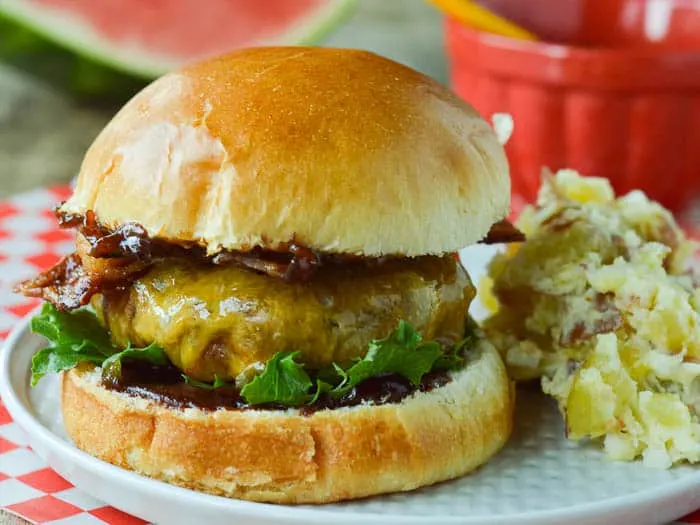 Bangin' Bacon Onion BBQ Burgers. A burger happy enough to make up for all the 339 recipes I posted without an actual burger. Toasted onion rolls spread with bacon onion jam and BBQ sauce, topped with an herb-seasoned lean all beef burger, sharp cheddar cheese, BACON, and a little lettuce so we can say we ate our vegetables.
Make these for your dad, husband, boyfriend, partner, brother, neighbor, friend. Make them for yourself.
Perfect Burger Sides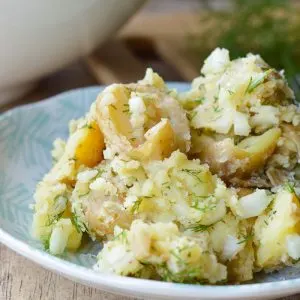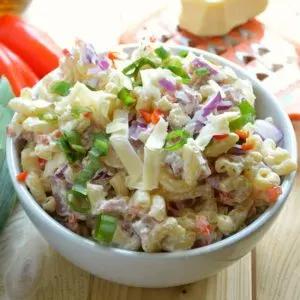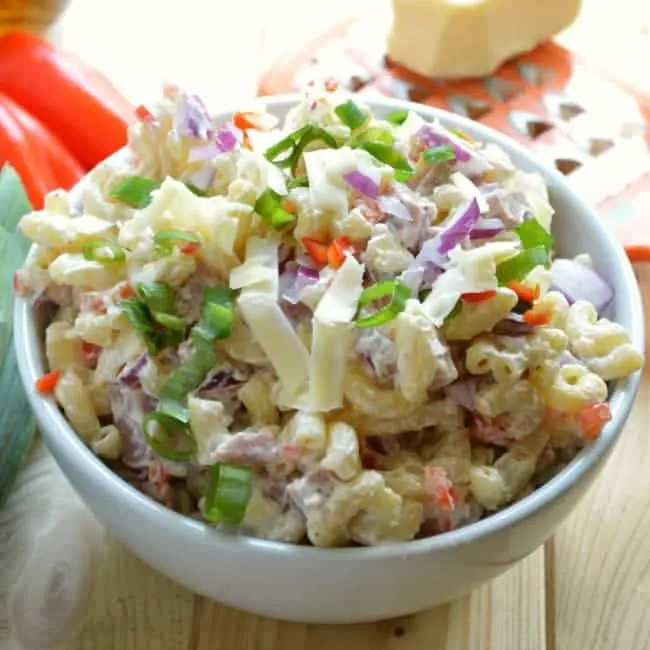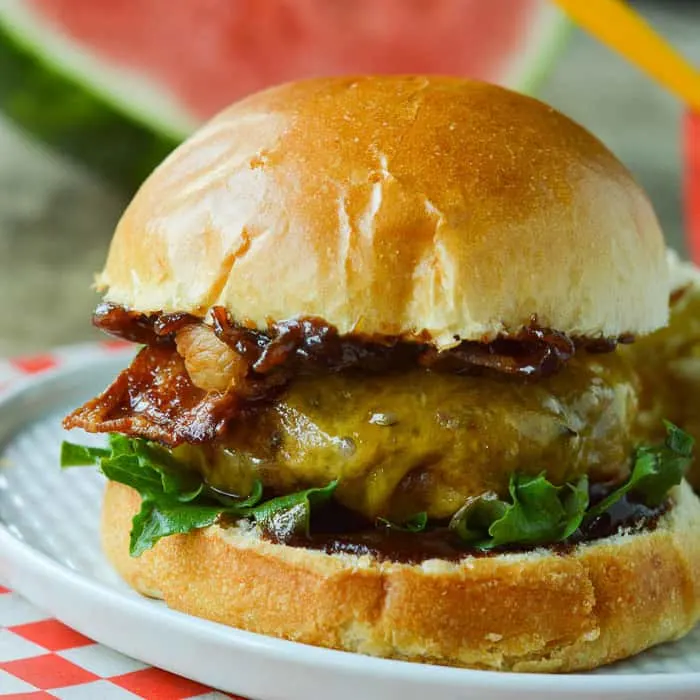 Yield:

6 burgers
BBQ Bacon Burgers
Bacon Onion Jam Time:
1 hour
20 minutes
Total Time:
1 hour
50 minutes
The best BBQ Bacon Burger Recipe around! Lean all-beef burgers seasoned with fresh herbs, grilled, and then covered in sharp cheddar cheese, bacon onion jam, crisp cooked bacon, and BBQ sauce.
Ingredients
For the Bacon Onion Jam:
6 slices lean bacon
2 medium Vidalia onions, halved and thinly sliced
1 cup beer
2 heaping tablespoons apple butter (see note)
1/4 cup cider vinegar
1 tablespoon kosher salt
1/4 cup light brown sugar
14- 1/2 teaspoon crushed red pepper flakes (optional)
For the Burgers:
2 pounds lean ground beef
1/2 cup onion, finely chopped
2 cloves garlic, finely minced
1 1/2 tablespoons chopped fresh oregano (no fresh herbs? see note)
1 tablespoon chopped fresh parsley
2 teaspoons chopped fresh sage
1 teaspoon kosher salt
1 teaspoon coarse ground black pepper
To Assemble:
6 burger rolls
4 - 6 ounces sharp cheddar cheese
lettuce
3 ounces BBQ sauce
Instructions
To make the jam, cook the bacon in a medium saucepan. Remove the cooked bacon and set it aside for the burgers.
Place the saucepan with the bacon drippings back on the burner and add the onions. Cook them over medium high heat, turning them often in the pan to coat them with the bacon drippings, for about 20 minutes. They will soften and become translucent.
Pour in the beer and stir in the apple butter. Bring the mixture to a simmer.
Stir in the cider vinegar, kosher salt, brown sugar, and red pepper flakes.
Continue cooking the jam down, stirring occasionally, for about an hour. As the liquid cooks out you will need to stir more frequently so it doesn't burn. You can reduce the heat some if necessary. If the mixture starts to stick, add a little liquid and stir. When it's done, the jam will be thick, sticky, and the liquid will be completely cooked out.
In a large bowl mix the ground beef with the onion, garlic, oregano, parsley, sage, salt and pepper. Divide into 6 even balls, pat into patties, and refrigerate until you are ready to cook.
Heat the grill. HOT!!! is good to start-- it keeps the lean meat from sticking. You can reduce the heat after both sides are seared and the juices are sealed in.
Cook the burgers to your preferred temperature.
To assemble the Bangin' Bacon Onion BBQ Burgers, spread the bacon onion jam onto the top of each onion roll. Spread BBQ sauce on the bottom.
A slice of lettuce goes over the BBQ sauce. The hot burgers are placed on top of the lettuce. Top the burgers with the cheese. Place a slice of bacon on each burger and add the top bun.
Eat. Be Happy.
Notes
In place of the beer + apple butter you could use 1 cup of apple juice or chicken broth, depending on what you have on hand. The broth WILL change the flavor though and it won't be as sweet
Note that the cook time for the Bacon Onion Jam is listed separately. You can make the jam ahead of time.
Nutrition Information:
Yield:
6
Serving Size:
1
Amount Per Serving:
Calories:

1567
Total Fat:

89g
Saturated Fat:

41g
Trans Fat:

2g
Unsaturated Fat:

36g
Cholesterol:

380mg
Sodium:

3444mg
Carbohydrates:

77g
Fiber:

4g
Sugar:

22g
Protein:

112g