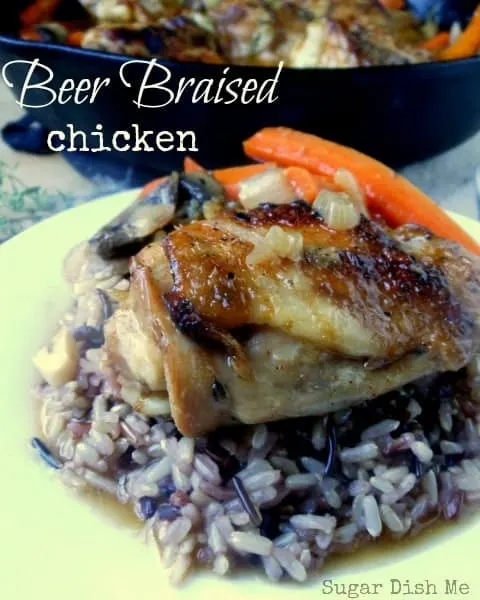 I just looked at the calendar and I knew Thanksgiving was next week but I am still kind of finding myself shocked by that fact. All the menu planning and pre-game pie/cake baking in the whole entire world really doesn't prepare you for the crazy that is Thanksgiving cooking.
Or maybe I'm just not a professional at it?
I'm not sure.
I kind of like to blame my very dysfunctional kitchen because if I have more than one thing going there is definitely a kitchen explosion happening in here and by the end of it I am almost always covered in flour and have broken at least one dish. So that is probably it. Surely it's not my knack for procrastination.
Anyway.
It's become an accidental tradition over the last few weeks to post a sort of boozy recipe on Fridays. I'm liking it.
I also think that you still need a few dinners in your arsenal before Turkey Day and the endless leftovers/month-of-no-dinners-but-cookies that is to follow.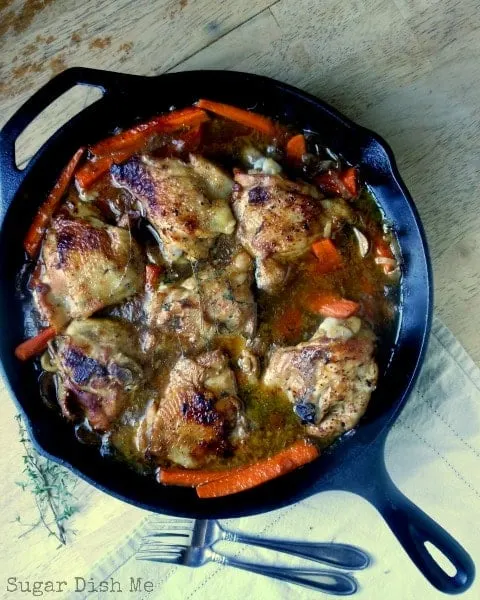 My kiddos still have a couple days of school next week. We still have some homework and a few necessary routines.
So.
This meal is IT.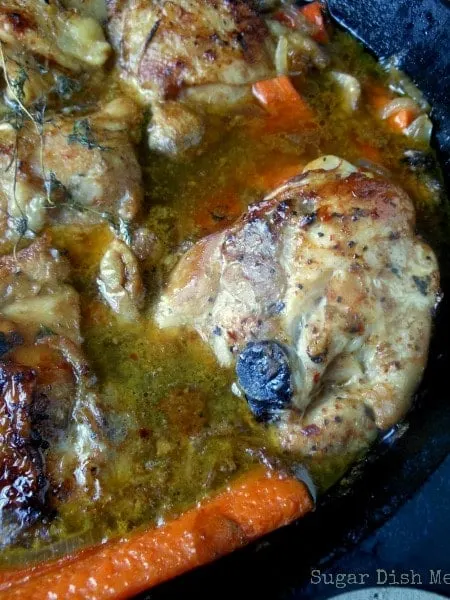 And so, with that, I will resume my online shopping (at least I can say I'm ahead of the game with something).

Beer Braised Chicken
Delicious and flavorful chicken braised in a seasonal ale with carrots and onions. So tender!
Ingredients
8 skin-on chicken thighs
1 tablespoon brown sugar
1 teaspoon chili powder
1 teaspoon paprika
½ teaspoon kosher salt
½ teaspoon coarse ground black pepper
1 tablespoon oil
1 medium onion, sliced
8 carrots, peeled and cut into sticks about ¾" across and 3-4 inches long
1 tablespoon all purpose flour
1 (12 ounce) bottle of beer - USE GOOD BEER! Seasonal ales are delicious
½ cup low sodium chicken broth
4 whole cloves of garlic, peeled
fresh thyme to garnish
Instructions
Preheat the oven to 350. In a small bowl combine the brown sugar, chili powder, paprika, kosher salt, and black pepper. Rub the chicken pieces all over with the spice mixture.
Heat a large oven-proof skillet or dutch oven on the stove over medium high heat. Add the oil to the pan and swirl to coat. Place the chicken pieces in skin-side down. Cook until both sides are browned and skin is crispy.
Remove the chicken from the skillet and drain the fat. Add the onions and carrots to the skillet. Cook for about 5 minutes - the onions will be tender and translucent.
Add the flour to the pan. I like to sort of tip it sideways and add the flour to whatever liquid is in the pan. Stir. Pour in the beer and chicken broth.
Place the chicken back in the pan and nestle ti down in the liquid between the carrots and onions. Scatter the garlic cloves around the pan.
Bake for about 40 minutes. Check the chicken to be sure it's cooked through.
Garnish with the thyme and serve with wild rice or potatoes.