Chewy dessert bars layered with fresh apples, cinnamon, brown sugar, and peanut butter chips. Chewy Apple Peanut Butter Bars are easy to make and are totally addictive.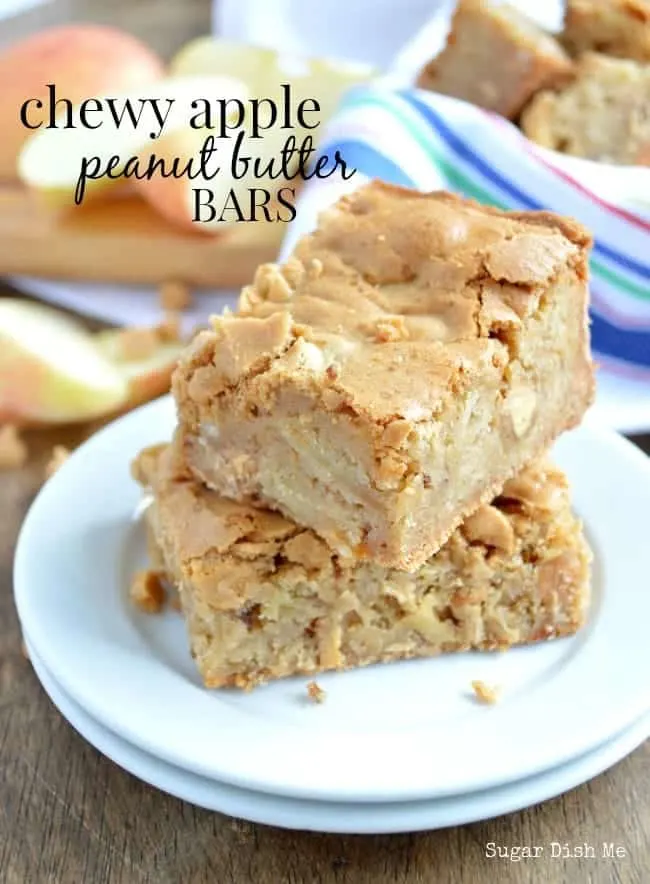 Soooo tell me I am not alone in shamelessly dunking my apple slices into the peanut butter jar.
It's like… dream snacking. Sweet, salty, crunchy, creamy. Apples and peanut butter are all the good things.
Sometimes I even call apples and peanut butter lunch. Because protein. So basically these are protein bars.
Just kidding.
They will test you though, these bars. Not eating the whole pan is an exercise in self control.
I finally caved last week and had TV service installed. My 7 or 8 year hiatus was finally broken down by a flaky Hulu app and a fancy talking sales rep named Nancy.
I really liked Nancy.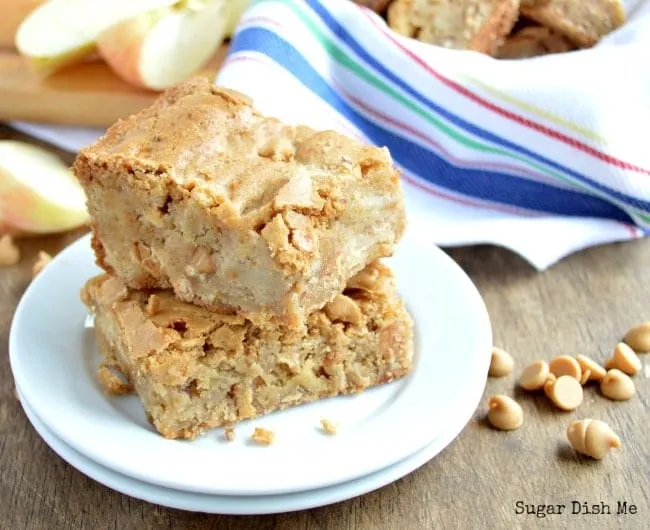 So between Nancy's job skills and Chad doing Yes!-Now-I-Can-Watch-UFC cartwheels around the room, my cable-ban resolve went right out the window.
Now we have to practice a new kind of self control which involves taking in home improvement channels in tiny little doses so that I don't spend my days obsessing over all the things in my house that ARE NOT DONE.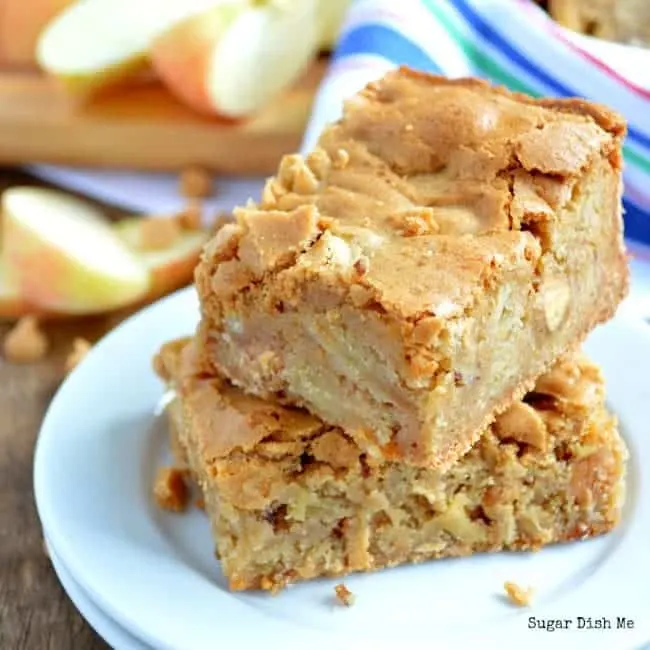 I was going to tell you that it would be easier to not eat a whole pan of these Chewy Apple Peanut Butter Bars, but that would be a lie.
These bars win.
I can't remember where I found this recipe originally, just that a version of it was one of my very first posts back in 2011. Since then I have added things and taken others away, changed up the pan size and increased the bake time. The result in a crazy good cookie bar loaded with fresh apples and peanut butter chips, that is seriously so delicious you will have to give them away for the sake of wearing non-elastic pants.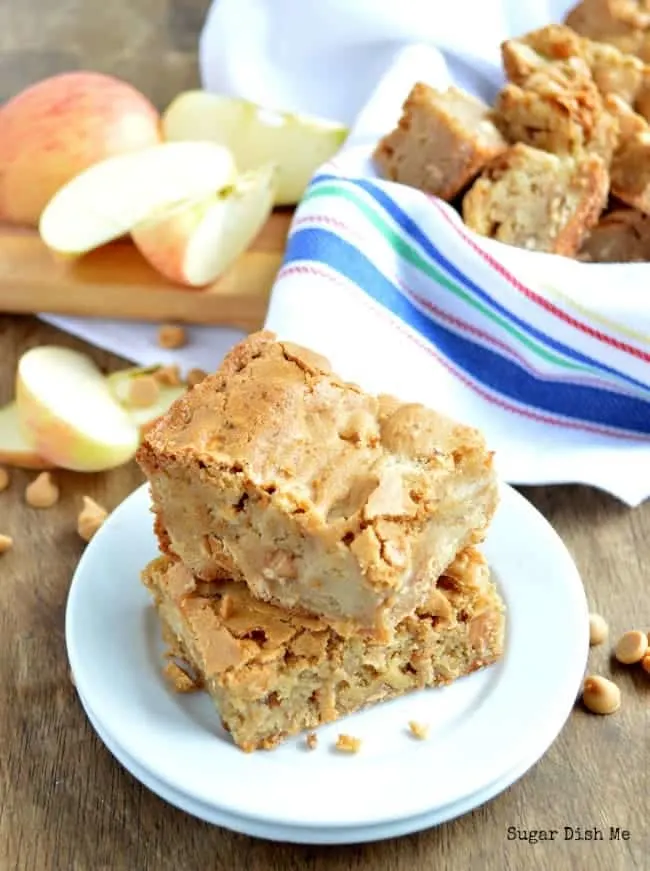 Chewy Apple Peanut Butter Bars
Ingredients
½ cupunsalted butter, melted and cooled
1 cup granulated sugar
1 cup packed brown sugar
2 eggs
2 teaspoons vanilla
2 cups all purpose flour
2 teaspoons baking powder
1 teaspoon cinnamon
½ teaspoon salt
1½ cups chopped apples (See Note)
1 cup peanut butter chips
½ cup chopped pecans (optional)
Instructions
Preheat the oven to 350°F and butter a 9 X 9 baking dish.
In a large bowl, stir together the melted butter and sugars. Beat in the eggs one at a time. Then stir in the vanilla.
In another bowl whisk together flour, baking powder, salt, and cinnamon.
Gradually add the flour mixture to the wet ingretients. Then stir in the apples, peanut butter chips, and pecans.
Spread the batter into the prepared pan (the batter will be THICK).
Bake for 35 - 40 minutes, and then cool completely before cutting into squares.
Notes
I prefer a firm, more tart apple to balance the sweetness - Granny Smith, Pink Lady, Honey Crisp, etc. Also, when I chop the apples for these bars I usually slice them thinly (like for a pie) and then cut up the slices into rough 1" pieces.
This post was also part of the Leftovers Club! Every month a group of bloggers gets together to mail each other goodies. We post the recipes here. In theory all these treats should mail well. If you'd like to participate you can learn more HERE.
See all the other treats we stuck in the mail below…