A celebration of apple season! This Crisp Apple Pecan Salad with Apple Cider Vinaigrette is loaded with fresh, tart apple slices, toasted pecans, feta cheese, and quinoa, and then tossed with a delicious apple cider vinaigrette.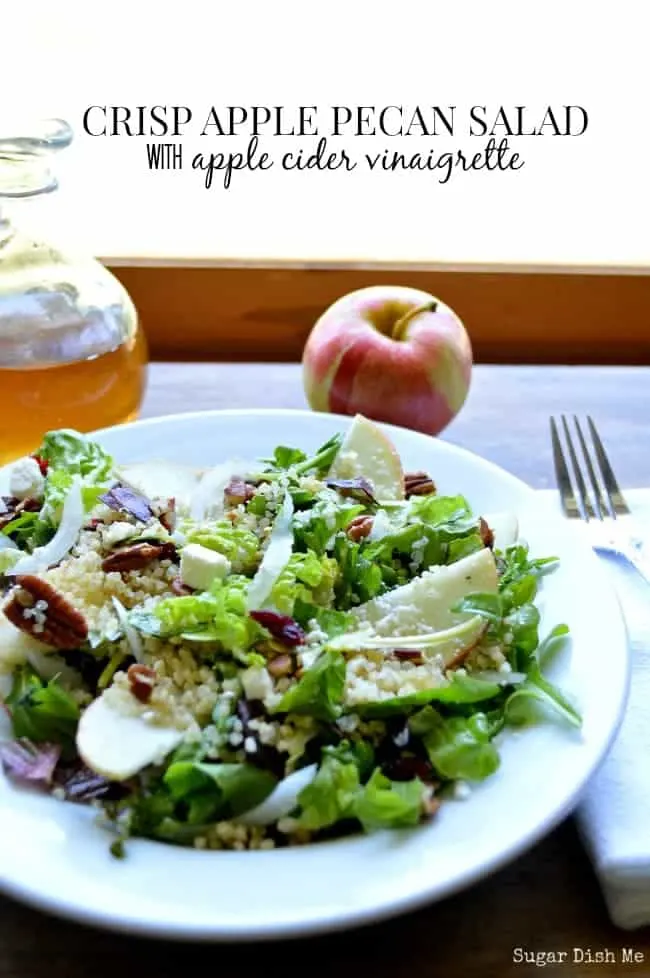 Welcome to my lunch every day for the past week.
Everyday I said I was going to make something different and then somehow I ended up with a big delicious plate of this salad drizzled with the most sweetly tangy and slightly spiced Apple Cider Vinaigrette, that is definitely my favorite dressing to date.
Annnd next week I will probably do it again. Because this salad has everything.
I am also irrationally obsessed with all of the fall things right now. ESPECIALLY because we are having the hottest few days of the year and I have been over summer since approximately August the 3rd. It's just not my thing.
Other things that are not 'my thing' include locking myself out of the house in the 95° heat with no water bottle while the dogs bark at me from their climate controlled position on the other side of the window.
I'm gonna have to teach Betty to open doors, I guess.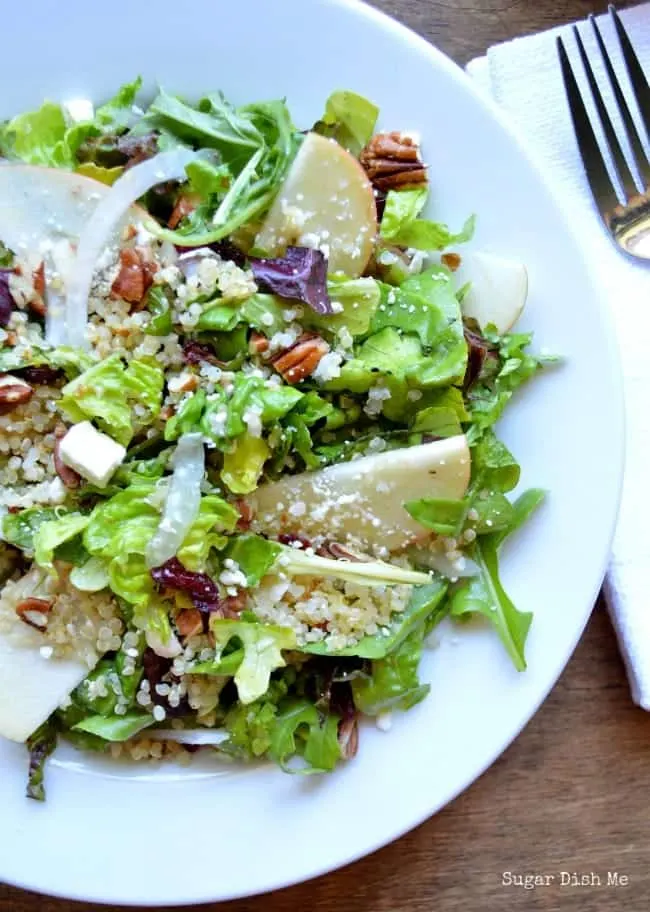 The good news though is that once I called Chad twice at work and sent two text messages that went something like, "Hellllp meeeee I'm melllllllltingggg," he finally managed to check his phone and come rescue me. And then after I drank 3 bottles of water and put my face over the air vent in the floor, this salad was waiting for me.
It's so satisfying! And tastes all crisp and fresh with fall flavors I love. I am determined to make all the apple things that pop into my brain this season, and I really love the crunch and the sweetness they offer in a salad. The REAL star here though is the Apple Cider Vinaigrette. It's full of shredded apple, apple cider vinegar, a hint of cinnamon and some other good things that will make you temporarily forget about the totally unbearable August heat — as long as you enjoy it in the air conditioning.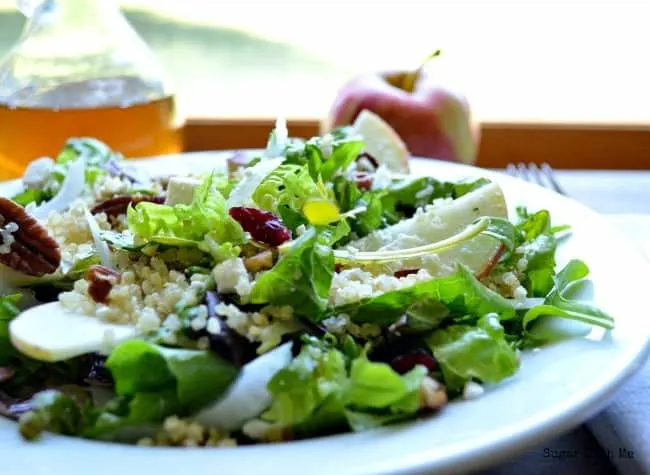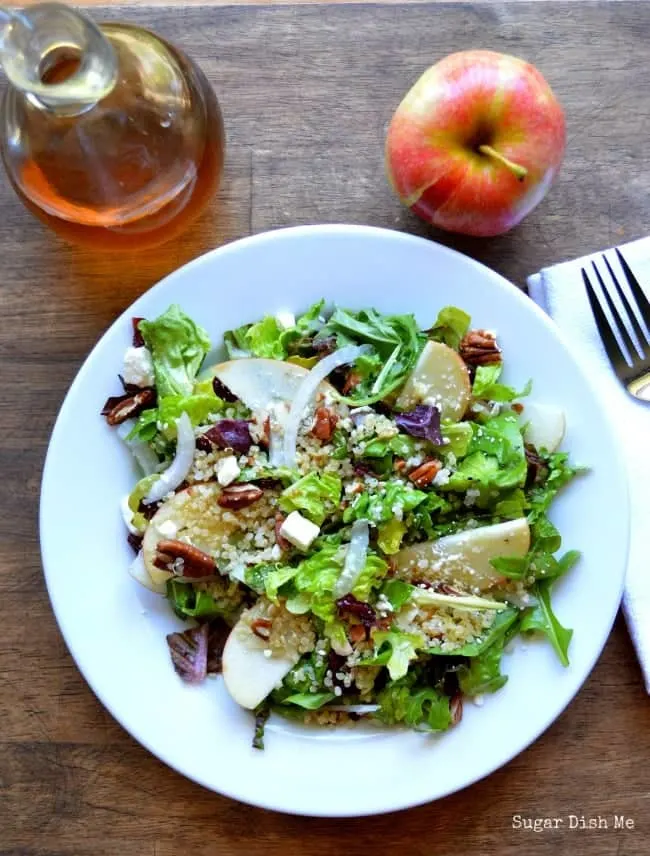 Crisp Apple Pecan Salad with Apple Cider Vinaigrette
Crisp apples, sweet cranberries, toasted pecans, feta cheese, and quinoa make this delicious fall salad a year-round favorite. The Apple Cider Vinaigrette is a simple and perfect dressing you will make over and over!
Ingredients
For the Apple Cider Vinaigrette:
¼ cup apple cider vinegar
1 teaspoon finely minced onion
2 tablespoons finely minced apple
1 teaspoon Dijon mustard
½ teaspoon granulated sugar
¼ teaspoon salt
¼ teaspoon ground cinnamon
⅛ cup olive oil
For the Salad:
6 cups mixed greens
¼ cup very thinly sliced Vidalia onions
½ cup toasted pecan halves (see note)
½ cup dried cranberries
3 ounces crumbled feta cheese
1 cup cooked quinoa
1 crisp apple, cored and thinly sliced (Gala, Pink Lady, and Honey Crisp are all good bets)
Instructions
To make the vinaigrette, whisk together the cider vinegar, minced onion, minced apple, Dijon mustard, sugar, salt, and cinnamon for about a minute. Slowly drizzle in the oil while whisking quickly to blend well. TIP: If the dressing tastes too tart, add a pinch more sugar.
To make the salad, toss the greens in the vinaigrette and divide between 4 salad plates. Scatter onions, pecans, cranberries, and feta cheese evenly over each portion.
Scoop ¼ cup of cooked quinoa over the top of each salad and then tuck apple slices into the greens on every plate.
Notes
To toast the pecans, preheat the oven to 350°F. Scatter the pecan halves in a single layer across a baking sheet and then toast them in the oven for no more than 5 minutes. Watch them closely or they will burn!