A little spicy and a little sweet! These shredded chicken tacos are so perfect for summer peaches! Chipotle Peach Chicken Tacos call for fresh peaches and peach preserves, along with chipotle peppers for some smoky heat. Sure to be a forever favorite.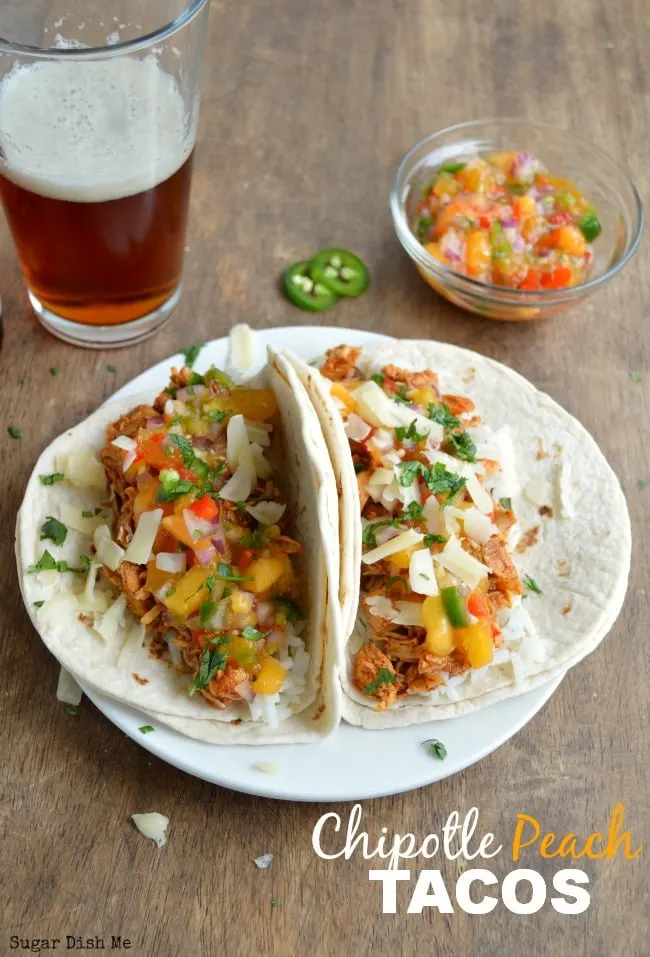 Reason #17654098 to eat tacos: It's peach season.
Last year I bit off more than I could chew with a bushel of peaches. As a result, peaches ended up in everything. It got a little peach crazy around here. And one of my favorite dishes turned out to be these crispy little Peachy Chicken Taquitos [which are actually flautas because they are baked flour tortillas, and not fried, but you all love them anyway]. I am a lover of the flavor clash: sweet + spicy, salty + sweet — that sorta thing.
Chipotle Peach Chicken Tacos are this year's IT.
Plus chipotle peppers have this kind of sneaky smoky heat. You're all,"Oh! These are delicious!," quickly followed by,"Oh!!!! Where's my beer!?" Especially if you accidentally on purpose forget to take out the seeds.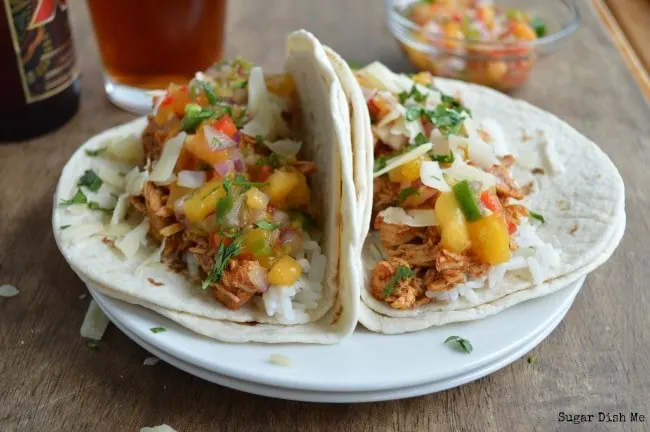 Chipotle peppers are not the only sneaky things here lately, though.
One of my canine kiddos, the girl we call Lucy, has become a master escape artist.
We have to crate her when we leave because about every 3rd or 4th time she gets destructive. Mostly she only destroys my stuff. Like she will on purpose climb on the table and grab MY book out of a stack of books, and then shred it in the floor. It's really great when it's a borrowed book, too. So anyway, Lucy has to go in the crate when we leave.
She hates it.
A lot.
And if you don't close the lock just right, she has figured out how to maneuver an escape. I debated adding a camera to the alarm system just so I could spy on the dogs.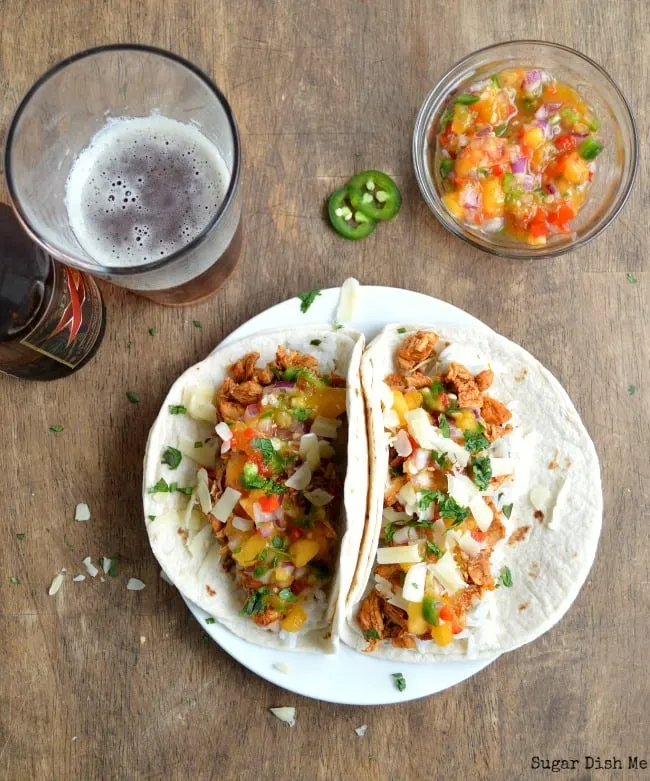 We were out for awhile on Saturday, and when we get home I usually disarm the alarm system from the top of the driveway. It makes a beeping noise inside the house when it turns off, and as soon as I had a green light on my phone, I saw Lucy's head pop up and look out the front window. Then she ducked down and disappeared.
I gathered up all my car full of crap and went to survey the damage, but by the time I got in the front door and up the stairs, Lucy was back in her crate with the door mostly closed, pretending she'd been in there the whole time.
She took her little sneaky dog fib so far that when I let the other dogs out and sent them into the yard, she stayed in her crate and pretended like she couldn't get out until I opened it.
I am actually laughing about it while I type this; Lucy is laying by my feet.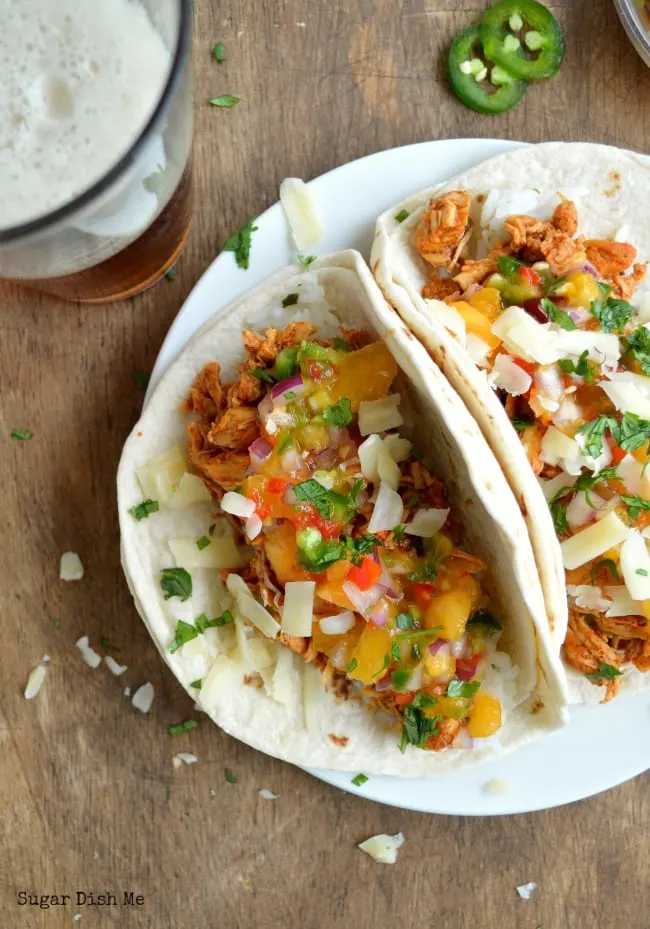 I guess what I'm saying is that sneaky things are pretty smart.
And sneaky chipotle peppers plus peaches need to be your new thing.
The chicken for these tacos is soooooo simple; it's poached and shredded, and then cooked with peach preserves, chipotle peppers, chili powder, and a little orange juice. I also added rice to the tacos because, honestly, my peppers were freakishly hot — I had one of those rogue jalapenos that crossed a habanero in my salsa and I needed to cut it a little. The cilantro rice is delicious! But optional.
The peach salsa? Not optional. Trust me on this.
Chipotle Peach Chicken Tacos
Sweet and spicy! These totally delicious Chipotle Peach Chicken Tacos are cooked with peach preserves and chipotle peppers. Then they are topped with a fresh peach salsa!
Ingredients
For the Chicken:
1 pound boneless skinless chicken breast
1 cup peach preserves
2 chipotle peppers in adobo sauce, chopped (be sure to scrape the seeds out to avoid TOO much heat)
½ cup orange juice
1½ tablespoons chili powder
½ teaspoon cumin
½ teaspoon paprika
salt to taste
½ cup chicken broth or water, as needed
For the Rice (optional):
1 cup jasmine rice
½ cup chopped cilantro
juice of ½ a lime
For the Peach Salsa:
1 cup ripe but still slightly firm peaches, coarsely chopped
¼ cup red onion, finely diced
2 tablespoons sweet red bell peppers
1 jalapeno pepper, finely chopped
2 tablespoons chopped fresh cilantro
1 tablespoon rice wine vinegar (optional)
For the Tacos:
8-10 flour tortillas (taco-size)
1 cup shredded white cheddar
Instructions
Place the chicken breasts in the bottom of a medium saucepan and cover them plus one inch of water. Bring them to a boil and then reduce the heat to simmer at medium high for about 10 minutes (longer if you have thicker pieces of meat). Tip: I like to salt the water I poach the chicken in to avoid adding extra salt later to the sauce.
Turn off the burner and let the chicken sit in the water for another 5 minutes. Cut to be sure no pink remains in the middle, drain the water, and then shred the chicken with forks. Place it back in the saucepan.
Add the peach preserves, chipotle peppers, orange juice, chili powder, cumin, paprika, and salt (if needed). Stir to coat the chicken. Bring it to a simmer and cook, stirring occasionally, while you prepare the rice and salsa. Add the broth or water as needed.
Cook the rice according to package instructions. Stir the cilantro and lime juice into the cooked rice
To make the salsa toss together the peaches, onion, red bell peppers, jalapeno, and rice wine vinegar
To serve the tacos add some rice to each tortilla, Top with the chicken, the salsa, and a little shredded cheese. I like to add more chopped cilantro.