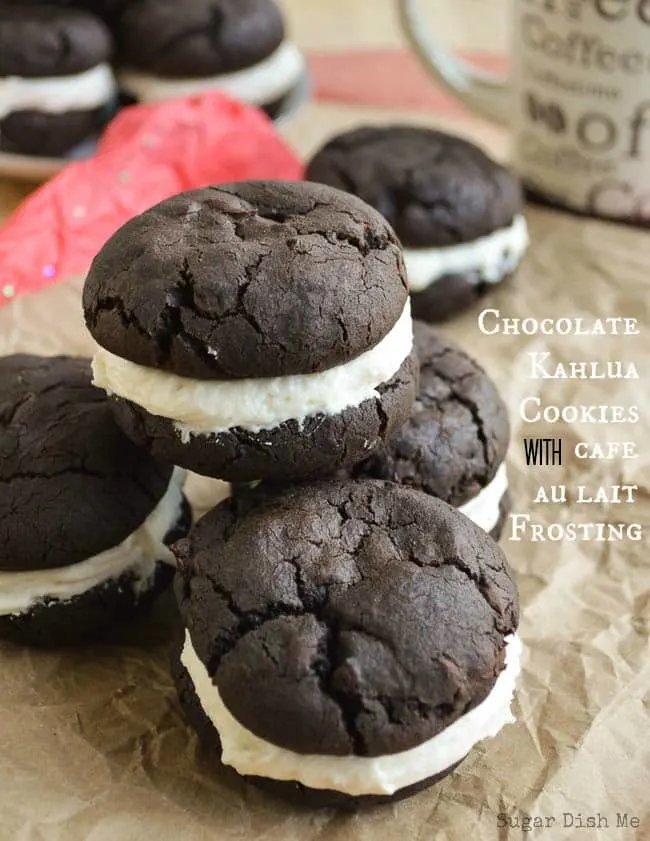 It's no secret that I ahhhdoooore coffee. I am pretty sure it gets an honorable mention in most of my little bios all over the web. It comes up in Facebook conversation more often than not, andI am always the first person up around here in the a.m. I put on the coffee and creep around the house in the quiet, with just the light over the kitchen sink on, packing lunches, walking the dog, watching the clock.
By the time I flip on the news and our 45 minutes of getting ready for school/work chaos ensues, the coffee smell is wafting through the house and I know I have something to look forward to. I never pour myself a cup though until both kids are on the bus, Chad is out the door, and the dog is happy to have had a little exercise. That 7:05 a.m. cup of coffee is my FAVORITE.
I'd be lying though if I said I did not enjoy an afternoon cup with something sweet, especially on coldcoldcold days. Sooooooo I put coffee in the cookies.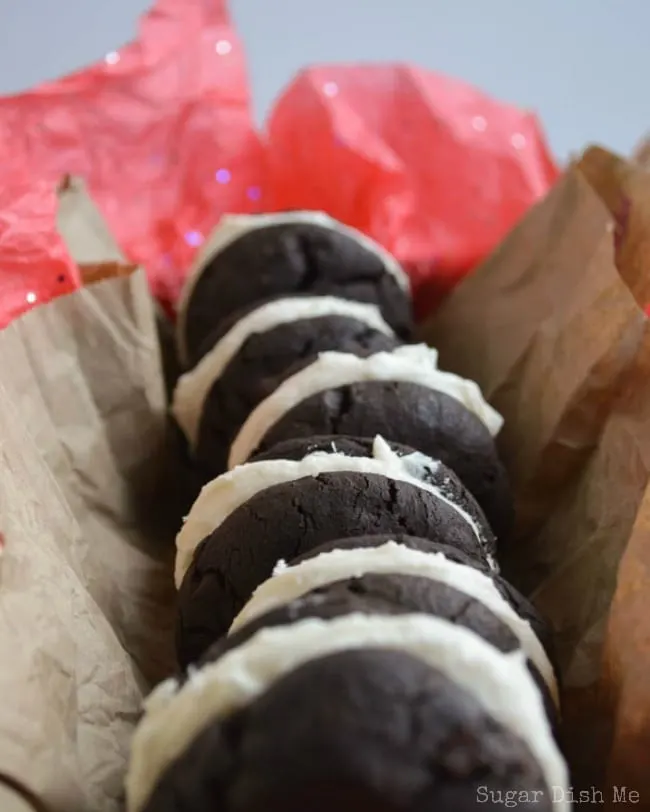 These cookies make good presents.
Especially if your other half is worse about the coffee than me.
Like someone I know whose name might rhyme with 'rad' that likes to take a giant thermos of coffee to work with him and has mentioned 3 times now that he would really like a small coffee pot for the shop, and when he gets home in the evening he likes to not-so-subtly hint around that gah wouldn't some coffee be nice and I'm all well, you know how to make it don't you, and he's like ohhhhhh nevermind… I mean, I am not saying I know someone like that but if I did I could just give him one of these cookies and go back to cooking dinner and the problem would be solved.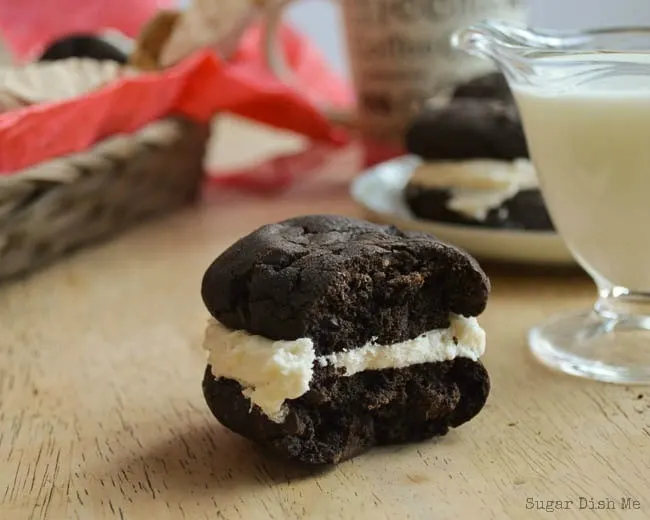 So not only are these cookies awesome, but they might just make your life easier. Just putting it out there.

Chocolate Kahlua Cookies with Cafe au Lait Frosting
Soft chocolate cookies with a hint of Kahlua and lots of mini chocolate chips sandwiched with a smooth milky frosting flavored with coffee. Cookie love. Please leave yourself 30 minutes chill time for the cookie dough in between prep and baking.
Serves:
about 20 cookie sandwiches
Ingredients
For the Cookies:
1 cup unsalted butter
1 cup packed light brown sugar
½ cup granulated sugar
2 eggs
1 teaspoon vanilla
1 tablespoon Kahlua
2½ cups all purpose flour
¾ cup unsweetened dark cocoa powder
1 teaspoon baking soda
¼ teaspoon salt
1½ cups semi-sweet mini chocolate chips
For the Frosting:
6 tablespoons unsalted butter, softened
3 cups powdered sugar
1 teaspoon vanilla
2 tablespoons brewed coffee, cooled
1-2 tablespoons milk
Instructions
Preheat the oven to 350. Line a baking sheet with parchment or lightly butter it.
Beat together the butter and sugars until fluffy. Add the eggs, vanilla, and Kahlua. Beat until combined.
Add the flour, cocoa powder, baking soda, and salt. Start the mixer on low and gradually bring the speed up to medium/medium high. Mix until just combined.
Stir in the mini chocolate chips.
Chill the dough for at least 30 minutes. Portion the dough out by the tablespoonful, roll each cookie into a ball, and place them on the prepared baking sheet about 2" apart.
Bake for 10 minutes - the centers will still be slightly soft. Let the cookies cool on the baking sheet for about 5 minutes before removing to a wire rack to cool completely (sometimes I put mine in the freezer to chill faster so I can frost them right away).
While the cookies cool, make the frosting. Beat the butter and ONE cup of the powdered sugar together until smooth. Add another cup of powdered sugar. The mixture will become crumbly. Add the vanilla and coffee. When it all comes together add the third cup of powdered sugar. Mix in 1 tablespoon of the milk, and another to reach the desired consistency. If you need to thicken the frosting add more powdered sugar. If you need to thin it out add more coffee/milk. Try to keep the coffee:milk measurements close to the same.
Spread the cooled cookies generously with frosting and sandwich them together.