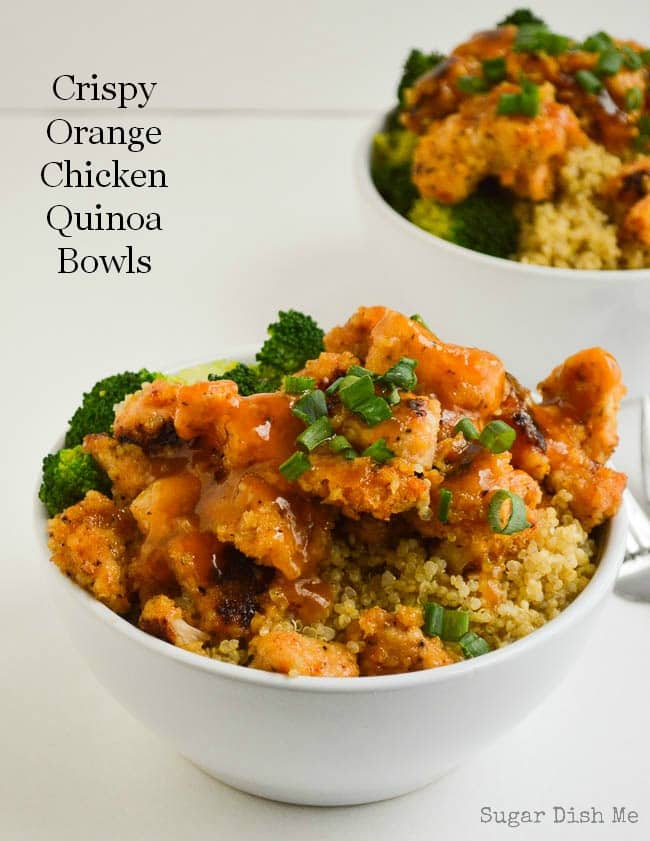 Dinnerrrrrrr is served.
I think I mentioned last week that I have been sort of terrible about feeding my family dinner. I'm trying to do better – really I am. But Snowmageddon here in the south is really not helping my mealtime resolve. They are calling for 8 – 12 inches here starting tomorrow which means that since Monday everyone has been in a state of panic.
Like no more carts at the store panic. Bottled water hoarding panic. Lines upon lines at the gas station panic. It's outta control. Doesn't everyone know that the southern snow rule of thumb is that it will melt by Saturday? Because it will. By Saturday we will be washing our cars and stepping onto the porch to feed the neighbors cat in our bare feet… okay that's probably just me. But really really – in 30 days it will feel like summer and snow will go back to being something that we marvel at on TV and you might just realize that 6 months worth of bottled water was a tiny bit excessive.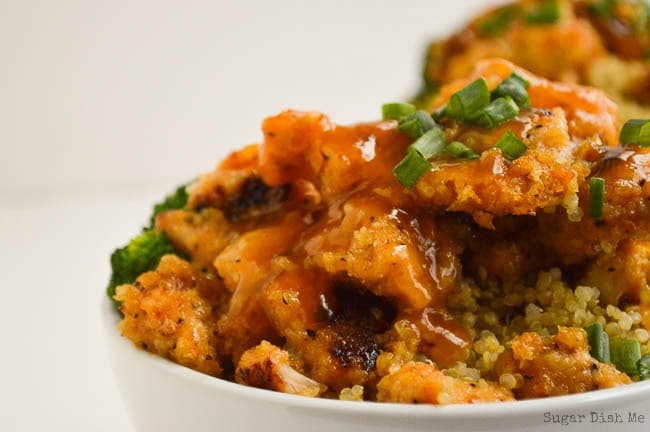 I am always the person that leaves here to buy normal person things like it's a normal person day and then realizes that the sky is preparing to fall when it's just a tad bit too late. Wah.
The up side of my endless trips to the grocery store though is that I had everything I needed to make this meal. Bite size little bits of oven fried chicken tossed in a honey orange sriracha sauce that is like the PERFECT consistency – you will seriously be so proud of yourself! AND it's ready in 40 minutes. AND it's all light and healthy with lots of protein and lean good calories. AND are you sick of me using ALL CAPS yet?
Sorry. I was a little excited.

Crispy Orange Chicken Quinoa Bowls
Oven fried chicken bites tossed in a spicy sweet honey orange sriracha sauce and then served over quinoa with steamed broccoli. A great healthy, quick meal!
Ingredients
For the Chicken:
1½ pounds boneless skinless chicken breast, cut into bite size pieces
1 tablespoon honey
1 tablespoon sriracha
2 cups panko bread crumbs (plain is great - I used lemon pepper panko breadcrumbs in one trial and they were fantastic!)
For the Sauce:
1 teaspoon olive oil
3 cloves garlic, very finely minced
¼ cup honey
1 tablespoon orange zest ( about 1 medium orange, zested and juiced)
¼ cup fresh orange juice (from the orange listed above)
2 teaspoons sriracha (see note)
½ teaspoon kosher salt
red pepper flakes to taste
1 tablespoon cornstarch
½ cup cold low sodium chicken broth
For the Bowls:
1 cup uncooked quinoa
1 large head of broccoli, florets cut into 2" pieces
green onions to garnish
Instructions
Preheat the oven to 375 and grease a large baking sheet or line with parchment paper.
In a medium bowl mix together the chicken,honey, and sriracha until evenly coated.
Pour the panko breadcrumbs onto a plate or shallow dish. Coat the chicken pieces with the breadcrumbs and place them in a single layer on the prepared baking sheet.
Bake for 30 minutes.
While the chicken bakes,heat the oil over medium in a small saucepan. Add the garlic and cook for just a minute. Then add the honey, orange zest, orange juice, sriracha, kosher salt, and red pepper flakes. Stir, simmer, and then reduce the heat.
Stir together the cornstarch and chicken broth and then slowly pour it into the honey and orange mixture on the stove, stirring while you pour. Cook over medium low heat, stirring occasionally - sauce will thicken as it cooks.
Prepare the quinoa according to package instructions.
Place the broccoli in a medium sauce pan. Add about an inch of water. Bring it to a boil, cover, and steam for only a minute. (I like my broccoli crisp and bright green). Remove it from the heat and pour out any excess water.
When the chicken is cooked through toss it with the sauce.
Divide the quinoa between 4 bowls. Top with chicken, broccoli, and green onions. I like to reserve a little sauce to spoon over each bowl before serving.