I have gotten sorta overzealous with gifting this season. I really can't help it. I am thrifty and I don't spend much the whole rest of the year, but at Christmas I get excited and have SO MUCH FUN picking out presents for everyone near and dear to me.
And guess what? That includes you!!!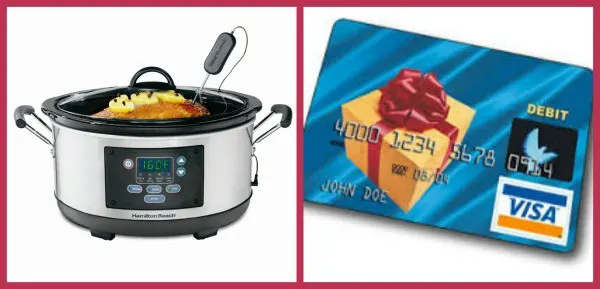 But I didn't pick these awesome presents out alone!!! I had lots of help from some other really fantastic food bloggers that are feeling the holiday spirit!

Take just a minute to say hello to all the little elves that made this possible!
Moore or Less Cooking Food Blog
One winner will receive a Visa Gift Card worth $550!!! Plus this awesome Hamilton Digital Slow Cooker!!!
I mean, that's a pretty great Christmas, right? Enter via the Rafflecopter widget below. This giveaway will run from 12 a.m. December 16, 2013 until 12 a.m. December 22, 2013. Giveaway is only open to U.S. Residents and a winner will be selected at random after entries are verified.
I hope you win! (and I wish I could!) 9 Days till Christmas! Let's make it fun.