Cookies for people that don't feel like baking cookies.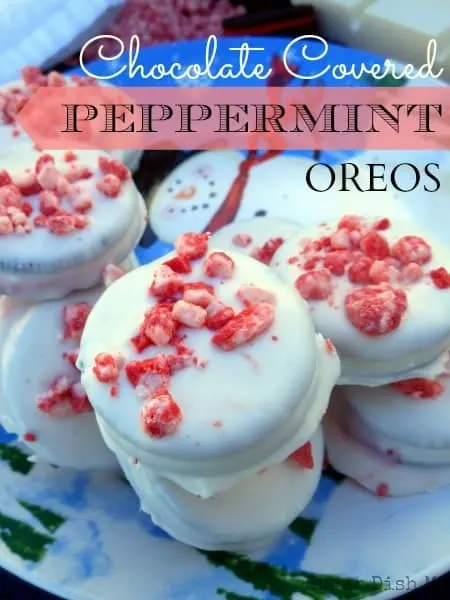 I figured that somewhere in the middle of 12 cookie recipes there needed to be something no-bake. This. Is. It.
You actually don't even need a bowl. AND people will think you are fancy. Let 'em think it. Fake fancy is way more fun than real fancy because fake fancy people get to wear yoga pants at the end of the day. Or the beginning of the day. Or really any part of the day that you can get away with it.
I am all kinds of fake fancy.
This "recipe" is only 4 ingredients. You can have a nice plate of cookies or little gift box set up in 30 minutes or less. If you have never melted Almond Bark to coat things before, it can take a try or two to get it to come out smoothly but I have a magic trick for you:
Shortening.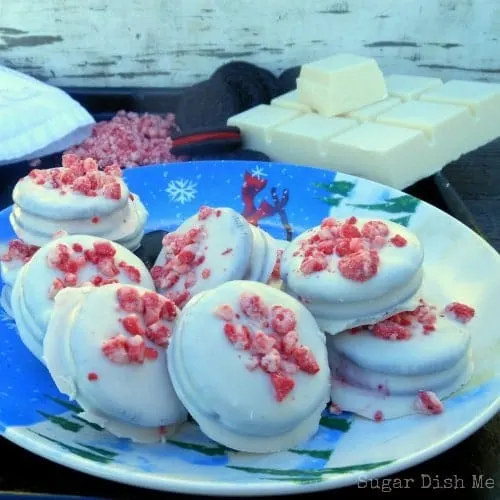 Shortening makes the Almond Bark (or chocolate if you go that route)) melt a little more smoothly. No clumps. White chocolate tends to burn pretty easily. It can be frustrating and annoying to stand over the stove waiting for a smooth texture, only to end up with a thick brown gritty mess. Burned chocolate sucks. That about sums it up. But shortening and low heat takes that worry out of the equation.
It also allows the coating to set up quickly. No more fingerprints in the chocolate from trying to pick it up before it's dry. No more waiting 40 minutes and frantically stuffing trays in the freezer hoping to make it happen faster.
This recipe sets up quickly so be ready with your toppings and before you know it you'll be ready to go.
Fancy.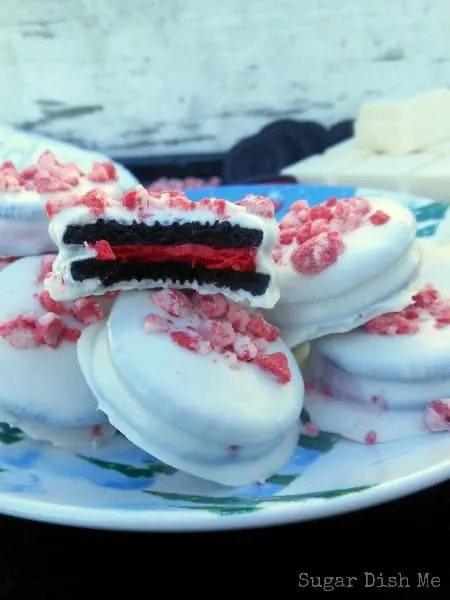 Chocolate Covered Peppermint Oreos
Peppermint Oreos covered in white chocolate and topped with peppermint baking bits. And easy no-bake solution to filling up your Christmas cookie tin.
Ingredients
4 Peppermint Oreos
1 teaspoon shortening
1 square of Vanilla Almond Bark
Andes baking chips or sprinkles or M & M's - whatever you'd like to decorate with!
Instructions
Lay out a sheet of parchment paper. Aluminum foil will also work. Stack your cookies on it -- near the stove so you can work quickly and reach everything.
In a small saucepan over low heat melt the shortening. Stir in 1 square of the Almond bark. Pressing down on it with your fingers helps it to melt a little faster. Stir often so that it melts with the shortening.
When the melted mixture is smooth, remove the pan from the heat and tip it sideways. All the melty liquid will run to one side of the pan.
Gently set the Oreo on top of the melted chocolate and spoon it over the top to coat.
Lift the cookie from the pan with a fork and gently place it on the parchment paper. Top immediately with the Andes baking chips or sprinkles or whatever you have on hand.
Let the cookies set -- it will only take a few minutes.
Serve. Look fancy. Enjoy!
Notes
This recipe is an approximation. On average I can coat ABOUT 4 Oreos smoothly and without crumbs in the chocolate using the 1 square of Almond Bark + 1 teaspoon shortening ratio. You can also use the same ratio if you choose to use chocolate Almond Bark instead of the white. It will also work well with dark chocolate if you wanna forget all this Almond Bark mess. 1.1 ounces of chocolate + 1 teaspoon shortening.
The toppings for these are endless. Be creative!