Pan-seared chicken is cooked with balsamic vinegar for the perfect complement to the sweet strawberries in this Easy Balsamic Chicken Strawberry Salad. A perfectly filling but light and healthy meal!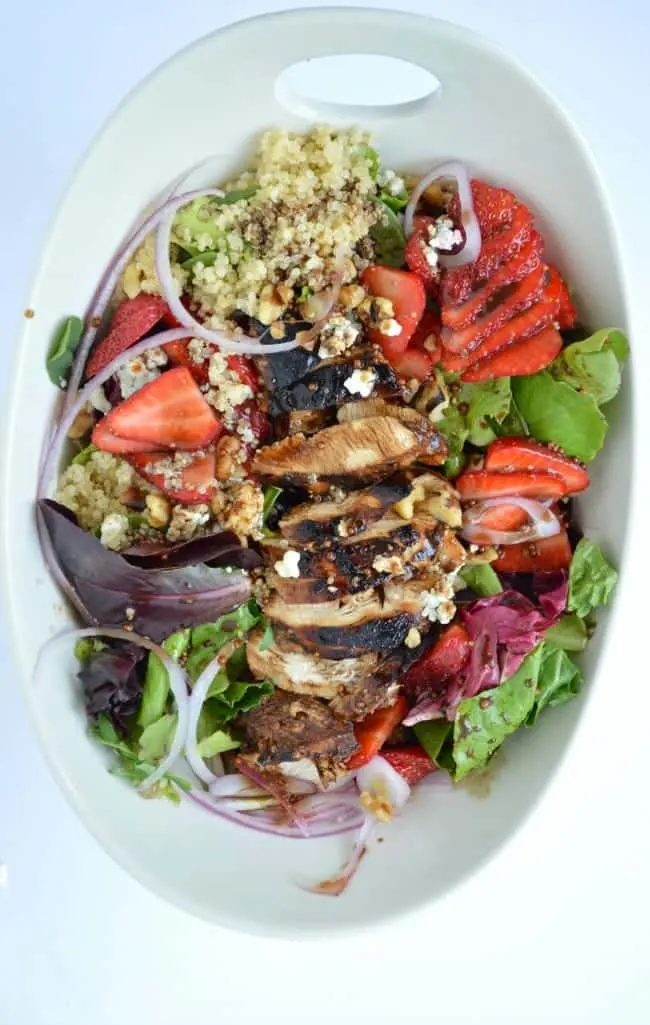 The other day I went to my local garden center and bought entirely too many things. Does this happen to you? It's like I go in to get a $15 palm for the front porch and then leave with 3 flats of flowers, a full vegetable garden, all the herbs, and a grapevine. Garden centers brainwash me into thinking I'm Suzy Homemaker Farmer or something.
Newsflash: I am not.
But occasionally my garden center buys things from real farmers, and this week they had baskets of the best strawberries I have ever bought in my entire freaking life. So I have been putting them in everything since. Every Single Thing We Eat.
I was informed by my 12-year-old today that he,"…just likes plain salad. Not with strawberries. "
I firmly believe that his plain salad is wrong. Clearly this salad is made better by the strawberries.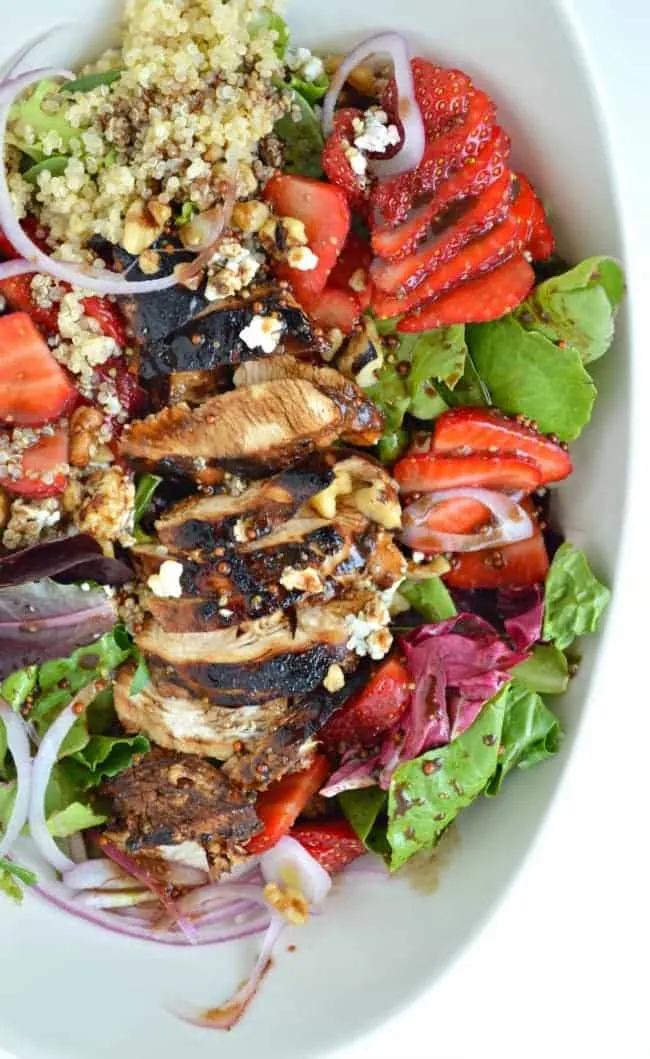 Besides the strawberries though, there were two other things that really set this salad a WORLD apart for me. Of course the dressing. Homemade balsamic vinaigrette is a game-changer. Just ask my grilled cheese.
But the second thing is the chicken. Chicken!!! Really good quality chicken.
By now most of you know that I am fickle about my meat purchases. I will stand in the butcher section of my grocery store for forehhhvur looking for something that is raised with standards, is free of weird things like antibiotics and hormones, and is also not a billion dollars. It's hard to do, friends. And about half the time I leave without anything which results in riots from my family. Because they will eat kale, ya'll. They will. But they want it on the side of a familiar protein.
I bet I cook boneless skinless chicken 4 times a week. Currently, NATURAL chicken breast, the kind that is free of all the weird things, and not injected with broth to look like monster chicken.
Let's look at salad again.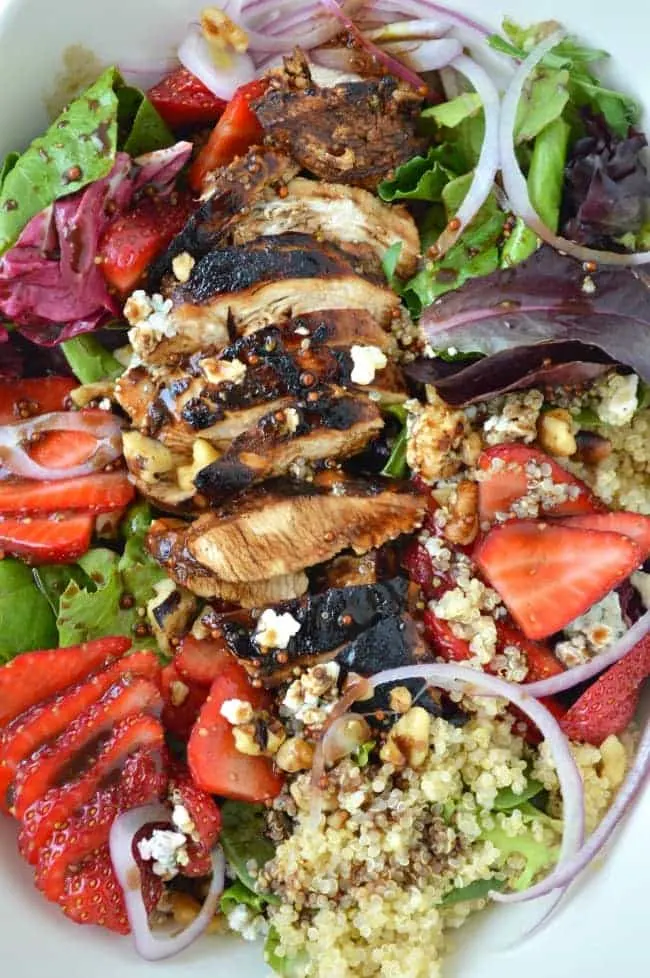 The point to mentioning good quality chicken is… that it matters. Food ethics are important and while it can be really difficult to navigate the ethics of every single purchase you make in our bonkers crazy food system, meat purchases are actually relatively simple to make good decisions about. If you are going to eat meat, make sure it's gonna be good for you.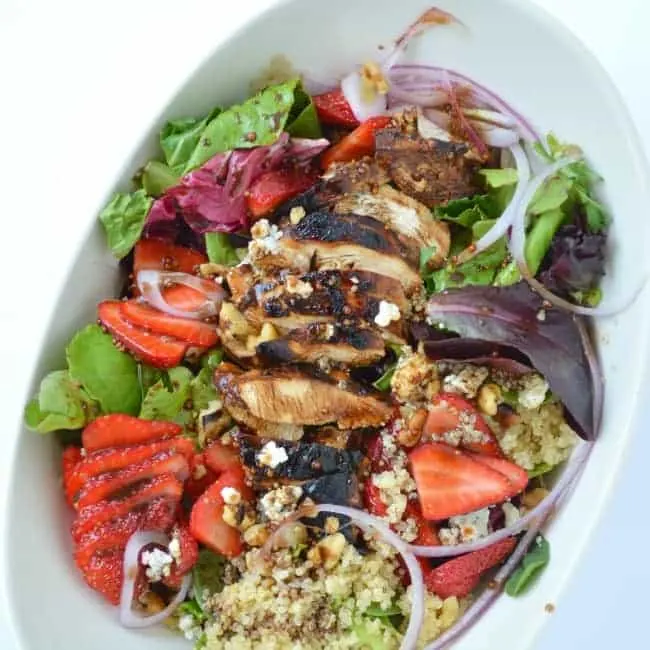 Good chicken makes good salad.
Easy Balsamic Chicken Strawberry Salad
An easy, healthy recipe that I L.O.V.E. Tender chicken breast is pan seared with balsamic vinegar and tossed over a salad with sliced strawberries, red onions, chopped walnuts, blue cheese, and a simple homemade balsamic vinaigrette!
Ingredients
2 tablespoons olive oil
2 THINLY sliced chicken breasts
1 teaspoon kosher salt
¼ cup balsamic vinegar
For the Salad:
8 - 10 ounces mixed salad greens
1½ cups sliced strawberries
1 cup cooked quinoa
½ cup red onion, very thinly sliced
¼ cup chopped walnuts
¼ cup crumbled blue cheese (or feta!)
For the Balsamic Vinaigrette:
¼ cup balsamic vinegar **see note**
2 teaspoons stone ground mustard
2 teaspoons brown sugar
⅛ cup extra virgin olive oil
Instructions
Heat the oil in a large skillet. Sprinkle the chicken breasts with the kosher salt. Place them in the hot pan and cook them over medium to medium high heat for about 4 minutes per side (or until they reach an internal temperature of 165F. Pour in the ¼ cup balsamic vinegar, reduce the heat to medium low, and let them cook, turning once for about another minute. Remove the chicken to a cutting board and let it rest.
Toss together all the salad ingredients.
Whisk together the balsamic vinegar, stone ground mustard, and brown sugar. Slowly pour in the extra virgin olive oil, stirring constantly.
Pour as much of the dressing as you think you'll need over the salad and toss to coat (or serve on the side. Slice the chicken and serve a piece with each portion of salad.
Notes
TIP: It is SO worth it to splurge on good balsamic vinegar. You can really taste the difference. But still, I have a hard time parting with cash even for the flavor. DeLallo makes a great option that usually runs between $6 - $7. Tastes great, won't break the bank.