Yay! A new kitchen! One year ago this week we bought a new (to us) house. Let's discuss.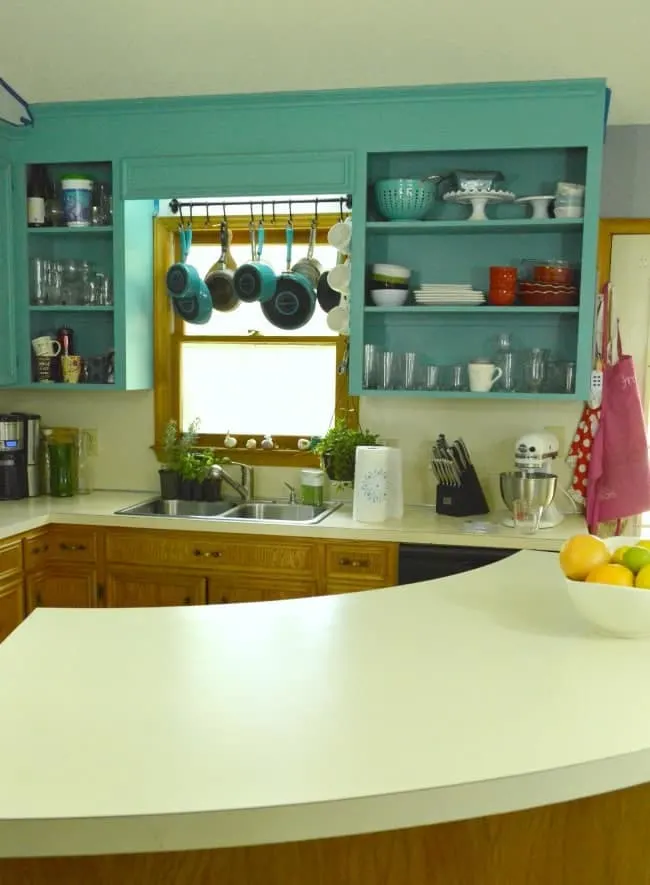 This post is sponsored by Clorox—helping you clean on the go for a happier home. All stories and opinions are my own.
Am I alone in LOVING behind-the-scenes looks at other people's lives?
I always think it is super interesting to see what is happening behind the scenes. People's pets, their kids, their favorite restaurants, and duh, their kitchens.
A couple of years ago I wrote a post called In My Kitchen so that I could share a little bit of reality in what can often seem like a really super picture-perfect world. As a food blogger it is part of my job to use food photos as a way to grab your attention. I will find you the prettiest strawberries and the piece of chicken with the most perfect grill marks. What you don't see are all the strawberries that had bad spots, the roast chicken I burned (okay well actually you did see that), or the MOUNTAIN of dishes my job creates on the daily. My kitchen regularly looks like a bomb went off, and it really stresses me out because it is the very first thing you see when you walk into my house.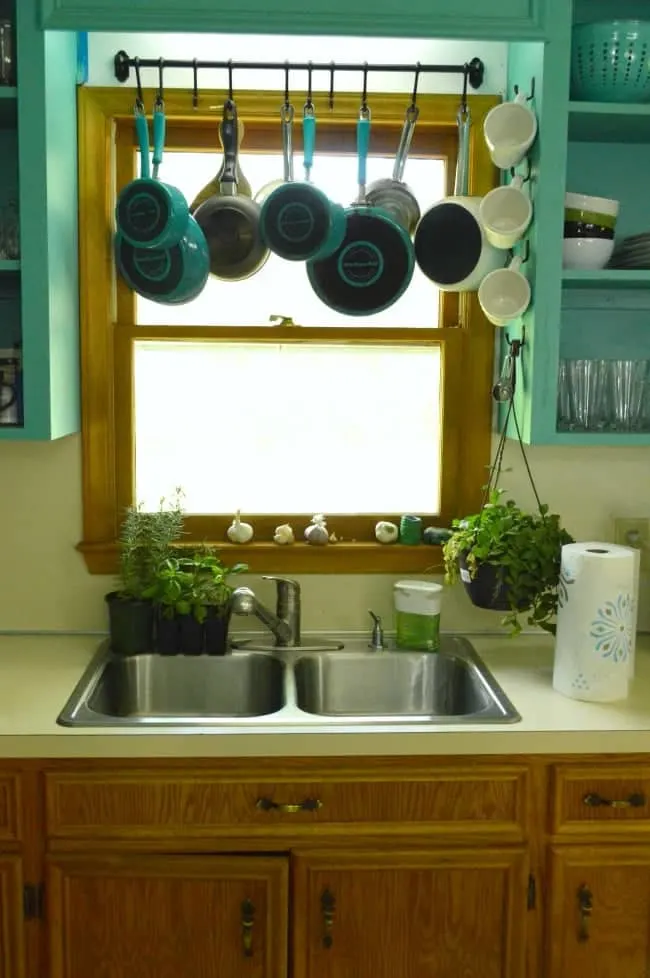 Our house is a split level, straight out of the '80's. It has some definite fashion challenges, but I could not love it more and we are working on style, little by little. So when you walk in my front door there are stairs right in front of your face. When you get to the top of the stairs, right in front of you is the sink and the window pictured above. If it's piled with dishes or I forgot to wipe down a surface, my disaster is the very first thing you see.
There are a few things I like to keep handy – things that help tone down the chocolate cheesecake batter I splattered when I turned the mixer on too high; things that quickly wipe down and sanitize my sink, so that even though it is builder-grade it is nice and sparkle clean.
Okay so disclaimer – you are about to witness why I don't photograph anything in my kitchen. I have lots of windows and natural light, but my kitchen is also directly under a HUGE pecan tree. Shade = dark. Anyway.
My stove has a flat cooktop. It is not what I would pick and I hope to replace it sometime, but for now it works so I don't have a good excuse to replace it. These Clorox® ScrubSingles™ are gentle enough to scrub anything I managed to cook ONTO my stove (I'm looking at you rice starch that boiled over) without scratching it up. And I can use the same wipe to scrub down my sink and counters.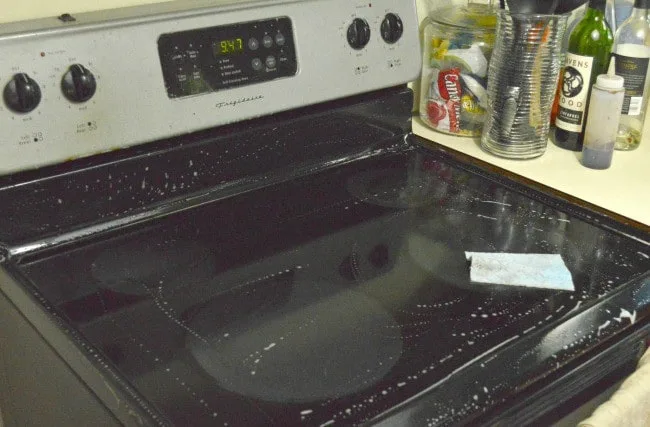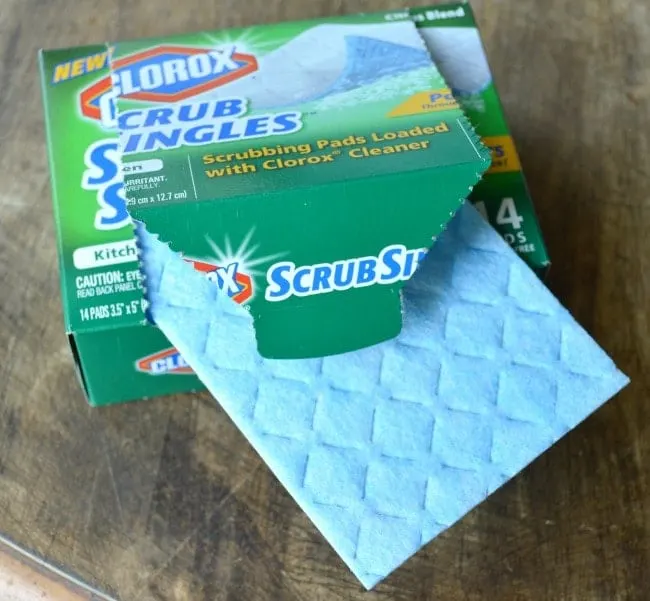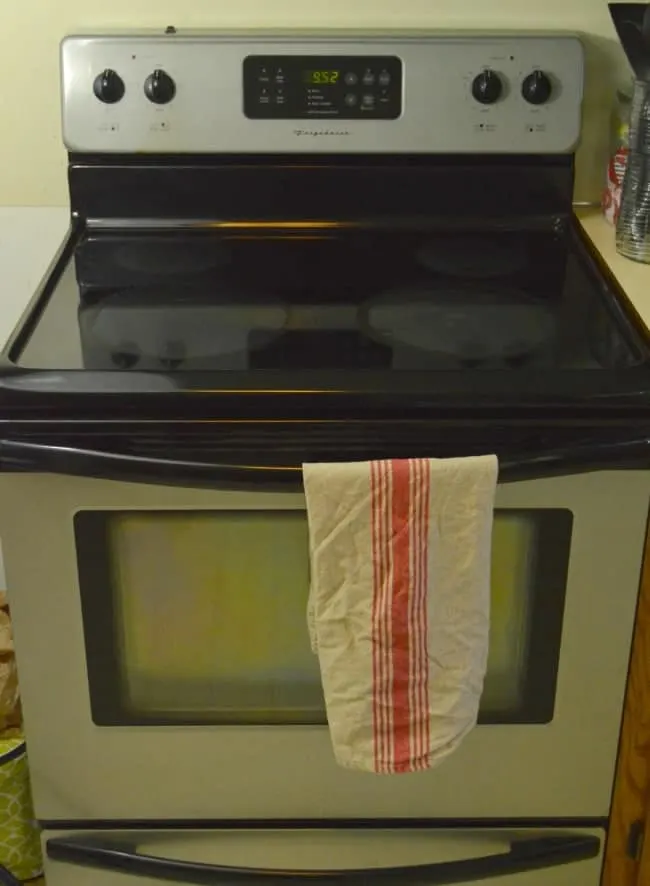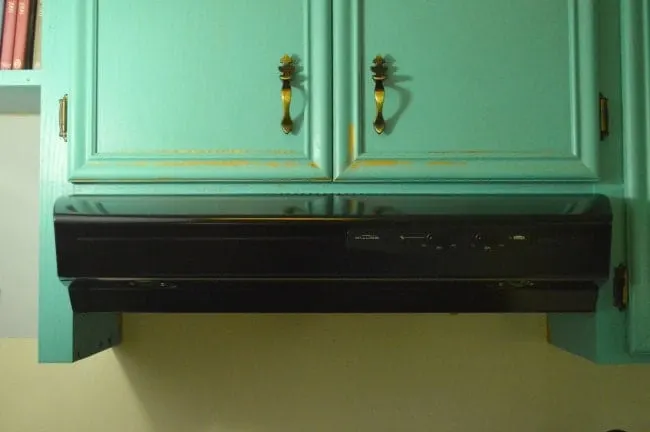 I can also use the same Clorox® ScrubSingles™ to clean the fake hood over my stove. Can we just be clear that this is THE MOST useless appliance in the universe? If I turn it on it sucks up smoke and then spits it back out over my head. A.K.A still in the same room. A.K.A the bacon grease that is too hot is still choking me. Hate it. But at least it's grease-free.
You have probably also noticed that I have started painting all my cabinets. I am in love with the color (the rest of this main room is gray so it really pops), but I stopped painting because I think I am now leaning more towards just replacing all the cabinetry. We have a lot of rearranging that needs to be done for organizational purposes in this kitchen so while I initially thought I'd salvage these cabinets, I think they might end up going.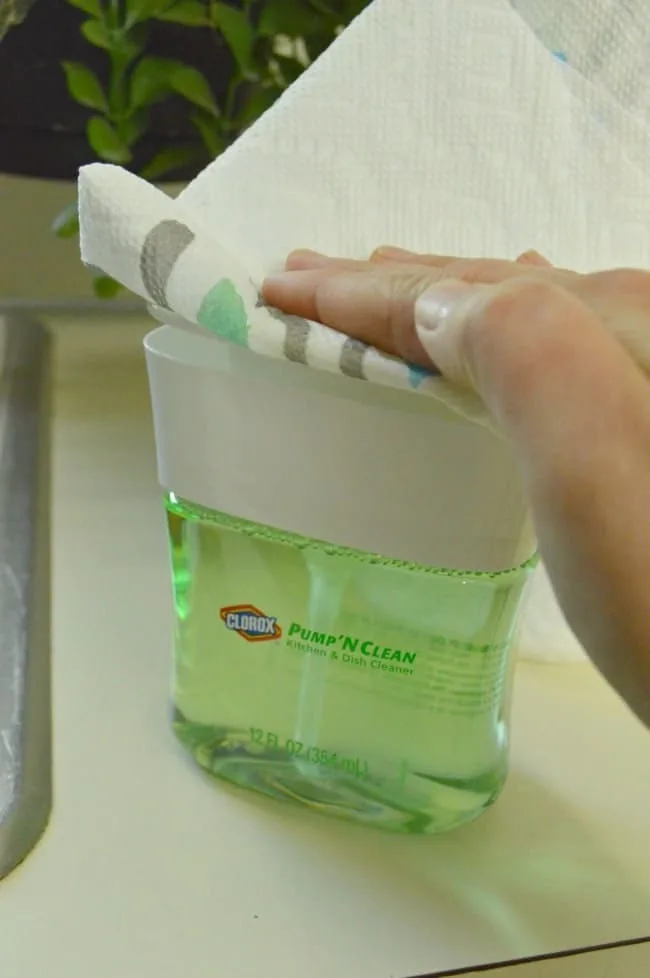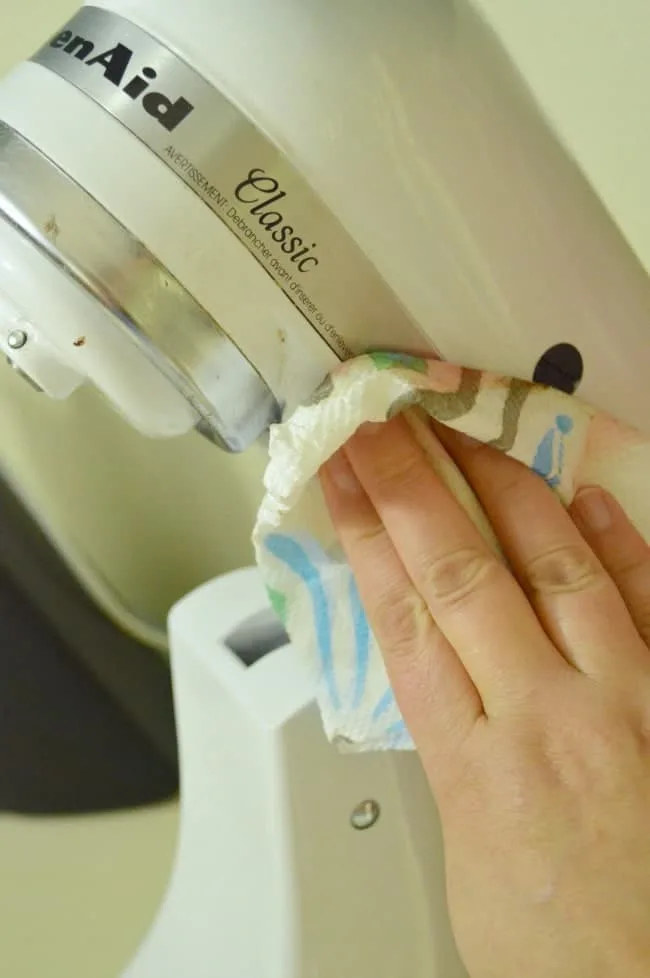 My aunt and uncle gave me my prize Kitchenaid mixer as a housewarming gift last year. I love this thing so much! And I'm loving the Clorox® Pump 'N Clean Kitchen & Dish Cleaner to wipe it down. It's food safe – and doesn't leave any weird chemical residues. I've also been loving this stuff to quickly wipe down my countertops. All of our lunch making and sandwich prep happens right on the kitchen counter (not to mention all my pie crust and biscuits) so I like having something handy that will clean up without me feeling like I need to clean up after it.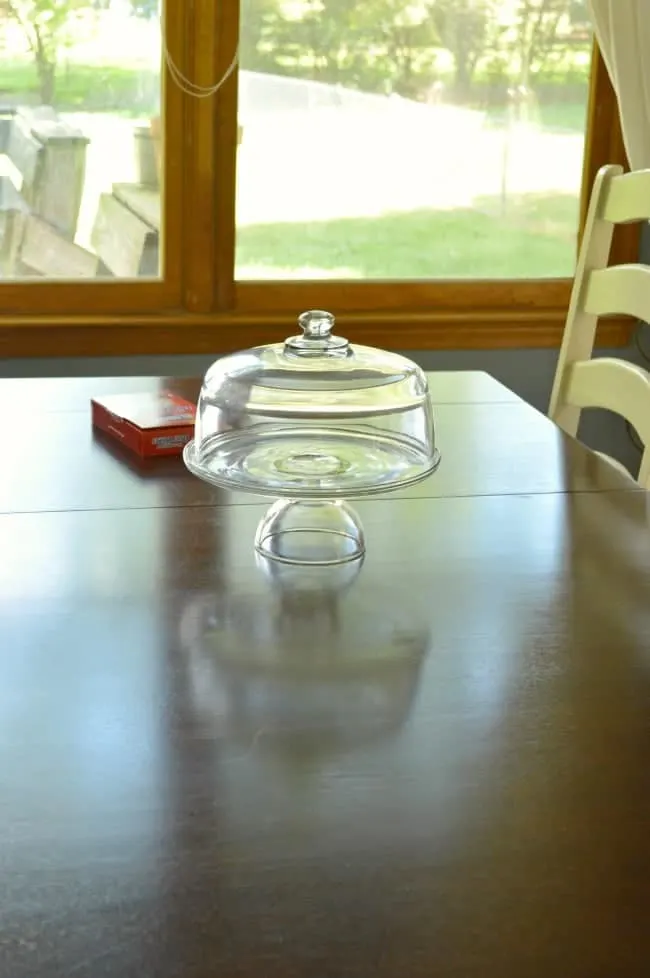 One of our first purchases last year was this giant kitchen/dining table. I have 2 sisters and 2 brothers and when we get together for holidays it's a pretty good crowd. So I was determined to find a table big enough for hosting. (Note: you don't have full photos of everything here because there are actually 59 boxes of bamboo flooring stacked under and all around my table right now. More on that soon!)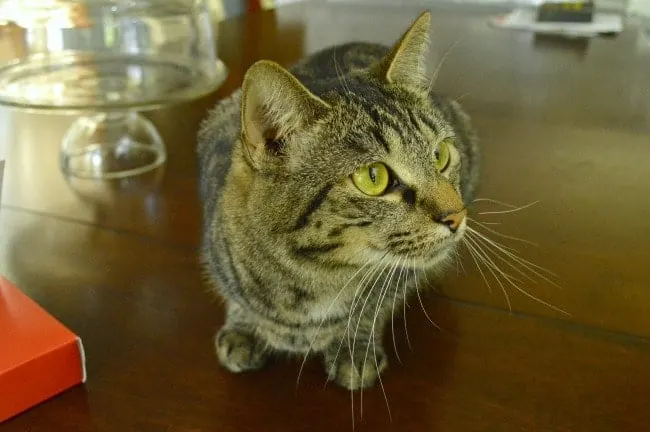 Gidget also likes my table.
With 4 dogs and 2 cats in the house I find myself dusting an awful lot. It's one of those things I panic about if I think people are coming over. Plus! I have all those open shelves for dish storage! No one likes dusty dish shelves, fyi.
These Clorox® Triple Action Dust Wipes are lifesavers. I can straight up dust the entire room with one little wipe. It picks up all the dust, the hair, the everything.
Soooo that's it! A look In My New Kitchen. I will be posting periodic updates on house stuff and am super excited about all of it. I'm painting my fireplace today, so wish me luck with that! If you dig the behind-the-scenes stuff Instagram is the place for that.
This post is sponsored by Clorox—helping you clean on the go for a happier home.