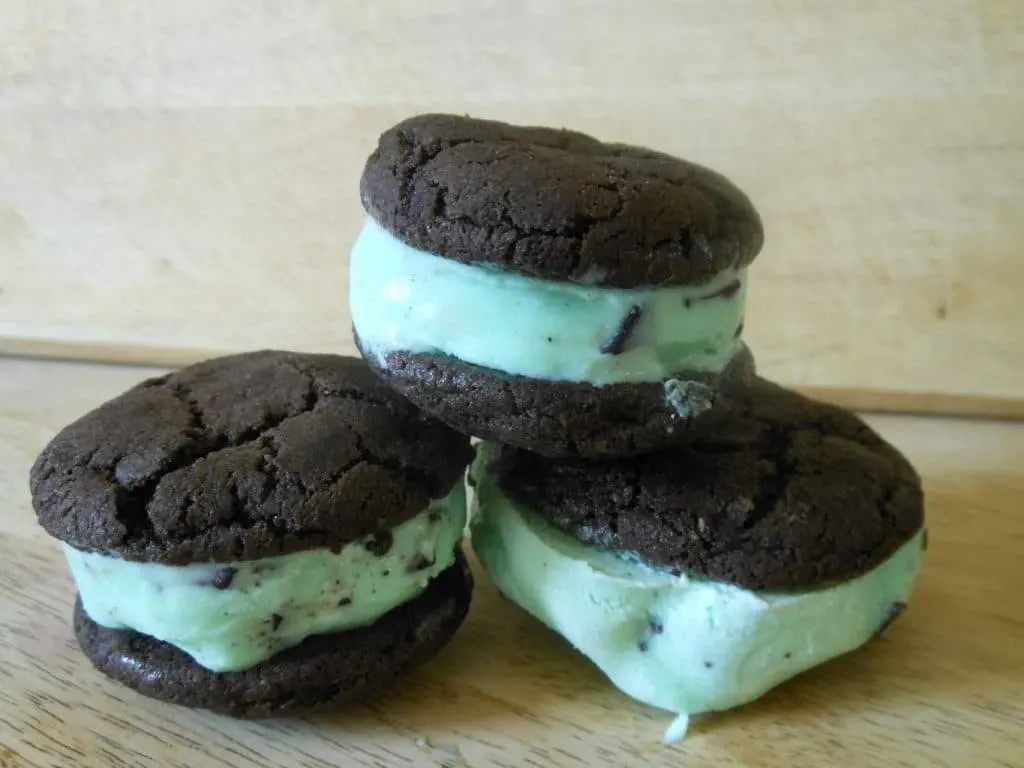 As I perch here writing about ice cream sandwiches, WISHING I had one of these fabulous minty chocolatey grasshopper ice cream thingamabobs in my posession to stick up my fingers while I one-handedly type, Chad is sleeping.
Okay, he's not just sleeping. He is hibernating. He is sprawled out, face down across the bed with his arms slung over the edge breathing very very loudly.
The reason I know that this is not regular sleep is because just a minute ago I tucked my freezing cold feet underneath his bare belly and he did not budge.
Also we had a whole conversation a few minutes ago about what to eat for dinner because I'm hungry because our grocery supplies are very low because our car has been disassembled for more than a week now waiting on this part or that and you cannot buy groceries in a rail buggy. Gah. We could be cool and order a pizza, but because we live at the end of the earth, no one delivers here. I promise I couldn't make this mess up if I tried. Anyway, during the conversation about what to eat for dinner, Chad said, "I heard you, honey. Just tell me whatya wanna do." But when I told him we better get while the gettin is good before another rain cloud unloads on us I noticed that the heavy breathing had resumed.
He has not heard a word I've said.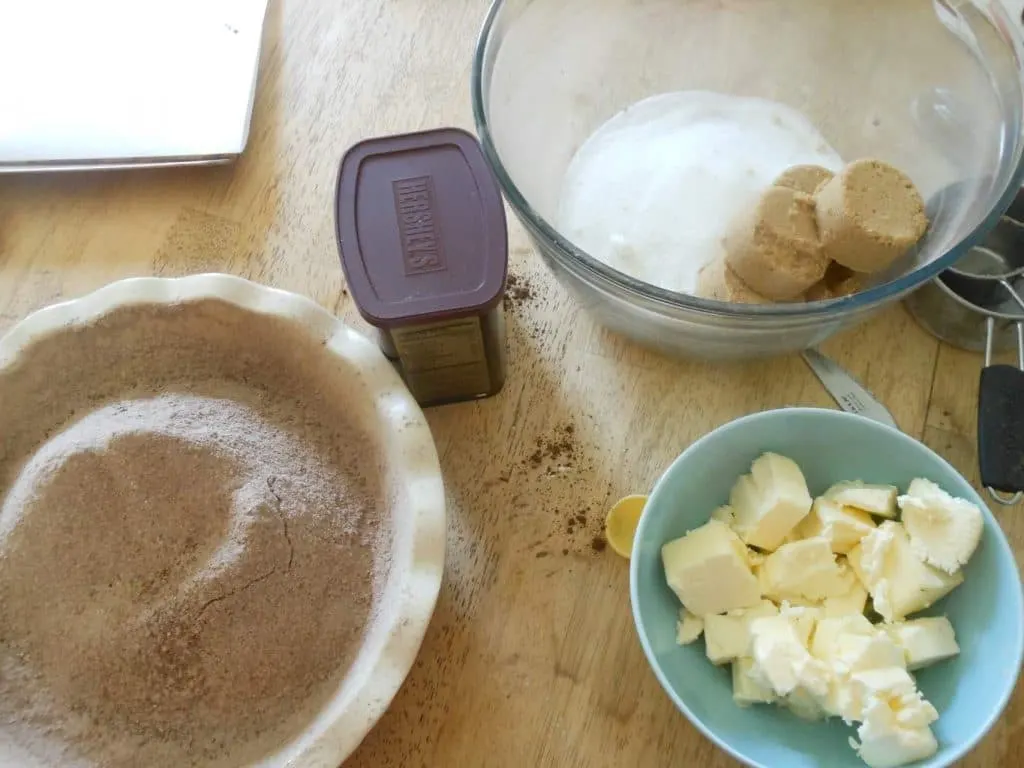 I sneezed very loudly. Twice. He did not say, "Bless you." I'm pretty sure he didn't hear me at all. A very tiny girl named Norma Jean took the notion to jump on Chad's bare back and dig in her claws while purring loudly. He did not flinch. I tapped his cheek. Nothing.
I mean, I can't blame the guy. He just spent a whole week working really super hard. He's tired. I get it.
But I don't really want to eat graham crackers for dinner. Graham crackers are only an acceptable dinner when you can add fire-roasted marshmallows and chocolate, neither of which I have at the moment. I am also currently out of butter and eggs (whaaaat?! I know. That's crazy, right?) or I would stop trying to wake Chad up entirely and go make these chewy double chocolate cookies.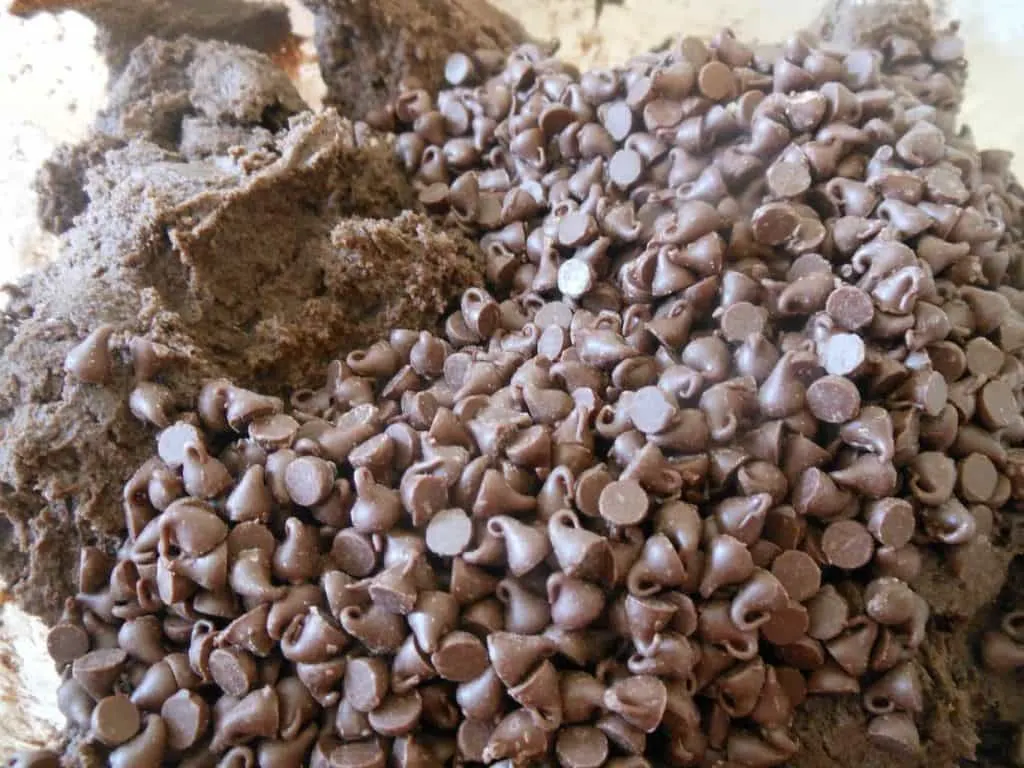 Chewy Double Chocolate Cookies are the first essential ingredient needed to have the most delicious creamy cool mint chocolate grasshopper sandwiches.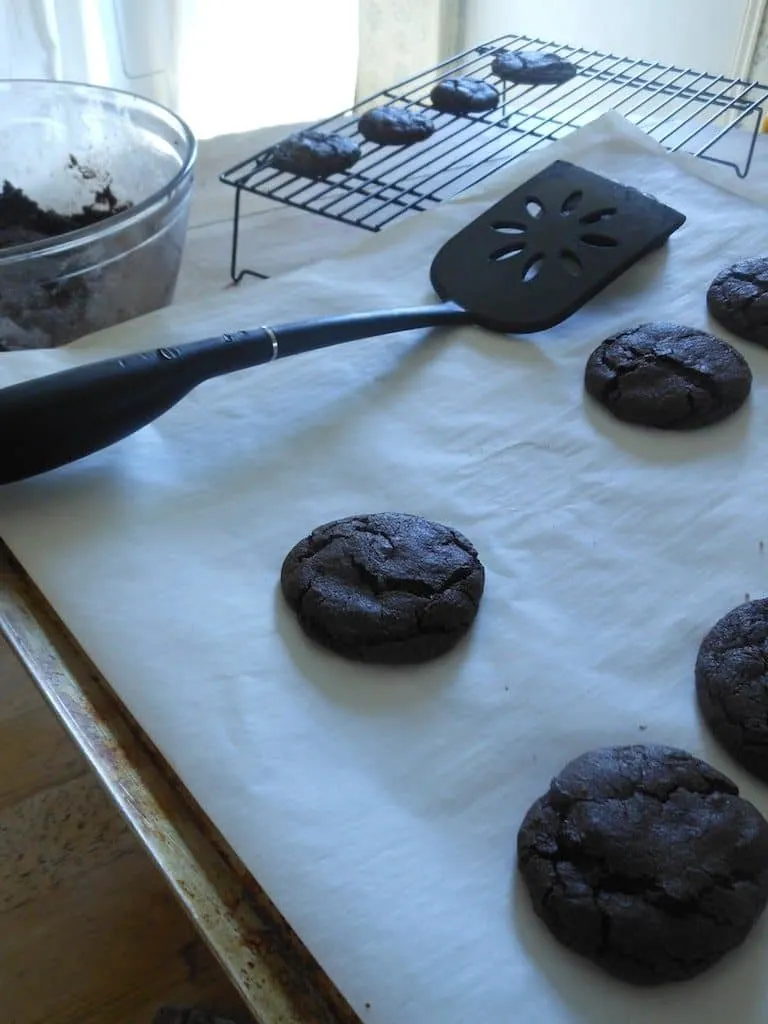 The second essential ingredient is mint chocolate chip ice cream. The green kind. So that there's no mistaking the mint.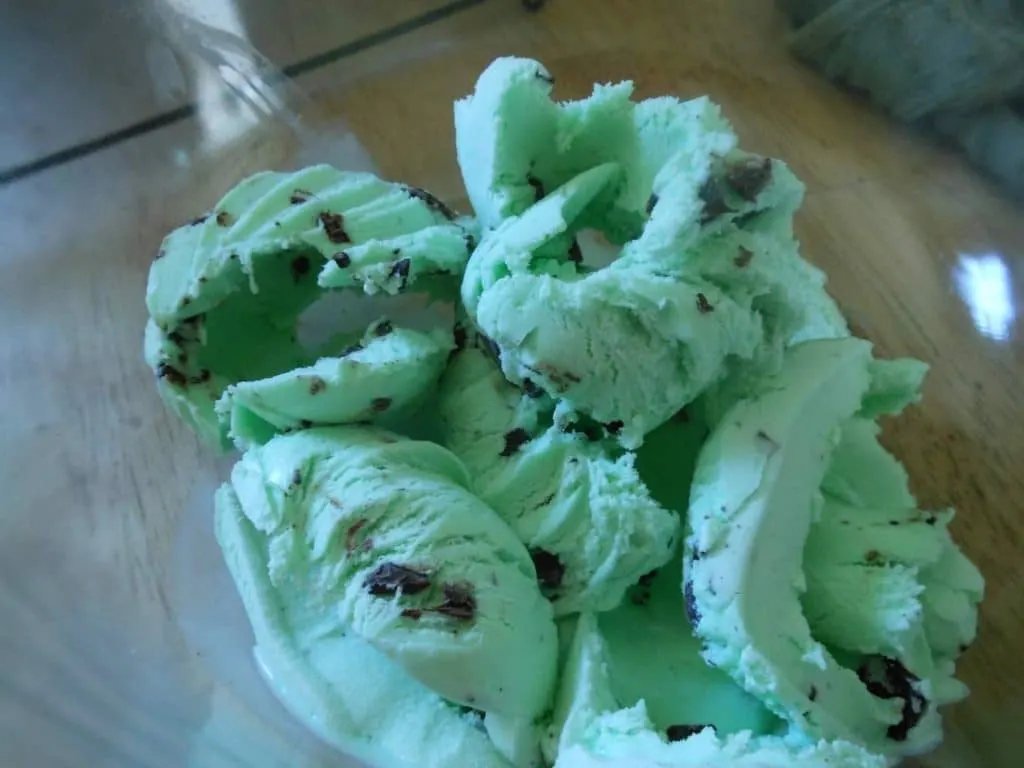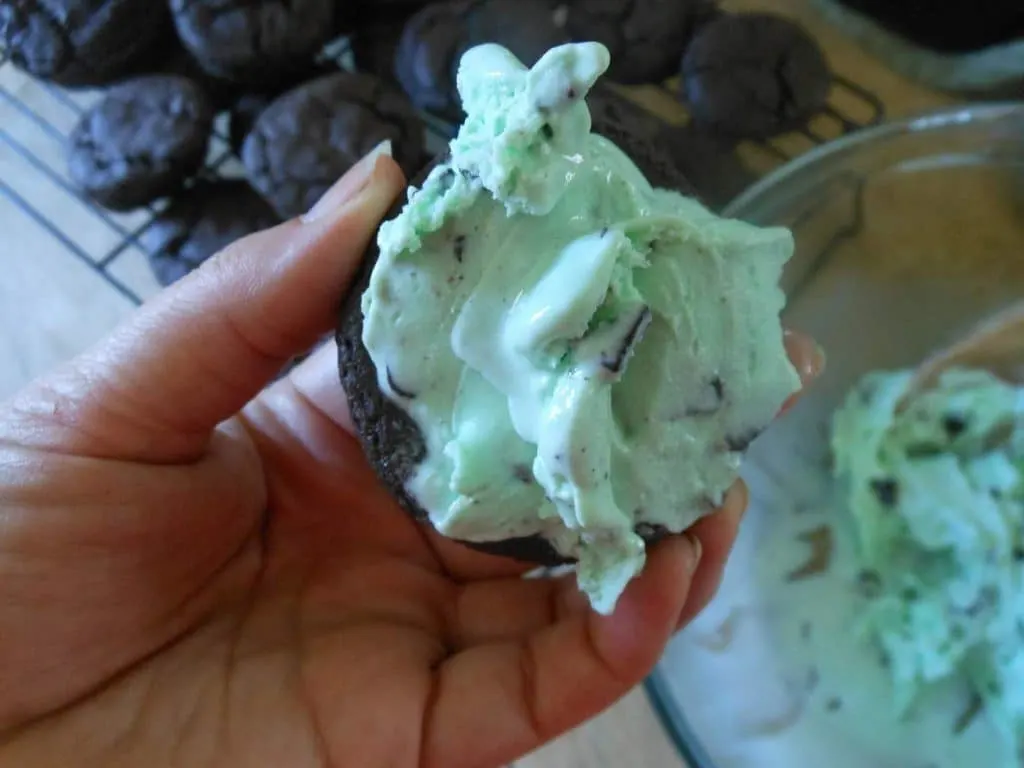 Smear the ice creeam on the cookies, and BLAM-o! Grasshopper sandwiches.
If I could make these sandwiches happen right now I would happily forego any thoughts of a real dinner and my boyfriend could catch up on his sleep.
I said "IF" (super triple gold star bonus sticker points if you can tell me what Disney movie that quote is from).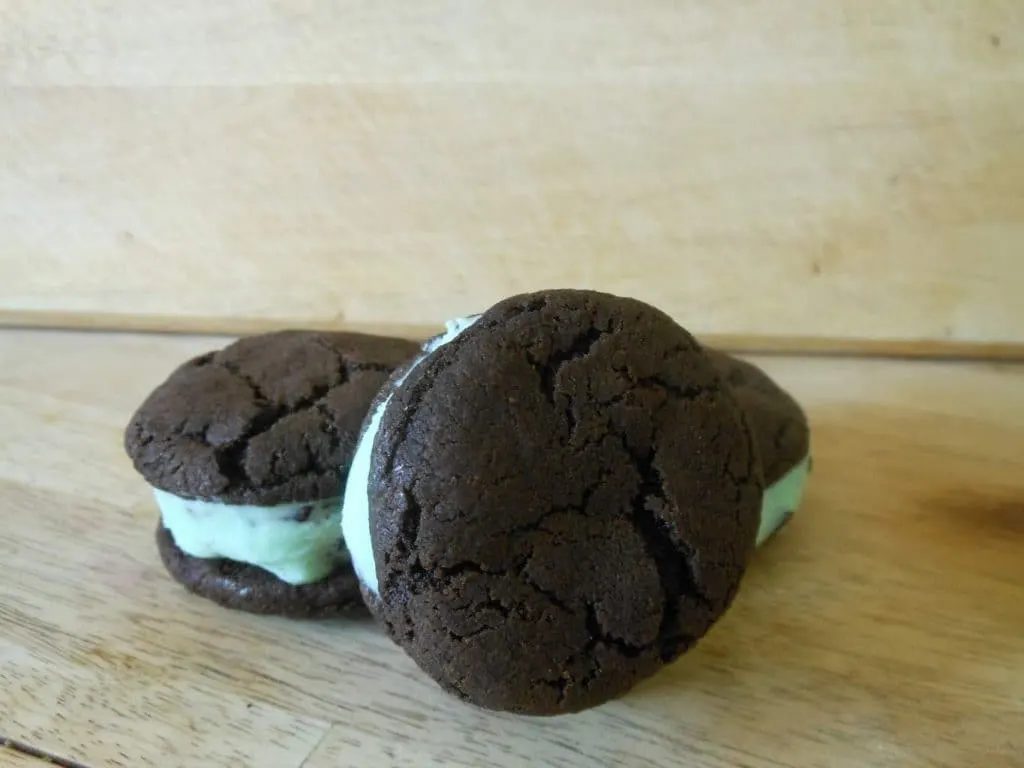 The truth of the matter is that if I DID happen to make these sandwiches right now, Chad probably wouldn't mind me waking him at all. Not even a little bit.

Grasshopper Sandwiches
Ingredients
2½ cups all purpose flour
1 teaspoon baking soda
¼ teaspoon salt
¾ cup dark cocoa powder (unsweetened)
1 cup unsalted butter, room temperature
1 cup sugar
1 cup packed brown sugar
2 eggs
2 teaspoons vanilla
2 -2½ cups mini chocolate chips
½ gallon mint chocolate chip ice cream (I like to use the green kind)
Instructions
Pre-heat the oven to 350. Line a baking sheet with parchment paper.
In a medium bowl whisk together the flour, baking soda, salt, and cocoa powder. Set aside.
In a large bowl beat the butter and sugar until smooth. Add the eggs one at a time, then the vanilla.
Gradually add in the flour mixture and then stir in the chocolate chips.
Drop the cookies by rounded tablespoons onto the prepared baking sheets. I like to roll the dough into little balls, taking the time to make sure they are all roughly the same size since they'll have to be matched up for sandwiches.
Bake for about 10 minutes; the center will still be soft.
Let the cookies slightly cool on the cookie sheet before removing to cool completely on a wire rack.
When the cookies are completely cooled, scoop some of the ice cream into a large bowl to slightly soften.
Line a rimmed baking sheet with parchment paper and situate it so it sits flat in the freezer (if it sits a bit crooked, your sandwiches will also be a bit crooked before they set completely).
Spoon a generous amount of softened ice cream onto the flat side of a cooled cookie. Use another cookie to make a sandwich. You can use a butter knife to smooth the ice cream edges a little.
Put the sandwich immediately into the freezer on the prepared tray. Repeat a bazillion times till you run out of either ice cream or cookies.
Eat whichever one is left.
(cookie recipe slightly adapted from
Two Peas and Their Pod
)
This makes a ton of sandwiches.