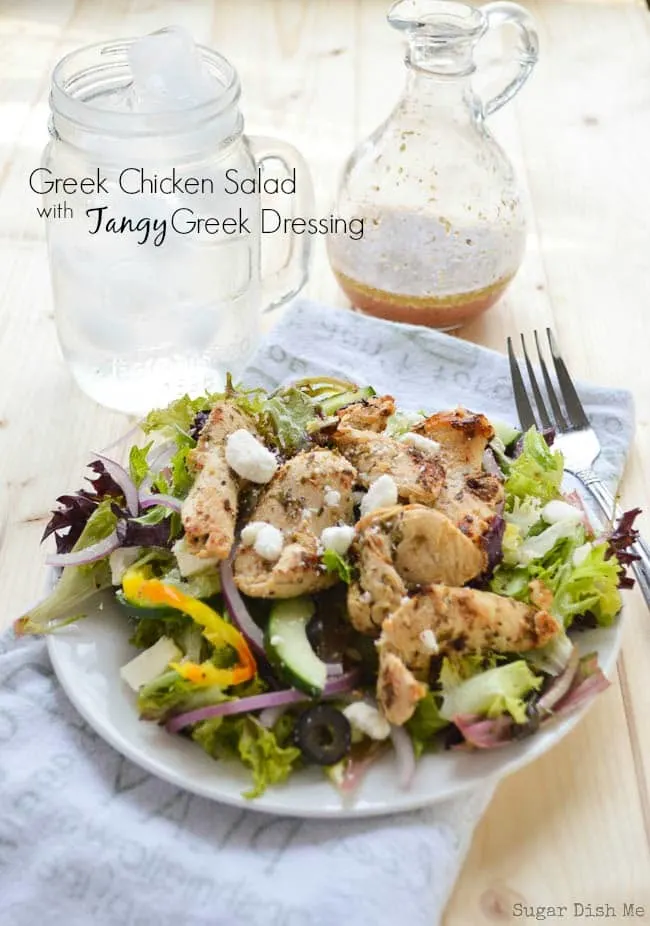 Tangy.
That is my favorite word of the day. I was so happy to type out the name of this recipe. I mean… it's really the little things, you guys. So anyway. Tangy is the perfect way to describe dressing that is red-wine-vinegar-heavy. It is also the perfect way to describe my mood lately.
If you have been reading here for awhile then you know that we have been house shopping FOR AWHILE.
I feel like we are getting pretty close to an actual purchase, and honestly we have been looking for so long we are ready to snatch up anything that kinda fits the bill and comes our way ( if you are selling your house in my area you can just pretend I didn't say that), but buying a house is such a big deal that you can't really just go and make your decisions all willy nilly (<<<—- yes I just typed that; yikes.).
But we HAVE to get outta this house. There are so many problems here it would take me all day to list them all (Ode to a Crappy Rental Property, by Heather Tullos), but mostly it's the neighbors. Like I think I could write a sit-com about their terribleness. They do things that are just… mind boggling.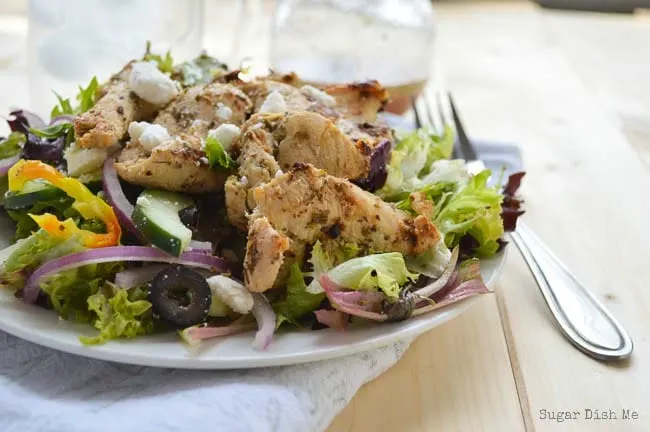 This morning, for instance, there was a gross two-day-old corn cob in my driveway when I went to walk the dog. That's because the neighbors think it is acceptable to dump their dinner scraps in the grass on the side of the road, and some happy little creature no doubt grabbed that corn and had a midnight picnic in my driveway. Cool for the creatures. Not cool for me.
So normally I try to handle these situations with a little bit of grace, but my anxiousness to leave has gotten the best of me. I kicked the corn cob soccer-dribble-style down the road and back into their driveway where I would like the raccoon picnic to stay.
I also went and picked up a ton of moving boxes (even though we currently have nowhere to move to) and carried them into the house with great I'm-Getting-the-Heck-Outta-Here flourish. And then I donated the contents of all the closets to Goodwill.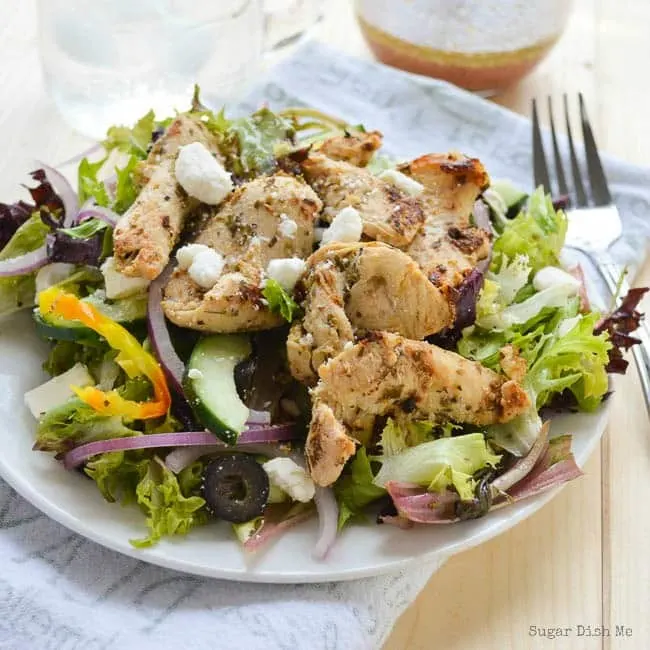 I should probably tell you about this salad now instead of complaining about passive-aggressively kicking old vegetables at my neighbors' house.
This salad is healthy, fresh, and full of oomph. Tangy Greek Dressing is the salad dressing I make the most — it's fast, simple, full of flavor, and uses ingredients that I always have on hand. I tossed it with mixed greens, black olives, cucumbers, banana peppers (which would more Greek-diner-traditionally be pepperoncinis but we like banana peppers too!), red onions, and feta cheese. The chicken is soaked in a marinade made with Greek yogurt, lemon juice, and oregano, and then sauteed. The result is something so super easy and loaded with flavor I could easily eat it everyday.

Greek Chicken Salad with Tangy Greek Dressing
Fresh greens, red onions, black olives, banana peppers, and feta cheese tossed with a simple homemade vinaigrette and then topped with tender marinated chicken.
Ingredients
For the Chicken:
1 pound boneless skinless chicken breast, thinly sliced
2 cloves of garlic, finely minced
1 large lemon, juiced
2 teaspoons red wine vinegar
2 heaping tablespoons plain Greek yogurt
2 tablespoons olive oil (plus an additional tablespoon for cooking)
1 tablespoon dried oregano
1 teaspoon kosher salt
1 teaspoon coarsely ground black pepper
For the Dressing:
¼ cup red wine vinegar
2 cloves garlic, very finely minced
2 teaspoons lemon juice
1 teaspoon spicy mustard
¼ teaspoon onion powder
1 teaspoon dried oregano
¼ cup extra virgin olive oil
For the Salad:
6-8 cups mixed greens
½ cup red onion, thinly sliced
½ cup sliced black olives
¼ cup sliced banana peppers
2 ounces crumbled feta cheese
Instructions
Place the chicken in a medium bowl. Combine the garlic, lemon juice, red wine vinegar, plain Greek yogurt, olive oil, dried oregano, salt, and pepper, and then pour the marinade over the chicken. Toss to coat, cover and refrigerate for at least 30 minutes.
To make the dressing vigorously whisk all the ingredients together until they combine.
Place all of the salad ingredients in a large bowl.
Heat the remaining 1 tablespoon olive oil in a large skillet over medium high heat. Add the chicken and most of the marinade (it will soak into the chicken as it cooks). Cook, stirring occasionally until the chicken is cooked through and slightly golden on all sides. Cook time will vary depending on how thinly you sliced your chicken. Mine usually takes about 8 minutes.
Give the dressing another good stir, pour about ⅓ of it over the salad and toss to coat. Add more dressing to taste.
Top the salad with the chicken and serve.