I grilled the lettuce!
It smells delicious.
It tastes even better than it smells.
But it's the smell-factor I want to address for just a minute here.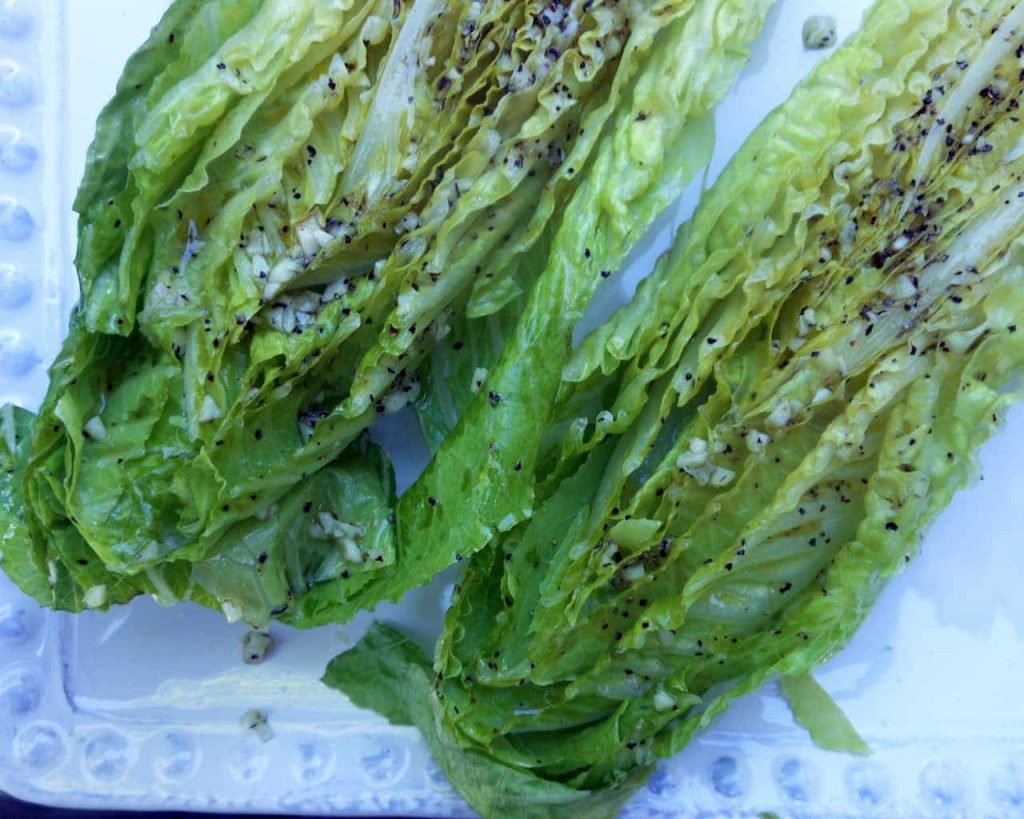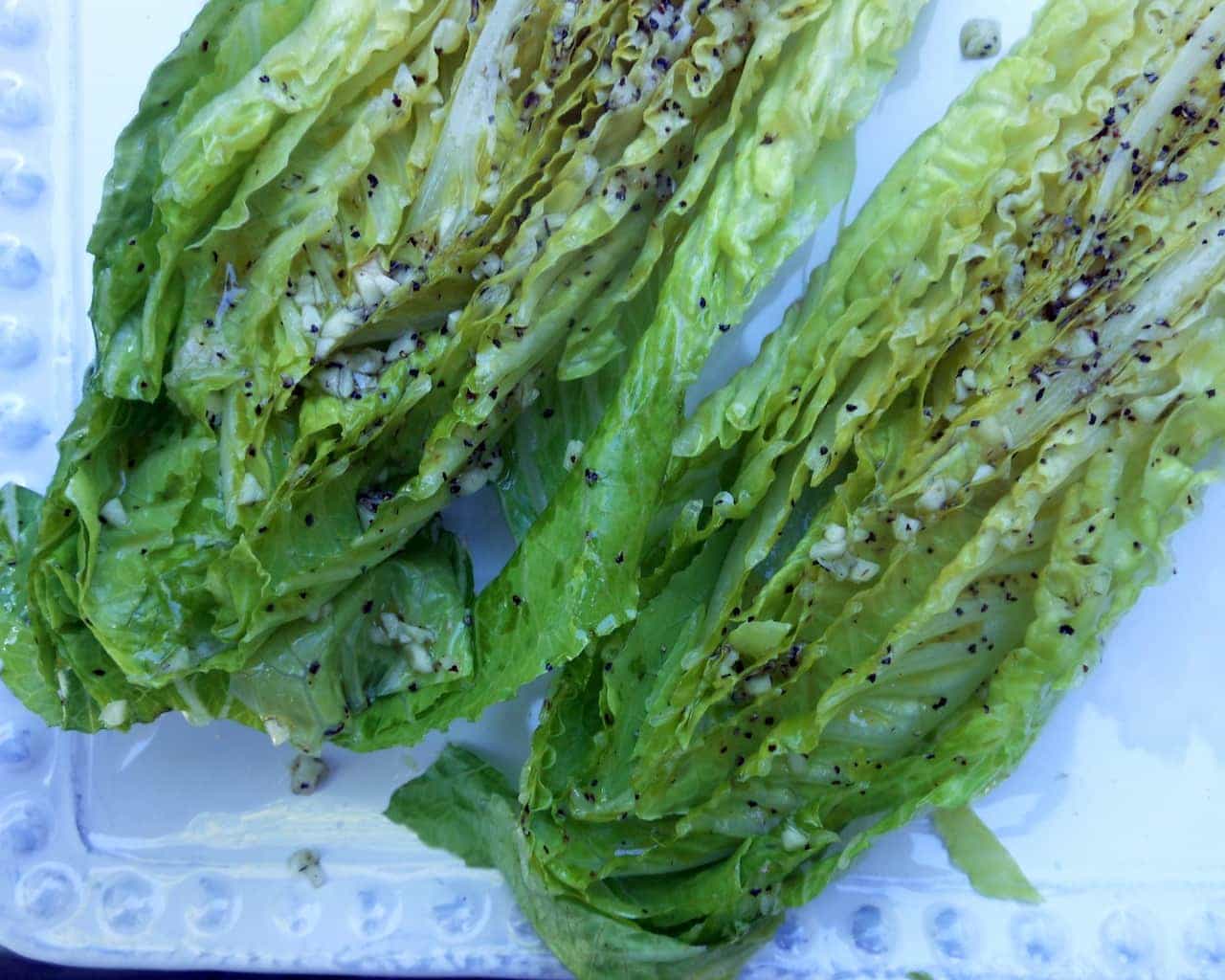 We attended Andrew's middle school Spring Chorus Concert last night (P.S. It was SO GREAT. There were so many talented kids- mine included!!! Andrew has a great voice that carries which is great in a crowd. And there was one little girl in a hot pink dress wearing Chuck Taylor sneakers that completely blew me away. She was like Fiona Apple meets Billie Holiday– this tiny little thing with this huge smoky jazzy voice and I was just shocked in the best way. Also, all of the kids very clearly love their chorus director and it made me so happy that there are at least 2 teachers this 7th grade year that have made a fantastic impression on my guy. Oops. This was a parenthesis paragraph. I need to get back on task.).
It was in a crowded theater with stadium seating. Most were dressed in their Sunday best (except Chad who came straight from metal shop hot hard work and clomped in the door in his steel-toed boots with a smudge on his forehead; the concert was scheduled for 5:30pm which further confirms my suspicions that none of the other parents have jobs and must be independently wealthy), and with Sunday best comes perfume.
Ohhhh mah gah So. Much. Perfume.
It gave me an immediate headache. Chad's eyes were watering. I had that nose-tickle-almost-sneeze thing going on for the first hour until my sense of smell gave up and shut down… but the perfume-induced headache remained.
Please let this serve as a public service announcement:
Ladies of Cleveland County the WHOLE ENTIRE WORLD (and all you Axe Body Spray hounds):
When you're planning on being in close quarters with lots of people PLEASE lay off the crazy perfumes. It's rude to subject all of us to the cheap bottle of Eau de Whatever you bathed in. If you have a hard time understanding that moderation is key, then be sure to only buy scents that smell like cupcakes. No one is offended by cupcakes.
This salad combines fresh and crisp grilled hearts of romaine with black beans, corn, onions, and tomatoes for a southwest twist. It's topped with a cilantro lime sour cream sauce and spicy brown sugar shrimp. It. Is. Delicious. Have a margarita on the rocks with it and you'll be good to go.
And no worries– grilling lettuce is SO SIMPLE. You won't even believe it. My kids adore grilled romaine and if that's the only piece of this recipe you try, you'll still be seriously thrilled. It's THAT GOOD.

Grilled Romaine and Southwest Shrimp Salad
Ingredients
For the Shrimp:
12 ounces medium shrimp, peeled and deveined (tails off or on)
2 teaspoons chili powder
1 teaspoon brown sugar
1 teaspoon paprika
½ teaspoon onion powder
½ teaspoon garlic powder
¼ teaspoon cumin
¼ teaspoon cayenne pepper (or to taste)
skewers
For the Grilled Romaine:
2 romaine lettuce hearts, halved, washed, and patted dry
2 tablespoons olive oil
2 cloves garlic, finely minced (about 2 teaspoons)
1 teaspoon kosher salt
½ teaspoon black pepper
For the Salad:
1 cup frozen corn, thawed
1 can black beans, drained and rinsed (about 2 cups cooked beans)
1 cup diced tomatoes
½ cup green onions, chopped
For the dressing:
¼ cup light sour cream
2 tablespoons chopped fresh cilantro
1-2 teaspoons fresh lime juice
Instructions
In a small bowl combine the chili powder, brown sugar, paprika, onion powder, garlic powder, cumin, and cayenne pepper. Toss the shrimp with the spice mixture and skewer them. Set aside.
In another small bowl combine the olive oil, garlic, kosher salt and black pepper.
In ONE MORE small bowl, combine the sour cream, cilantro, and lime juice. Refrigerate until you're ready to serve.
Heat the grill to medium heat (about 250-300 degrees is great.
Add the shrimp and close the lid.
Brush the CUT SIDE of the romaine hearts with the olive oil/garlic mixture.
Flip the shrimp skewers.
Add the romaine CUT SIDE DOWN to the heated grill, keeping the remaining olive oil/garlic blend nearby. Close the lid and cook for only about 1 MINUTE (the face of the romaine will have slightly charred grill marks).
Open the lid, brush the backside of the romaine with the remaining olive oil/garlic blend.
Flip the romaine (I use tongs) and close the lid again.
Cook on the second side for only about another minute. Remove the romaine hearts to a plate.
Remove the shrimp skewers when they are good and pink-- usually the shrimp and lettuce are done around the same time.
Place one grilled romaine heart on each plate. Top with the corn, black beans, tomatoes, and green onions. Place a dollop of the sauce on each salad and then top with the shrimp.
Lettuce-grilling method is from
this post
at
Thug Kitchen
. I LOVE Thug Kitchen but if language offends you and you just don't get the joke (or the everyone-can-eat-well movement) please don't click the link. Otherwise have at it.