Ice cream, cake, and frosting all in one cool bite! These Ice Cream Cupcakes combine all my favorite birthday things in one little hand-held treat. Easy to customize with your favorite flavors!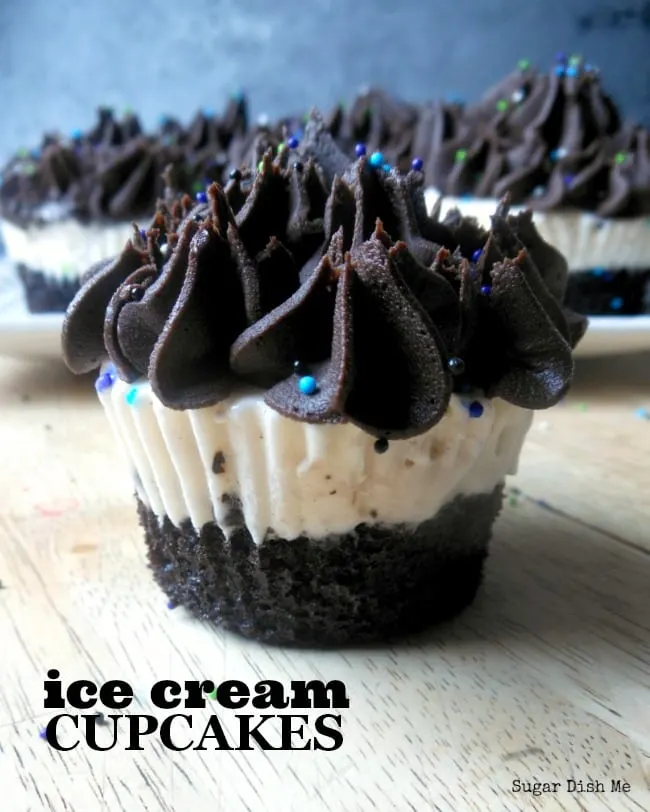 I figured out how to have ice cream, frosting, and cake all in one bite. without a spoon.
And I have no idea why I never thought of this before now!!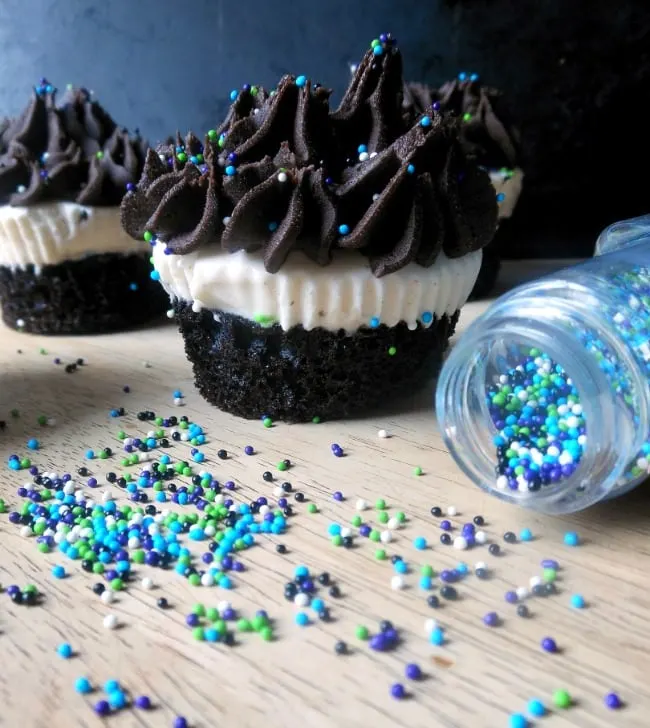 Andrew asked me to make him an ice cream cake for his birthday several weeks back, and I had designs on little individual ice cream molds covered in frosting. Buuuut frosting does not like to stick to cold ice cream.
So I ended up with a fabulous little mess that we enjoyed cleaning up with spoons after school.
And then I decided that ice cream really needs SOME cake and I went back to the drawing board.
What I came up with was SOOOO SIMPLE.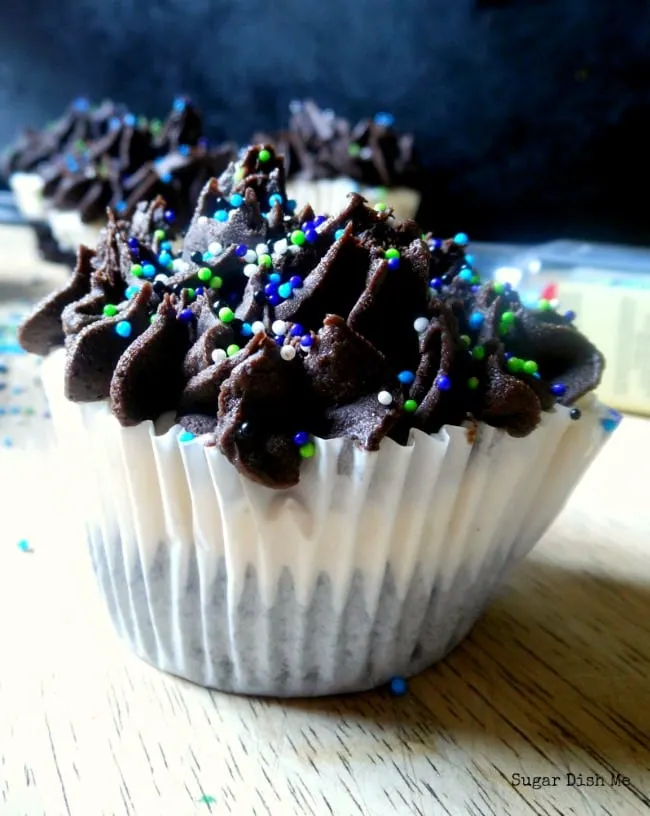 Included below is a halved recipe for the same rich dark chocolate cake I used in the Chocolate Chip Cookie Dough Cupcakes. It is delicious and I really recommend it, but you could definitely go with your favorite box cake mix and these will work out just fine. Cover with your favorite ice cream, top with a quick buttercream frosting, and look!!! All the good things in one little single-serve package.
These are So GREAT for birthday parties! No more standing around with a sticky gummy ice cream scoop!
And the flavor combinations are endless.

Ice Cream Cupcakes
Serves:
24 ice cream cupcakes
Ingredients
Cake:
1 cup granulated sugar
⅔ cup + ⅛ cup all purpose flour
⅓ cup unsweetened dutch process cocoa
¾ teaspoons baking powder
¾ teaspoons baking soda
½ teaspoon salt
1 egg
½ cup milk
¼ cup vegetable oil
1 teaspoon vanilla
⅓ cup boiling water
Topping:
½ gallon of your favorite ice cream (we used cookie dough ice cream!)
Frosting:
1 cup butter
3½ cups powdered sugar
½ cup unsweetened cocoa powder
½ teaspoon salt
2 teaspoons vanilla
tablespoons heavy cream, as needed to desired consistency
Sprinkles!!!
Instructions
Pre-heat the oven to 350. Line a standard sized muffin tin with paper liners.
In a large bowl whisk together the dry cupcake ingredients: sugar, flour, cocoa, baking powder, baking soda, and salt.
Add the egg, milk, vegetable oil, and vanilla and beat on medium for about 2 minutes.
Set the mixer aside and slowly pour and stir in the boiling water until it's completely combined and smooth.
Spoon the mixture into the prepared muffin cups placing ONLY 2 TABLESPOONS of batter in the bottom of each cupcake liner.
Bake for about 10 - 12 minutes. A pick inserted into the center will come out clean.
Let the cupcakes cool completely.
Set the ice cream out to soften. You don't want it to be soupy but it definitely needs to be soft. Stir the ice cream if it helps.
Spoon the soft ice cream over the cooled cake, filling the cupcake liners all the way to the top.
Place the cupcakes in the freezer as you go so you don't have a melty ice cream mess. It will also help them to keep their shape.
To make the chocolate buttercream, beat the butter for a minute until it's fluffy. Sift in the powdered sugar ½ cup at a time, beating a little in between each addition. Sift in the cocoa powder and beat until it's combined. Add the salt, vanilla, and 2 tablespoons of the heavy cream. Continue mixing until smooth. Add the last 2 tablespoons of heavy cream, more if needed, to reach the desired consistency.
Frost the cupcakes however you like-- I chose to pipe the buttercream in little tufts on top of the ice cream because IT CAN BE TRICKY TO GET THE FROSTING TO STICK TO THE COLD ICE CREAM. Do whatever works for you. And when in doubt, add more sprinkles.
Add sprinkles!! Re-freeze. The ice cream will take at least 2 hours to set up again so allow yourself the time before serving.
Notes
1. If you don't want to make your cake from scratch, you can use your favorite box mix of any flavor and mix it up according to box instructions. You'll still put 2 tablespoons of batter in the bottom of each cupcake liner and then bake according to box instructions, cutting the bake time for cupcakes in half. 2. Make sure you allow yourself enough time to let the ice cream set back up before serving. I'd say at least 2 hours after frosting.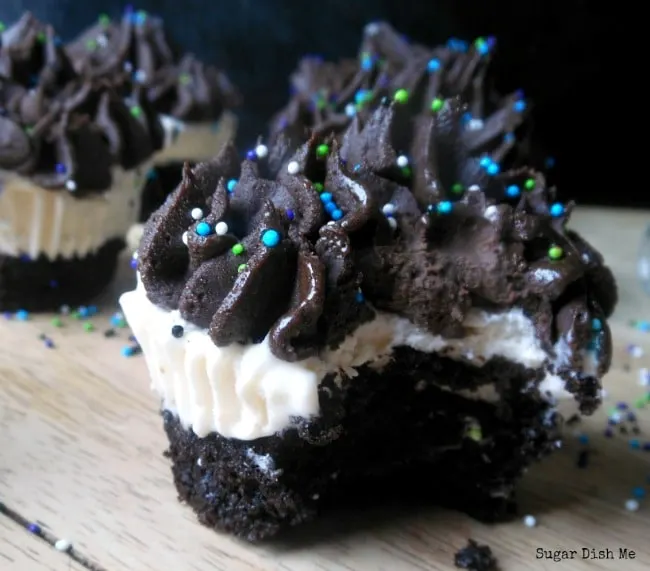 Ice Cream Cupcakes. Do this.