A super simple recipe for Homemade Bread Cups for Soup! These bread cups are just smaller versions of bread bowls are are ready to fill with your favorite soup in just over an hour.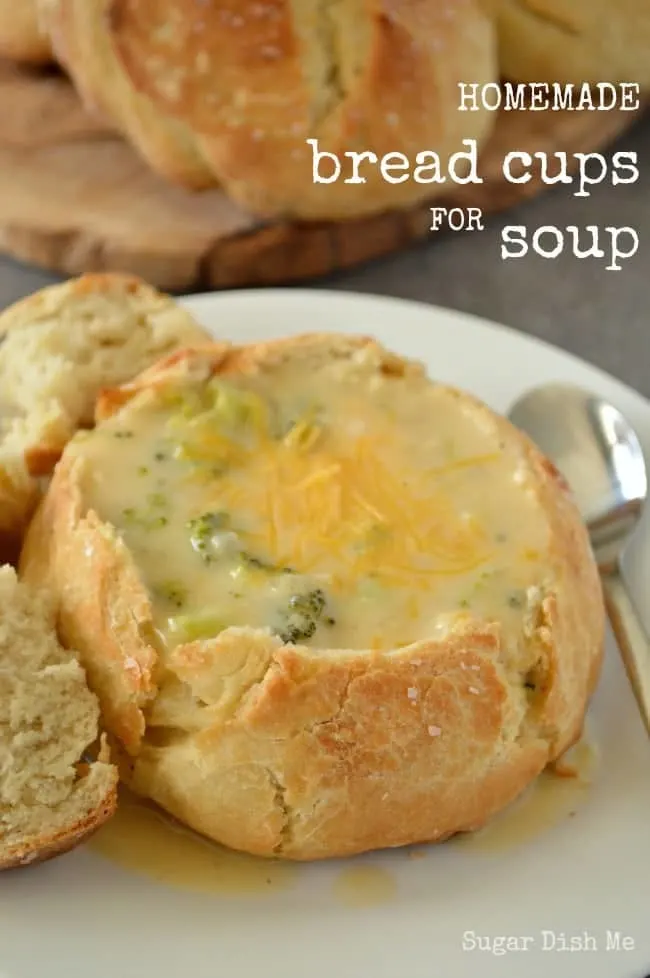 I love love love a good bread bowl for my soup. It is consistently my favorite thing to order in a deli. If it's on the menu that bread bowl will be mine alllllllllllllllllllllllllll mine.
But when it comes to bread bowls for soup my eyes are always bigger than my stomach. A bowl is too much. By the time you eat the soup you can't enjoy the bread. And that's depressing because gahhh I love the bread!
#carbaddict
I always wondered why I can't just order a CUP of soup in bread. Bread CUPS for soup. So I made them myself.
You might remember awhile back when I made this Classic Crusty Herbed Dinner Loaf. It's full of flavor and is ready to eat – start to finish- in just over an hour. The quick turnaround makes it my favorite bread recipe for all occasions. So of course I used a version of it to make my bread cups for soup.
The outside has a nice sturdy crust, which is crucial because you don't want your soup seeping through. The bread that you hollow from the inside is soft and just slightly dense — perfect for dipping.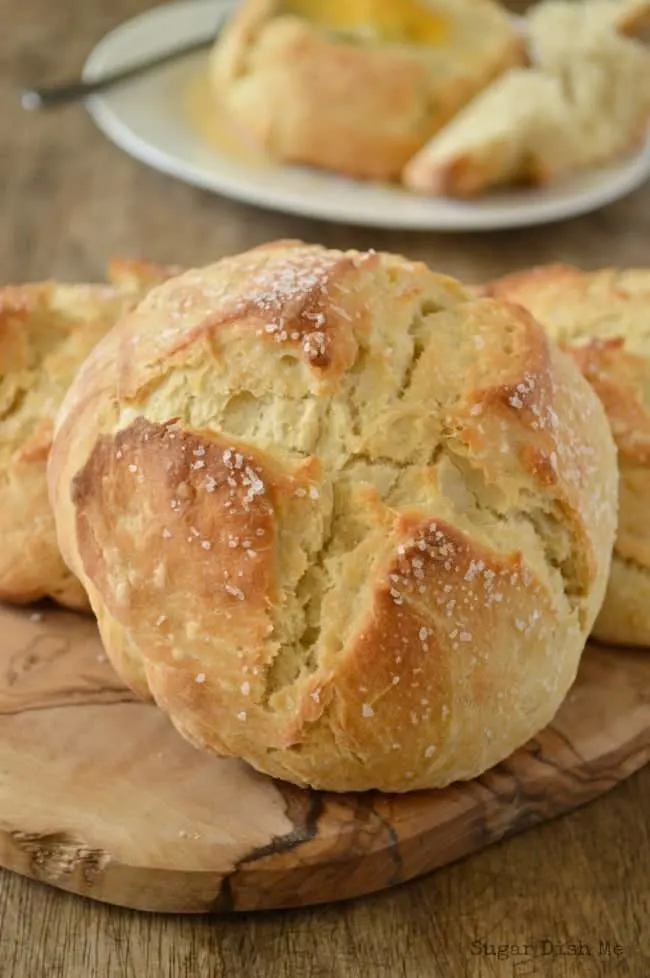 In the original recipe I add herbs to the dough – they really round the flavor out and you can totally try that here, especially if you incorporate some of the fresh herbs from your soup. But for the purpose of simplicity I tested my bread cups without herbs – just a little sea salt – and they are soooooo good. Also I will pat myself on the back for creating the perfect bread cup serving size.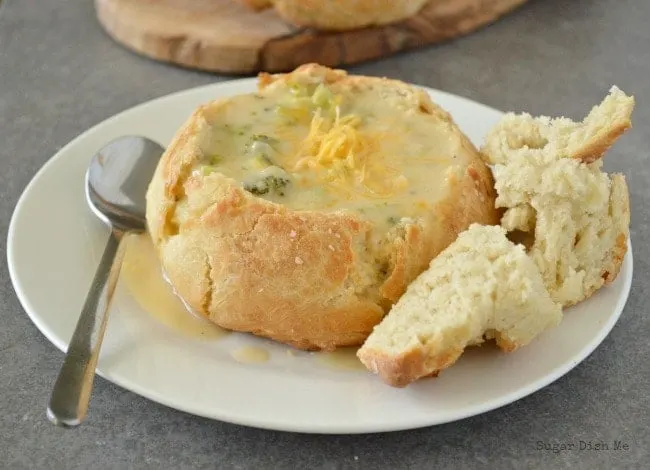 I promise I will post the recipe for this broccoli cheddar soup very VERY soon – it is creamy, cheesy, loaded with fresh broccoli florets, and rings in at less than 300 calories a serving. But until then I have lots of other soupy options to tide you over. You could try…
this Potato Leek Soup with Bacon
or this Slow Cooker Chicken Tortilla Soup.
I always love my Homemade Fresh Vegetable Soup,
I'm crazy about this Easy Minestrone,
and this Mole Chili con Carne is THE BEST chili you will ever eat. I swear.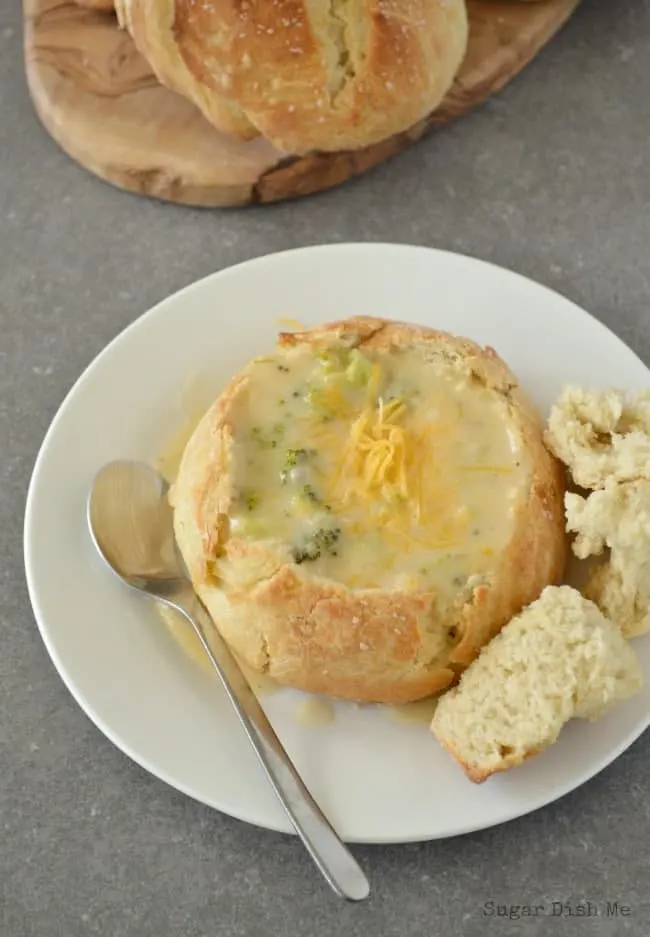 Oh!! Also… you could totally serve The Best No Bake Spinach Dip in these bread cups. It's very delicious circa 1987.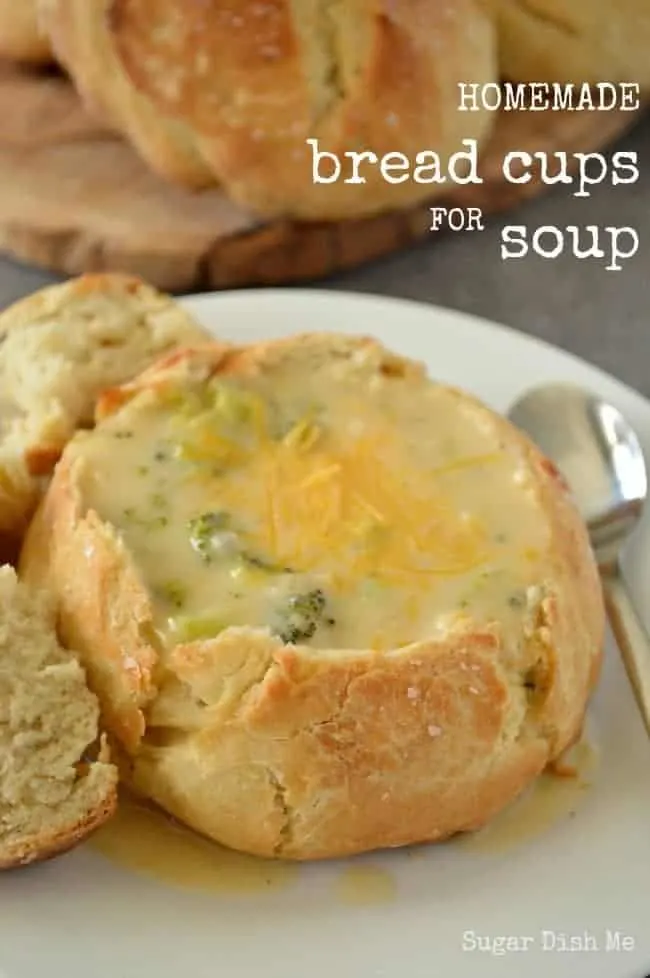 Yield:

4 bread cups
Homemade Bread Cups for Soup
Homemade little bread cups for soup that are ready to fill and eat in just about an hour.
Ingredients
1 tablespoon active dry yeast (I recommend a fast-acting yeast for best results)
1 tablespoon light brown sugar
1 1/4 cups warm water (read the yeast package for best temperature recommendations)
3 cups all purpose flour, plus a little more for kneading
2 tablespoons olive oil, plus a little more for brushing the dough
1 teaspoon kosher salt (or sea salt), divided
Instructions
Preheat the oven to 400°F. Spray a baking sheet with nonstick cooking spray or line with parchment paper.
In a large bowl stir together the yeast, brown sugar, and warm water. Let is sit for about 5 minutes. this allows the yeast to bloom.
Stir in the flour, olive oil, and 3/4 teaspoon of the salt until the dough just comes together. Lift it from the bowl and form a ball. There will be a few shaggy straggly pieces - just press those into the dough with your fingers.
Place the ball back into the bowl, place the bowl on top of the preheating oven, and cover with a towel. Let the dough sort of proof for about 25 minutes.
Scatter a little flour on a clean work surface. Turn out the dough and knead 3-4 times. Divide into 4 equal pieces and shape each piece into a ball.
Brush a little olive oil on top of each ball. Sprinkle with the remaining salt. Then use a sharp knife to slash an 'X' on top of each ball.
Place each round on the prepared baking sheet and bake for 25-30 minutes. They will be a pretty golden color and will sound hollow when tapped.
To serve, cut the top off each bowl and then pull the soft inside of the bread out, leaving the crust in tact. Fill with your favorite soup and then serve with the soft bread insides.
Notes
you can add 2 teaspoons of chopped fresh herbs to the dough in Step 3.
Recommended Products
As an Amazon Associate and member of other affiliate programs, I earn from qualifying purchases.
Nutrition Information:
Yield:
4
Serving Size:
1
Amount Per Serving:
Calories:

682
Total Fat:

23g
Saturated Fat:

7g
Trans Fat:

0g
Unsaturated Fat:

14g
Cholesterol:

0mg
Sodium:

771mg
Carbohydrates:

106g
Fiber:

5g
Sugar:

3g
Protein:

13g