A fresh light twist on a not so ordinary burrito. This Honey Wasabi Tuna Burrito is stuffed full of rice, beans, and a rainbow of vegetables, plus flaked tuna and a sweet spicy honey wasabi sauce that is easily my new favorite.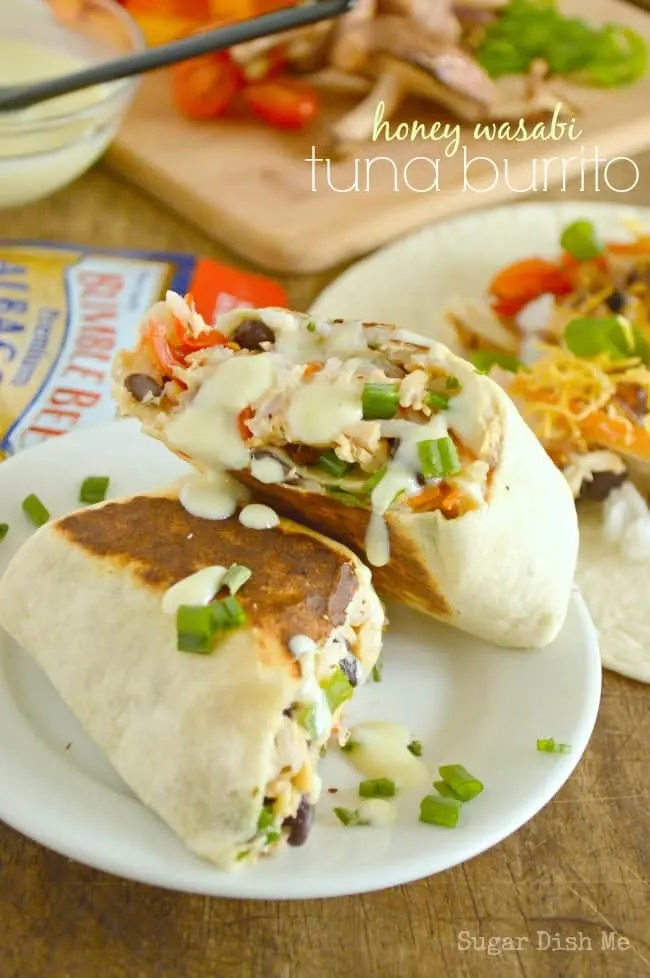 I feel like I sort of stepped outside my normal burrito box with this recipe but gawsh I'm so glad I did. It's like I married fish tacos with my favorite tuna sandwich. Wait.
That sounds weird.
It's not weird. I promise.
Also it is packed full of veggies. There's protein, there's cheese, there's beans and then… there's honey wasabi sauce. Please please tell me you share my love for wasabi. Because these Honey wasabi Tuna Burritos are where it's at.
Let's take a minute to go back to where this recipe started. Like so many things I share with you, this Honey Wasabi Tuna Burrito was inspired by an item on the menu of one of my favorite restaurants in the whole wide world. They make theirs with grilled yellow fin tuna, but I do not have access to big fancy cuts of fresh fish. I'm over here in the food desert with my Bumble Bee Tuna, which is actually just fine with me. It's still full of nutrients, healthy fats, and lean protein.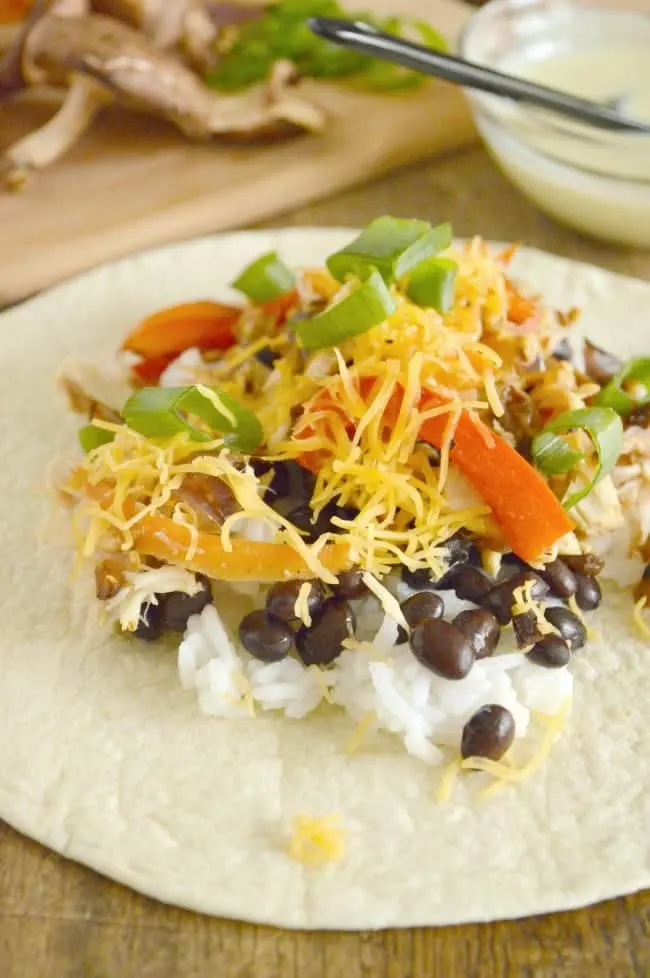 I've always been a fan of tuna — I used to pack up my tuna sandwiches in my lunch a few times a week. I love it on salads, smeared on crackers, and this Cool and Creamy Tuna Casserole is one of my favorite food makeovers of all time.
But these burritos have raised the tuna bar.
I feel like I keep saying things that don't make sense.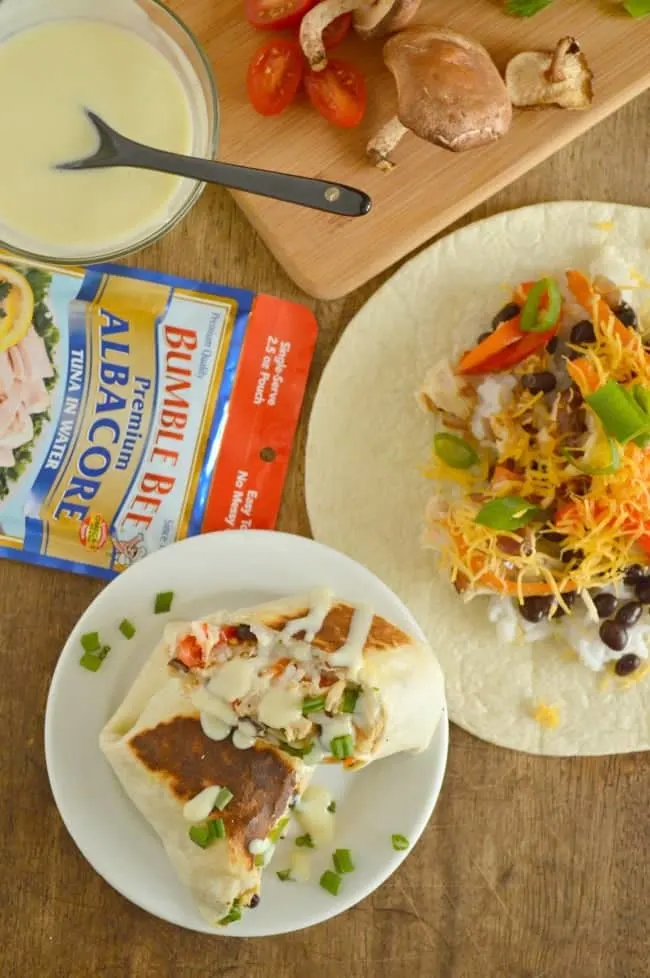 Okay. Honey Wasabi. THAT makes total sense, right? When we go out for sushi I like an obnoxious helping of wasabi. But I didn't want to overpower all the flavors in this burrito with too much heat. So I made this really easy sauce with wasabi paste, honey, and Greek yogurt. You guys it is crazy good. It's cool and creamy, spicy and sweet. If you aren't into heat you can just use a teensy bit of the wasabi paste. The flavor with the tuna and hint of soy in the veggies is perfect.
You can go with Bumble Bee in the can or you can try the pouches with this recipe. You just want to make sure that either way you drain allllllll the liquid so you have tender flaky tuna chunks tucked inside rice, beans, and veggies.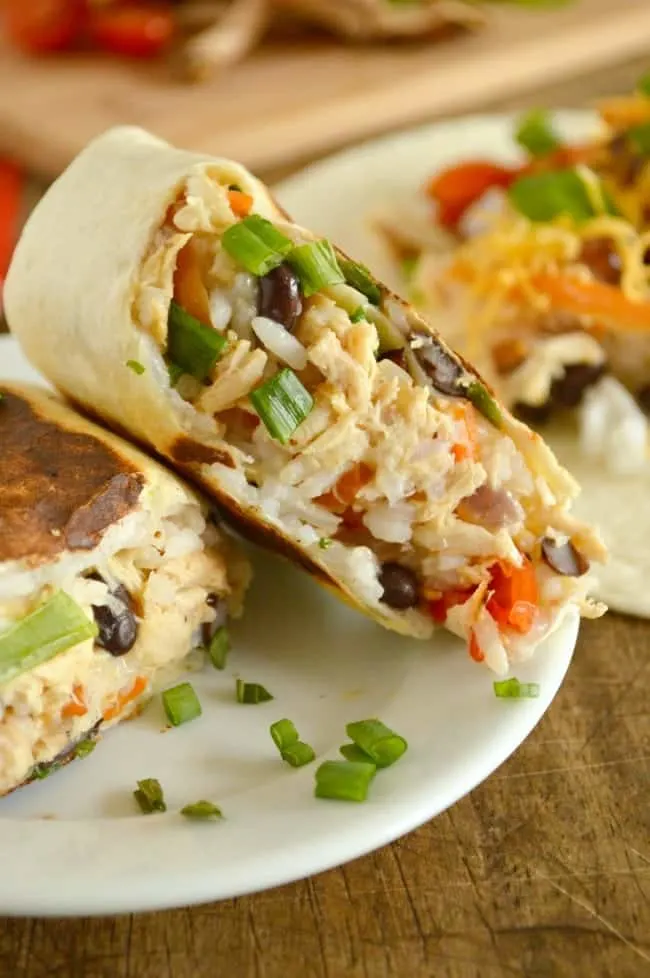 I love that I can focus on health in the new year AND eat burritos. And I'm glad that Bumble Bee Tuna can be such a tasty part of that.
You're gonna love these. Promise.
Honey Wasabi Tuna Burrito
Loaded with veggies, rice, beans, and flaky delicious Bumble Bee Tuna. These burritos are toasted and then topped with a sweet and spicy honey wasabi sauce
Ingredients
1 teaspoon oil
1 cup thinly sliced mushrooms (I used shitake mushrooms)
½ cup matchstick carrots
½ cup red bell peppers, cut into thin strips about 2" long
½ a medium red onion, very thinly sliced
2 teaspoons low sodium soy sauce
5 ounces Bumble Bee Premium Albacore Tuna in Water; completely drained of any liquid
4 (8") flour tortillas
1 cup cooked rice
1 cup black beans, drained and rinsed
½ cup shredded sharp cheddar cheese
¼ cup sliced green onions
¼ cup diced tomatoes
For the Honey Wasabi Sauce:
½ teaspoon wasabi paste (see note)
2 tablespoons honey
¼ cup Greek yogurt
Instructions
Heat the oil in a medium skillet. Add the mushrooms, carrots, red bell peppers, and red onions. Toss in the soy sauce and cook the vegetables over medium high heat until they soften slightly -- only 4-5 minutes. Remove from the heat and gently stir in the tuna.
In the center of each flour tortilla add ¼ cup rice and ¼ cup black beans. Top with the veggie tuna mixture and then sprinkle each with cheese, green onions, and diced tomatoes.
To roll the burritos, pull the left and right sides toward the center. Then fold the bottom towards the center. Fold up while sort of stuffing the filling back in while you roll.
Heat a small skillet over medium heat. Placing them in the pan SEAM SIDE DOWN, toast each burrito for about 30 seconds, flip, and then toast on the second side. You just want a light toasty brown on the outside of the tortilla.
To make the honey wasabi sauce, mix together the wasabi paste, honey, and Greek yogurt until smooth. Drizzle over each burrito when serving or serve it for dipping on the side.
Notes
1. You can save time by purchasing carrots that are already cut into matchsticks. I also keep rice cooked in the fridge to keep recipes like this quick and simple, but you can use a quick-cooking "minute" product as well.
2. I find wasabi paste in the International aisle of my regular grocery store near the soy sauce.
Love Lightened Up Comfort Foods? You will definitely wanna try…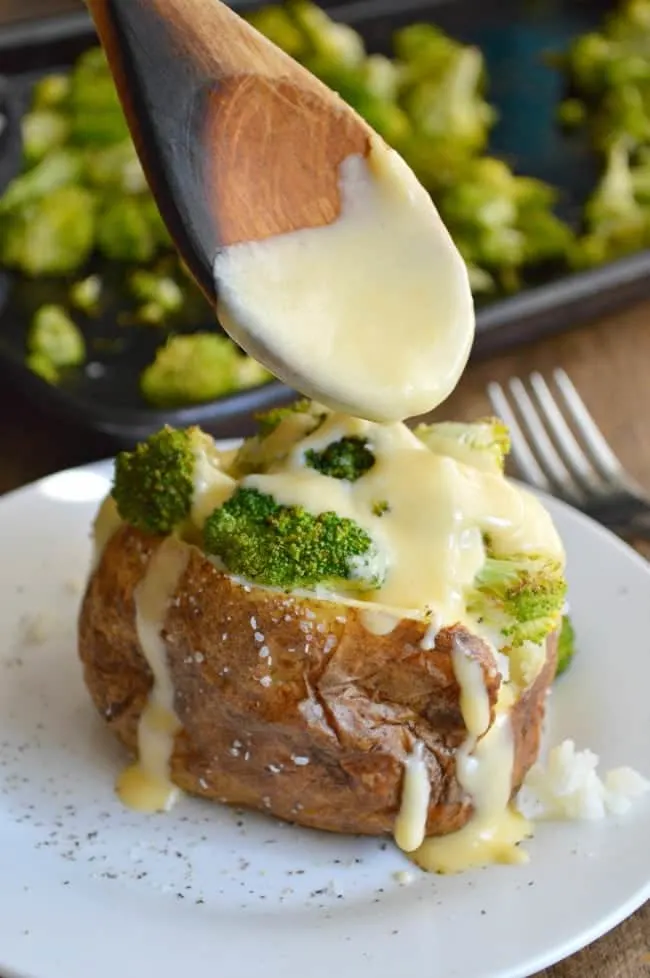 Lightened Up Cheesy Broccoli Potatoes