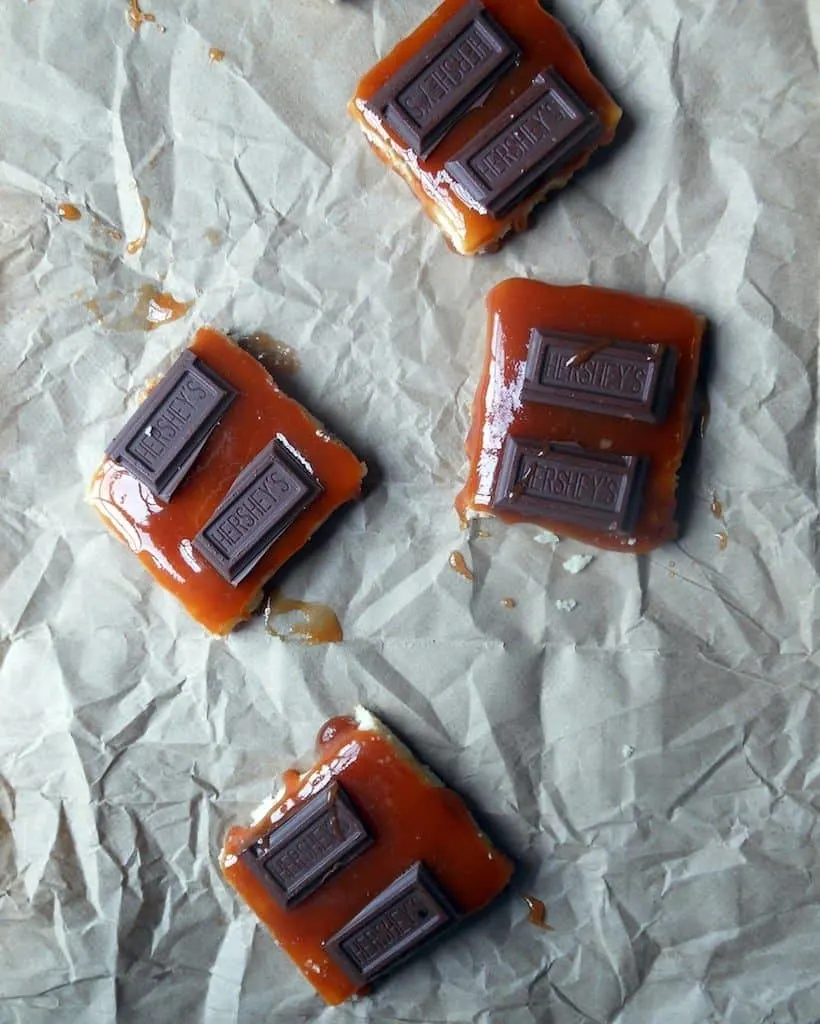 What have I done you guys?!
I'll tell you what. I MASTERED caramel.
Without a candy thermometer. Without butter. Without absurd amounts of cream or milk. AND THEN. I made Homemade Caramel Cookie Bars.
I had dinner with my brother and sister the other day and the conversation always swings back to when we were kids. We definitely talked for at least 15 minutes about the snacks you had to dig out of the back of the cabinet because they were for our lunches and we weren't supposed to eat them.
But we DID eat them.
I'm sure my mom was really thrilled she had to keep buying more all the time. I can remember her saying, "You guys don't have to eat ALL the snacks just because they're in the cabinet!" But 6-ish packages per box + 5 kids = 1 box lasts about 4.5 minutes (snack math).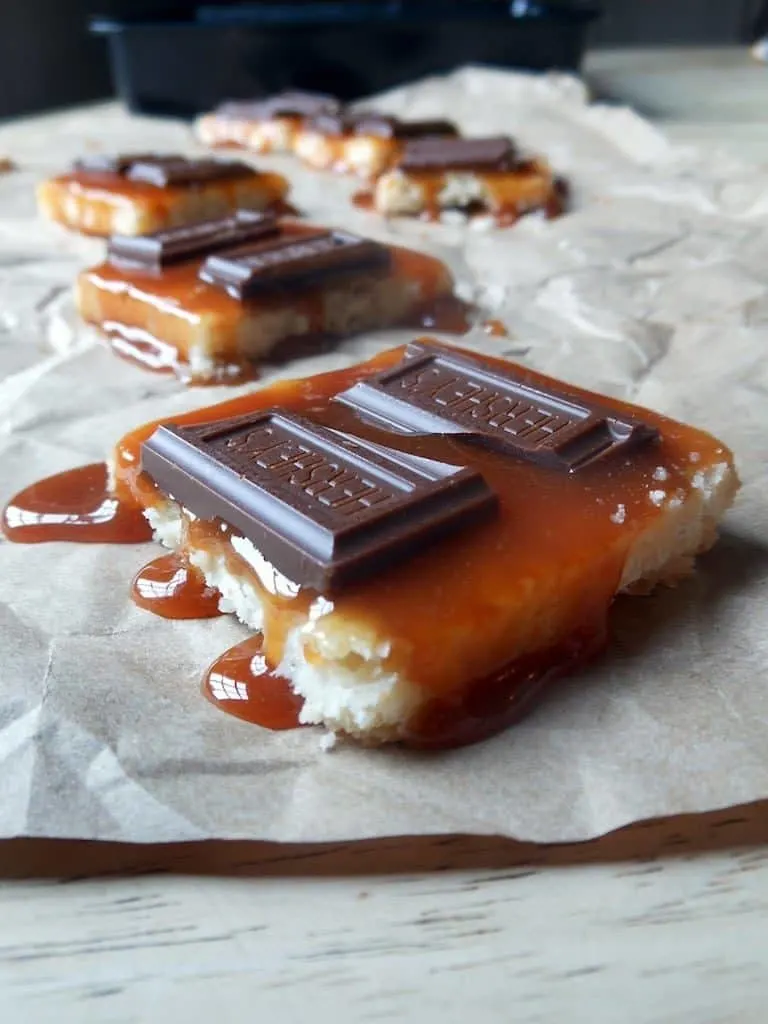 Caramel Cookie Bars were one of our favorites.
I know I mentioned before that caramel is my nemesis (and cracked cheesecakes), but after reading, and trying, and reading , and trying some more I think I finally nailed it (and not in the opposite sarcastic way). The problem with all the other caramel recipes is that they were too dang complicated. Everyone calls for 42 tablespoons of butter and 1 1/2 cups of cream and candy thermometers and "soft ball" states, and you know what? Caramel is 4 things: Water. Sugar. Cream. Vanilla.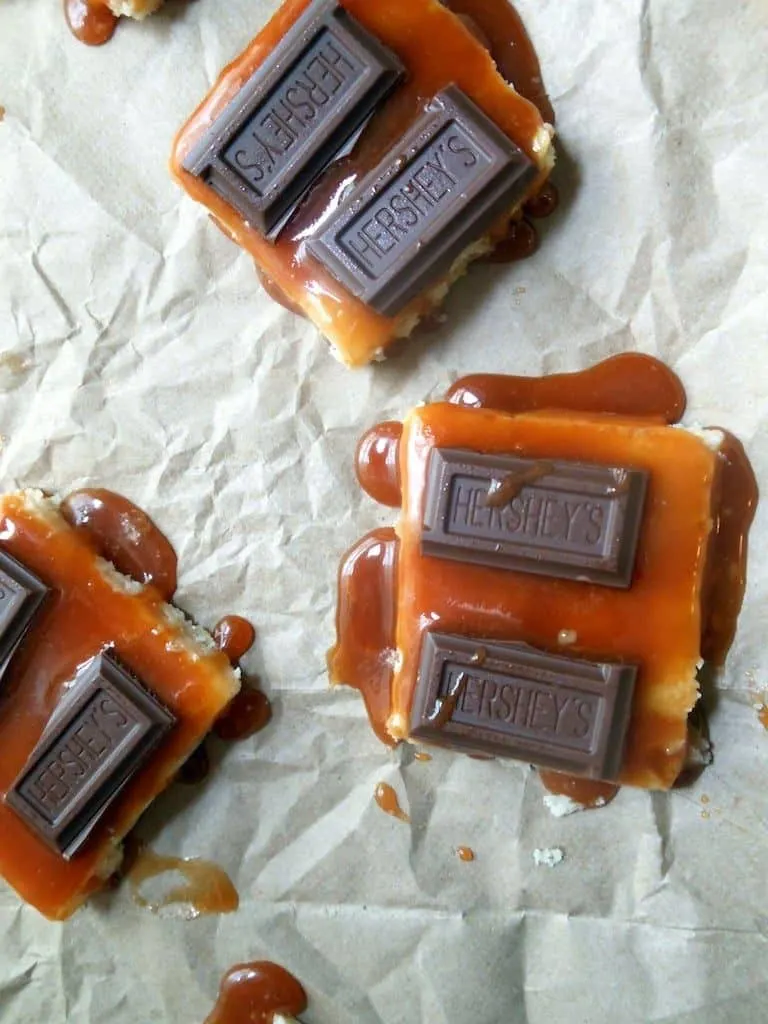 I mean… would you just LOOK at that caramel?!
These bars are really just a basic shortbread cookie recipe covered in the most simple caramel with bits of Hershey bars pressed in. I did make a version of larger bars that were covered in poured chocolate that were delicious, but it was extra steps and extra refrigerating. If you want to know the real truth, these Hershey bars have been hanging around for awhile in my blog baking candy stash and my boys kept trying to eat them so I needed to use them up. Glad I did!!!
Also– I tried these bars a few ways– frozen, refrigerated, and sitting in the sun for photographing (because I love a good sweet mess). From the freezer they have the snap of a frozen Hershey bar all the way through– a delicious mess-free cold treat. From the fridge they are cool and just slightly gooey– the caramel remains firm but has the soft pull of say… a milky way bar. Obviously sitting in the sun made a deliciously sticky mess. LOVE IT. But probably most of you are not photographing your treats so this is not an issue.

Homemade Caramel Cookie Bars
Ingredients
Shortbread:
½ cup (1 stick) + 1 tablespoon unsalted butter, at room temperature
½ cup granulated sugar
1 cup all purpose flour
½ (scant) cup cornstarch
Caramel:
½ cup water
1 cup granulated sugar
¼ cup cream (a little more if needed)
2 teaspoons vanilla
Bars:
3 regular sized Hershey bars, broken into pieces
Instructions
Line a 9 X 9 pan with parchment paper and preheat the oven to 325.
In a large bowl beat the butter and sugar until fluffy. Add the flour and cornstarch and beat for about a minute. The dough will be dry. I like to use my hands to press it all together.
Press the dough into the prepared baking dish and bake for about 20 -25 minutes. The edges will be golden but the shortbread will be pale in color. Take it out and let it cool completely.
While the shortbread bakes, pour the water into a 2 quart saucepan. Add the sugar (make a pile of sugar right in the center of the pan and keep it off the sids because it will crystallize and your caramel will have chunks in it). Cover it and bring it to a boil.
Once it boils (will only take about 3 mins), remove the lid and drop the heat a little. Let it continue to simmer for awhile. You're looking for that pretty amber caramel color - I got the color I wanted at 23 minutes.
Place the pan in the sink.
Heat the cream just a little-- you don't wanna scald it. I do mine on the stove but you could microwave it for a few seconds. You want WARM cream. Think like hot dish water temperature (I touch it to test).
Pour the cream into the pan you set in the sink. It will bubble and foam and go crazy. It's fine. Stir stir stir for a minute and it will settle down.
Add the vanilla. Stir some more until the texture is smooth and the color is even. If you feel like your mixture is way too thick, you can heat just a tad more cream and add it. But this caramel WILL thicken upon cooling and you want it to set up so the less cream, the better.
Pour the caramel over the cooled shortbread. Refrigerate for about 30 minutes.
Place the Hershey slices on top of the caramel.
To slice, lift the parchment from the pan, place the cookie bars on the counter, and cut into squares. *** I find these much easier to cut when frozen because the caramel isn't sticky. It might be helpful to freeze these bars for 30 minutes or so and then cut them.***
These are best kept refrigerated-- it makes them a little less messy.
Basic shortbread cookie recipe is based on
Shortbread Cookies
from
The Pioneer Woman
.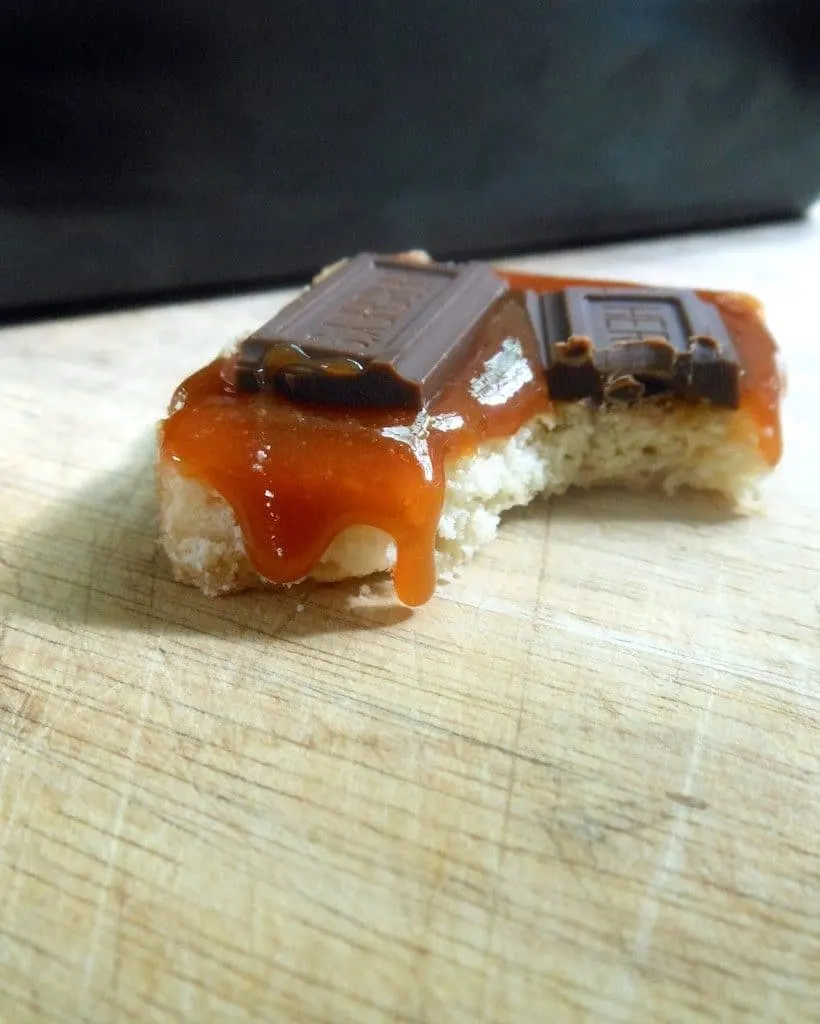 What were your favorite sweet snacks as a kid?