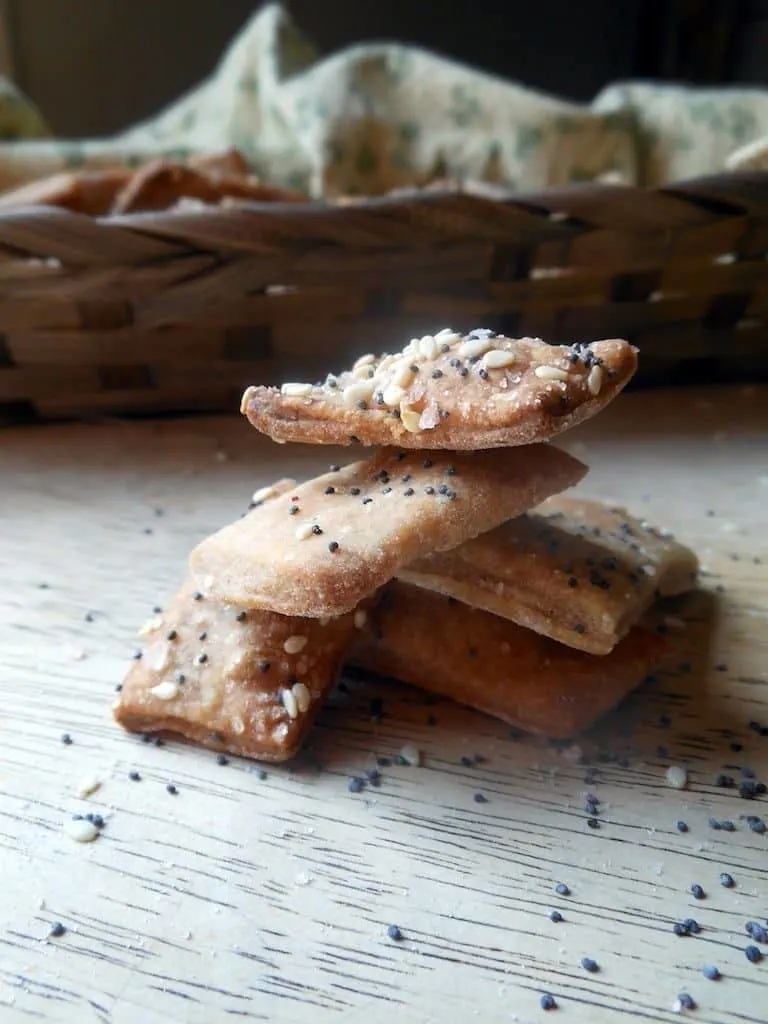 If I go out for a bagel it will, without a doubt, be Everything. Toasted. With some kind of savory cream cheese.
But for some reason, bagel shops have this major aversion to toasting things. I DO NOT like to ask for a toasted bagel only to be handed something slightly warm, gummy, and the opposite of toasty. You know what I'm talking about, right? When they ef your bagel all up and it sticks to the roof of your mouth just behind your front teeth and you reach for your coffee except the coffee is too sweet because the people of Flunkin Flonuts actually really must hate coffee since it just tastes like sugary milk and dang! For all this trouble we should have just gotten ice cream for breakfast and called it a day.
You can tell I'm passionate about toasty things, right?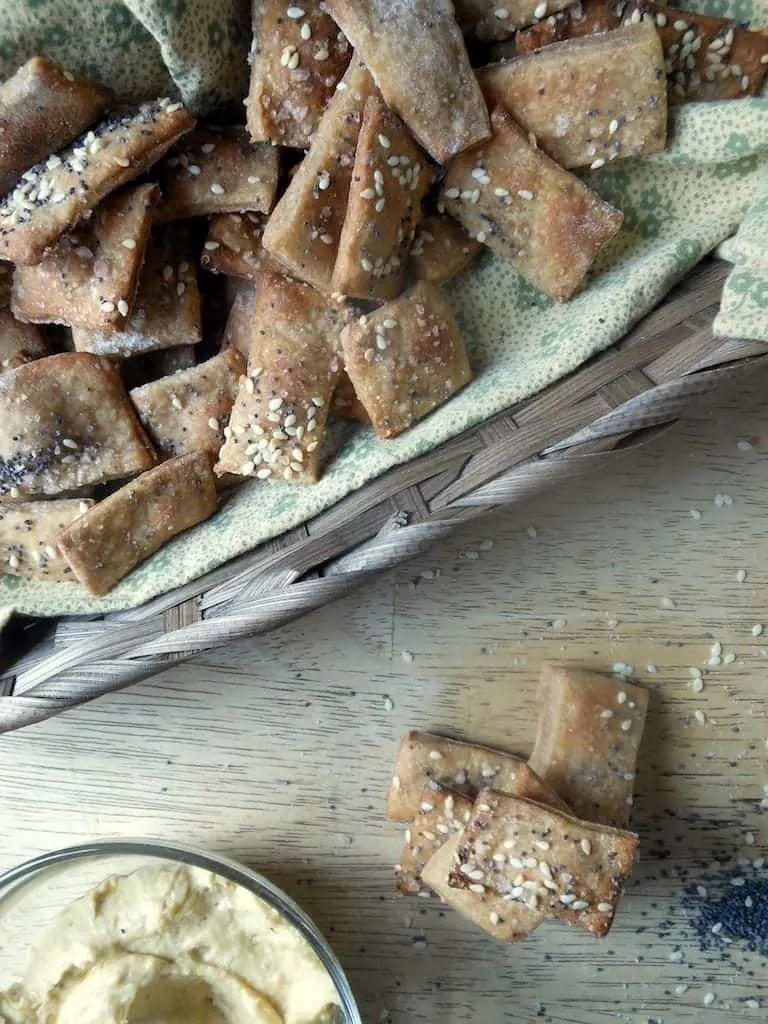 These Homemade Everything Crackers are toasty. They don't actually have much to do with breakfast BUT they would probably be pretty good with cream cheese. I would eat them first thing in the morning. Just saying.
I could not keep the little boys out of these! They just kept coming back and saying, "Uhhhhhmmm you got anymore of those crackery things?"
And I may or may not have pretended we were out of them…
which is kinda silly because what the little boys don't know is that these crackers are REALLY easy. Flour, salt, sugar oil, water, toppings. Done! They bake in about 15 minutes so my only real aversion to these is turning the oven on. 879o4-p1;-0p <<<<———- Gidget typing
So I bake them in the morning.
I never thought I'd be one of those people that goes around making things from scratch that I can get for $2.50 at the grocery store, buuuuut… I guess I am one of those people. And you know, I think I'm cool with it. Because we had snacks for dayyyyyyyys and I never had to stand in line at the checkout. Also!!! These are monopseudoweirdcrapthatnoonecanpronounce free. Bonus.

Homemade Everything Crackers
Serves:
about 100 crackers
Ingredients
1½ cups all purpose flour, plus more to scatter on the counter
1½ cups whole wheat flour (see note)
2 teaspoons salt
2 teaspoons granulated sugar
4 tablespoons oil (olive oil, vegetable oil... see note)
1 cup water
Toppings!! For Everything Crackers I Used:
poppy seeds
sesame seeds
pink sea salt
garlic flakes
onion flakes
***the sky is really the limit with toppings and you only need enough to sprinkle on top of the dough***
Instructions
In a large bowl whisk together the flours, salt, and sugar.
Add the oil and water.
Stir until combined and then use your hands to get the dry bits off the bottom of the bowl and press them in. Knead the dough a little bit until it is smooth.
Scatter flour on a clean work surface, preheat the oven to 450, and divide the dough in half.
Press or roll the dough out onto the floured surface until it's about ⅛ of an inch thick. The crackers won't be crisp if they are too thick.
Cut them however you like! I cut these into rectangles by cutting the dough into strips about 1" across and then cutting crosswise about 2" down. I've made squares, little circles-- it really doesn't matter. They will bake the same. Unless you get crazy and make huge pieces. If you do that it's on you.
Repeat the process with the other half of the dough. SEE NOTE
Lay the pieces on an ungreased baking sheet -- they don't spread so you can put them really close together. You can prick the crackers with a fork-- it will prevent the crackers from puffing up when they bake. I actually made a batch without pricking them and I kind of like the puffy crackers. It's up to you.
Sprinkle little bits of water on all the crackers-- I use a little pastry brush and just barely wet it. Then sprinkle all your toppings on the damp dough.
Bake for 12-15 minutes. The edges will start to brown a little. Let the crackers cool a little before serving.
Notes
#1- I made these a few ways-- I used half all purpose/ half whole wheat flour for the crackers in the photo. They are earthy and delicious. I also made them with all all-purpose flour-- LOVED them that way!! Do not use more than 50% whole wheat flour or it will really affect texture and taste.
#2- I also tried these using all olive oil, all vegetable oil, and using a blend. They were equally good all ways. Don't let a specific type of oil hinder you from making these!
Go crazy with toppings. You could make these sweet with cinnamon sugar. You could add a sprinkle of Parmesan cheese. You could make them spicy with chili flakes or by adding a dash of hot sauce to the dough. Be creative!
#3- I had really great results with this dough refrigerated. I found it easier to work with than straight after mixing. After dividing my dough in half, I rolled and baked half and refrigerated the rest for another day-- it worked really well!
Original recipe just slightly adapted from
"How to make Crackers"
at
The Kitchn