Chicken and Rice is crazy delicious cozy comfort food made by boiling chicken on the bone to make stock, adding herbs, and then cooking rice in the stock.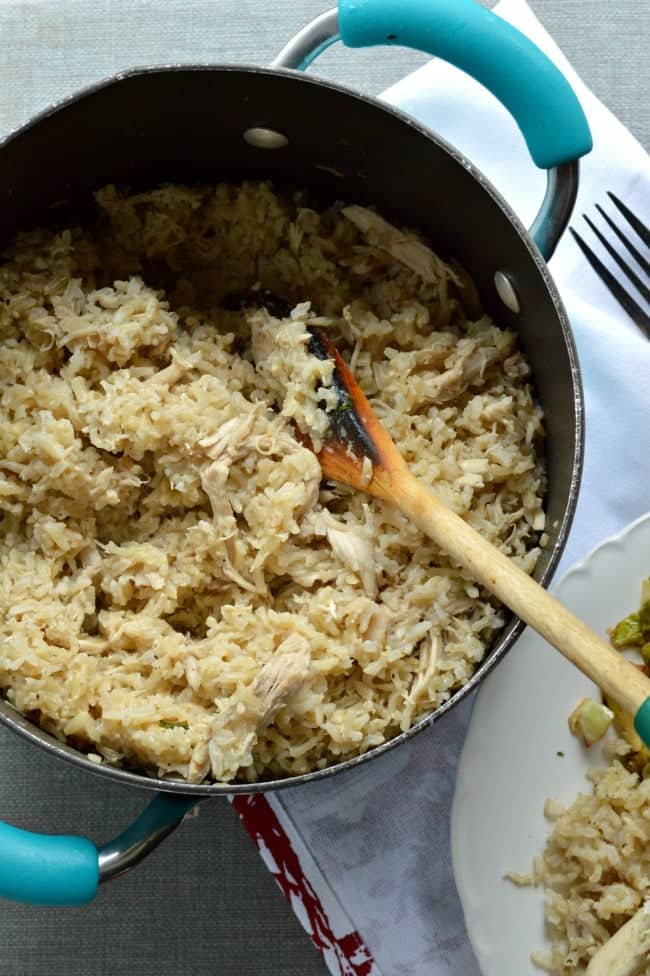 My sister sent me a text message about craving this meal the other day.
And then, like weird food craving magic, I was craving it too. All the way up until I made it and had a big comfy food plate.
Chicken and Rice sounds boring. IT IS NOT boring.
This is one of those dishes that I used to cook at my mom's house when we were kids. It makes a ton and goes a long long way. I am the oldest of five and so my parents worked. All the time. Like crazy work-a-holices. But they weren't work-a-holics. They were just people with five kids. So I looked after my brothers and sisters while they worked in the evening. In the early days I turned out a mean Kraft mac 'n' cheese with a side of frozen broccoli. Don't act like you don't love it.
Oh! Oh! Also I can remember grocery shopping with my mom and buying the fancy boxed mac 'n' cheese because it was on sale. You know those boxes that have swirly cursive writing brandishing the word "Deluxe"? That was very exciting in my 12 year old brain.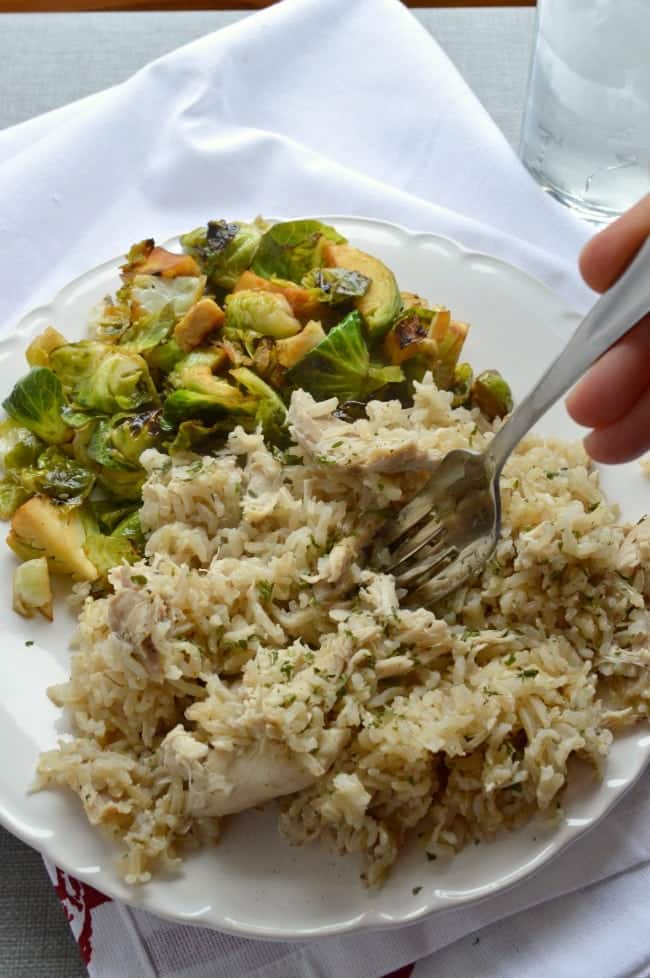 As much as I love some mac 'n' cheese though, this post is not about that. It's about the evolution of cooking and how Chicken and Rice came to be.
I wish I knew what inspired me to first make this. I must have seen it somewhere. I don't think I was confident enough in the kitchen as a teenager to change a dinner recipe and be all creative with anything. But something made me put the chicken on the bone in a big 'ol pot of water with some salt and pepper and then cook it until it was done. And then… I cooked the rice in the stock which I had no idea was stock at the time because this was before the internet was in our house and I was definitely not reading my mom's giant Betty Crocker book.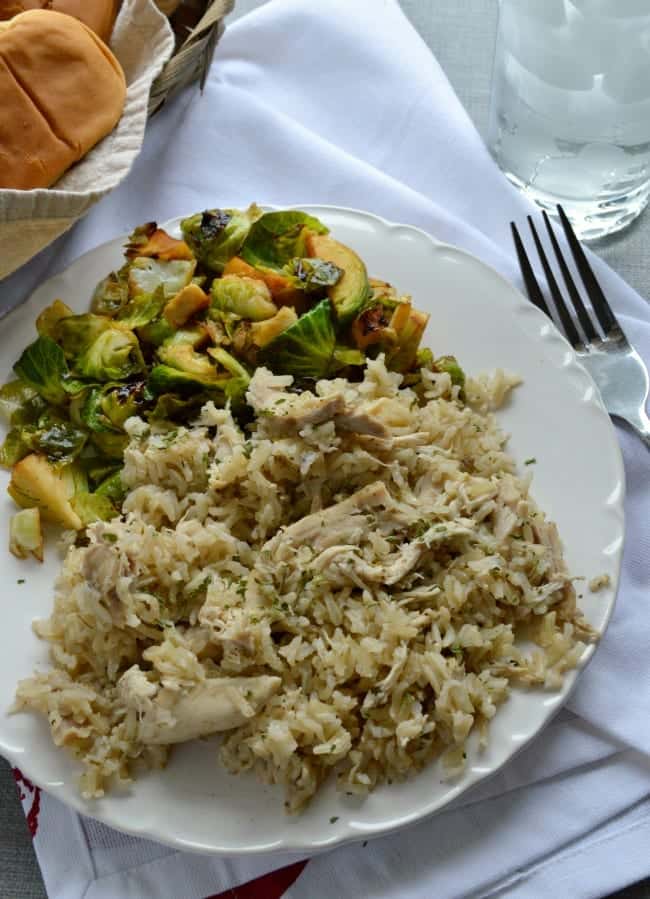 Since then this meal has become one of the most requested– by my kids, by my brothers and sisters– it is the real deal. And I think that all these years later with us scattered out and not together all the time, it gives us that little taste of home from when we were small.
The recipe has definitely grown up with me and where I used to add butter, salt, and pepper and call it a day, I now forgo the butter for fresh herbs. White rice has been replaced with brown and to give it a creamy texture, I slip in a little Arborio rice. If you don't have access to fresh herbs or Arborio rice, just know that this meal will come out just fine with what you have on hand. My 13-year-old self made it happen and so can you!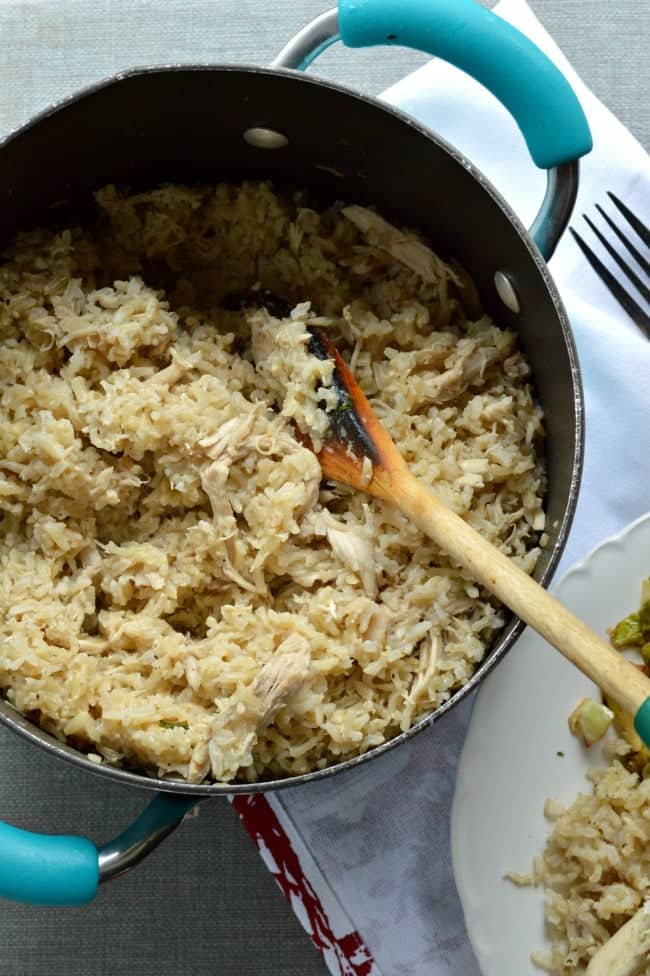 Yield:

12
Chicken and Rice
Cook Time:
1 hour
15 minutes
Total Time:
1 hour
25 minutes
Ingredients
2.5 - 3 pounds chicken on the bone, at least half dark meat (you need it for flavor and the meat stays more moist; also-- I leave the skin on the chicken because you are essentially making a simple stock)
2 teaspoons salt
1 teaspoon black pepper
enough water to cover the chicken in a large pan
2 cups brown rice -see note
1/2 cup Arborio rice (optional!)
2-3 sprigs fresh rosemary, finely chopped
2-3 sprigs fresh thyme, finely chopped
Instructions
Place the chicken in a large stock pot. Add the salt and pepper and then cover it with the water (you'll want it to come to about an inch above the chicken). Bring it to a boil and then reduce the heat a little and let it simmer until done (at least 30 minutes-- you can check the INTERNAL temperature of the chicken after resting for a minute-- it should read at least 165).
Lift the chicken from the stock and set it on a cutting board to rest and cool.
Use a slotted spoon to fish any bits of skin etc that might still be in the stock. Then bring the pot back to a boil. Add the brown rice, cover, reduce the heat to a simmer, and cook for about 15 minutes.
Stir and then add the Arborio rice and the herbs.
Continue cooking, stirring every 5 minutes or so, until the liquid is absorbed. If the rice is not done when the liquid is gone (brown rice takes time), add a little water, stir, and continue cooking.
While the rice cooks, remove the skin from the chicken. Pull the meat off the bones and shred it with your fingers OR coarsely chop it with a knife.
Add the chicken back to the rice mixture, stir, and when the rice is cooked through serve!
Notes
You can use white rice or jasmine rice or wild rice -- go crazy! Just make sure to use a regular/long grain rice and NOT a Minute Rice. Minute Rice would change the cook time.
Nutrition Information:
Yield:
12
Serving Size:
1
Amount Per Serving:
Calories:

315
Total Fat:

16g
Saturated Fat:

5g
Trans Fat:

0g
Unsaturated Fat:

10g
Cholesterol:

114mg
Sodium:

440mg
Carbohydrates:

10g
Fiber:

1g
Sugar:

0g
Protein:

30g
Disclaimer: I realize this meal is not very summery. Call it wishful thinking.