The south's favorite soft drink is frozen and served as a slushie! Homemade Sun Drop Slush has one ingredient and comes together really simply for a summer treat the whole family will love!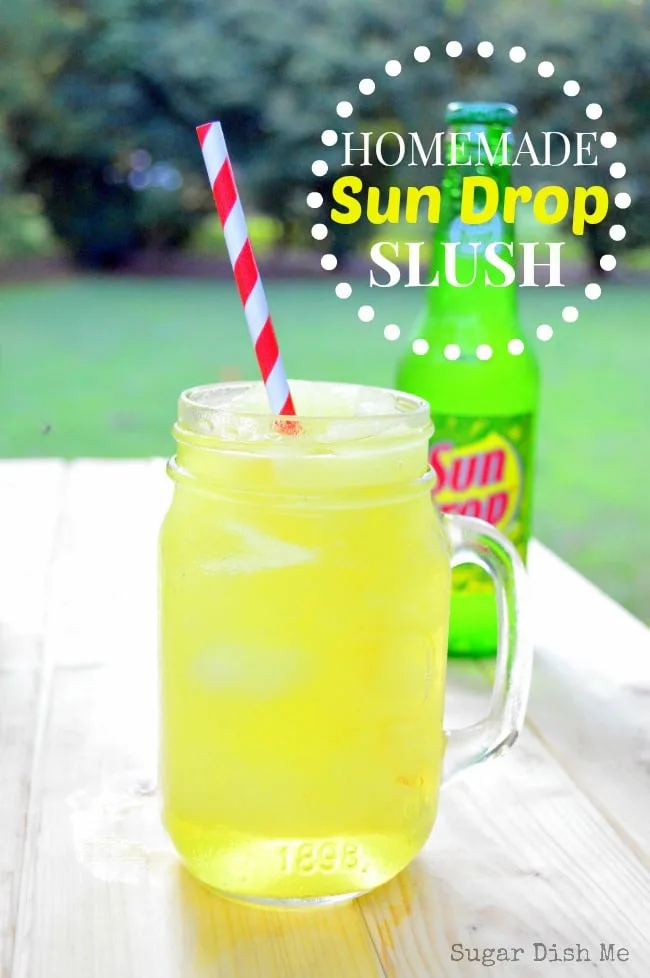 This drink has a history. See, once upon some years back I worked at this little local store. It's the kind of place that serves as a hub in a small town like this. Fresh local produce, homemade candies, a couple of gas pumps, terrible coffee, a counter full of old men that jibber jabber all day, a few groceries, and lots of Sun Drop.
Sun Drop is like a cultural icon around here. It's about as important as obnoxiously inefficient pick up trucks and church BBQ's. We sold A TON of it at this little store. I can remember working one day that my sister was here — she sat at the counter and we marveled at the sheer volume of Sun Drop that went out the door. It is serious caffeine-laden business.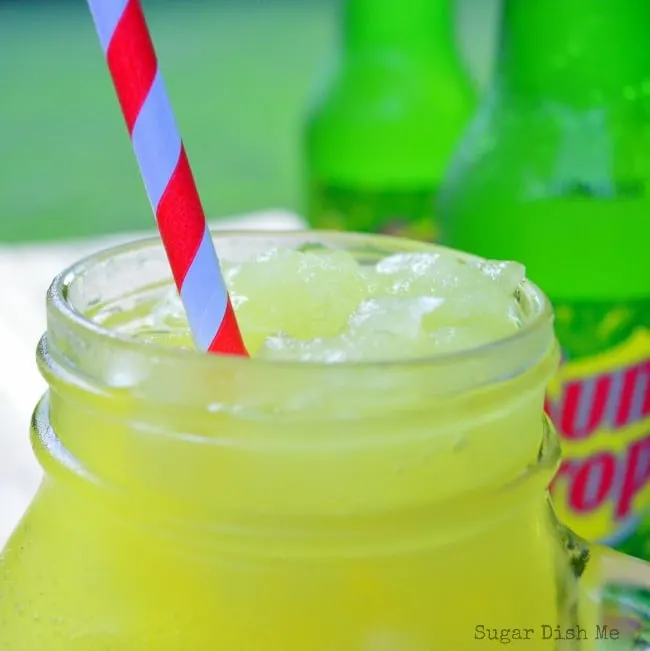 We also had a slush machine, which, if you aren't familiar, freezes whatever liquid you put in there and turns it into this icy churned, cold, delicious, frozen drink. We filled ours up with Sun Drop.
My other half was slightly addicted to the Sun Drop slush at that store and would come grab a giant cup on all of his breaks.
So it was with him in mind that I made this at home.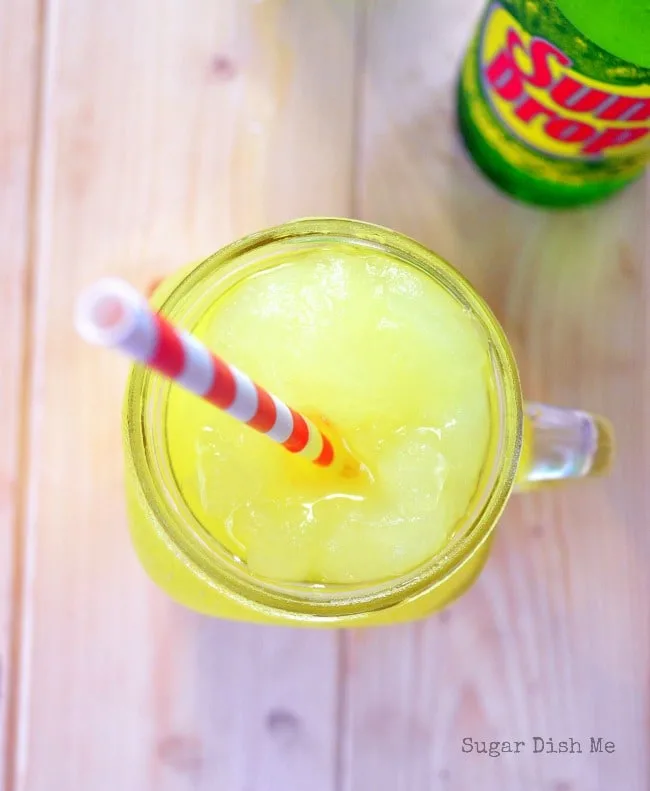 And since Sun Drop is now distributed nationwide, you can make these, too! For the longest time it was just a local thing here — honestly I don't remember seeing a ton of it in Charlotte where I grew up, and it certainly didn't make it past the Mason-Dixon line. But in the last few years they have expanded distribution so you can have a little taste of North Carolina wherever you are!
Totally perfect for hot summer days, right? Right.
Homemade Sun Drop Slush
Frozen citrus lime summer slush made from Sun Drop!
Ingredients
2 liters of Sun Drop
Special Equipment Required:
an ice cream maker or large freezer-proof container (see note)
Instructions
Place the 2 liter bottle in the freezer for about an hour. If you are using a counter top ice cream maker, place the freezer bowl in the freezer at least 2 hours prior to when you want to make and serve. We store ours in the freezer so it's always ready to go.
Check it to see that the Sun Drop is chilling but not yet freezing. Icy bits in the beverage are okay but you want to be able to pour. This may take up to 2 hours. You want the soda to be REALLY cold.
Pour half of the Sun Drop into the frozen freezer bowl for the ice cream maker. Put the bowl in the ice cream maker and turn it on. After about 20 minutes the mixture will be slushy and frozen and the machine will slow down.
Serve immediately. (you can repeat these steps with the other half of the soda)
Alternate Method: If you do not have an ice cream maker, pour the Sun Drop into a large pitcher or other freezer-safe container. Let it freeze almost entirely (at least 2 hours). Use a metal spoon to stir the freezing soda occasionally until the soda has frozen enough to reach slush consistency. Serve.
Notes
I used a Cuisinart Countertop Ice Cream Maker for my slush. It sits on the counter and the slush is ready in 20 minutes! I think any ice cream churn would work though, but the older style with the ice and salt will certainly take longer. If you do not have an ice cream churn, you can use a sturdy plastic pitcher or other freezer-safe container but the method will change. Refer to the instructions.
I used
THIS ICE CREAM MAKER
for my slush (this is NOT an affiliate link; I just really love my ice cream maker! It's affordable, too.)