A Carolina tradition! Carolina Style Hot Dogs are covered in a beefy chili, creamy homemade cole slaw, and onions. Ketchup and mustard are optional. Serve these at your next backyard BBQ for a crowd-pleasing win!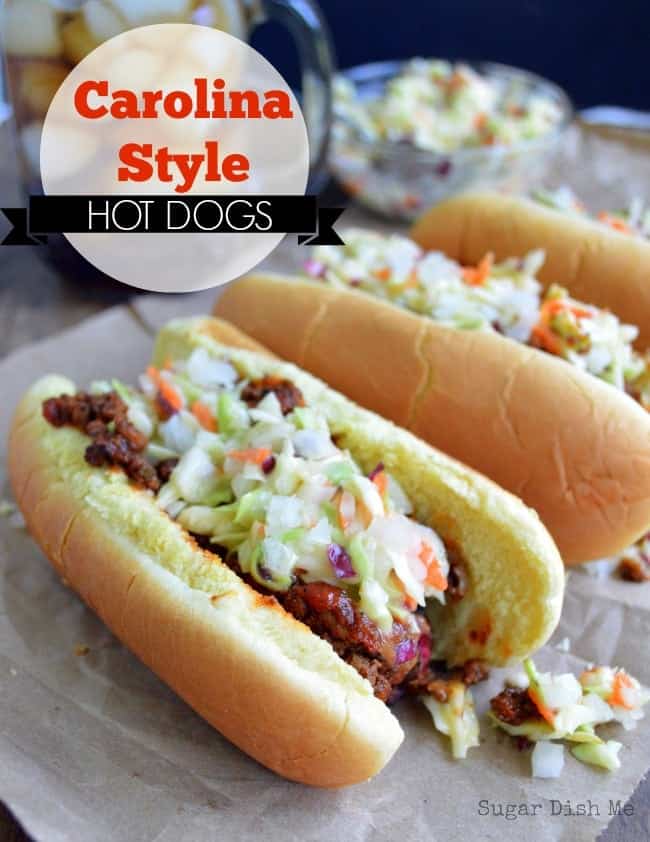 Let me start by saying that I am not really a hot dog person. Or a cole slaw person. I'm usually happy to stuff my face with veggie burgers or grilled chicken.
But something happens in the summer where the occasional urge for a really grilled, nearly charred hot dog has to be satisfied. I mean… hot dogs just don't taste as good in December when my brain is all wrapped up in soup and cookies and pie. Hot dogs to me scream of July heat and ice cream parties, picnic tables and sweet tea.
So with hot dogs (and most things) I sort of feel like you have to go big or go home. And that's where Carolina Dogs come in.
Every part of the country has their own style of hot dog and this one here is North Carolina through and through.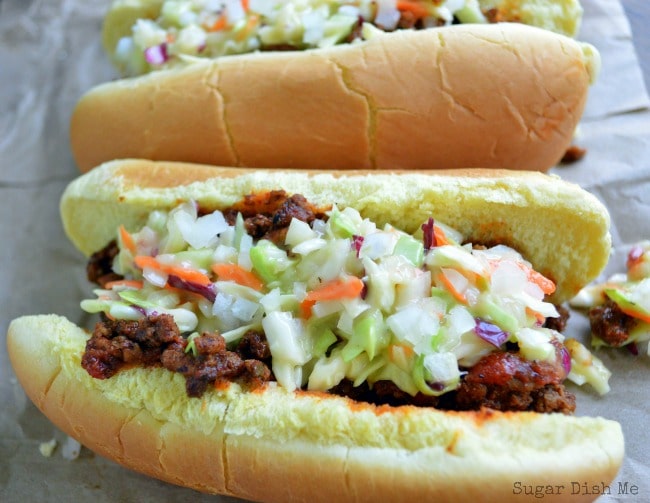 First thing you need is a QUALITY hot dog. I'm voting all beef.
The Carolina Dog is grilled and topped with hearty beef chili – no beans! – creamy cole slaw, and chopped onions. You can do your own ketchup and mustard thing, but those 3 ingredients are crucial, and for a Carolina Dog to live up to all the hype I'm giving it here, you need really good toppings.
Put down the canned chili, ya'll.
This slaw needs to be creamy with some tang. You are looking for the right combo of mayo to cider vinegar, with just a hint of sweetness from the sugar. It's gotta be a teensy bit sweet on top of the chili because chili has a little spice. Onions are like a little bonus on top.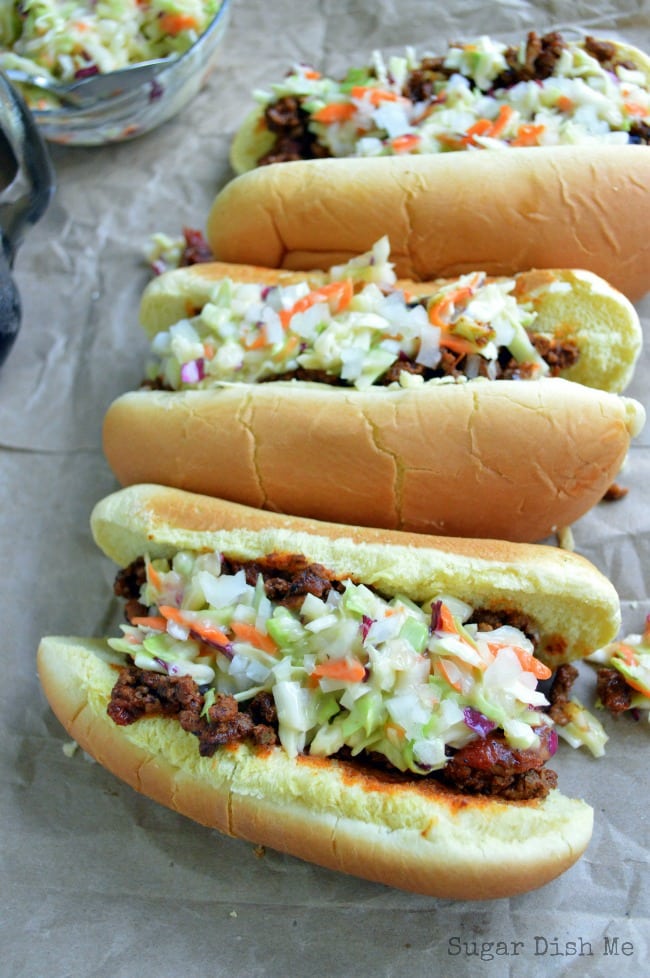 I was skeptical the first time I went down the Carolina Hot Dog road. I'd never had one until a few years ago, long after I'd moved out here to the land without Target and saw them on every menu everywhere. They taste like summer and are worth every single bite.
Carolina Style Hot Dogs
Yummy Carolina Style Hot Dogs are grilled and covered in beefy homemade chili and creamy cole slaw, and then sprinkles with finely diced onions. A Carolina summer tradition!
Ingredients
8 all beef hot dogs (see note)
8 hot dog buns
¼ cup finely chopped onions
ketchup & mustard to taste
For the Chili:
1 pound lean ground beef
2 tablespoons chili powder (see note for chili seasoning)
1 teaspoon paprika
1 teaspoon cumin
1 teaspoon oregano
1 teaspoon brown sugar
½ teaspoon onion powder
½ teaspoon garlic powder
½ teaspoon salt
½ teaspoon black pepper
cayenne or red chili flakes to taste
1 cup broth (I used low sodium chicken broth)
1 (15 ounce) can of crushed tomatoes
For the Slaw:
1¼ cup cabbage, very finely chopped (see note)
¼ cup red cabbage, very finely chopped
¼ cup carrots, shredded
1 tablespoon finely chopped onion
¼ cup mayo
1 tablespoon cider vinegar
1 tablespoon granulated sugar
½ tablespoon canola oil
Instructions
Heat the grill for the hot dogs. You can cook these to your liking -- I love mine charred.
While the grill is heating, brown the ground beef in a large pan. Add all the seasonings to the ground beef and pour in the broth. Turn it over in the skillet a few times to coat the meat. You also want to break the beef up as much as possible. Add the tomatoes, reduce the heat to medium, and let is simmer while you make everything else, stirring occasionally.
In a large bowl toss together the cabbage, red cabbage, carrots, and 1 tablespoon of finely chopped onion.
In a smaller bowl whisk together the mayo, cider vinegar, canola oil, and sugar until smooth. Pour the dressing over the cabbage mixture and toss to combine.
To assemble the hot dogs place each grilled hot dog in a bun, top with chili, then slaw, and sprinkle with the remaining ¼ cup chopped onions. Add ketchup and mustard as you like.
Notes
If I'm gonna eat a hot dog, I spring for the good ones. They cost a little more but better quality equals better taste!
You can use a package of chili seasoning in place of all the seasonings and spices listed here. I always have everything on hand to make my own, but if you have to go out and buy the items listed, it will be much more cost effective to grab a chili packet and go.
Short cut!!! You can use a prepared bag of slaw mix (the cabbage and carrot mixture) to save time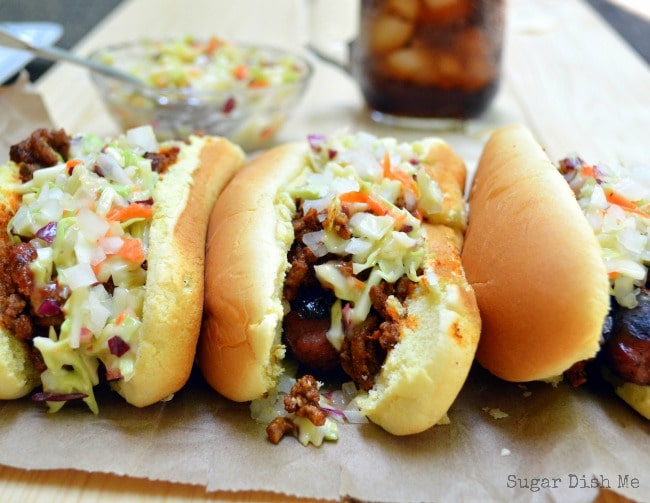 You also need this Carolina Burger situation: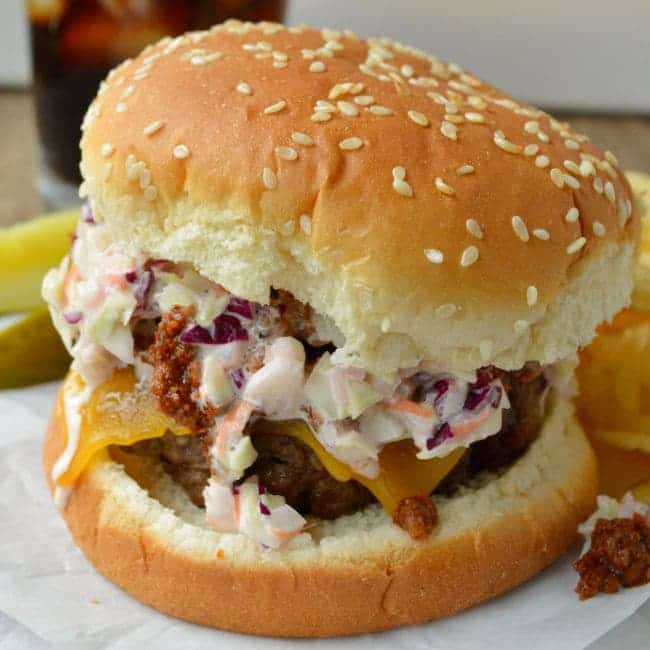 If you love hot dogs you should also try these: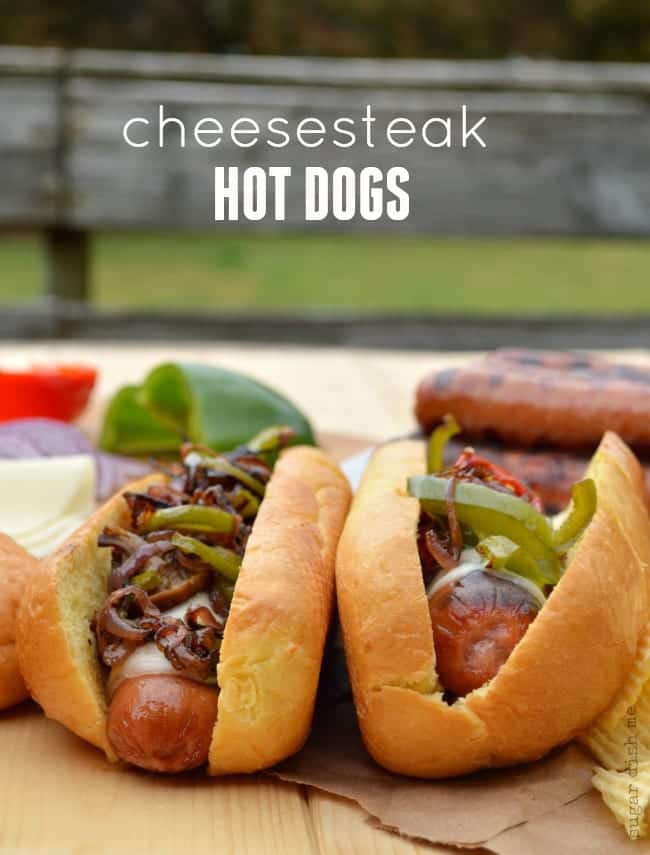 Want Some More?
Get new recipes plus a healthy dose of snarky humor delivered to your inbox each week. It's good stuff y'all.