Soft, chewy oatmeal cookies filled with chopped fresh apples and butterscotch chips! Iced Apple Butterscotch Oatmeal Cookies are full of fall flavor, perfect for parties, snacks, and lunchbox treats!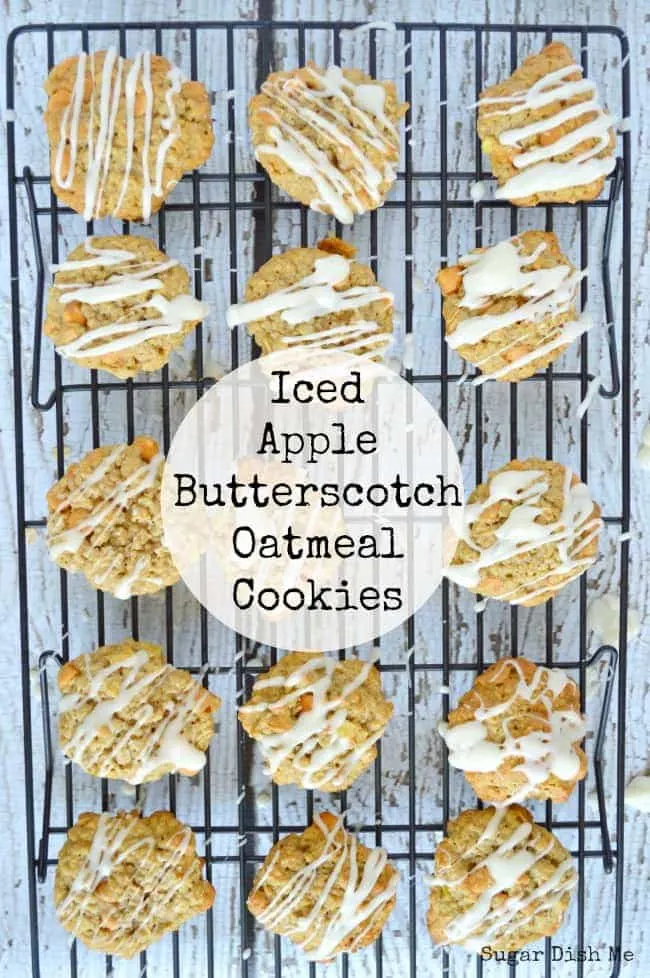 Cookies are by and large my favorite desserts to make and share.
OATMEAL COOKIES totally have my heart. They are easily my favorites because you can do so much with them!
We haven't managed to go apple picking yet (although I totally purchased the Groupon for the apple orchard like a month ago), but I still have at least 10 pounds of apples hanging around the house. Clearly I have a fruit problem.
So it was really only natural for the apples to wind up in the oatmeal cookies. I love to marry my favorite food things.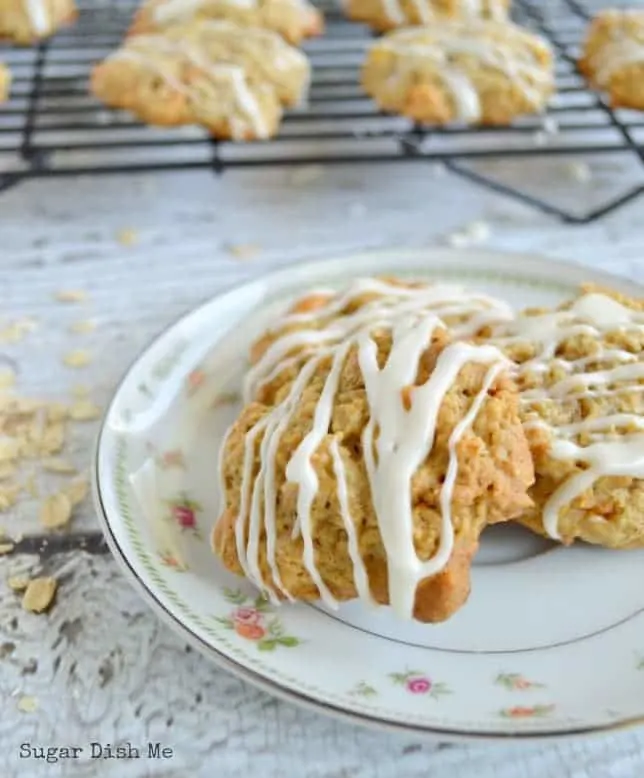 For some reason I associate butterscotch with fall. I'm not sure why I drew that line, but it works. Butterscotch totally works with the apples, and because the chips stay mostly in tact inside the cookies, they add a little bit of crunch to these soft chewy cookies. If you don't have butterscotch chips on hand you could use walnuts to add texture! So good.
My boys inhaled a batch of these un-iced, and they were majorly delicious. The icing ups the pretty factor though. And pretty food is more fun to eat.
Iced Apple Butterscotch Oatmeal Cookies
Chewy soft oatmeal cookies filled with fresh apples and butterscotch chips! Drizzled with a simple icing, these pretty little cookies are so full of fall flavor!
Ingredients
½ cup unsalted butter, softened
¼ cup coconut oil (or Greek yogurt or applesauce or butter)
½ cup granulated sugar
½ cup light brown sugar, packed
2 eggs
1½ teaspoons vanilla
1½ cups all purpose flour
1 teaspoon baking soda
1 teaspoon cinnamon
½ teaspoon salt
3 cups old fashioned oats
1½ cups chopped tart apples (1/2 inch pieces)
1 cup butterscotch chips
For the Icing:
⅔ cup powdered sugar
3 tablespoons milk or cream
Instructions
Preheat the oven to 350 F.
Cream together the butter, coconut oil, and sugars. Beat in the eggs and vanilla.
Add the flour, baking soda, cinnamon, and salt. Mix until just combined. Stir in the oats. Then stir in the apples and butterscotch chips.
Spoon the cookie dough onto an ungreased cookie sheet (or one lined with a silpat or parchment paper) by the rounded tablespoon about 2 inches apart. Bake for 11 mins. The cookies might look not quite done but it's okay!
Let the cookies cool for a few minutes on the baking sheet before removing to a wire rack to cool completely.
To make the icing mix together the powdered sugar and milk or cream until smooth. Use a fork to drizzle the icing over the cooled cookies.
How do you use up all your apples? Let's talk about it.