A simple, healthy, homemade version of one of my favorite Thai restaurant dishes. Spicy Red Thai Curry only takes a few ingredients to make, and you can easily adjust the level of spice to your preference from hot to mild.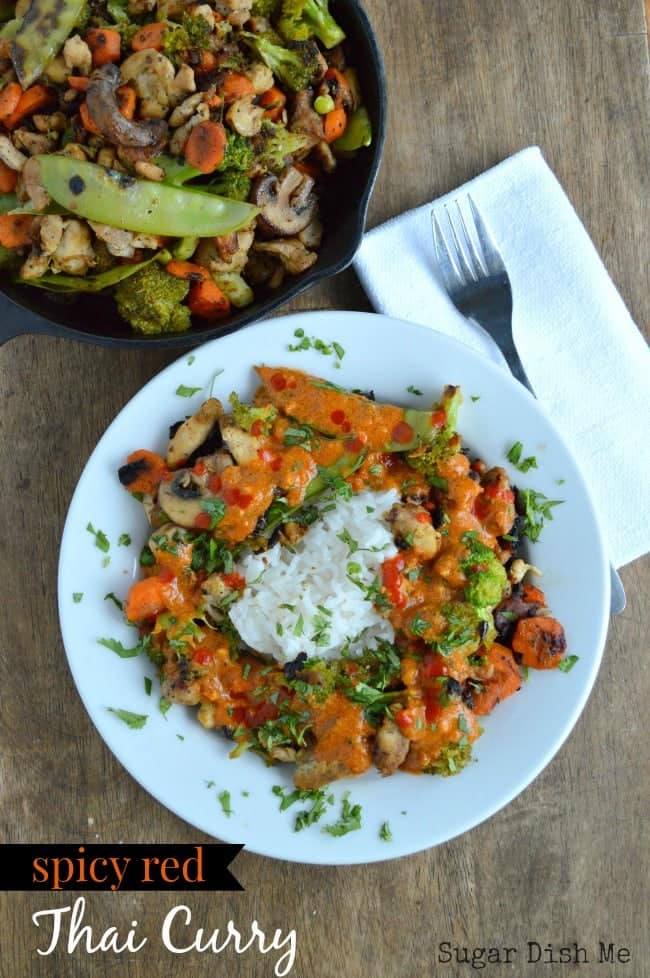 Recurring theme in my life: there is no edible ethnic food within a 50 mile radius of my house.
It's… depressing.
I mean I'm totally happy to drive some days, but other days I just want some dang Thai food, or Italian food, or Greek food – and I want it fast! So unless we get some major development happening over here (not likely), I have to figure out how to do things myself.
Thai food is one of my favorites – I think I could eat variations of Pad Thai everyday for forever and still love it just as much. Spicy Red Thai Curry is one of my favorite dishes to order in a sit-down Thai restaurant, and I really needed to add it to my bag of tricks at home.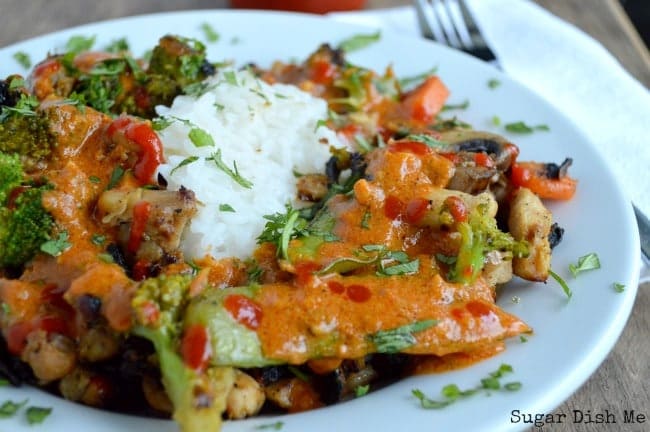 It seemed sort of like a daunting task until I started reading through recipes and found that it's only just a few ingredients — and they are cheap!
So after a few test rounds in my own kitchen, adding some of this and taking away some of that, I came up with this really simple homemade version that you can get on the table pretty doggone fast.
I also worried that my kids would get all weird on me and turn their noses up. They totally dig stir fry so I crossed my fingers and dumped red sauce all over their plates — and they ate it up every time.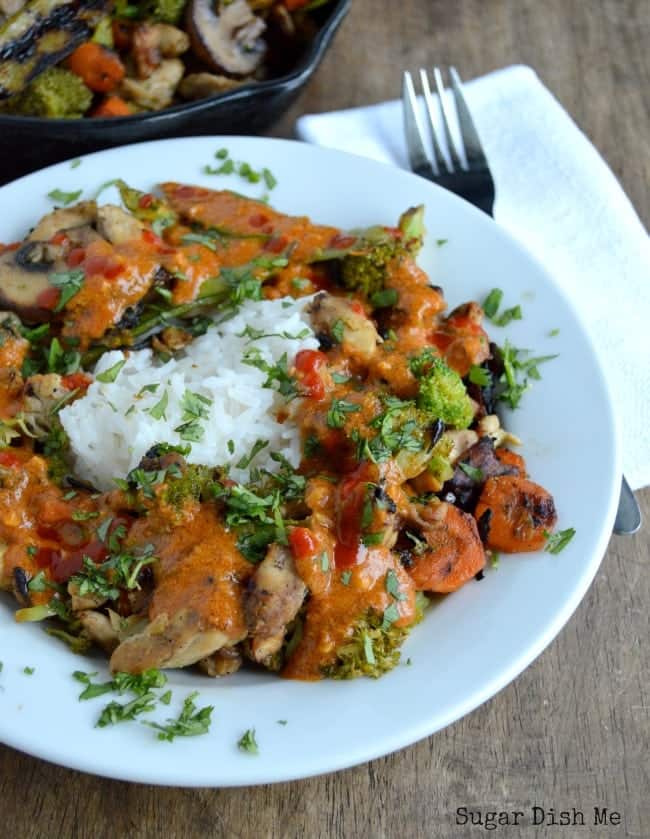 One of my favorite things about ordering Thai food out is the way you can customize the heat level of your food. I love love love the spice you guys! But not as much as my other half who has nuclear taste buds and is not phased by much in the heat department. He's a 4 chile guy. I'm a 3 chile girl.
Some restaurants let you order with stars. 1 star for mild, 4 stars for hot. Thai food is so fun.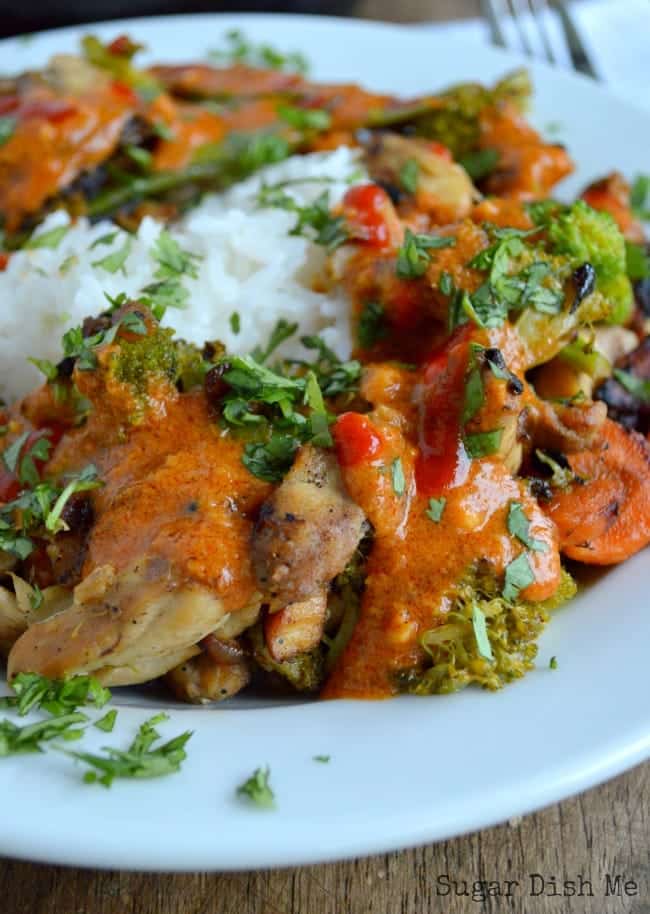 So with this recipe you can easily adjust the heat level just like in a restaurant! I used dried Thai chiles (called Bird chiles), but you can substitute cayenne peppers or serrano chiles according to this cool pepper guide at Serious Eats.
The other thing you NEED for this recipe is Fish Sauce. Don't look at me all crazy.
Fish sauce really adds a depth of flavor the you gotta have for red Thai curry sauce! You should easily be able to find it in the ethnic aisle of most grocery stores — I find mine in the same place as the red curry paste and soy sauce. Trust me – if I can buy it here you shouldn't have any trouble.
This meal is soooooooooo good! Such a welcome change up to our dinner routine!
Spicy Red Thai Curry
Ingredients
For the Spicy Red Thai Curry Sauce:
1 (14 ounce) can Lite Coconut Milk
2 tablespoons Red Curry paste
1 tablespoon fish sauce
1 tablespoon creamy peanut butter
2 cloves garlic, very finely minced
1 teaspoon fresh ginger, very finely minced
1 - 4 dried Thai (bird) chiles
juice of ½ a lime
For the Chicken, Rice, and Vegetables:
1½ cups uncooked jasmine rice + the water needed for cooking
2 tablespoons vegetable oil
1 pound boneless skinless chicken (I used thighs), cut into 1" pieces
salt & pepper to taste
1 medium onion, diced
1 cup fresh mushrooms, sliced
1½ cups carrots, sliced
3 cups fresh broccoli florets
½ cup chicken broth, as needed
1 cup snow peas
chopped fresh cilantro and ¼ cup chopped unsalted peanuts to garnish
sriracha is optional
Instructions
In a medium saucepan bring the coconut milk to a simmer. Add the red curry paste, fish sauce, peanut butter, garlic, and ginger. Stir to combine and bring to a slow boil. Reduce the heat to medium low, stir, toss in your preferred number of chiles (1 for mild, 2 or 3 for medium, 4 for hot) and let the sauce cook down while you prepare the rest of the meal.
Start a pot of water and cook rice according to package instructions.
Heat the 2 tablespoons oil in a a large skillet. Add the chicken pieces and sprinkle with salt and pepper. Brown the chicken and cook for about 7 minutes, until it's cooked through. Remove it from the skillet and set aside.
Add the onions, mushrooms, and carrots to the skillet. Cook for about a minute. Add the broccoli and continue cooking for about 5 minutes, until the broccoli is tender but still a little bit crisp and bright green. You can add chicken (or vegetable) broth as needed if you feel like the skillet seems dry.
Toss in the snow peas and add the chicken back in. Cook for another 2 minutes or so.
Squeeze the lime juice into the Red Thai Curry Sauce and stir just before serving.
To serve add a scoop of rice to each plate or shallow bowl. Surround the rice with the chicken and vegetables, and the spoon the Spicy Red Thai Curry Sauce over the chicken and vegetables. Garnish with chopped fresh cilantro and chopped unsalted peanuts. Add a little sriracha if you prefer.