I made this spinach dip. It's totally delicious and good for you. The title is kind of self-explanatory. Which is why I wanna talk about other things for a minute.
I had a completely terrible horrible no good very bad day.
It all started with my morning coffee.
I got to bed too late and got up too early; that's pretty par for me. I don't require much sleep. But I do need my coffee.
The thermostat in our house is sort of crazy so it's either 11 degrees below zero in here or it's like living on the surface of the sun. I "woke" up (not so sure I ever reeeally fell asleep) and the bedroom felt like a sauna. So I stumbled into the kitchen to start the coffee. Packing lunches, smearing peanut butter on whole wheat bread, and the morning news consumed me for a few minutes, so I didn't notice right away, but something was off… I just couldn't quite put my finger on it.
Then I realized the coffee wasn't perking (is that word appropriate or what?). The light was on but nobody was home.
So I did what I do with everything that's not working: #1 – unplug. plug. unplug. plug. #2 – bang on it and push all the buttons repeatedly. #3 -find Chad and whine about it.
Except the problem with #3 (the most important of these steps) is that Chad IS NOT a morning person. In my coffee-less panic I turned on all the lights in the bedroom [sauna] and was completely annoying.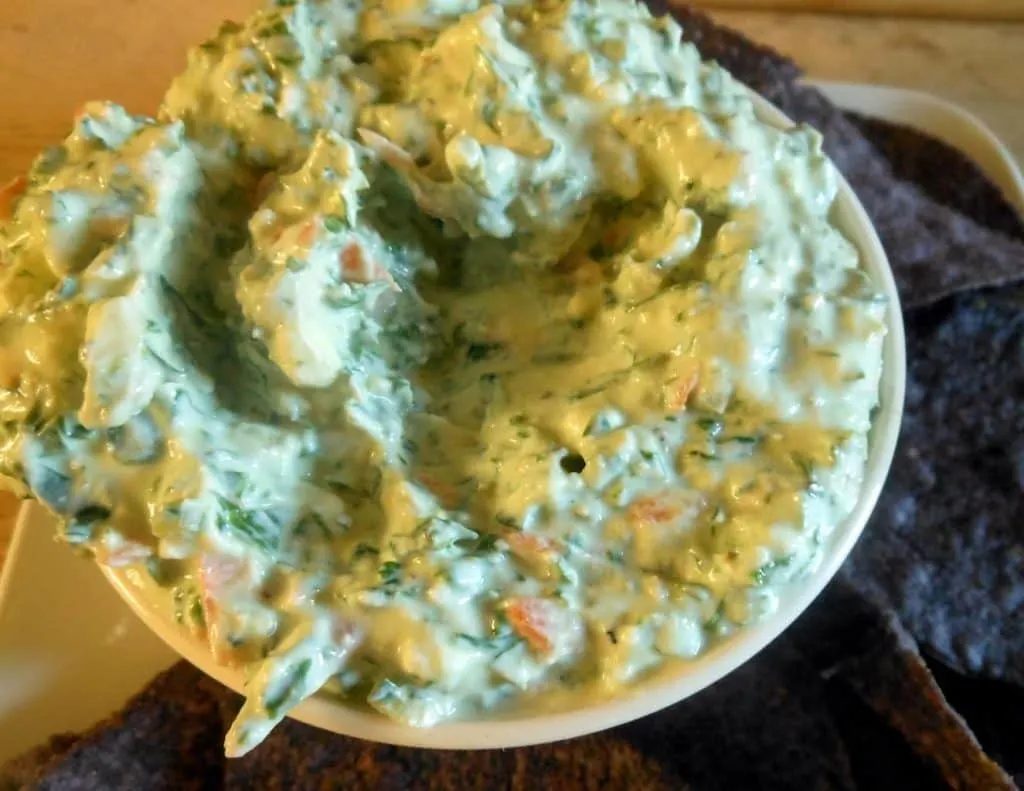 He mumbled some stuff incoherently without opening his eyes. So I nudged him. Several times. Because I really couldn't understand why he wasn't worried about the coffee? Oh, right. He was sleeping.
I might not have been so worried if I'd actually gotten some sleep. He got up after a little bit, surveyed my coffee pot situation, declared Mr. Coffee as D.O.A. and then went to work all nonchalantly.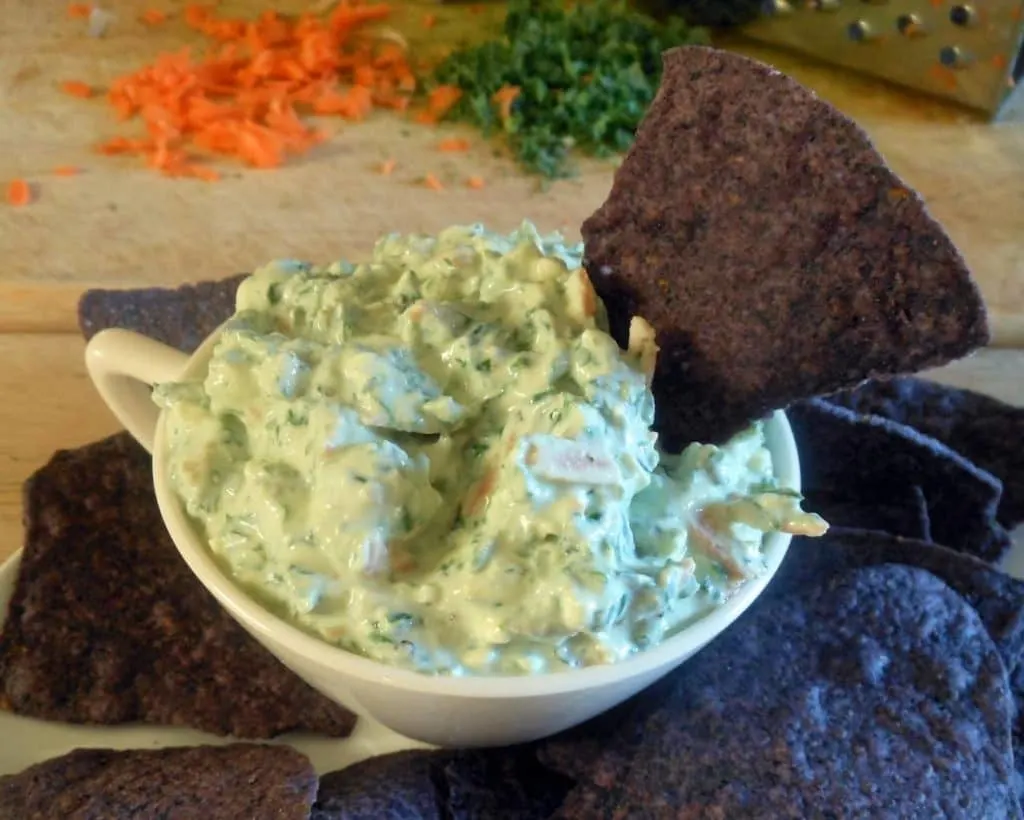 Rude.
So anyway, I have suffered through this day all crabby and uncaffeinated.
I finally snagged a large nonfat latte from a drive-thru this evening while I took my cranky self to Target to replace old Mister Coffee. But it didn't help. I am sooooo sleepy. I do have a brand new coffee pot to show for my troubles, though. So I s'pose it's not all bad.
Anyway— let's talk spinach dip before I pass out and drop my laptop into the floor.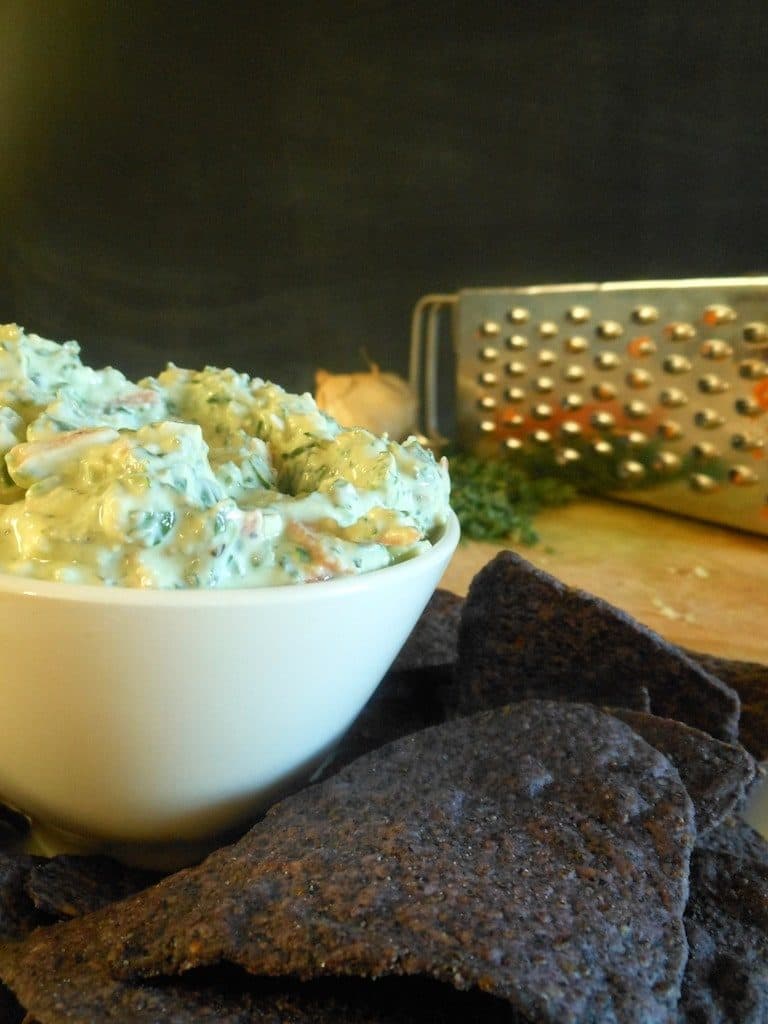 I spied a Lightened Up Spinach Dip awhile ago on How Sweet It Is and it was taking up space in my brain. This is my version of what I remembered it to be. Plain Greek yogurt replaces the sour cream, mayonnaise, and cream cheese of a traditional spinach dip. There's a healthy dose of fresh kale, fresh spinach, and shaved carrots mixed in plus like 4 cloves of garlic. Oh!!! And let's not forget the feta cheese. This would be really good with some finely chopped marinated artichokes mixed in, too.
File this away as yet another of my clueless football game contributions. Next time I make it I'm skipping the chips and stuffing this dip into a round loaf of dark rye bread.

Light Spinach Dip
Ingredients
2 cups plain Greek yogurt
½ cup raw spinach, very finely chopped
½ cup raw kale, very finely chopped
¼ cup shredded carrots, very finely chopped
4 cloves garlic, very finely minced
¼ cup crumbled feta cheese
1 teaspoon coarse ground black pepper
½ teaspoon onion powder
¼ teaspoon salt
Instructions
Mix all the ingredients together.
Serve with chips, veggies, crackers, or bread.
Store leftovers in the refrigerator, sealed tightly.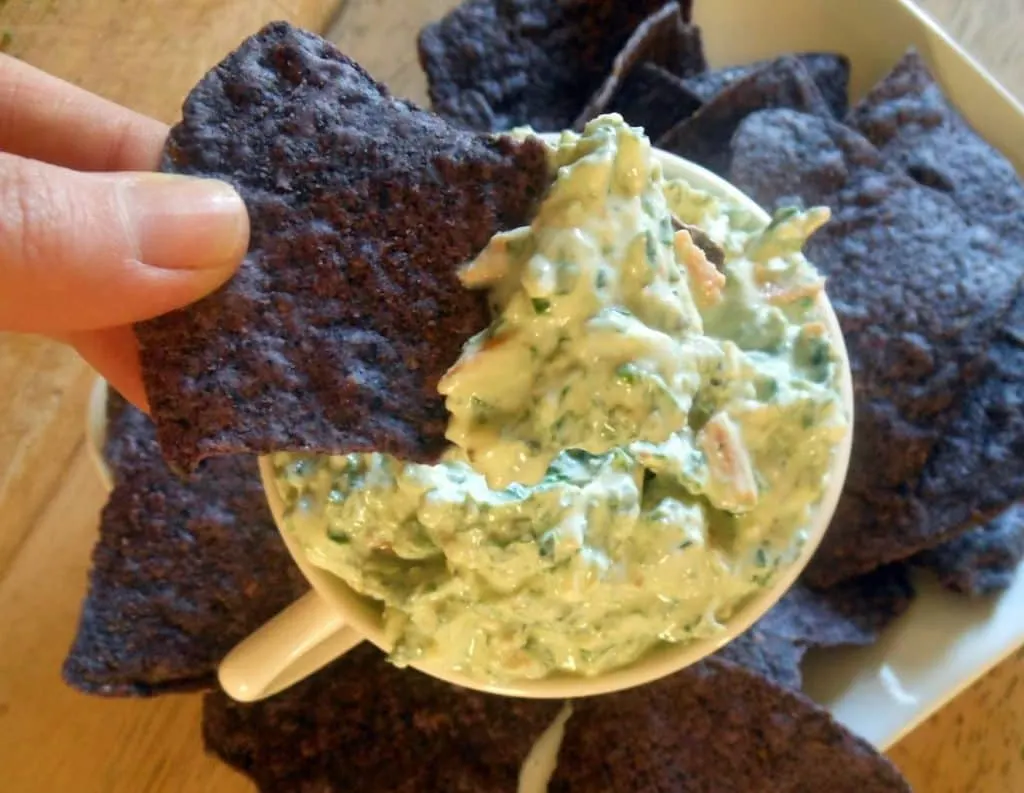 P.S. No more mornings without coffee.