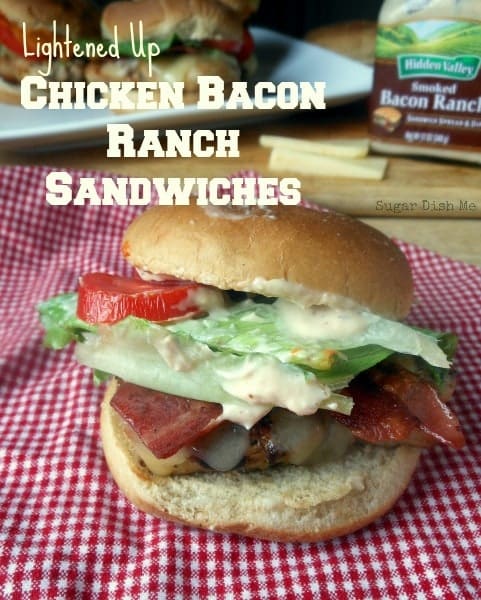 There are lots and lots and lots of days that I do not feel like cooking anything.
I think I am not supposed to say that because I write a food blog, but there it is. Just trying to keep things real here for all of my internet friends.
Today was one of those days. I would have been extremely happy with a bowl of cereal for dinner. Or apples and peanut butter. Or… a brownie. But I have a family to feed and if I point them towards the cereal cabinet come mealtime they might riot. Or drive to Burger King. I'm just soooooo tired lately (work work and more neverending work) and once I have the kitchen clean I want to do anything in the whole universe besides mess it up again.
So.
I am always on the lookout for things to make my dinner-serving-life easier and sometimes I luck out.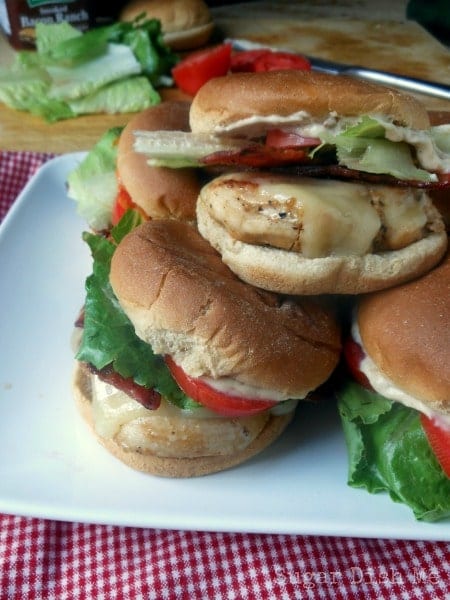 I've been experimenting lately with Hidden Valley's delicious new sandwich spreads and they have consistently helped me get food on the table with a quickness. The reigning favorite sandwich creation so far are these Lightened Up Chicken Bacon Ranch Sandwiches. The family does not know they are lightened up. I was surprised that they did not suspect my turkey bacon (fakon) but they had NO IDEA that the sandwich spread was made with white beans, cream cheese, and only has two grams of fat and 25 calories per serving. These boys inhaled my stack of sandwiches.
I used the Smoked Bacon Ranch variety for these but Chad and I really liked the Spicy Chipotle Pepper (you know we like the heat!). I added the Classic Herb Ranch to some cold tuna sandwiches on thick slices of whole wheat at lunch and the Oven Roasted Garlic Parmesan to some subs we made with leftover meatballs.
These Chicken Bacon Ranch Sandwiches can be on the table in 30 minutes and they only mess up ONE pan. They basically allowed me to hit the sheets before midnight. I love them.
For more information on Hidden Valley Sandwich Spreads visit their website HERE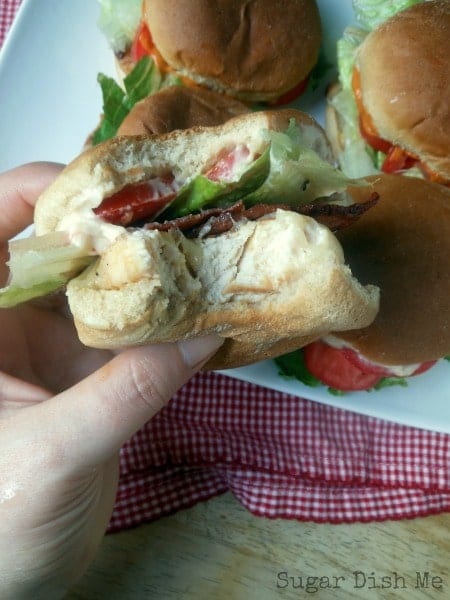 Hidden Valley's line of new Sandwich Spreads & Dips will take your boring sandwich routine to another level. With new flavors like Spicy Chipotle Pepper and Oven Roasted Garlic Parmesan, your mouth will be thanking you and you'll be on your way to delivering sandwich-envy.
This is a sponsored conversation written by me on behalf of Hidden Valley Ranch. The opinions and text are all mine.
Lightened Up Chicken Bacon Ranch Sandwiches
Juicy sauteed chicken breast covered in reduced fat cheese, turkey bacon, lettuce, tomatoes, and Hidden Valley Smoked Bacon Ranch Spread on whole wheat buns.
Ingredients
For the Chicken:
1.5 pounds boneless skinless chicken breasts (thin cuts if you can find them)
1 tablespoon olive oil
1 teaspoon Worcestershire sauce
2 cloves garlic, minced
1 teaspoon black pepper
½ teaspoon salt
For the Sandwiches:
8 whole wheat sandwich buns
4 ounces reduced fat sharp white cheddar, sliced
8 slices low sodium turkey bacon
lettuce
tomato
Hidden Valley Smoked Bacon Ranch Spread
Instructions
Place the chicken breasts in a shallow baking dish. Mix together the olive oil and Worcestershire sauce with the minced garlic. Pour over the chicken and rub so it coats all surfaces. Sprinkle with the salt and pepper, cover, and refrigerate until you are ready to cook (this can be done ahead of time or just before cooking; let the chicken sit for at least 15 minutes).
Cook the turkey bacon in a large skillet. Set the bacon aside.
Heat the skillet you used for the bacon over medium high heat. Add the chicken pieces. Cook on one side about 4 minutes, turn, and cook another 4 minutes. Cook time will depend on the size and thickness of the chicken pieces you use. Internal temperature should be 165 degrees F.
To assemble the sandwiches, place a piece of cooked chicken on the bottom bun of each one. Lay the cheese slices on the hot chicken so they melt (If you like things very melty you can place the chicken, cheese, and bottom bun portion of the sandwich in the oven -set to 350 - for a minute to melt). Add a bacon slice to each sandwich. Stack with lettuce, tomato, and then add the Hidden Valley Smoked Bacon Ranch Spread to the top bun of each sandwich.
Serve happily.