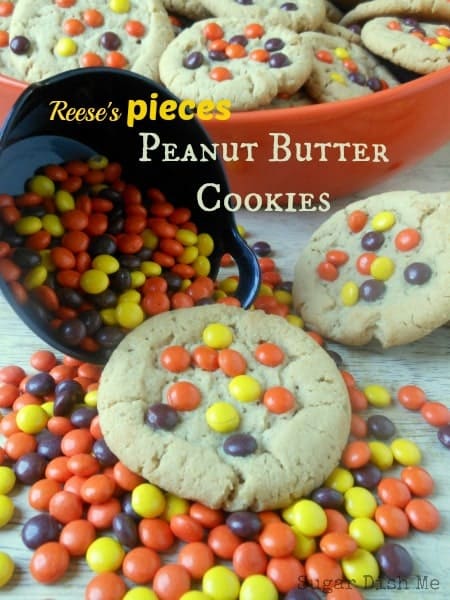 Yesterday I finally got all my outside Halloween decorations up.
I was trying to be way early with it because I was ready for Halloween and fall like a whole entire month ago while the rest of the world was still at the beach. It is, without a doubt, my favorite!
But a month ago everyone told me it was too early and I would be just as annoying as the retailers that have Christmas trees displayed in stores right now (FYI: Christmas trees and skeletons and jack-o-lanterns look weird side by side and I'm gonna need that to stop. It's kind of like the time my neighbors left their pumpkin to rot on top of a bail of hay in the yard while simultaneously hanging Christmas lights on the porch. Ew.). So anyway– yesterday I sent Chad out into the yard with a spool of fishing line and made him hang a dozen little fabric ghosties from the trees plus some rubber bats I found at the dollar store a few years ago.
He really loves it when I greet him with a project after a ten hour day. I'm pretty sure it's his favorite thing in the world.
You can see my easy (and cheap to make!!) Halloween decorations here— plus instructions for how to make them!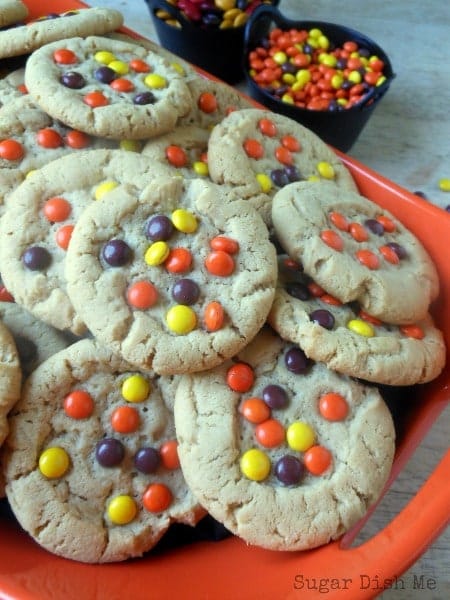 So I thought it was about time for some recipes here to look like Halloween too, and this month's Leftover's Club post seemed like the perfect opportunity to do it! Once a month I swap treats with another blogger because supposedly food bloggers have lots of leftovers. I actually never have leftovers because I live with a pack of hungry wolves but I make extras to participate because it really is fun. This month I got to send cookies to Ruthy at Omeletta whose food I love and you will too!
This is my favorite super-easy-like-you-won't-believe-it peanut butter cookie recipe that I stuffed full of Reese's Mini Pieces that I bought because they were so so cute. You could use regular sized Reese's Pieces or the coveted Fall M & M's (I can only find them in August and then they disappear!!). I always thought the colors of Reese's Pieces were very Halloween-ey.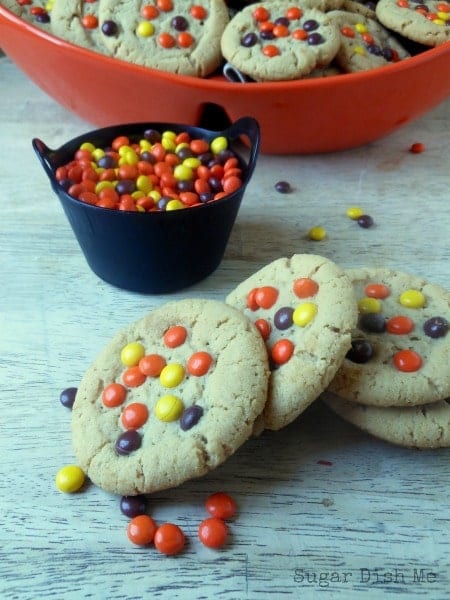 Make these cookies.

Reese's Pieces Peanut Butter Cookies
Soft peanut butter cookies loaded with Reese's Mini Pieces -- these colors are PERFECT for Halloween but these cookies are perfect anytime!!
Ingredients
½ cup unsalted butter, softened
½ cup creamy peanut butter
½ cup packed light brown sugar
½ cup granulated sugar
1 egg
1¼ cups all purpose flour
½ teaspoon baking powder
½ teaspoon baking soda
½ cup Reese's Mini Baking Pieces
Instructions
Preheat the oven to 375.
In a large bowl blend the butter and peanut butter. Add the sugars and beat until smooth. Add the egg and beat until just combined.
Toss the flour, baking powder, and baking soda in the bowl. Blend until the dough comes together.
You'll use about one heaping tablespoon for each cookie. Roll each cookie into a ball and press your thumb into the center to make a well. Place each formed cookie about 2 inches apart on an ungreased cookie sheet.
Sprinkle enough Reese's Mini Pieces into the little well of each cookie to completely fill it.
Bake for 9-11 minutes (I err on the side of 9 for slightly softer cookies). Let them cool for about 5 minutes on the cookie sheet before removing to a rack to cool completely.
If you would like to participate in the Leftovers Club you can
find more information here
. Check out the rest of the Leftover goodies for October!