Little funfetti cookie cups topped with no-bake cheesecake, sprinkles, whipped cream, and more sprinkles! Mini Funfetti Cheesecake Cookie Cups are great for parties and make a cool sweet treat!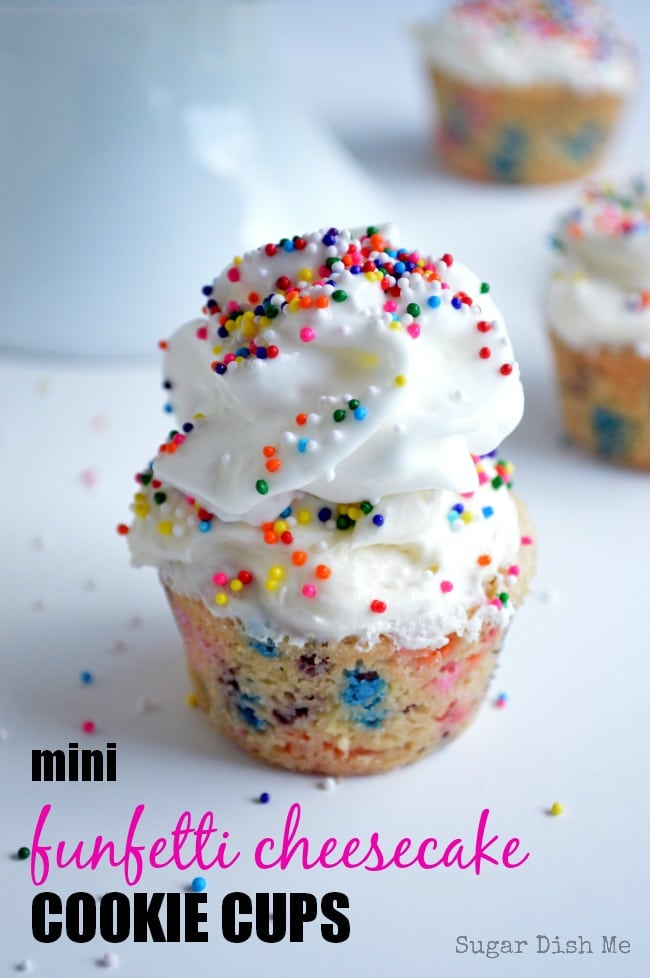 Well.
There's nothing like a Tuesday that feels like a Monday but is most definitely Tuesday. Your week is shorter but you are kind of behind on all the things (or is that just me?), and it's kind of hard to get it in gear.
So I thought this day might call for sprinkles.
I had all of these really grand long-weekend plans; plans that included finishing painting the trim in our living room, tackling the pile of clothes on the floor in my bedroom that still needs a permanent place to live, and unpacking a couple of boxes that have been stacked, re-stacked, and shuffled around the upstairs 23 times this week.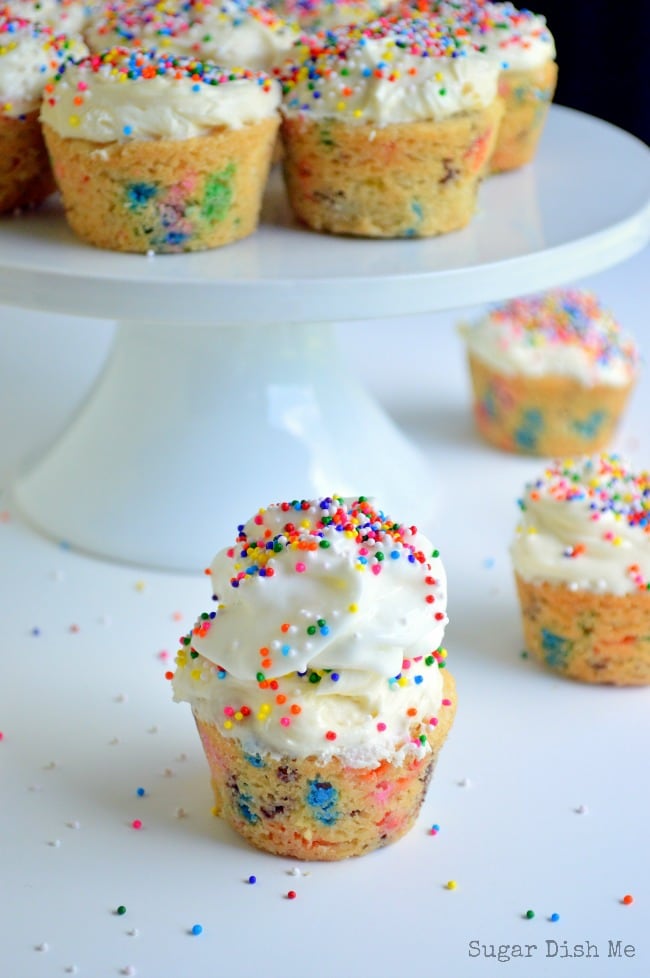 But… I did not manage any of those things.
I DID manage talking Chad into eating hot dogs. Twice. (he has been on a hot dog strike since 2012)
I also piled my boys' plates high with cheeseburgers and corn on the cob, glued a mason jar glass of Sweet Tea Sangria to my hand for 3 days, and dragged my other half to IKEA to shop for awesome things like curtains and mirrors and lingonberries.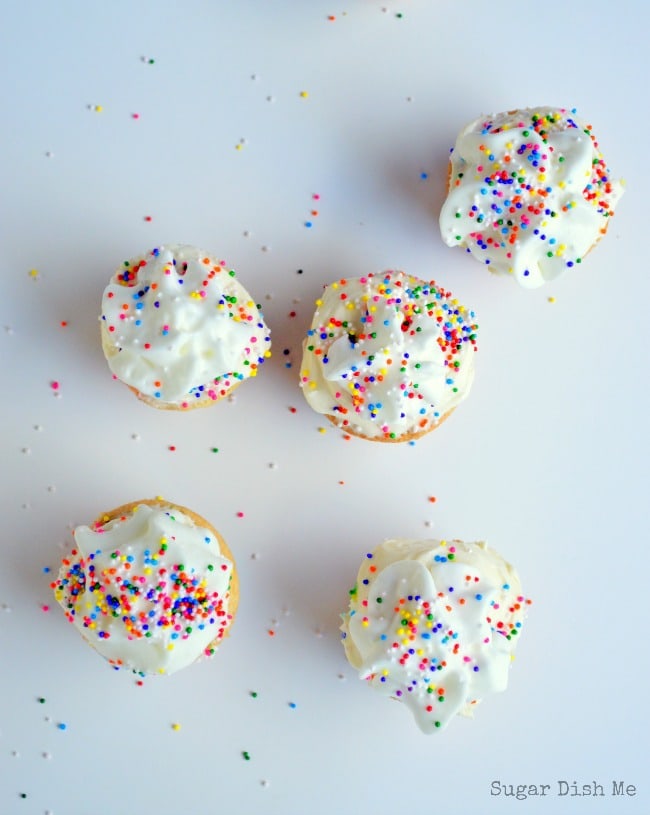 I posted the super awkward selfie and then had a reader tell me that we must have maxed out our credit cards. So I said no, we don't do that. So they said oh! You must be wealthy!
To which I laughed hysterically.
Public Service Announcement: Things that cost $40 at Target cost 99 cents at IKEA.
Also social media is weird.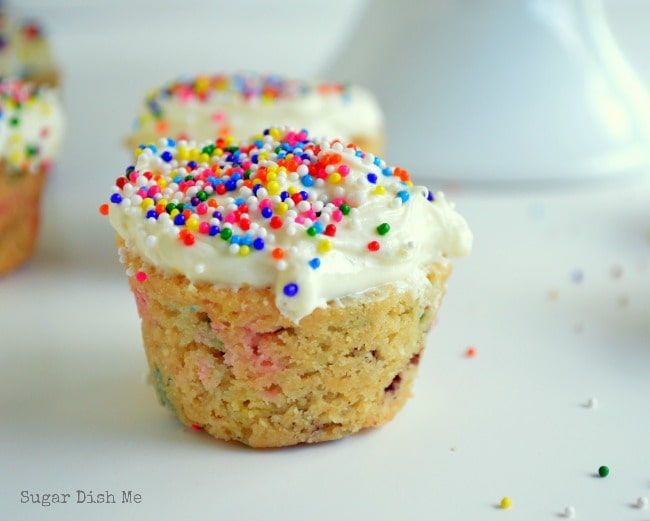 Not weird: A soft sugar cookie crust filled with an easy vanilla no-bake cheesecake and covered in a bajillion sprinkles.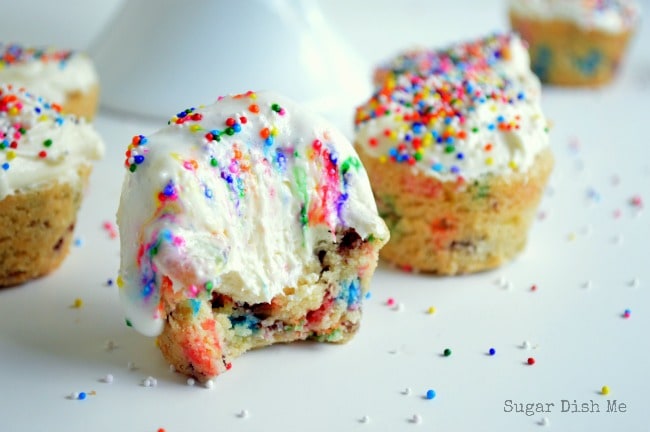 Just be sure to check for sprinkles in your teeth.
Mini Funfetti Cheesecake Cookie Cups
Soft sugar cookie dough loaded with rainbow sprinkles and pressed into mini muffin pans. The baked cookie cups are filled with no-bake vanilla cheesecake, topped with more sprinkles, and whipped cream! Try to allow yourself enough time for the cookie cups to cool completely before filling AND time to chill for about 30 minutes before serving.
Serves:
24-30 cookie cups
Ingredients
For the Cookie Cups:
1 cup unsalted butter, softened
1 cup granulated sugar
2 tablespoons brown sugar
1 egg
2 teaspoons vanilla
2 cups all purpose flour
½ teaspoon baking powder
½ teaspoon salt
½ cup rainbow jimmies sprinkles OR rainbow non-pariels
For the No-Bake Cheesecake:
8 ounces plain cream cheese, softened
⅓ cup sweetened condensed milk
1½ teaspoons vanilla
4 ounces (about half of an 8 ounce container) Cool Whip or whipped topping
more sprinkles (non-pariels pictured) and whipped cream to garnish
Instructions
Preheat the oven to 375.
In a large bowl, beat together the softened butter and sugars until fluffy. Add the egg and vanilla and beat until combined.
Dump in the flour, baking powder, and salt all at once. Mix until the dough is just combined. Stir in the ½ cup rainbow jimmies sprinkles.
About a tablespoon at a time, drop balls of cookie dough into an ungreased mini muffin tin. There's no need to press in the dough; it will spread to fill the muffin cups.
Bake for 10-12 minutes. I like mine on the softer side. They won't look done in the center, but you don't want them to brown.
Let the cookie cups cool completely. I use a butter knife to help me pop them out of the pan.
In a large bowl with your mixer (hand or stand) on high speed, beat the cream cheese and sweetened condensed milk until it's fluffy. Add the vanilla and beat for another minute or two. Gently fold in the Cool Whip until it's combined. Your no-bake cheesecake should be nice and fluffy.
When your cookie cups cool, the middle will sink down. Spoon the cheesecake filling into each cup, letting it cover the top kind of like a frosted cupcake. Top with more sprinkles.
Refrigerate before serving (at least 30 minutes).
Top with whipped cream and more sprinkles to serve.
**Store in the fridge in an air tight container so the cookie cup "crust" doesn't get hard**
The cookie cup base in this recipe was based on my Frosted Funfetti Cookie Bars which were very slightly adapted from this recipe for Chewy Sugar Sprinkles Cookies at Averie Cooks. Averie remains one of my favorite blogs to cook from and is ALWAYS a good read. Just this week she made 4 new things that I HAVE to eat.