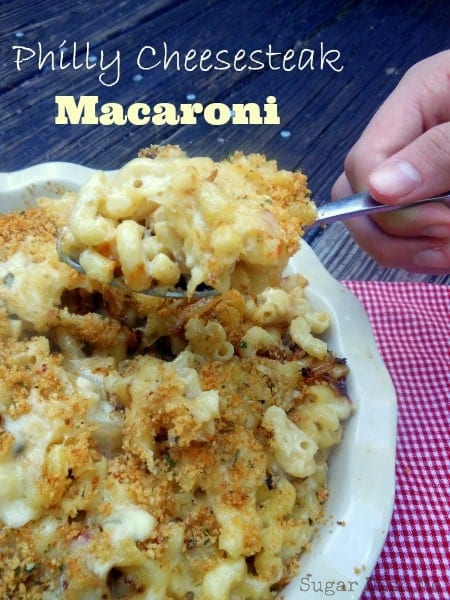 It's been a pretty long while since I made you macaroni and cheese. So long in fact that I was afraid my kids might riot. So I decided that if I was gonna do it then I was gonna DO IT. And this dish right here is how to do macaroni and cheese up right.
Putting steak in the macaroni and cheese was kind of like an epiphany (I love that word!!!) .
I got a box of super fun cheese in the mail from Cabot Creamery, not for any particular reason but just because I love them, I said so, and they are nice to me. I'm a regular Cabot customer – it's pretty much all I buy (in case you're wondering this is not a sponsored post in any way, it's just a brand I can really truly get behind) – but in the box was one I hadn't tried: Horseradish Cheddar.
I had to hide it from Chad. I literally put it underneath the celery in the back of the fridge. That's where I hide all the good stuff.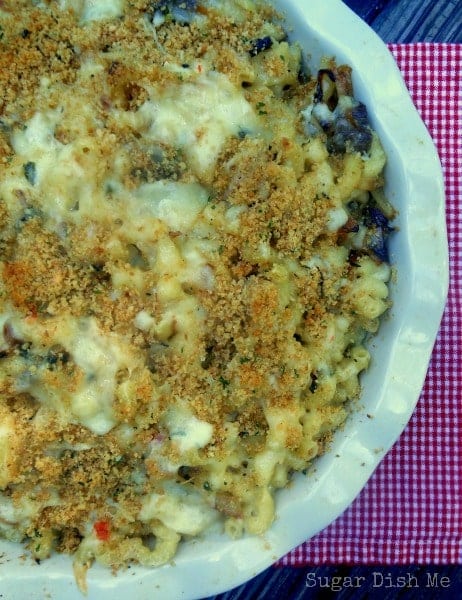 One of the restaurants I used to work in served prime rib on Friday and Saturday nights and always with the steaks there was a side of creamy horseradish sauce. I loved that stuff. So horseradish cheese seemed like it would be exactly perfect with a beefed up macaroni.
It was.
I used half sharp cheddar and half horseradish cheddar so that the flavor was there but it was still mac 'n' cheesy. And no worries!!! I also tried this out without the horseradish cheese and it's still delicious, just in case you can't get your hands on this spunky flavored cheese.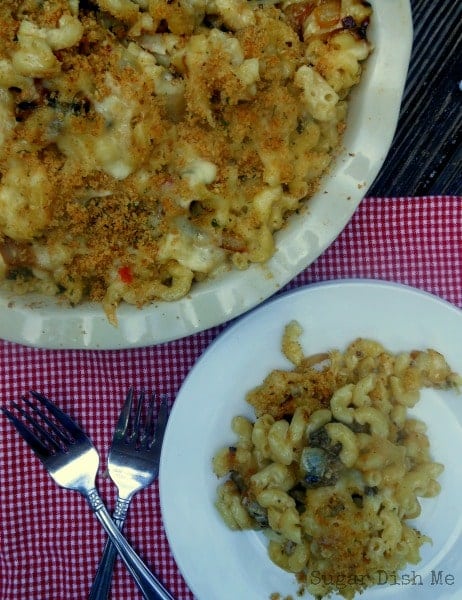 Philly Cheesesteak Macaroni
Cheesy delicious baked macaroni loaded with steak, caramelized onions, and a hint of horseradish flavor
Ingredients
1 pound stew beef, fat trimmed, cut into bite size pieces
½ teaspoon kosher salt
1 teaspoon coarse black pepper
1 tablespoon Worcestershire sauce
1 (12 ounce) box of elbow pasta
½ tablespoon butter
2 teaspoons olive oil
½ cup onion, diced
pinch of salt
1½ cups cold milk
1½ tablespoons cornstarch
2 tablespoons butter
1 cup horseradish cheddar
1 cup sharp white cheddar cheese, shredded
½ cup sharp white cheddar to top the macaroni
1 teaspoon olive oil
1 tablespoon breadcrumbs
Instructions
Place the beef in a medium bowl and sprinkle it with the salt and pepper. Pour the Worcestershire sauce over it, toss to coat, and cover, and refrigerate for at least 30 minutes. You can do this ahead of time.
Prepare the pasta according to package instructions. Drain, place it back in the pot, and set aside.
Preheat the oven to 375 and lightly grease a 9" pie plate or medium casserole dish.
In a small skillet heat the ½ tablespoon butter and 2 teaspoons oil. Add the onion and sprinkle with the pinch of salt. Cook over medium heat for about 8 minutes, until the onions are soft and a pretty caramel color. When the onions are cooked add them to the pasta and place the skillet back on the heat.
While the onions cook, in a medium saucepan, stir together the cold milk and cornstarch. Bring it to a simmer, remove it from the heat, stir in the butter and let it melt, and then stir in the cheese. Pour the cheese over the pasta and onions and stir to combine.
Add the steak to the skillet you cooked the onions in. It should be hot enough to quickly brown/ sear the beef on all sides. Brown the meat (about 4 minutes) and then add it to the pasta, onions, and cheese.
Stir everything to combine it, scrape the mixture into the prepared baking dish, and top with the additional ½ cup cheese.
Mix the breadcrumbs with the oil and then sprinkle over the top. Bake for 25-30 minutes. The cheese on top will bubble and the breadcrumbs will be toasty and golden brown.