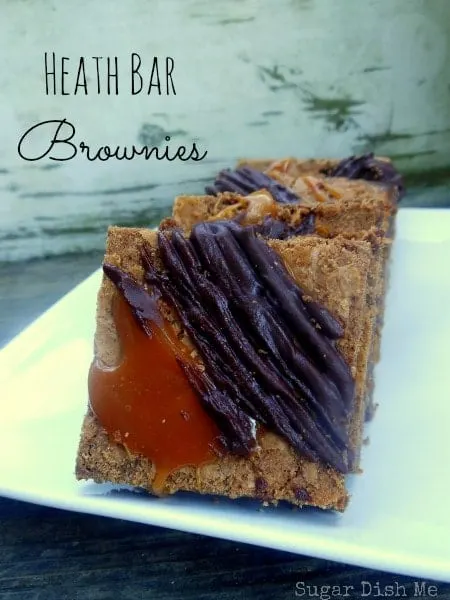 I spend a pretty good chunk of time each week responding to comments, reader questions, and emails. I think it's really important! And I actually kind of panic when I've been busy, decide to check my email, and realize that a reader asked me a baking question like 6 hours ago. I picture someone standing there, bowl full of batter on the counter, mixer in hand, thinking OKAY NOW WHAT?! (If that happened to you I am so super sorry but I am sure that it's because I was watching Hulu with my laptop precariously balanced on my cast iron skillet while my hands were inevitably covered in some kind of food goo. #reallife)
So this week I got a reader question about my Starbucks Double Fudge Brownie Recipe. I LOOOOOOVE those brownies. And I've never had trouble with the recipe but I also haven't made it in about 9 months. My reader couldn't get the brownies to turn out!!! And so I launched into this total brownie attack of paranoia and re-made the brownies 3 times. My kitchen is currently being taken over by chocolate. Send help.
What I found from all the brownie testing is this:
The Starbucks Double Fudge Brownie Recipe is flawless EXCEPT baking in a metal pan might make all the difference.
Brownies are still delicious even when there are 100 of them on the kitchen table.
Adding Heath Bar Toffee Bits to brownies is a really good idea.
I love you guys.
To my last batch of test brownies I added a bag of Toffee Bits in place of the chocolate chunks. It was a really good decision. The toffee melts into the brownie making them more fudgey and REALLY rich. I took it a step further and added a caramel crunch topping. Annnnnnnd more chocolate. Can I just tell you that one of these with a cup of coffee is like the most amazing thing?! I mean truly amazing.
So after all this brownie testing happened and I was satisfied that I'd done everything I could to make sure that the people making these recipes I post (you guys!!!) could do so with success and ease, the Martha Stewart vs. bloggers thing happened. If you missed the controversy, she basically said that blogger recipes are untested and unqualified and blah blah blah. It was pretty snark-a-licious and rude. There is a fantastic rebuttal to her statements HERE.
As for me, to Martha Stewart I would personally like to say, "Have a brownie."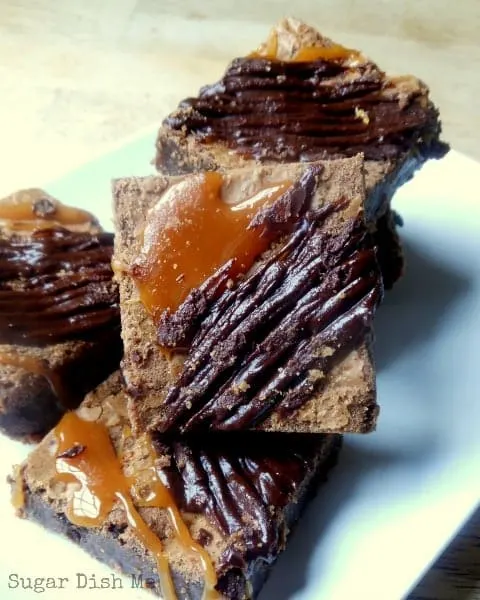 Heath Bar Brownies
Chewy, fudgey brownies loaded with Heath Bar toffee pieces and then topped with rich ganache and caramel crunch.
Ingredients
For the Brownies:
1⅓ cup all-purpose flour
1 teaspoon baking powder
½ teaspoon salt
12 tablespoons unsalted butter
8 ounces unsweetened chocolate, coarsely chopped
4 eggs
2 cups granulated sugar
2 teaspoons vanilla
2 teaspoons instant espresso powder OR instant coffee granules
1 8 ounce package Hershey's Heath English Toffee Bits
For the Caramel Crunch:
½ cup water
¼ cup granulated sugar
2 teaspoons heavy cream (more if needed)
For the Ganache:
2 tablespoons heavy cream
⅓ cup semi-sweet chocolate chips
1 tablespoon butter
Instructions
Pre-heat the oven to 350. Butter a 9 X 13 baking dish, line it with parchment paper, and butter the parchment paper. (This makes brownie removal EXTRA easy but if you do not have parchment paper handy you can just butter the pan well.)
In a medium bowl whisk together the flour, baking powder, and salt. Set aside.
In a small saucepan, melt the butter over medium heat. When it's melted remove it from the heat and add in the chopped chocolate, stirring until melted and smooth. Set aside
In a large bowl, beat the eggs and sugar until frothy. Stir in the vanilla and espresso powder.
Add the chocolate a little at at time, stirring between each addition. This will help to temper the eggs.
When the chocolate is completely incorporated, dump in the flour mixture. Mix completely.
Stir in the Heath Bar toffee pieces.
Spread the batter evenly in the prepared pan. Bake for 25 - 30 minutes. The outside edges will be done but the middle will still appear a little uncooked. This is fine - the toffee pieces melt when baking so the brownies are fudgey and will set upon cooling.
Let the brownies cool before cutting. Slice into 15 squares and lay the brownies on wax paper or a wire rack.
To make the caramel crunch pour the water in a small saucepan and add the sugar in a pile right in the center of the pan. Bring it to a boil, reduce the heat to medium - medium high and simmer until that pretty amber caramel color appears (about 7 minutes). Place the pan in the sink, add the heavy cream, and stir until smooth. If you need a tad more cream to get the caramel to move that's fine. It will be THICK and you have to work quickly before it sets.
Use a spoon to drizzle the caramel all over the cut brownies. It sets up as it cools and makes a delicious candy crunch.
To make the ganache, simmer the cream in a small saucepan. Remove it from the heat and stir in the chocolate until it melts. Stir in the butter (this gives it shine). Add more cream if you need to. You want to be able to spoon the drippy chocolate onto the brownies.Drizzle the chocolate all over the brownies.
Let the chocolate set and serve.
I like to keep mine refrigerated. Not necessary but SUPER good.