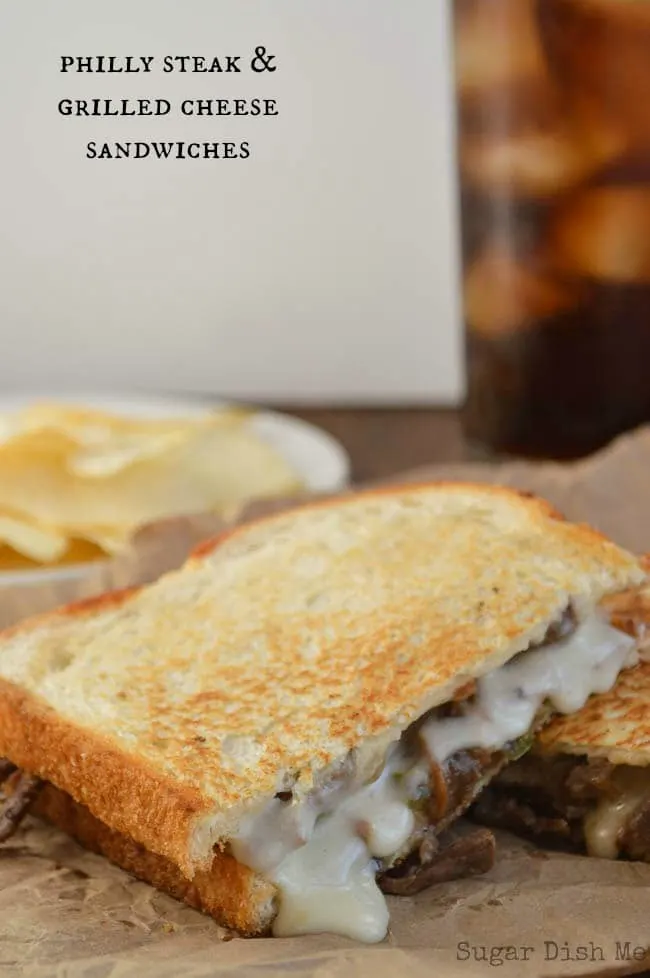 I have been reeeeeally bad about cooking dinner lately.
I get in these all-or-nothing ruts that does not bode well for my family at meal time. A plate full of brownies and a pan full of sweet rolls? Got those. Salad? Got it. A full plate with veggies, starch, and some kinda meat? Yeah… not so much.
The problem is really that I don't care a thing about eating dinner. I love breakfast. Lunch is great! I am totally a soup, salad, sandwich eater. Fruity snacks are fine for my afternoon and I am totally cool with a bowl of popcorn at 5 p.m. Unless we are going out somewhere, I am pretty utilitarian about my own dinner.
But I live with dudes. Dudes like dinner. Like they want the whole shebang with a big slab of protein and a pile of vegetables and some bread. And then they want seconds. I kind of dread 5:30 p.m. because it is a rare day that I have my act together when the hungry masses start drifting through the kitchen asking me what's to eat.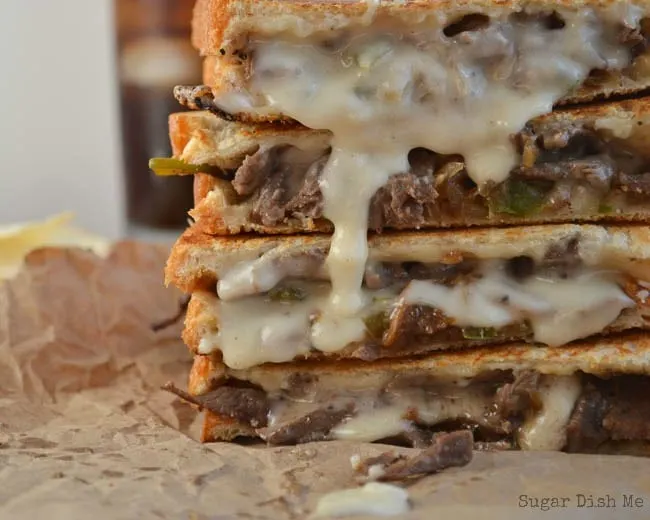 The whole process was much easier when my boys were small. Grilled cheese and baby carrots? Yeah! That's totally a meal!
Nowadays… not so much.
I am always really excited when I find a compromise — these sandwiches are IT. Totally low key, quick, minimal mess, but still meeting all the meaty man requirements this testosterone-filled house deems important (when we move I am totally painting a whole room bubblegum pink, just to prove a point). Also – let's talk about that CHEESE SAUCE for a second. It is every bit of the best part.
I used Cabot's Horseradish Cheddar to make it (full disclosure: I love Cabot cheese and I say so pretty often, so they sometimes send me free product to say thanks, but it is a brand I truly use and buy and then add to everything I cook). You might remember these same flavors from my Philly Cheesesteak Macaroni. Horseradish and steak are a fabulous pair – if you have ever ordered prime rib at a steakhouse it was most probably served with horsey sauce on the side. If you can't find Horseradish Cheddar then your favorite sharp white cheddar will do – same crazy melty creamy result.
Cheese love.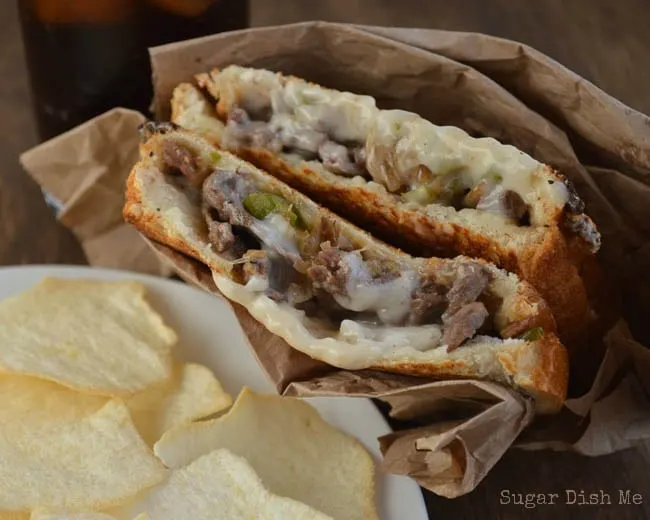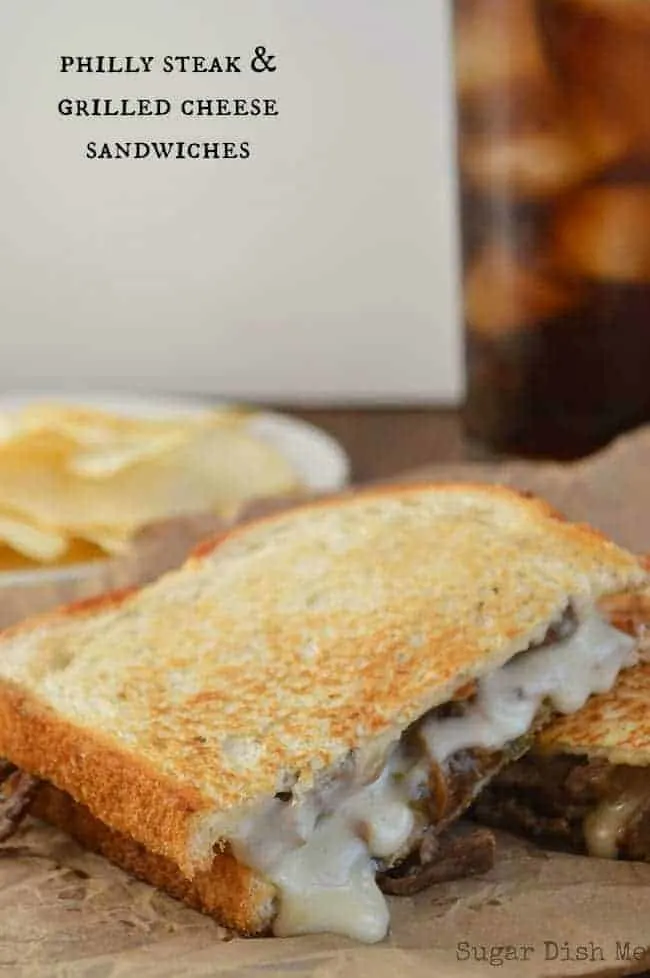 Yield:

4
Philly Steak and Grilled Cheese
Philly style steak cooked with onions, mushrooms, bell peppers, and garlic smothered in a fantastic and easy horseradish cheese sauce and then grilled on sourdough bread.
Ingredients
Steak:
1/2 cup button mushrooms, sliced
1 pound flank steak, still partially frozen (see note)
1 tablespoon oil
1 teaspoon coarse ground black pepper
1/2 teaspoon kosher salt
1/2 cup very thinly sliced onion
1/2 cup very thinly sliced bell peppers
1 tablespoon Worcestershire sauce
Cheese Sauce:
1/2 tablespoon unsalted butter
1/2 cup COLD milk
1/2 tablespoon cornstarch
4 ounces shredded Horseradish Cheddar (or sharp white)
Sandwiches:
butter for the skillet
8 slices sourdough bread
Instructions
Slice the steak very very thinly -- I cut mine into 2-3" strips, as thin as my knife would allow. Toss the sliced steak with the Worcestershire sauce. Set aside.
Heat the oil in a large skillet. Add the steak, sprinkle it with the salt and pepper, and cook over medium high heat, turning occasionally to brown on all sides, about 8 minutes.
While the steak cooks, slice your vegetables.
Place the butter for the cheese sauce in a small saucepan and let it melt over medium low heat. Stir the cold milk and cornstarch together and then pour it into the melted butter. Let it heat up slowly.
Remove the steak to a plate and add the onions, peppers, and mushrooms to the skillet it was in. Let them cook over medium high heat until they are tender, stirring occasionally, about 6 minutes.
When the milk mixture is warm (it will be frothy - careful not to scorch it), remove it from the heat and stir in the cheese until it's smooth.
Once the vegetables are cooked, add them to the steak and toss to combine.
Melt a little butter (I just rub the stick in the pan) in the same skillet you used for the steak and vegetables. Add one slice of sourdough bread. Top the bread with the steak and veggie mixture. Spoon the cheese sauce over the steak. Top with the second slice of bread.
Turn the sandwich to grill the second side and repeat with the other 3 sandwiches.
EAT.
Notes
'Partially frozen' is called for to make the slicing easier. You can place your meat in the freezer 45 minutes to an hour before cutting OR you can take it from the freezer and slice it before it has thawed completely.Once you slice the steak and toss it with the Worcestershire sauce it will thaw completely pretty quickly.
Nutrition Information:
Amount Per Serving:
Calories:

0
Cholesterol:

0mg
Sodium:

0mg
Carbohydrates:

0g
Fiber:

0g
Sugar:

0g
Protein:

0g