Bourbon Cheesecake with Boozy Chocolate for Two is the perfect way to celebrate! Rich cheesecake laced with bourbon baked in a shortbread crust is topped with smooth bourbon chocolate for the best grown up dessert around. This is a must-try!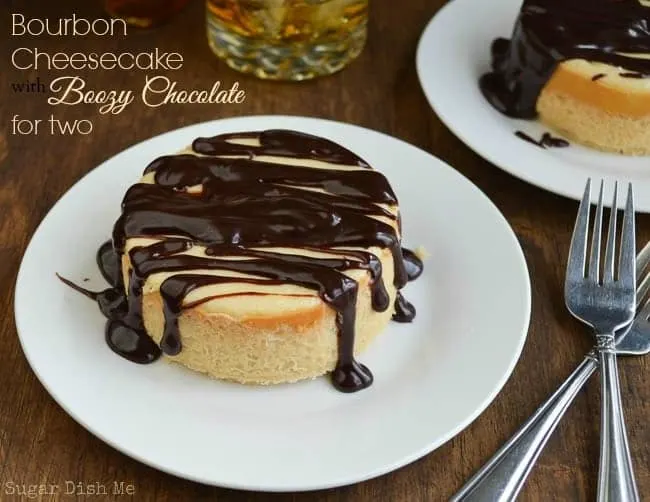 So I guess by now you know that in this house cheesecake = love. I mean, I love cheesecake but Chad loooooooooooooooves it. If he sees more than one block of cream cheese in our fridge he starts looking around all wide-eyed and if I am standing there he excitedly asks, "are you making CHEESECAKE?!" For him it is like the holy grail of dessert.
But even as much as Chad loves cheesecake, if I make the whole big huge cheesecake it never gets finished. He will inevitably blame me when he realizes there is 1/3 of his favorite thing on earth shoved in the back corner of the fridge, but I blame Man Disease.
Man Disease prohibits all males from seeing things that are right in front of them. There is no known cure.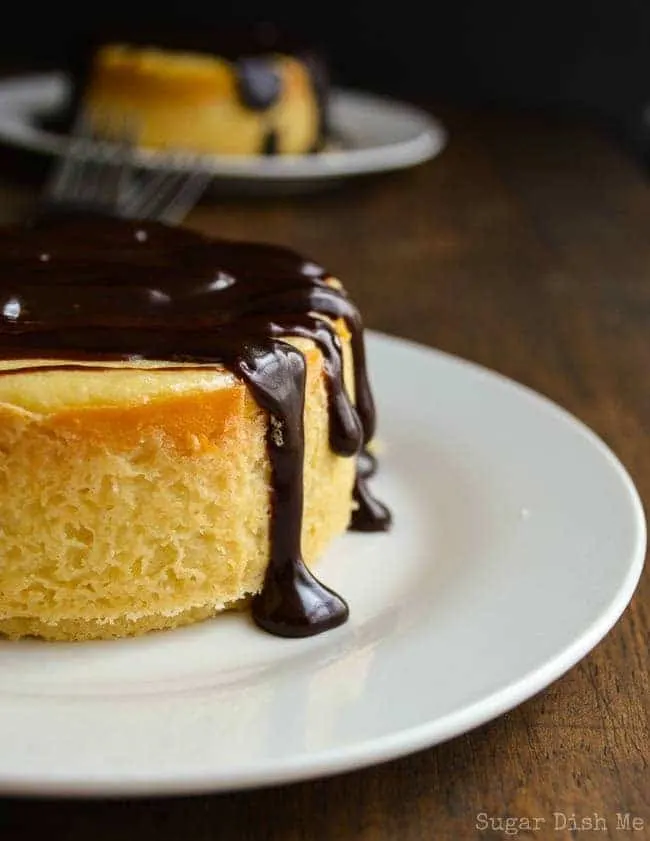 We don't really go out for Valentine's Day — not ON Valentine's Day anyway, because that's kind of annoying. Too many people in a busy restaurant ordering from a limited menu with mediocre service because the staff is ready to fall over from exhaustion is not really my idea of a good time. But every year I DO make a special dessert.
This year I may have to up my ante because I've been playing with cheesecake recipes for weeks, but if YOU need an idea and your other half is all about cheesecake then this is IT.
It's rich and creamy and not too sweet. It's full of bourbon because … well because I said so. It's covered in chocolate that's laced with more bourbon and the whole thing will make you so happy that you will never wanna wait in the lobby of that nice restaurant again.
No. I take that back. Restaurants wash your dishes. Never again was an exaggeration. But!!! This cheesecake is worth washing dishes for.
This recipe yields 2 small cheesecakes. One is the perfect size to share. The other is to put in the fridge for later when it's still on your mind and you need another bite. And no worries!!! If your other half is a dude, you only have to share if you want because he will never see it. #mandisease
For these cheesecakes I used 2 (1.3 cup volume) Wilton Mini Springform Pans. You can find them HERE (this is an affiliate link).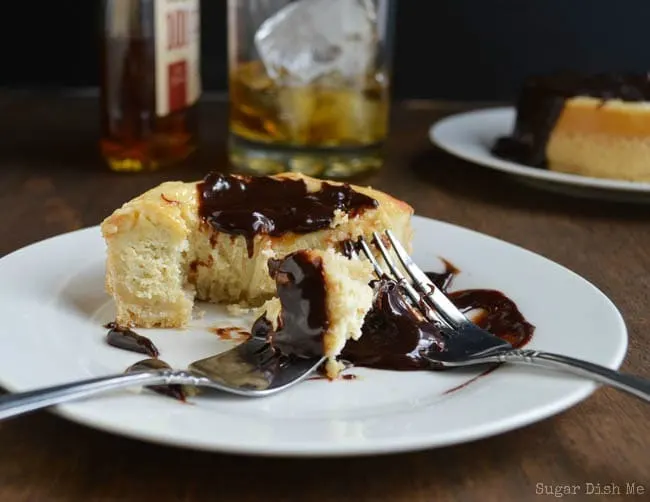 The shortbread crust is actually my favorite cheesecake crust to use. I'm not usually partial to a graham cracker crust (sorry not sorry). With this particular recipe the buttery shortbread works SO WELL with the bourbon. It'll be your new favorite, too.

Want to Save this Recipe for later? Pin it!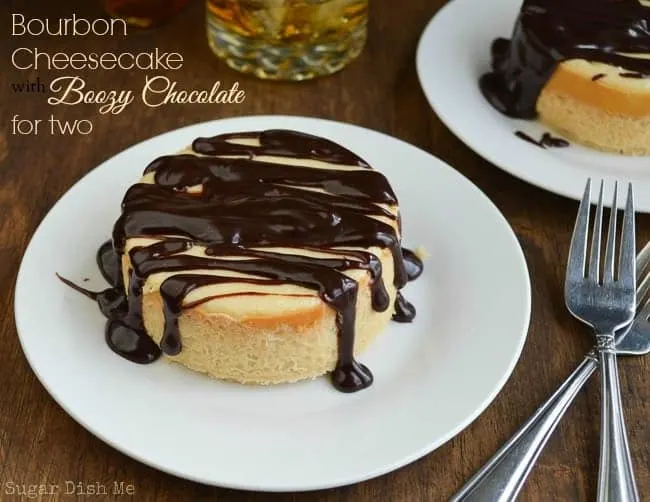 Yield:

2 mini cheesecakes
Bourbon Cheesecake with Boozy Chocolate for Two
Total Time:
1 hour
50 minutes
Bourbon Cheesecake with Boozy Chocolate for Two is the perfect small batch dessert for your sweetheart. Creamy bourbon cheesecake with a shortbread crust topped with smooth chocolate sauce heated with more bourbon.
Ingredients
For the Crust:
1/4 cup unsalted butter, softened
2 tablespoons granulated sugar
1/2 cup all purpose flour
For the Cheesecake:
8 ounces cream cheese, softened
1/4 cup granulated sugar
1 egg, at room temperature
2 teaspoons vanilla
1 tablespoon heavy cream (or half & half)
1 tablespoon straight bourbon whiskey
For the Boozy Chocolate:
4 ounces hot fudge (the ice cream topping)
2 teaspoons bourbon (more to taste)
Instructions
To make the crust, preheat the oven to 400. In a medium bowl combine the 1/4 cup butter, 2 tablespoons of sugar, and 1/2 cup flour until a smooth ball of dough forms. You may have to use your fingers to press it all together.
Divide the dough in half and press it across the bottom and halfway up the sides of the 2 mini cheesecake pans. Gently prick the dough across the bottom of the pan with a fork several times. Bake for only 5 minutes. Remove from the oven and set aside.
Reduce the oven temperature to 350.
In a large bowl beat the cream cheese and sugar until fluffy and smooth.
Add the egg and beat for about 1 1/2 minutes. Add the vanilla, cream, and bourbon. Beat until combined. Divide the batter evenly between the two par-baked crusts.
Bake at 350 for 15 minutes. Reduce the heat to 275 (I like to open the oven door for just a minute to help the temperature drop) and bake for 15 more minutes. Turn the oven off and let the cheesecakes cool IN the oven.
When they have cooled to room temperature, remove and refrigerate. (Sometimes I am in a hurry so I take mine out when it is cool enough to grab by hand -- the pans will still feel warm) The cheesecakes will need to chill for at least an hour (from room temperature).
While the cheesecakes chill, and just before you are ready to serve,heat the hot fudge in a small saucepan over medium high heat. When it is smooth and warm (a pourable consistency), stir in the bourbon. Drizzle the chocolate over each cheesecake and serve.
Recommended Products
As an Amazon Associate and member of other affiliate programs, I earn from qualifying purchases.
Nutrition Information:
Yield:
4
Serving Size:
1
Amount Per Serving:
Calories:

644
Total Fat:

40g
Saturated Fat:

23g
Trans Fat:

0g
Unsaturated Fat:

13g
Cholesterol:

153mg
Sodium:

324mg
Carbohydrates:

60g
Fiber:

1g
Sugar:

38g
Protein:

9g
Want more bourbon in your dessert? I have a few suggestions!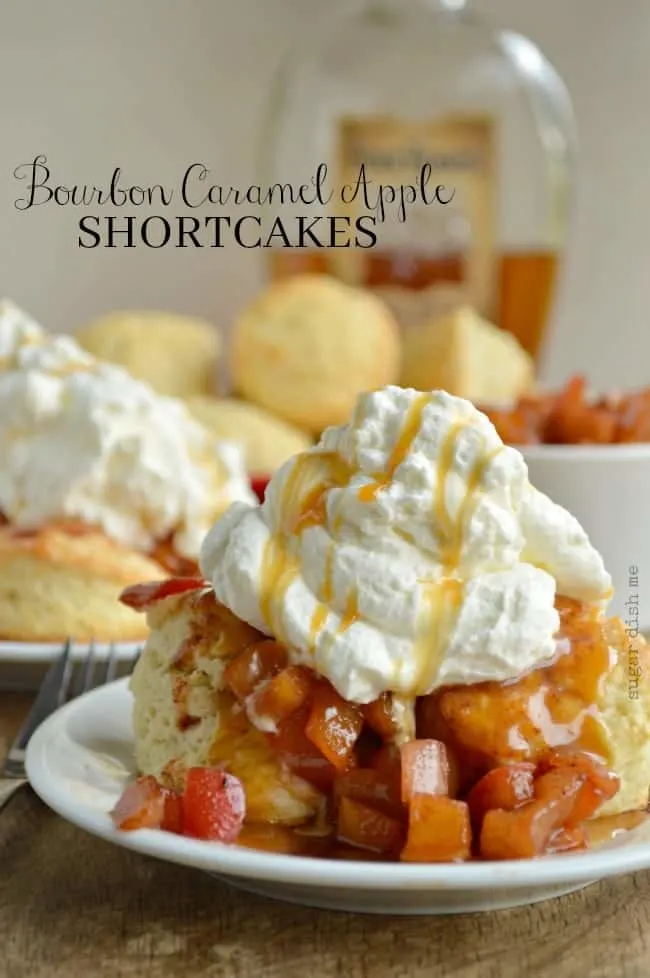 These Bourbon Caramel Apple Shortcakes are OUT OF CONTROL good. Fluffy little shortcakes topped with sweet cinnamon cooked apples, whipped cream, and bourbon caramel.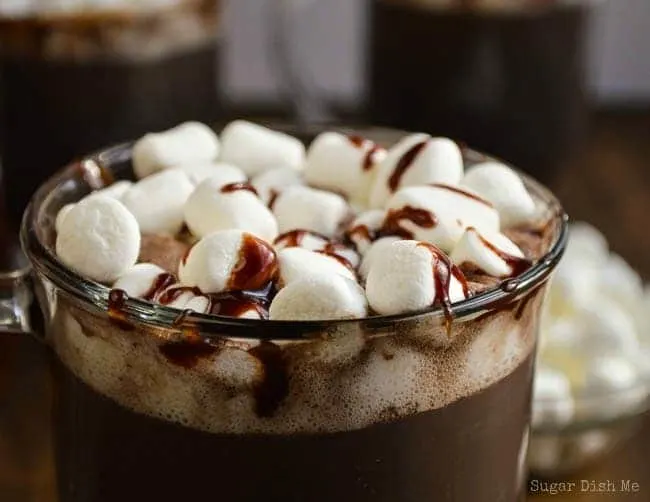 Bourbon Spiked Hot Chocolate is my favorite from-scratch hot chocolate recipe spiked with bourbon. This will totally warm you up from the inside out.