Here's where we're at with this recipe: I've had it saved since June because I wasn't sure how well-received a sweet potato burger would be on Sugar Dish Me. So I need you to know a couple things: In between all the pizza, Tex-Mex, and cupcakes, this is the kinda thing I actually really like to eat. In fact!! I make veggie burgers way more often than I make burgers with turkey or chicken or beef. Mostly because I am pretty fussy about meat. But also because vegetables are CHEAPER! And more healthy.
If you think sweet potato burgers are not your cup of tea then pretty puh-leez just trust me. I feed 3 dudes 3 meals a day 7 days a week (except on Friday evenings when I refuse to mess up the kitchen and I make Chad figure out what we are eating for the evening. Read: take-out). Meat-eating ground-chuck-loving insatiable-hunger dudes. For example, right now I am about to make pancakes and I have had to chase one of them out of the snack cabinet TWICE. Anyway, the hungry guys like my veggie burgers.
But most importantly I like my veggie burgers. And so, in the spirit of validation, I sort of really want you to like them, too.
Anyway– who doesn't like sweet potatoes?
You might remember the maple cream from these Smoky Sweet Potato Tacos. I basically love them. Any excuse to wrap something up in a tortilla, right? So the maple cream is necessary here sort of like ketchup is necessary on a beef burger. Or BBQ sauce. Just pretend the maple cream is very fancy BBQ sauce.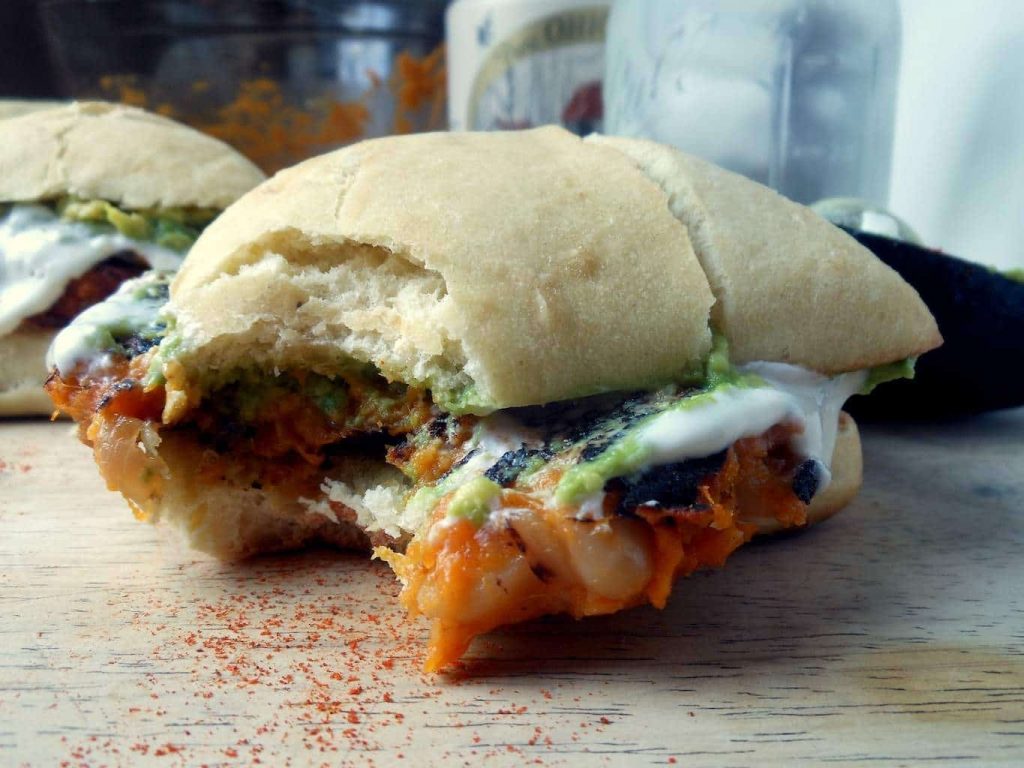 I can't even explain how much I love these. Serve them with a salad because starch + starch can be a little carb heavy. But you'll have all the Vitamin A you need. Plus lots of other important nutrition-ey things.
Make these burgers.

Savory Sweet Potato Burgers
Mashed sweet potatoes make amazing veggie burgers!!! Prep time does not include the time required to cook the sweet potatoes. You can bake them or microwave them so the time will vary. These burgers are loaded with cannellini beans, and smoky spice and then are topped with a delicious maple cream.
Ingredients
For the Sweet Potato Patties:
½ tablespoon oil
½ tablespoon butter
¼ cup onion, finely diced
dash of salt
2 large sweet potatoes, cooked and mashed(I prefer to bake mine but the microwave works!)
1 cup cannellini beans, drained and rinsed
½ cup panko bread crumbs
1½ teaspoons paprika (smoked if you have it)
½ teaspoon onion powder
½ teaspoon salt
2-3 tablespoons whole wheat flour, as needed
For the Maple Cream:
⅓ cup Greek yogurt
1 tablespoon maple syrup
To Dress the Burgers:
4 ciabatta rolls (or burger buns-- whole wheat!!)
1 avocado, sliced or smashed
Other toppings such as lettuce, tomato, or onion as desired
Instructions
Heat the oil and melt the butter in a small skillet. Add the onions and a dash of salt. Cook them over medium heat for about 10 minutes, until they are soft and caramelly. Scrape them into a large bowl.
Add the mashed sweet potatoes, cannellini beans, bread crumbs, paprika, onion powder, and salt. Mix everything well and add the flour a tablespoon at a time as needed if the mixture won't stick together.
Form the mixture into 4 burger patties.
Heat a large skillet over medium high heat. You can spray with non-stick cook spray if desired. Cook the patties for about 3-4 minutes on each side. They will char a little.You are only heating them through-- everything is already cooked!
To make the Maple cream, just mix together the Greek yogurt and maple syrup.
Add a patty to each ciabatta bun, Top with the maple cream avocado, and other burger toppings.
Serve warm.
This recipe was adapted from the
Smoky Sweet Potato Burgers with Roasted Garlic Cream
and Avocado at
How Sweet It Is
. I'm pretty sure she has never cooked anything I wouldn't just totally shove in my face. It is goooooood stuff you guys.