A savory dip loaded with cheese, cream cheese, garlic, and shrimp. Shrimp Scampi Dip is the perfect appetizer for any occasion and tastes just like an ultra creamy, cheesy version of the delicious and buttery garlic shrimp favorite.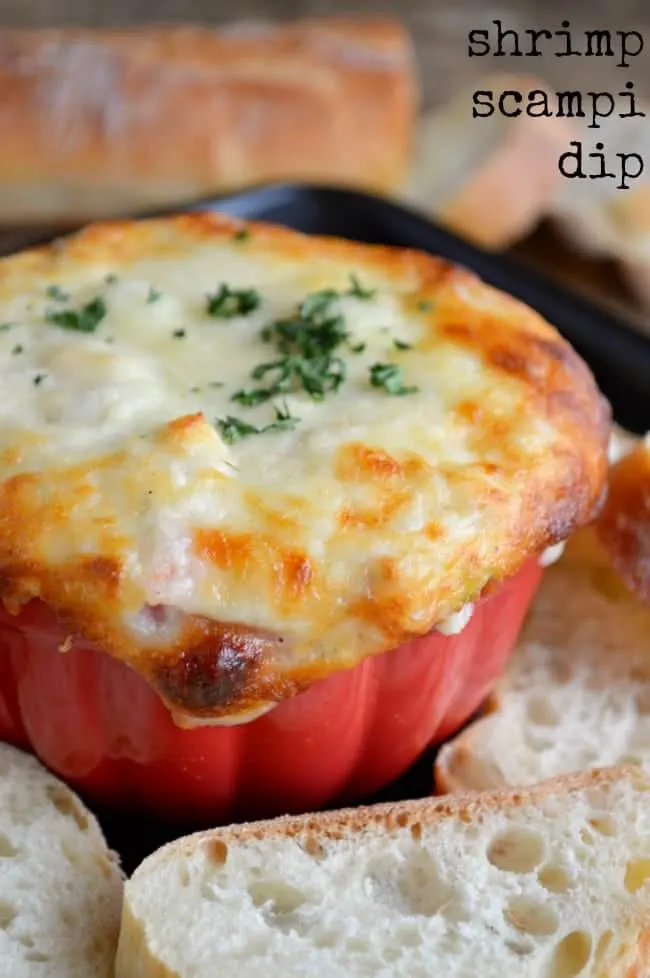 This morning is not really going as planned.
My kids are on a 2-hour delay. Which basically throws every routine you ever established out the freaking window.
I'm over here at my desk with my coffee trying to type and my oldest is talking at me about some kind of video he thinks is hilarious but in actuality is probably not that funny unless you are a 14 year old boy.
But if it is funny that still does not negate the fact that I need to tell you all about Shrimp Scampi Dip, NOT Shia LaBeouf featured as a scary monster in the woods on YouTube.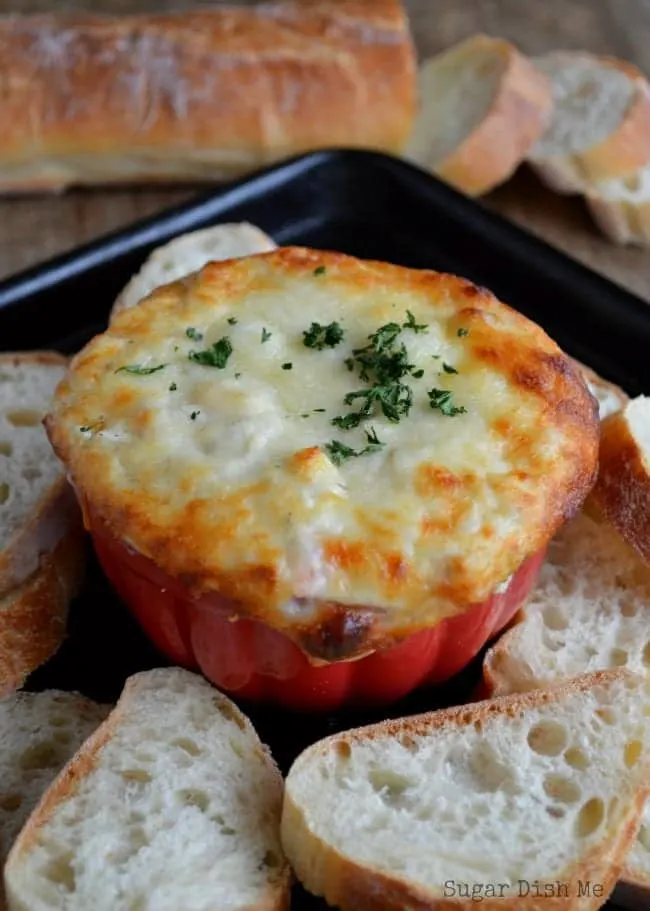 This recipe has been rolling around in my head for awhile and finally I got in the kitchen to work it out. It DID work out, unlike this crazy excuse for a productive morning.
What's happening here is shrimp scampi mixed with cream cheese, an Italian cheese blend, and Greek yogurt. I also added just a squeeze of fresh lemon juice and some chopped marinated artichokes. It's a pretty addictive combo.
We skipped dinner when I made this and basically just hovered over the stove with a loaf of baguette.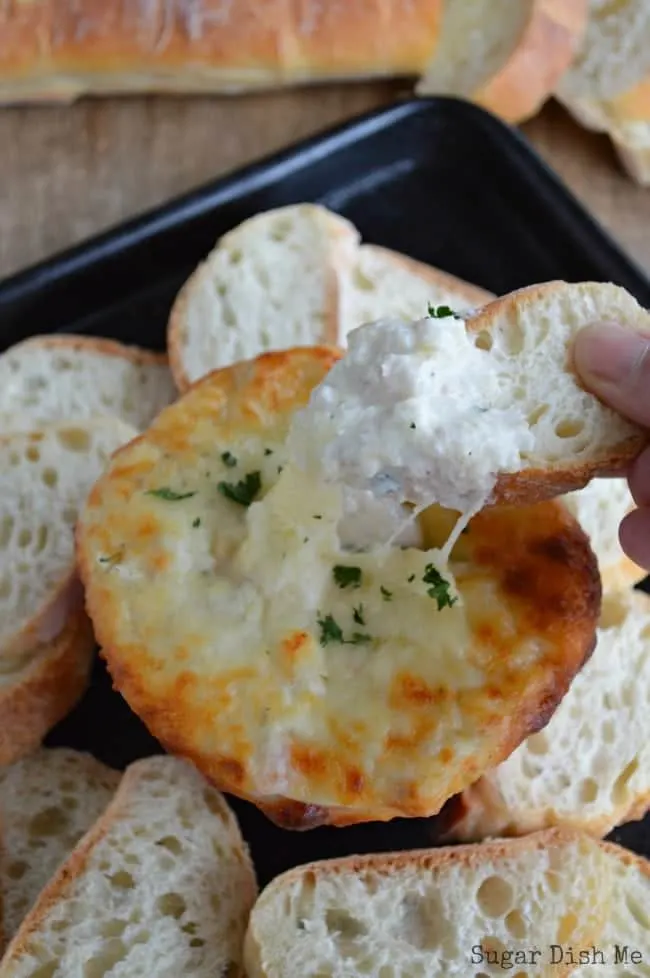 This is a perfect appetizer for game days. But since I don't know the first thing about any of the games (like seriously I am clueless) I will be serving it at my first attempt at grown up dinner parties next weekend. I think it will be a hit.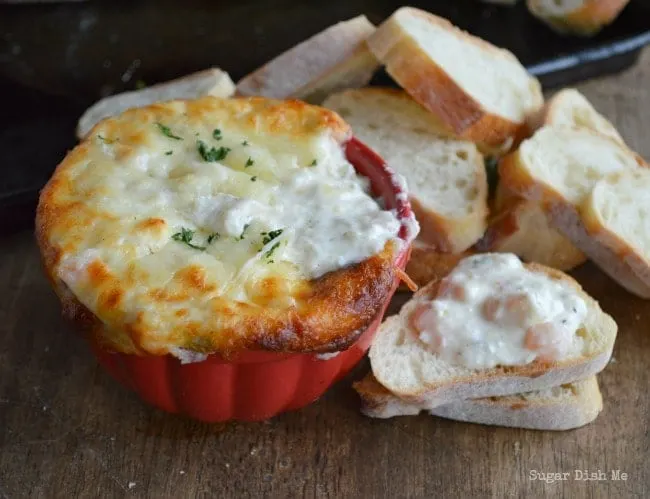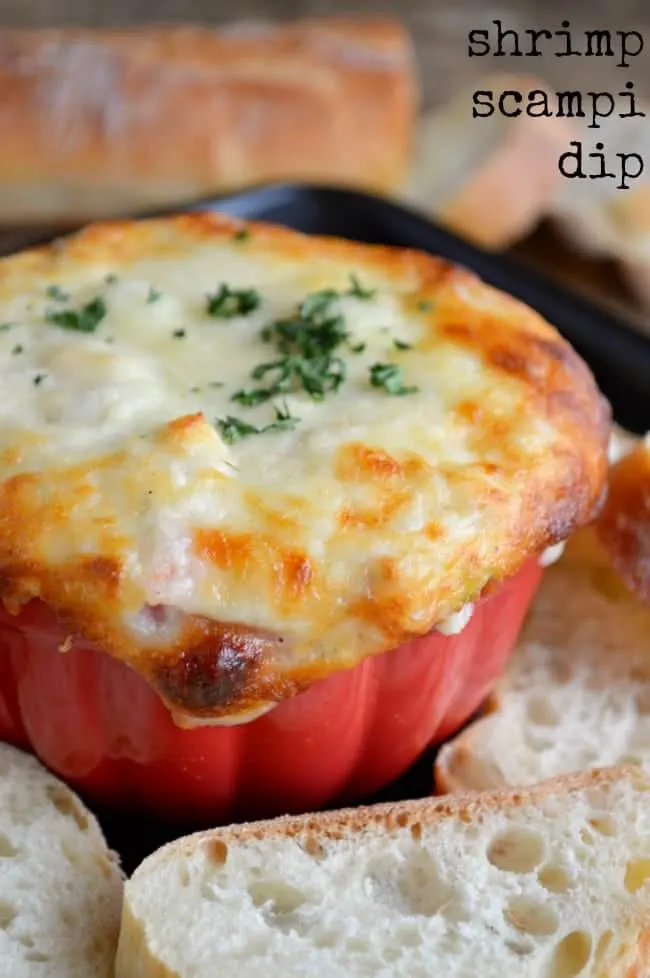 Yield:

serves 12
Shrimp Scampi Dip
Shrimp Scamp Dip is loaded up with garlic, butter and cheese - AND SHRIMP! This easy appetizer recipe comes together quickly and is always a hit.
Ingredients
3 tablespoons butter
8 ounces raw shrimp, peeled & deveined (I used 31-50 count)
3 cloves garlic, finely minced
1/2 teaspoon kosher salt
1/4 teaspoon crushed red pepper flakes (more to taste)
1 teaspoon fresh lemon juice
4 ounces cream cheese, softened
1/4 cup plain Greek yogurt
1 1/2 cups shredded Italian cheese blend (I used a Parmesan, mozzarella, asiago blend)
1/4 cup marinated artichokes, drained and coarsely chopped
Instructions
Preheat the oven to 350°F. Lightly grease (I used nonstick cooking spray) two 3 ounce or one 6 ounce ramekin or oven safe baking dish.
Melt the butter in a medium saucepan. Add the shrimp, garlic, salt, and pepper (you can cut the shrimp into smaller pieces before or after cooking; I lifted my cooked shrimp from the butter with a slotted spoon, coarsely chopped into 1/4" to 1/2" pieces and then added them back in). Cook over medium high heat, stirring occasionally, until the shrimp is pink and the garlic is fragrant (about 5 minutes).
In a medium bowl stir together the cream cheese, 1 cup of the shredded cheese, and Greek yogurt. Add the shrimp, garlic, butter mixture, scraping the pan to get all the buttery garlic bits.
Squeeze in the lemon juice. add the artichokes, and give everything a good stir. Spoon into the prepared baking dish and then cover with the remaining cheese.
Place the baking dish(es) on a baking sheet (to prevent the cheese from bubbling over in the oven) and bake for 20 minutes.
Turn the oven to Low Broil and then broil for 3 minutes to melt and slightly brown the cheese on top.
Serve hot with sliced baguette, crackers, or tortilla chips.
Notes
1. I'd recommend full fat, regular cream cheese with this recipe. Low fat cream cheese can sometimes add more liquid to a recipe and will make it a thinner consistency.
Recommended Products
As an Amazon Associate and member of other affiliate programs, I earn from qualifying purchases.
Nutrition Information:
Yield:
12
Serving Size:
1
Amount Per Serving:
Calories:

146
Total Fat:

12g
Saturated Fat:

7g
Trans Fat:

0g
Unsaturated Fat:

4g
Cholesterol:

58mg
Sodium:

354mg
Carbohydrates:

2g
Fiber:

0g
Sugar:

1g
Protein:

9g
This
Classic Crusty Herbed Dinner Loaf
would be THE PERFECT thing to serve with this dip.